Rihanna Streams Soar Following Super Bowl Halftime Show
The star delivered a stunning, career-spanning set for the big event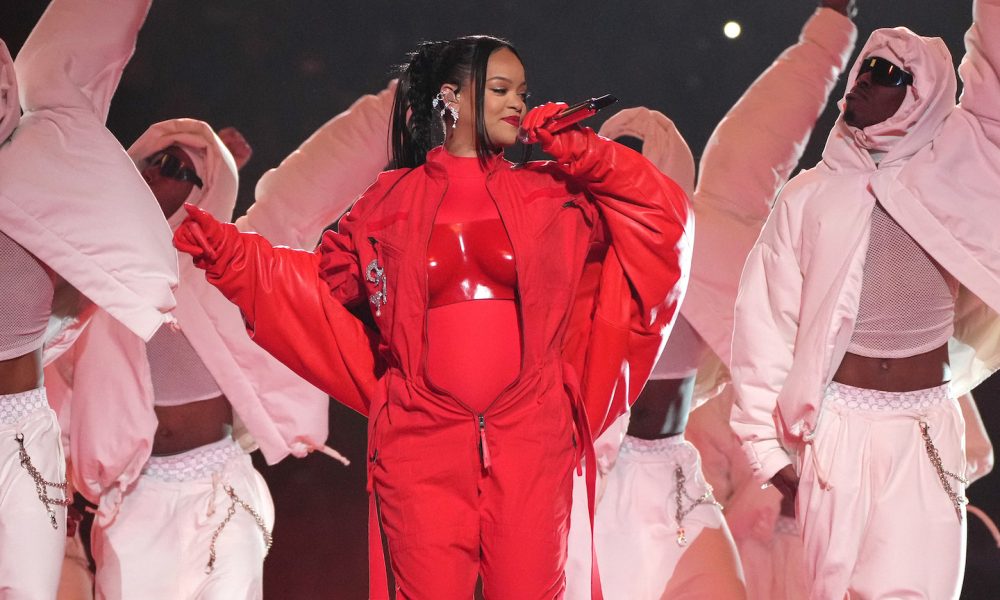 Rihanna has experienced a huge surge in streams of her music on Spotify following her Super Bowl Halftime Show performance.
The star took to the stage during the halftime break in the game between the Philadelphia Eagles and the Kansas City Chiefs on Sunday (February 12), bringing with her a set that spanned her career.
Among the tracks Rihanna performed were "B___h Better Have My Money," "We Found Love," "Rude Boy," "Work," and "Diamonds." These songs and more are now experiencing a post-Super Bowl surge on Spotify.
Overall, Rihanna's streams on the platform spiked more than 640 percent, while "B___h Better Have My Money" plays increased by more than 2,600 percent. "Diamonds" was streamed by more than 1,400 percent, and "Rude Boy" and "We Found Love" rocketed up by more than 1,170 percent and 1,160, respectively.
Since the pop icon was announced to be performing at the Super Bowl Halftime Show, three of her songs also crossed the billion-stream mark on Spotify – "Umbrella," "We Found Love," and "Love On The Brain."
Rihanna also experienced a big uptick in streams on other platforms. Her concurrent listeners on Apple Music rose by 331 percent worldwide, while the hour after her performance gave her her best concurrent listeners and streaming figures on the site.
On Shazam, meanwhile, "We Found Love" was the most-searched song of the performance. Viewers also Shazamed the performance the most at the 8:31pm ET mark.
Days before the Super Bowl, Rihanna shared details of her performance at an Apple Music press conference. She jokingly said that she was relying on her Fenty beauty line – which made a cameo during the performance – to stay looking sharp and also revealed that she had gone through 39 iterations of a setlist for the show.
A trailer was also shared at the event, which featured a young child at home on Rihanna Way in Barbados. The girl stole her mother's sunglasses before strutting down the street, soundtracked by "Run This Town." At the end of the video, the young girl flew a kite above a cemetery before a quote from Rihanna floated across the screen. It read: "My whole life was shaped on this very road. I was just a little girl flying kites in the cemetery…But I had big dreams."
Listen to the best of Rihanna on Apple Music and Spotify.