'Feeling Every Note': B.B. King's UK Live Debut, With Fleetwood Mac
B.B.'s first British itinerary opened on April 22, 1969 at the Royal Albert Hall.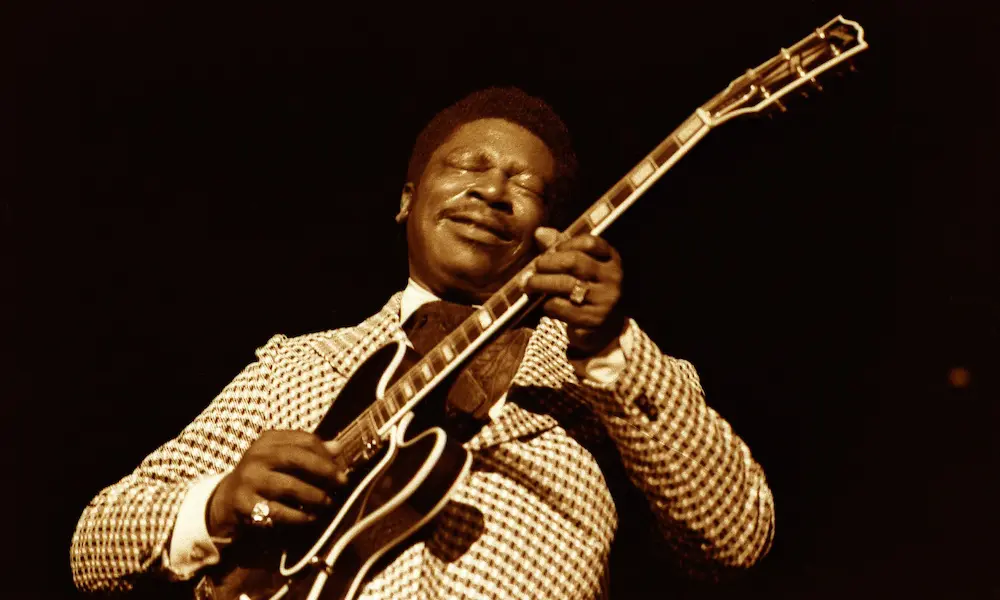 The indefatigable B.B. King set incredibly high standards of stamina with his road work over a live performing career that spanned more than 65 years. As the 1960s came to an end, much of his endeavor was being rewarded by the attention of his biggest, and youngest, audiences of his life.
The last weeks of the decade would be a career-changer for the blues frontiersman, as he was offered the opening slot on the Rolling Stones' American tour of 1969. Before the end of the year, he would also be on the climb with the song that became his best-known signature, the future Grammy Award winner and Grammy Hall of Fame honoree "The Thrill Is Gone."
In the lead-up to that breakthrough, on April 22, 1969, King started his first-ever UK tour. Then 43, his studio album Lucille was on release and the revered in-concert set Live & Well was soon to emerge. To make the occasion even more special, the tour's opening date that night, and King's British debut, was at the Royal Albert Hall, and B.B.'s special guests, for the whole itinerary, were one of the hottest blues crossover acts of the era: Fleetwood Mac.
Janis Joplin watches on
Solo bluesman Duster Bennett and the redoubtable duo of Sonny Terry and Brownie McGhee were also on the dates, which included further shows in Newcastle, Cambridge, Portsmouth, Cardiff, Bristol, Birmingham, and Manchester. Fleetwood Mac were coming off their huge instrumental hit "Albatross" and had just released the Peter Green-penned masterpiece "Man Of The World" as the follow-up. The Albert Hall audience included Janis Joplin, who had played there herself the night before.
Ray Connolly, reviewing the show for the London Evening Standard, wrote: "B.B. King, now reckoned by some to be the greatest blues guitarist alive, gave his first concert in London last Tuesday night. This is the moment for all blues men. B.B. King on stage under the Albert Hall's petrified dome hung with its acoustical stalactites: he's working away in his own public agony, his face feeling every note."
Don't Answer The Door (Live At The Village Gate, New York/1969)
Green, who greatly admired King, and vice versa, went on to play on 1971's B.B. King In London album. B.B. didn't make it back to the Royal Albert Hall until 1987, when he played two sellout shows there during the relentless schedule that would call for him to play up to 300 shows a year.
Buy or stream B.B. King's Live In Cook County Jail album, recorded in 1970.