Best Irish Musicians: Icons From The Emerald Isle
From Rory Gallagher to U2, Thin Lizzy to The Cranberries, the best Irish musicians have made a unique mark on music history.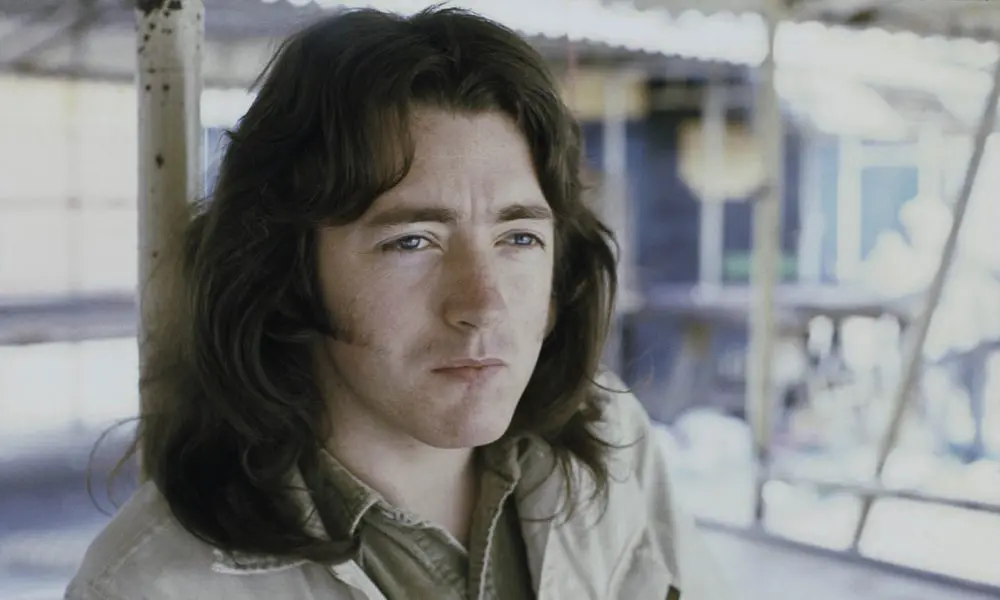 A small but eminently big-hearted country right on the westernmost edge of Europe, Ireland has a turbulent history and has lived through its fair share of tragedy. Yet, by nature, the Irish are a proud and resilient people, and their passion for life goes hand in hand with their love of timeless songs. It's no surprise, then, that the best Irish musicians often lead the field where contemporary music is concerned.
In celebration of St. Patrick's Day, uDiscover Music lifts a glass and toasts the best Irish musicians known to rock.
Rory Gallagher
Not just one of the best Irish musicians to have walked the planet, Rory Gallagher remains one of the most influential guitarists known to rock. Originally the frontman with pioneering late 60s power trio Taste, Gallagher later launched a sparkling solo career spanning the cusp of the 70s to his death in 1995. The fiery Cork man's immaculate canon was reissued in 2018, giving us an ideal opportunity to revisit everything from his landmark early albums (Rory Gallagher, Deuce and the storming Irish Tour '74) through to 1990's magnificent, bluesy Fresh Evidence.
Rory Gallagher - Going To My Home Town (From "Irish Tour" DVD & Blu-Ray)
Thin Lizzy
Led by the legendary Phil Lynott, Thin Lizzy rank among hard rock's all-time greats. The Dublin band grafted relentlessly from the turn of the 70s on, but established their international reputation during a remarkable 18-month burst of creativity across 1976-77, which spawned classic albums Jailbreak, Johnny The Fox, and Bad Reputation. They followed up with two further essentials, Live & Dangerous and 1979's Black Rose, both of which have all the Lizzy hallmarks: muscle, flash, poetry, and bags of charisma.
The Cranberries
Though the world is still trying to process the tragic death of The Cranberries' Dolores O'Riordan, most music fans would admit that, with her Limerick-based band The Cranberries, she bequeathed an embarrassment of riches. Containing evergreen hits such as "Linger," "Zombie," "Salvation" and "Ode To My Family," their legend-enshrining titles are their multi-platinum 90s triumvirate Everybody's Doing It, So Why Don't We?, No Need To Argue, and To The Faithful Departed.
The Cranberries - Ode To My Family (Official Music Video)
Van Morrison
Van Morrison's restless muse has led the Belfast bard to assembling a behemoth of a back catalogue that comfortably places him among not only the best Irish musicians, but the best musicians in the world. Beginning in 1967 with the classic US Top 10 hit "Brown-Eyed Girl," and hitting an early peak with the following year's much-lauded Astral Weeks, his solo career has spanned five decades. While many of his most feted albums (Moondance, Tupelo Honey, Veedon Fleece) date back to the early 70s, his two 2017 studio albums, Roll With The Punches and Versatile, have again met with considerable critical acclaim.
Van Morrison - Brown Eyed Girl (In Concert)
U2
Also easily standing among the best musicians in the world, superstar Dublin quartet U2 began as earnest punk wannabes in 1976. Their precocious early titles, such as Boy and War, brought them to the verge of mass success, but 1987's multi-million-selling The Joshua Tree turned them into household names. Their thirst for reinvention brought another career high courtesy of 1991's Achtung Baby, and subsequent albums, including the recently-released Songs Of Experience, have ensured that U2 continue to rank among the most successful rock bands of all time.
U2 - Sunday Bloody Sunday - Live 1983 US Festival
Imelda May
Originally making her name through feisty, rockabilly-flavored albums such as Love Tattoo, Mayhem, and Tribal (all of which topped the Irish charts), Dublin singer-songwriter Imelda May is one of the best Irish musicians to have emerged in recent years. She pulled off a radical change of direction when she hooked up with Elvis Costello acolyte T-Bone Burnett to create the Americana-flavored Life Love Flesh Blood – and pick up a well-deserved silver disc in the process.
Imelda May, Jack Savoretti - Call Me
Sinead O'Connor
She's courted controversy, strongly expressed her opinions on everything from organized religion to women's rights, and even been ordained a priest, yet Sinead O'Connor has also built up one of contemporary Irish music's most singular catalogues. Originally staking her claim with 1988's gold-selling The Lion And The Cobra, she went supernova when her second album, I Do Not Want What I Haven't Got, was nominated for four Grammy Awards on the back of her sublime cover of Prince's "Nothing Compares 2 U." Her 2014 album, I'm Not Bossy, I'm The Boss, again topped the Irish album chart.
Sinéad O'Connor - Nothing Compares 2 U (Official Music Video) [HD]
Gary Moore
This Belfast-born guitar virtuoso spent time working with stellar artists ranging from Thin Lizzy to Colosseum II and Greg Lake, but he also amassed an enviable solo career which included 1978's Back On The Streets (featuring his signature, Phil Lynott-assisted solo hit "Parisienne Walkways") and 1990's Still Got The Blues, which included contributions from George Harrison and Albert King. Moore passed away in 2011, but his praises have been sung by stars as diverse as Ozzy Osbourne, Def Leppard's Viv Campbell, and Metallica's Kirk Hammett.
Gary Moore - Whiskey In The Jar (From "One Night In Dublin: A Tribute To Phil Lynott")
Stiff Little Fingers
Enduring Belfast outfit Stiff Little Fingers released one of punk's touchstone albums courtesy of 1979's aptly-titled Inflammable Material. Released by fast-rising indie Rough Trade, it became the first independently released album to chart inside the UK Top 20 and it led to a deal with Chrysalis, the results of which were 1980's excellent Nobody's Heroes and '81's underrated Go For It. SLF split temporarily during the mid-80s, but their second spell has resulted in several of their best albums, including 2014's No Going Back.
The Saw Doctors
Hailing from Tuam, County Galway, The Saw Doctors formed in 1987 and initially built their following by gigging hard and playing support to acts such as The Waterboys and The Hothouse Flowers. Their 1991 debut, If This Is Rock And Roll, I Want My Old Job Back, topped the Irish charts for nine consecutive weeks and included two evergreen hits, "N17" and "I Useta Lover Her" – the latter still holding the record as Ireland's all-time biggest-selling single. Officially taking their place among the best Irish musicians when they were presented the Lifetime Achievement Award at Ireland's Meteor Music Awards in 2008, The Saw Doctors remain one of the country's most popular live acts.
The Saw Doctors - N17 - Live In Galway
Tir na nÓg
Much-underrated Carlow/Dublin folk-rock duo Tir na nÓg consist of Leo O'Kelly and Sonny Condell. Formed around the turn of the 1970s, they recorded three immaculate albums for Chrysalis, their self-titled debut (1971), Tear And A Smile (1972), and 1973's Strong In The Sun. Arguably their best, the latter title was produced by Procol Harum's Matthew Fisher and included "Free Ride," the duo's inimitable cover of "Ride" from Nick Drake's Pink Moon. Tir na nÓg are still a popular live draw and released a fine reunion album, The Dark Dance, in 2015.
Looking for more? Discover the best Irish songs of all time.