Diana Ross: Celebrating Motown's Supreme Talent
From singing in Motown's biggest girl group to earning Oscar nods and becoming a fashion icon, Diana Ross set the template for future stars to follow.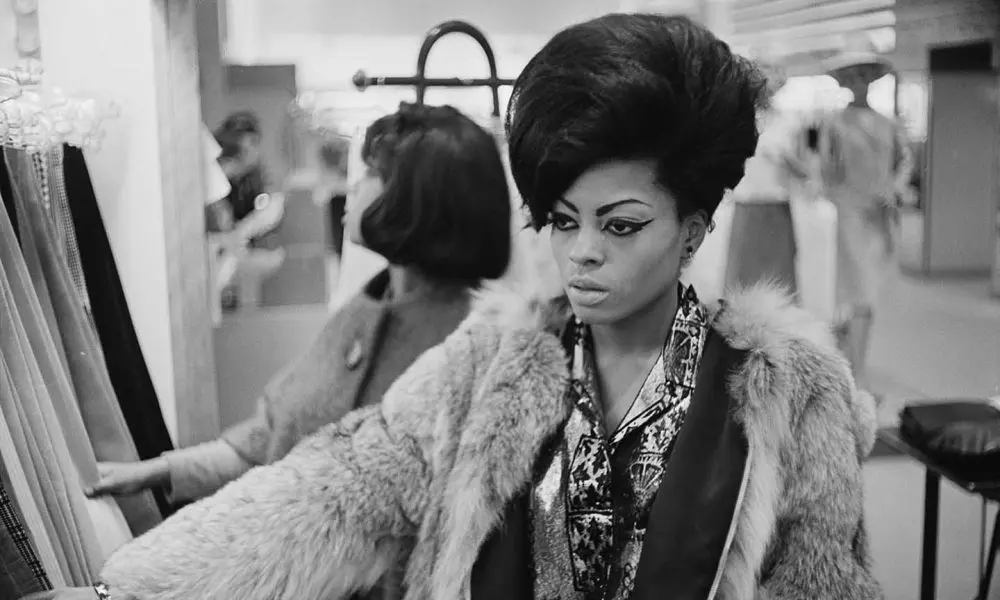 Today, Diana Ross celebrates her birthday. And, as such, we celebrate her: Motown's iconic soul stirrer whose silky soprano voice has given us a plethora of smash hits and underappreciated gems alike.
Listen to the best of Diana Ross on Apple Music and Spotify.
Diana started her singing career in The Primettes, who recorded one single, the doo-wop-heavy "Tears Of Sorrow"/"Pretty Baby," on Lupine Records in 1960, with Diana on lead vocals. It is still unknown whether the single was released in 1960, or if it was shelved until a few years later when The Primettes – now recording for Motown as The Supremes – were having chart success. Either way, it was not commercially successful.
Defining Motown
Commercial failure would plague The Supremes' early years, with rumors suggesting that they were known in-house as the "no-hit Supremes," after seven of their singles failed to make any real chart impact. But when fame came, it did so thick and fast. "Where Did Our Love Go" went to No.1 in the US and was followed by another 11 No.1s across their career, including "Baby Love," "Stop! In The Name Of Love," "I Hear A Symphony" and "You Keep Me Hangin' On."
By 1967, The Supremes had undergone a reshuffle and a name change, with Diana Ross on sole lead vocal duties and billed as their standout star. The group's final No.1 would be 1969's "Someday We'll Be Together," though the song is arguably Diana Ross' first solo release, as neither of her fellow-Supremes, Mary Wilson and Cindy Birdsong, appeared on the A-side, only recording vocals for the B-side, "He's My Sunny Boy."
Baby Love ("16 Big Hits" Version)
All these hits have come to define Motown, but almost as legendary as the Motown sound is the Motown image, and no one better showcased that than Diana Ross & The Supremes. Motown's founder, Berry Gordy, was fastidious about ensuring his artists looked the part.
Embodying it all
Motown's artists all attended a finishing school, where they were taught etiquette and deportment by the discerning etiquette instructor Maxine Powell. This extended to the clothes the artists wore – and no group matched the glamor of Diana Ross & The Supremes; they had gowns galore, in sequins every color of the rainbow. Shimmering azure blue, disco-ball silver, rich raspberry pink – you name it, they wore it. Their wardrobes boasted an abundance of riches: frothy, pink-tiered dresses; perfectly tailored suits in Crayola primary colors; green organza column dresses with thigh splits and crystal embellishment. It was a far cry from the early days of their career when Diana liked to make her own clothes as well as those for the group's live performances. Even when the times changed and out-and-out glamour seemed excessive, Ross and The Supremes still dressed to make an impression – take for instance, the iconic canary-yellow sweatshirt that Diana wears while leaning inside a brick doorway on the front cover of 1968's Love Child album.
By 1970, Diana had embarked on a solo career and issued two albums that showed the breadth of her capabilities as a star. Diana Ross was produced by the legendary husband-and-wife team Ashford & Simpson, and featured the lead single "Reach Out And Touch (Somebody's Hand)," as well as a brace of covers that Diana made her own, including the gorgeous "You're All I Need To Get By" and "Ain't No Mountain High Enough," which proved a No.1 Billboard Hot 100 smash hit. The album cover showed Diana with cropped hair and wearing a simple T-shirt and denim shorts. By her second album, Everything Is Everything, released at the end of that year, Diana would appear on the front cover dripping in diamonds. The contrast may suggest that Diana, and Motown, were unsure of how best to launch her solo career – should she be the accessible, laidback soul singer depicted on Diana Ross or the high-glamour diva of "Everything Is Everything?" What was sure – and remains evident to this day – is that Diana could, in fact, embody it all.
Giving love instinctively
The 70s and 80s would best prove this. In 1972, Diana played Billie Holiday in the film Lady Sings The Blues, for which she received an Oscar nomination for Best Actress, a particularly exceptional achievement given that it was her Hollywood debut. The accompanying soundtrack album also went to No.1 in the US. 1973 was just as busy, with Diana releasing Touch Me In The Morning, whose title track was a hit single. She also began to take on production responsibilities for some of the songs.
By October of that year, an album of duets was issued featuring Motown's other huge soul star of the day, Marvin Gaye. Simply entitled Diana & Marvin, it's a gorgeous album that allows both to showcase their incredible vocals, while also reminding you of just how well Diana could share singing duties: she wasn't in a hugely successful girl group for nothing. The real standouts are the covers of "(Stop, Look, Listen) To Your Heart" and "You Are Everything," penned by Thom Bell and Linda Creed, and originally recorded by Philly soul stars The Stylistics. The rest of the 70s produced further hit records, among them 1975's delicate "Theme From Mahogany (Do You Know Where You're Going To)" and the gorgeous disco number "Love Hangover" (1976).
By 1980 music was changing, but Diana was ready and would release her most successful album to date, Diana. Originally released without a lead single, the album proved so successful that Motown quickly pressed up copies of "Upside Down," which stormed its way to the top of the charts, quickly followed by "I'm Coming Out," a song that became a huge LGBT anthem following its release.
Setting the template
Whether working with Chic, Michael Jackson, or Bee Gees, Diana recognized the value in recording fresh and interesting material across the 80s. Her ability to adapt her vocals to a range of styles, be they two-minute girl-group hits, huge soul ballads with spoken-word interludes, high-energy disco numbers, or even blues standards, not only showcased the incredible versatility Diana Ross has as a performer but also paved the way for future female singers who could recognize the value in flexibility. From singing in a vocal group to performing duets, movie soundtracks, acting roles, and huge solo headline concerts, Diana Ross' career has created a robust template for future stars.
Follow the Strength, Courage & Wisdom playlist on Apple Music and Spotify for more classic songs by Motown's female icons.