The Joy Of 'Ella at the Hollywood Bowl: The Irving Berlin Songbook'
Grammy-winning producer and drummer Gregg Field celebrates the jazz icon and explains how the new release came together.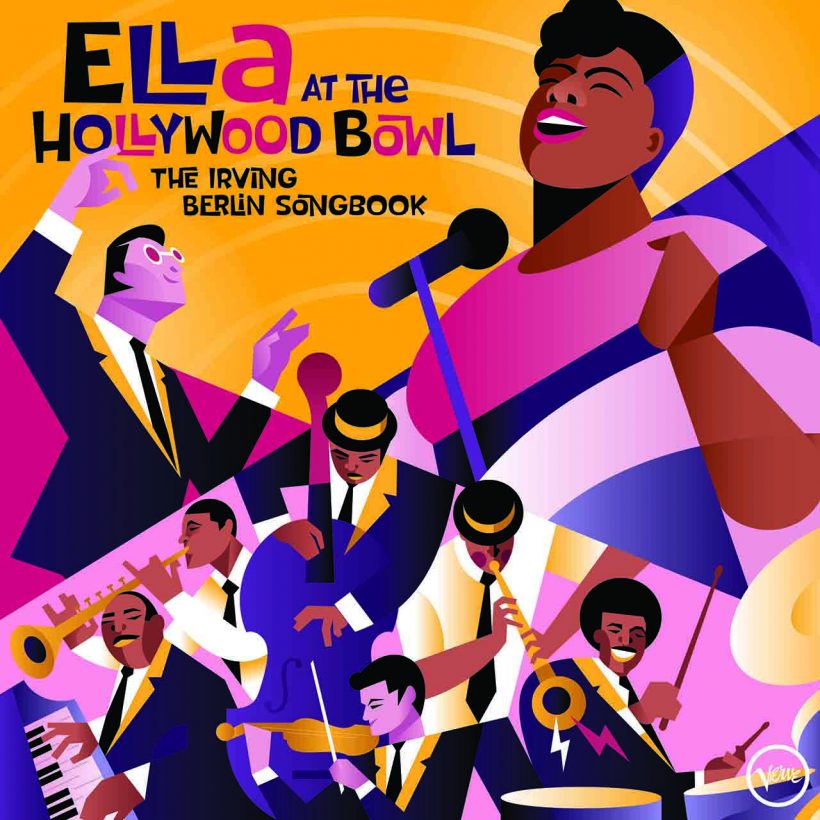 In 2021, an intriguing painting – presumed to be a print of a famous work – was discovered in the dusty closet of a Maine home. Later, an auctioneer gave relatives of the late homeowner the shock of their lives: their great-aunt had stashed away a previously unknown Picasso original, a mock-up of his largest-ever work "Le Tricorne," in a closet for fifty years. This is what it was like, according to Grammy-winning producer and drummer Gregg Field, when he came across an unreleased recording of Ella Fitzgerald performing the Irving Berlin songbook live at the Hollywood Bowl in 1958. For more than fifty years, the analog tapes of this performance sat in the private collection of Fitzgerald's manager-producer and Verve Records founder Norman Granz.
Buy or stream Ella At The Hollywood Bowl: The Irving Berlin Songbook.
"Ella's still, to this day, one of the most important jazz singers…and to have something of the magnitude of [a live performance at] the Hollywood Bowl with an orchestra… I mean, this is a real treasure," said Field, who produced and mixed the new release, Ella at the Hollywood Bowl: The Irving Berlin Songbook.
Ella Fitzgerald - Cheek To Cheek
Ella Fitzgerald's career was defined by intimate supper club performances and ballroom shows singing swingin' tunes with an orchestra. But, in 1956, the First Lady of Song made her debut at the Hollywood Bowl, a stadium venue, with Louis Armstrong. The concert, which enthralled nearly 20,000 attendees until well after midnight, was a huge success. From that point on, Fitzgerald was invited to appear at the Bowl regularly.
Over the course of her lifetime, Fitzgerald performed at the Bowl in various formats, including with her trio and, in the rare case of August 16th, 1958 – with a full orchestra led by acclaimed pianist-composer-arranger-conductor Paul Weston, who also arranged Fitzgerald's album Ella Fitzgerald Sings the Irving Berlin Songbook.
That night, Granz decided to record Fitzgerald's soaring performance to a sold-out audience. It marked the first time Fitzgerald appeared live with Weston, and captured her in a relaxed, jubilant state, getting playful with the Irving Berlin repertoire she'd recorded only three months earlier.
"It's remarkable," said Field. "Every musician will tell you, when you get music in the studio for the first time and you record it, and then you go on the road and play it, inevitably you wish you could go back because you've mined that music more, right? So, in this case, here she is, at this iconic venue, much deeper into the arrangements and the music."
Ella Fitzgerald - Puttin' On The Ritz (Live)
For Field, working on this long-lost recording was also a way to reconnect with his dear friend, Ella. "It's interesting, she was two different people. Off stage she was a very shy, very humble, and very sweet woman, but as soon as we walked on stage, she was completely intense and great fun," said Field. "I loved her."
Field first met Ella in the early 1980s, while he was touring as the drummer in the Count Basie Orchestra. In March 1985, a few years after his stint with Basie, Fitzgerald called Field up to fill in for her drummer who couldn't make a gig. From there, Field became a regular member of her band, and learned Fitzgerald's depth of talent and heart firsthand.
"Once she was singing something that was swinging, there's a joy in her singing that I don't really think I've ever heard anybody else bring to that level. On the opposite end of that, when she would sing a ballad, it came through her heart. She was incapable of singing something inauthentic," he said. "And, I have one particularly fond memory of her. The night before I turned 30, we did a concert and the next morning we headed out to the airport…when we got to the airline lounge, there was Ella holding a birthday cake, singing 'happy birthday' to me."
In 1986, congestive heart failure forced Fitzgerald to take time away from the road. At that point, Field went on tour with Frank Sinatra – but he and Ella remained close until her death in 1997. "In 2007, which would have been her 90th birthday, I put together a record called Love Letters from Ella and, at the same time, I ended up producing my first TV special. It was We Love Ella! A Tribute to the First Lady of Song, part of the Great Performances series for PBS," said Field.
You're Laughing At Me (Live)
Fast forward to 2019, and it made logical sense to involve Field when Verve searched for unheard Fitzgerald material from Granz's vaults. "My friend Ken Druker over at Verve reached out and the two of us picked about 30 recordings to listen to that could be viable." Within the archive, Field and Druker found the 1958 Hollywood Bowl performance, and an unreleased live performance of Ella and her trio from 1962 at Berlin's Sportpalast Arena. The latter would become The Lost Berlin Tapes, released by Verve in October 2020.
In the process of remixing The Lost Berlin Tapes, Field discovered a software program called Music Rebalance. The software allowed him to separate the piano, bass, drums, and vocal and create a new mix from the original four-track tape. This technology came in handy again when it came time to mix Ella At The Hollywood Bowl.
"This tape was [a mono recording] probably taken off the board…which is not ideal for a commercial recording," said Field. "So, this software came to the rescue again and I was able to basically move some of the brass to one side and some of the strings to the other to create a little audio space for Ella right in the middle."
In mixing and producing Ella At The Hollywood Bowl, Field also considered what his friend Ella would want in a live recording and he worked to capture her tenderhearted presence on stage. "What it comes down to is the emotion you get from listening to her… It's like polishing a diamond. You polish it and polish it and polish it and suddenly it starts to shine and sparkle," said Field. "The joy or the sadness or the whole range of emotion, that's what she was about."
At the time of the Hollywood Bowl recording, Ella was steadily gaining popularity from her ongoing Songbook releases – eight studio albums that she put out between 1956 and 1964, each studying works of 20th-century popular music composers, now canonized as the Great American Songbook.
In the process of recording her own interpretations of these classic songs, Ella cemented herself as one of the most adored jazz artists in history. Even after all these years, she remains so. "She was so beloved. She made the audience feel like we were all in this together, she would crack a Cheshire grin and she would kind of giggle at a naughty lyric. It completely endeared her to her audiences," said Field. "I think the test of a legacy is how it is embraced by subsequent generations…and, Ella, her personality, and her voice, keeps enchanting all of us."
Buy or stream Ella At The Hollywood Bowl: The Irving Berlin Songbook.