The Crowd Called Out For More: An Appreciation Of Procol Harum's Gary Brooker
A tribute to a unique British talent whose musical brilliance was matched by his modesty and humor.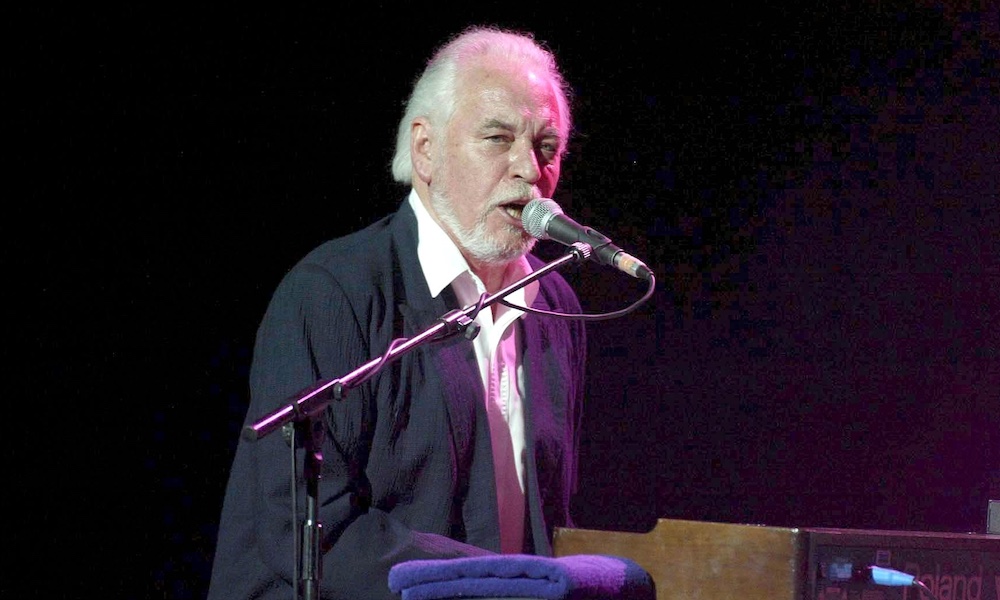 The first time I met Gary Brooker, at his well-appointed house in Surrey in the late 1980s, he was typically matter-of-fact about how he had come to buy the property. "'A Whiter Shade' paid for this," he told me. That was Gary: pragmatic, witty, and unpretentious.
When he mentioned during that conversation that he would sometimes go fishing with his neighbor Eric Clapton, it wasn't for effect. He was simply referring to a friend, fellow musician, and bandmate. When news broke that he had lost his fight with cancer at the weekend, those mates were out in force to pay tribute – and what a network of work colleagues and admirers they were, from Ringo Starr to Billy Joel, and Stevie Van Zandt to Yusuf/Cat Stevens.
Songcraft and gentle charm
Brooker's voice, songcraft and gentle charm touched millions, as the outpouring of eulogies underlined, including those by Brian May, Steve Hackett, Kenney Jones, the family of Jack Bruce, and many more. Giles Martin offered a touching memory from his youth, revealing that Gary and his wife Frankie "looked after me and my sis when my parents were away. They gave so much love and warmth to us as kids, I wish I'd thanked him before he passed."
The complete absence of fuss that complemented Brooker's musical brilliance was in evidence again at Procol Harum's Royal Festival Hall show in 2017, when he fell while leaving the stage for the interval and cut his head, quite badly. The second half was a little late starting, but back he came, dazed, bandaged, but unbowed. "Got a bit of a broken hand and a broken head," he explained absent-mindedly, and carried on. It was pure Brooker.
In their many line-ups, Procol never made a bad record, happily returning for a very long lap of honor from the early 1990s, after previously assuming that their number was up when punk stormed the (broken) barricades in 1977. The entire distinguished catalog that bears the band's name is highly recommended to new listeners, including such releases as A Salty Dog, Grand Hotel, Exotic Birds & Fruit, and 1972's epic Live In Concert (With The Edmonton Symphony Orchestra).
Gary Brooker - No More Fear Of Flying • TopPop
It shouldn't be forgotten, either, that Brooker made three impressive studio records in his own name, sadly under-represented on streaming services. The first was 1979's No More Fear Of Flying, which included the title track single and another 45, his version of Murray Head's "Say It Ain't So, Joe." The 1982 set Lead Me To The Water included contributions from Clapton, George Harrison, and Phil Collins, and was followed by 1985's Echoes In The Night, the line-up for which featured a partial Procol reunion.
I was lucky enough to meet Gary again on various occasions, including in 2009, when I wrote and produced a BBC Radio 2 show titled The People's Chart, based on PPL's data of the most-played songs of the industry body's then 75-year existence. The countdown was compiled not only from radio play, but everywhere that music is heard in public.
The people's No.1
As comedian and host Rob Brydon counted up towards the top spot, many listeners who had assumed Queen's "Bohemian Rhapsody" would lead the list, as it had so many others, landed in runners-up spot. What could have outdone it? Playfully, at that stage we revealed our mystery guest, who eventually identified himself as none other than Mr. Brooker, before "A Whiter Shade Of Pale" was crowned No.1, the people's favorite, as befits one of pop's truly immortal records.
We had stayed in touch in recent years, and even in an email little more than a month ago, he was downplaying the extent of his illness. My last face-to-face interview with Gary had been in 2017, when the latter-day Procol Harum were about to release what sadly stands as their final album, the excellent Novum. It was their first without previously ever-present lyricist Keith Reid, whose place was ably filled by former Cream co-writer and artist Pete Brown.
Brooker was rightly proud of it, as he was of the 50th anniversary that the band were also marking. "The only reason I would go on stage with Procol Harum, or make a record as Procol Harum," he told me, "is because I think we've always had…I don't know what the right expression is…a bit of dignity in there. Certain standards of music."
His feeling for the group's signature song was tempered somewhat by the media's insistence on playing "Whiter Shade" to the exclusion of so many other memorable recordings, even including their other hits such as "Homburg," "Conquistador," and "Pandora's Box." But, quietly, as he summed up their first 50 years, no-fuss Gary knew his and Procol's worth.
"Not that that seems a long time," he said of the landmark, "but to keep a standard going that amount of time – which, although a lot of British people don't know it, we have done – is an achievement in itself. I think the new album crowns that, so they can play something other than 'Whiter Shade.' Which still sounds good."