Why The Resurgence Of Latin Pop Is Here To Stay
The crossover phenomenon of Despacito suggests the resurgence of Latin pop music is here to stay, but its success traces back to Selena and Ritchie Valens.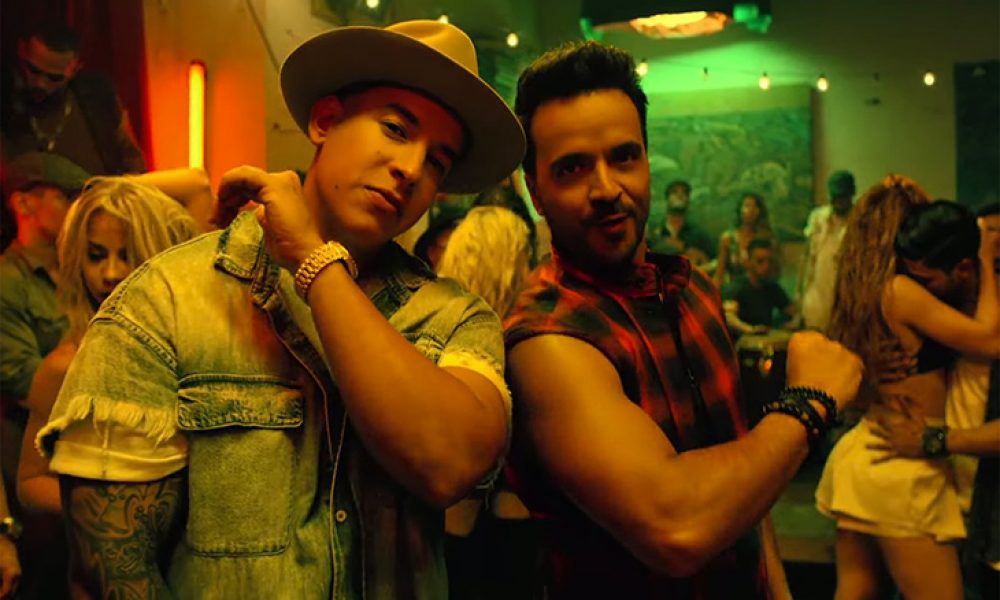 There's nothing like a new compilation to signal the winds of change. If you hadn't noticed, Latin pop music is having one of its periodic resurgences – but this time it seems to be here to stay. And while inescapable hits such as 'Despacito' and 'Mi Gente' have broken records and firmly lodged themselves in the public consciousness, a new digital-only collection, Fiesta Latina, shows that this current wave of Latin American creativity hasn't quite come out of nowhere.
Rediscovering the sultry acoustic guitar rhythms and dancehall roots of reggaetón, Fiesta Latina offers a sweeping selection of baile party favorites, from J Balvin ('Ginza') and NORE ('Oye Me Canto') to Jennifer Lopez ('On The Floor'), Juanes ('La Camisa Negra') and Charly Black ('Gyal You A Party Animal'), and pairs them with singles from the genre's rising stars, reflecting the resurgence of Latin pop in music.
If "resurgence" is the world. Really, it's an onslaught. Not since the 'La Macarena' have we experienced a cultural phenomenon quite like Luis Fonsi and J Balvin's megahits, 'Despacito' and 'Mi Gente'. Attracting guest spots from pop powerhouses Justin Bieber and Beyoncé, respectively, the global popularisation of reggaeton through 2017's most inescapable summer anthems has sparked a revival of Latin pop music in the mainstream.
J Balvin, Willy William - Mi Gente (Official Video)
Back in January, the king of catchy, chart-topping Latin pop ballads, Luis Fonsi, teamed up with reggaeton pioneer Daddy Yankee – known for his spot on NORE's 'Oye Me Canto' – to release 'Despacito' in Spanish. This collaboration between Puerto Rico's biggest cultural exports helped the song to top charts across Latin America, and to debut at No.2 on Billboard's Hot Latin Songs. Then, Justin Bieber asked them to help remix the song with lyrics in English, introducing it to a new audience – his worldwide fanbase. Premiering on YouTube in April, the 'Despacito' remix with Justin Bieber was an unintended crossover sensation technically primed for pop perfection. Its success allowed Latin pop music to receive unprecedented attention, smashing chart records along the way to becoming the world's most streamed song of all time.
Luis Fonsi, Daddy Yankee - Despacito (Audio) ft. Justin Bieber
While its record-breaking success marked the first time that a song sung in another language has topped the charts long enough to tie with Mariah Carey's long-standing record for most weeks at No.1 (with 'One Sweet Day'), Latin America is no stranger to realising mainstream musical success. Most remembered by her signature fruit hat, Brazil's Carmen Miranda first introduced Latin music to American audiences through film in the 40s. While largely forgotten today, Miranda brought samba into the limelight by incorporating both English and Portuguese lyrics to attract cross-continental recognition.
An approach also embraced by artists such as Desi Arnaz and The Champs, it wasn't until October 1958 that Ritchie Valens laid the foundation for the future introduction of Latin subgenres into the fabric of mainstream pop music with 'La Bamba'. A B-side to his Billboard chart-topping single 'Donna', 'La Bamba' was a rock-inspired version of a traditional Mexican folk song in sung entirely Spanish. An unexpected hit stateside, the Latin anthem went on to peak at No.22 on the Billboard Hot 100, and Valens enjoyed posthumous success in 1987 when the song made prominent appearances on several European charts.
Now a cultural mainstay, José Feliciano's iconic Christmas classic, 'Feliz Navidad', fully embraces the flamenco guitar and seamlessly interweaves Spanish and English. Feliciano was the first Latin American artist to release albums in both languages – a formula that had already been long adopted by non-Latin pop artists trying to broaden the international appeal of their hit singles. From Nat King Cole and Frank Sinatra (whose 1967 collaboration with Antônio Carlos Jobim brought bossa nova to a new audience), to Madonna, Beyoncé and even Kendrick Lamar, each generation has a star who seeks to bridge the cultural gap between English-language and Latin pop music.
Though 'Despacito' may seem a no-brainer for overnight success, such cultural crossover hasn't always been easy. Nicknamed La Reina ("the queen"), Selena Quintanilla initially faced a battle for acceptance, despite her Mexican-American heritage. While fully part of the fabric of Tejano culture, Selena, like many third-generation Latin Americans, did not speak Spanish. Seeking acceptance within the frameworks of both American pop stardom and Latin music, Selena performed a blend of pop- and cumbia-inspired titles in both Spanish and English. Though murdered at the tragically young age of 23, hits such as the US Latin and Regional Mexican Billboard chart-topping 'No Me Queda Más' (1994) ensured that Selena's legacy as an icon would prime the world for an explosion of Latin pop music, beginning in 1996 with the global rumba hit, 'La Macarena', by Los Del Rio.
Selena - Bidi Bidi Bom Bom (Official Music Video)
As inescapable in its day as 'Despacito' is now, 'La Macarena' dominated the world charts for 60 weeks, well into 1997; at the same time, Jennifer Lopez appeared in her breakout lead role in the Selena biopic. The following year, Dru Hill's Latin-styled 'How Deep Is Your Love' and Lou Bega's 'Mambo No.5' kept the broader genre from completely fading from the public eye. But it wasn't until the late 90s and early 00s that Ricky Martin, Jennifer Lopez, Enrique Iglesias, Santana, Gloria Estefan and Marc Anthony would infiltrate the pop mainstream. This globally unprecedented rise in Latin pop music was just the beginning.
The accessibility and democratisation of streaming platforms such as YouTube and Spotify has made Latin America an incredibly influential tastemaker in music discovery. Latin pop music now dominates the Spotify Global Top 50. Six of the ten most-streamed music videos on YouTube are inflected with Latin rhythms and lyrics – and this doesn't look set to change anytime soon.
Latin pop artists of today are exploring new ways to incorporate trends in music with vocals and grooves intrinsic to the genre. J Balvin's infectious late summer 2017 hit, 'Mi Gente', bent vocal loops into snake-charmer flutes; defied the markings of reggaeton with sung, rather than rapped, vocals; and incorporated mostly Spanish-language lyrics (with subtle addition of English and French, thanks to Beyoncé and French DJ-producer Willy William) to form a viral sensation.
Although J Balvin is certainly one to watch, other rising stars across Latin pop music are borrowing from untapped subgenres of Latin music to erase cultural barriers on a global scale. Fellow Puerto Rican export Chris Jeday looks to Atlanta for inspiration from the trap scene, infusing Latin musical traditions with signature lurching basslines and jittery snares. Meanwhile, the Swedish-born Mapei experiments with Brazilian funk to deliver a distilled R&B ballad.
OneRepublic - No Vacancy (Lyric Video)
Living in an interconnected world, these artists unify elements of music that have, until now, remained disparate. Colombian-bred and Miami-raised, Sebastián Yatra blends romantic pop with hip-hop and tropical house, and is expected to become a heavy-hitter on the world stage in 2018. His collaboration with OneRepublic, 'No Vacancy', could very well become the next 'Despacito'. It's only a matter of time.
Format:
UK English