'Games People Play': How Mel Tormé Funked Up A Country-Rock Classic
The singer's return to Capitol Records kicked off with his rendition of a country-rock classic. It helped revitalize his career.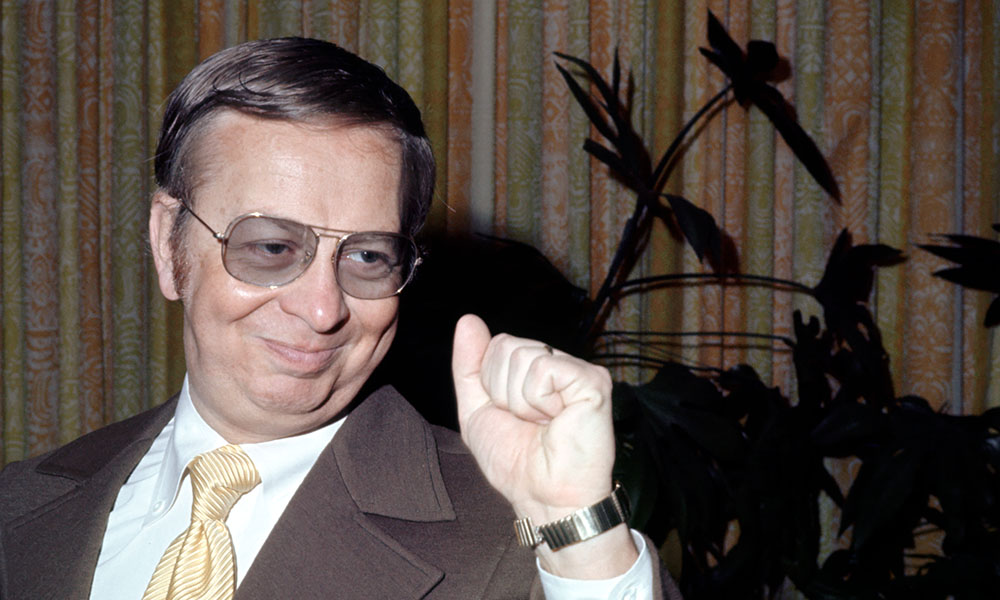 In 1969, 44-year-old Mel Tormé was at a low ebb. He was without a recording contract after a one-off LP trying to cash in on the hit 1967 movie Bonnie & Clyde sank like a stone. That disappointment came on the back of an unsatisfactory two-album spell at Columbia Records in the mid-60s, which he described in his 1989 autobiography It Wasn't All Velvet as "an exercise in musical futility."
Twenty years or so earlier, it had been a different story. Tormé rose to fame in the 1940s leading the close-harmony jazz group, The Mel-Tones, before going solo and scoring a chart-topping US hit in 1946 with "Careless Hands" for Capitol Records. The same year, he co-wrote with Robert Wells a song that became a Holiday season evergreen: "The Christmas Song."
The Christmas Song (Chestnuts Roasting on an Open Fire)
In the 50s, a series of recordings for several different labels established Tormé as a first-tier jazz singer who could swing and scat like a male Ella Fitzgerald. A fertile spell at the Verve label between 1959 and 1962 resulted in probably the most satisfying phase of Tormé's career in terms of recordings, but a move to Atlantic in 1962 yielded "Comin' Home Baby," his first US hit since the early 50s. As the 60s progressed, however, Tormé and others like him had to face an uncomfortable truth; the remorseless rise of pop and rock music revealed the world had moved on from jazz crooners.
Listen to Mel Tormé's version of "Games People Play" now.
But just as his musical stock had seemingly plummeted to an all-time low, Tormé found a savior in his new manager, Jess Rand, a former PR man for Sammy Davis Jr, who helped to get him signed to the record label he regarded as his alma mater, Capitol Records, where he'd begun his solo career 23 years earlier. Although it was a very different company from the one he'd left, he was optimistic about his new musical marriage thanks to the producer Capitol had assigned him: "A ray of hope at that now firmly committed rock-pop label was Dave Cavanaugh, a holdover from the old days," he wrote in his memoir. "I knew he liked my work, and it could be – it just could be – we might put out something decent together."
Cavanaugh was a saxophonist-turned-arranger, who had become head of Capitol's A&R department in the 1950s. As a producer, he worked with legends such as Nat King Cole, Peggy Lee, Frank Sinatra, and Nancy Wilson. Tormé was hoping to make a jazz album but instead was told by Cavanaugh that "the word from 'on high' was for me to make an LP 'covering' some current hits." The result was a pop-oriented MOR LP called A Time For Us, where Tormé wrapped his velour tonsils around songs that ranged from The Turtles' "Happy Together" and Michel Legrand's "The Windmills Of Your Mind" to the Louisiana swamp rocker Tony Joe White's "Willie And Laura Mae Jones."
The standout performance, however, was the opening cut, "Games People Play," which was the first track Tormé recorded for the album during a session in Los Angeles on June 2nd, 1969. The song was from the pen of Joe South, a country-rock tunesmith from Atlanta who scored his first hit in 1958 and also wrote songs for rock and roll icon Gene Vincent. South's wry meditation on the human condition – supposedly inspired by the bestselling book Games People Play: The Psychology of Human Relationships, written by Canadian psychiatrist Eric Berne – seemed to resonate with people around the world, propelling it to huge international success. It even won South two Grammy awards in 1970; for Best Contemporary Song and Song Of The Year. Its message struck a chord with other artists. The same year that Tormé recorded his version, 43 other singers cut the tune, ranging from the UK's Petula Clark to southern soul man Johnnie Taylor and country queen Dolly Parton.
But thanks to arranger/conductor Jimmy Jones, a Memphis-born pianist-turned-arranger who had worked with everyone from Duke Ellington to Ella Fitzgerald, Tormé's version of "Games People Play" stood out from the crowd. Markedly different, it began with a busy, driving electric bassline which initiates a tightly syncopated backbeat garnished with horns and a tinkling piano. Tormé transforms the tune into a groovy slice of jazzy funk, or, as producer Dave Cavanaugh described it in the album's liner notes, the song found "Mel doing his thing coolly and commandingly amid a total insurrection of brass and percussion."
Capitol didn't release Tormé's interpretation as a single, probably because Freddy Weller (the ex-Paul Revere & The Raiders' guitarist) recorded the tune as his debut solo 45 in 1969, reaching No. 2 in the US country charts. Even so, Tormé's version has grown in stature over the years and has become among his most successful songs on Spotify.
Though it captured Tormé at a transitional point in his career – far removed from his jazz roots and arguably out of his musical comfort zone – "Games People Play" not only highlighted his versatility as a performer but also affirmed his ability to bring a sense of cool sophistication to everything he sang.
Listen to Mel Tormé's version of "Games People Play" on Apple Music or Spotify.