A Rock'n'Roll Zelig: Peter Frampton Turns Back The Pages In New Memoir
The guitar hero describes how and why he set about documenting a unique life in rock'n'roll.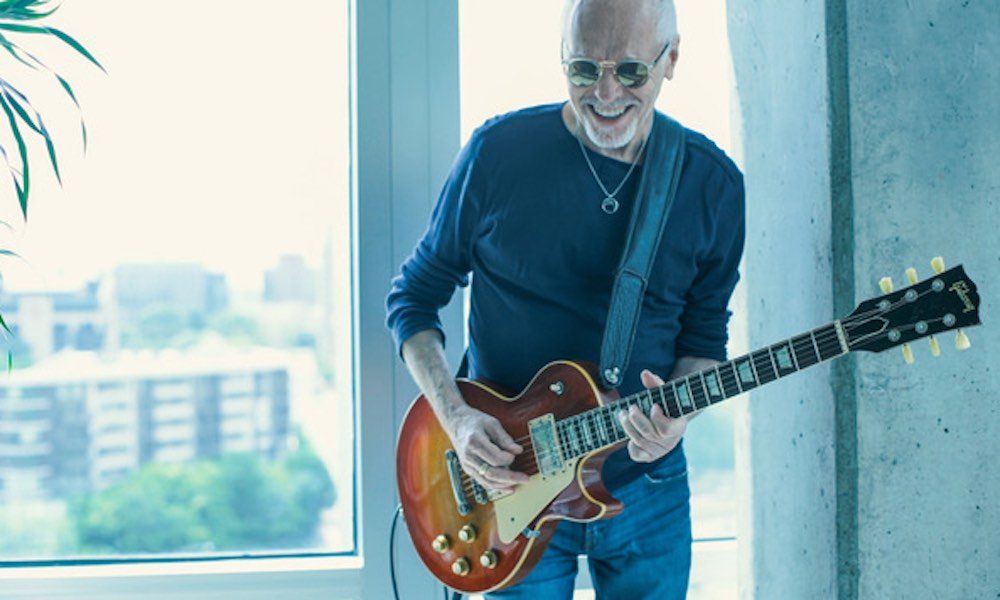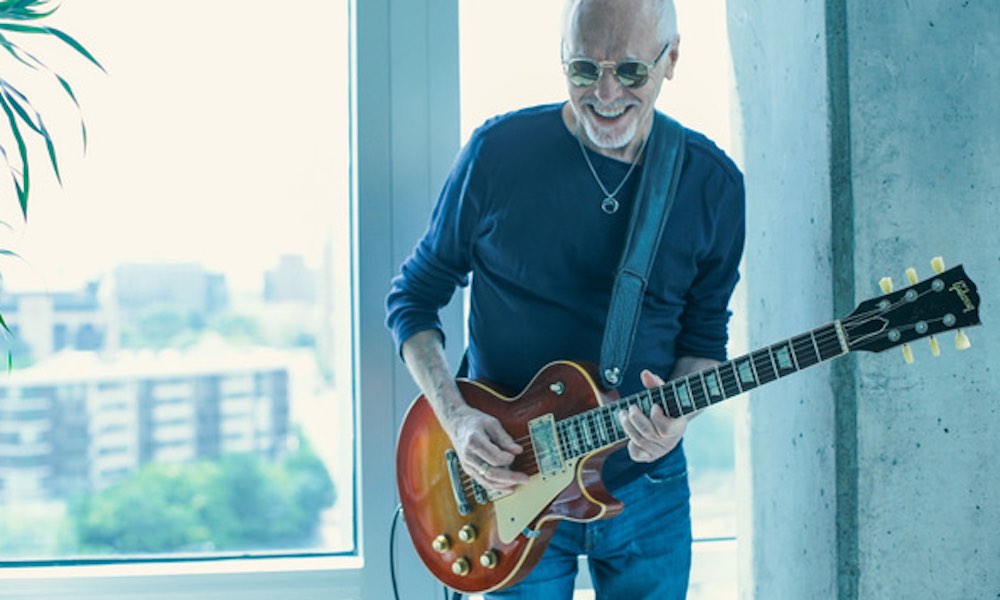 Peter Frampton's new memoir Do You Feel Like I Do?, out now from Hachette Books and an instant entry to the New York Times Hardcover Nonfiction bestsellers, boasts the glittering cast of characters who have populated his life.
They include friends such as George Harrison, Ringo Starr, Harry Nilsson, Bill Wyman and his old schoolmate David Bowie. There are recordings with Stevie Wonder, B.B. King, Jerry Lee Lewis and so many others, album success on a scale few have matched, and stardom that sent him to the brink. But the unsung heroes of his story are the parents that opened those doors, Owen and Peggy Frampton.
"One was a teacher and one was a headmistress' secretary. Very grounded, very down-to-earth, bright people," says the guitar hero down the line, recalling the early days he describes in the book, growing up in Beckenham, Kent. "It's only in hindsight that I can look back and realise how lucky I was to have the parents I had. I think them seeing this gift that I had become a reality, very early on, when I first picked up the banjolele [aged seven], they were taken by surprise.
Peter Frampton's Memoir "Do You Feel Like I Do?" Available Now!
"They had to start thinking ahead, much more than I did, about what I was going to do. I think had it not been, as I describe, my mother's penchant for being a great actor which she would have been, and getting this scholarship to [the prestigious drama school] RADA and then not being allowed to go, is the reason we're talking today. Oh," he adds, as he thinks back. "I got chills on that one."
As with most of their generation, the things that Frampton's parents endured shaped the people they became, and he was the beneficiary. "They lived through the Second World War, and my dad was in every major battle in Europe and Africa. As fate would have it, she goes through the blitz and he goes through the barrages at the same time, and they don't see each other for nearly six years. They get back together and within a few years, I'm born.
Forgetting the class system
"[My mom] was determined at that point, I'm sure, that if she had children and they had a talent, they're going to be allowed to do it. I believe that any vestige of Victorianism left over from my grandparents was thrown out the window by all baby boomer parents. Especially in England. 'Let's forget the class system. Those of us that survived this are lucky people.'"
He goes on: "Everyone says 'Why did so much great creativity come from England, of all places, after the war?' And I believe it's a British thing. We survived, we built back and our parents wanted to live in peace and let their children do whatever they wanted to do, within reason obviously. If it weren't for the Second World War and the devastation in Europe, there wouldn't have been The Rolling Stones, The Beatles, all this stuff."
So it was that the aspiring young musician was allowed, more open-mindedly than in most households of the day, to venture forth. He was airdropped into a world that would bring him multi-million-selling fortune, the downfalls of drink and drugs, and a hard-won recovery to the esteemed status he enjoys today.
Venturing forth at 14
So precocious was Frampton's talent, there was never a question of what his calling was. "It was going to be music," he says. "My parents knew before I did that I was going to be in a band. They were dreading it, but they let me do it when it happened. It was such a small scene [in London], and I got injected into it when I was 14.
Do You Feel Like I Do?, written with music journalist Alan Light, illustrates all of those adventures, from pre-teen combos to UK rhythm and blues frontrunners the Preachers, with whom he came under the wing of Bill Wyman, a friend from that day forward. The group's line-up included prototype Rolling Stone Tony Chapman, and they even appeared as the warm-up on a special all-Stones edition of seminal UK pop show Ready Steady Go!
The book takes readers into the bars and clubs of a modestly swinging London that saw Frampton move on to chart stars The Herd, where he was the reluctant "Face of '68," and then to rock glory in Humble Pie, before an exit for solo pastures. After several years of seed-sowing often overlooked in the story of the skyrocket he boarded called Frampton Comes Alive!, there's the glory and confusion of that uncharted course, and how it took him all the way up and all the way down again.
Do You Feel Like We Do (Live In The United States/1976)
"I felt the disconnect between the perception of me and the way I thought about myself," he writes. "This side's going, 'Yeah, you're doing okay, buddy; yeah, it's going good. You're the biggest star in the world right now.' And this other side's going, 'Holy sh_t! How do I follow up that album?'"
In the second half of the volume, Frampton analyzes how and why he "stagnated" in that bubble of fame, and how he finally freed himself from it to regain himself both personally and professionally. There are pinch-me moments without number, including one that came back to him when he was sent a particular photograph. It took him back to his uncredited appearances on George Harrison's seminal All Things Must Pass album of 1971.
"The picture that the estate of George Harrison sent of me, I had never seen," he says. "I had this high-res shot of me sitting on the floor with George, Ringo, Billy Preston and [US producer/pedal steel player] Pete Drake in Abbey Road. That was the only picture I ever saw.
Meeting George with knees buckling
"[But] Mal Evans, the [Beatles'] road manager, was always going around taking pictures. They sent me this picture they just tweeted of me standing next to Stephen Stills, who's sitting, and George's back, talking to me, wearing that famous guitar Lucy." Such was the nickname of the red Gibson Les Paul that Harrison had been gifted by Eric Clapton. "He gave me that, [and] I'd met him 20 minutes earlier. [I have] this very sheepish look on my face. I think my knees were buckling at the time. It blew my mind."
The book project moved into focus as Frampton came to terms with his diagnosis with the autoimmune disease Inclusion Body Myositis (IBM), a progressive muscle disorder. It prompted him to organize, and partially to complete pre-lockdown, a farewell tour celebrating his catalog and his then-new, widely-praised album with the Peter Frampton Band, All Blues.
"I was very pleased that we got to do the US and Canada portion of the farewell tour and it was amazing," he beams. "The amount of love I got back each night from the audience was unbelievable, it really was. And we were bowled over by the success of the album. It's a great record. I'm self-deprecating, but when I do something good, I'll agree with everybody else," he says with a laugh.
"I had always been reticent about doing a book, but then when things got to the point of the IBM, and I knew about that way before anybody else, obviously, that's when my manager and I did start talking. I said for the first time ever, I'm actually thinking that's a good idea, so it was germinating."
Reading "Do You Feel Like I Do?"
Frampton has also taken pleasure in reading the audiobook version of his work, and although lockdown has prevented him, so far at least, from completing that stage farewell, he continues to be busy at home, preparing further recorded work. At the same time, the book has given him the chance to look over his shoulder. When he does, it brings many a smile, and often a hearty laugh.
"Two people now have called me Zelig," he says, in reference to the Woody Allen movie character who seems to show up in every photograph. "'There's The Who…oh, there's Peter Frampton!" 'There's the Stones…oh, there's Peter Frampton!'"
Do You Feel Like I Do? is out now and can be bought here.
Listen to the official Do You Feel Like I Do? playlist on Spotify.