'Summer Of Sorcery': "We Need Some Light And hope" Says Little Steven
An antidote to "the f__ing dark ages", 'Summer Of Sorcery' seeks to capture the "liberating feeling" of summer, says Little Steven in this interview.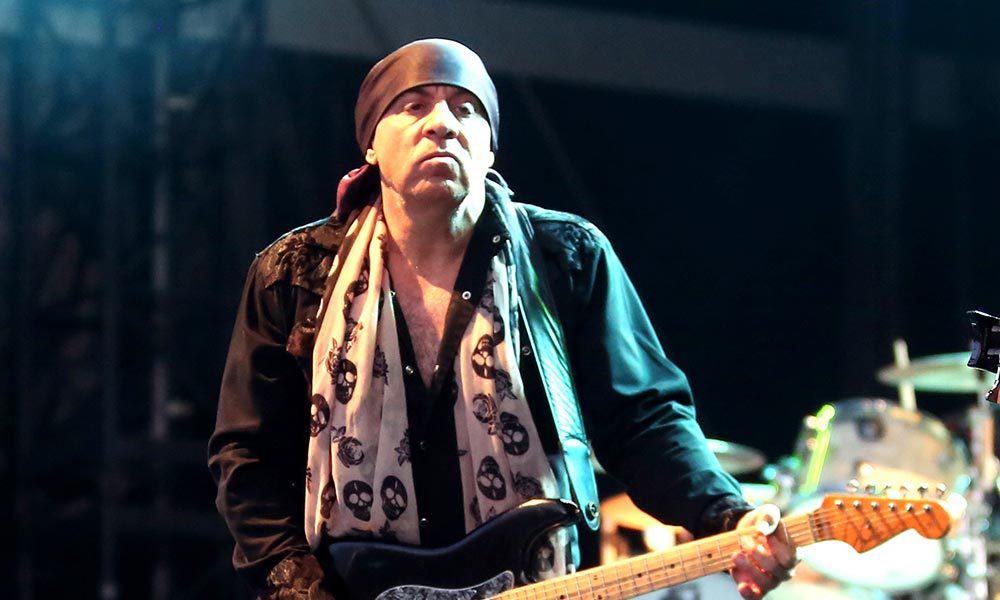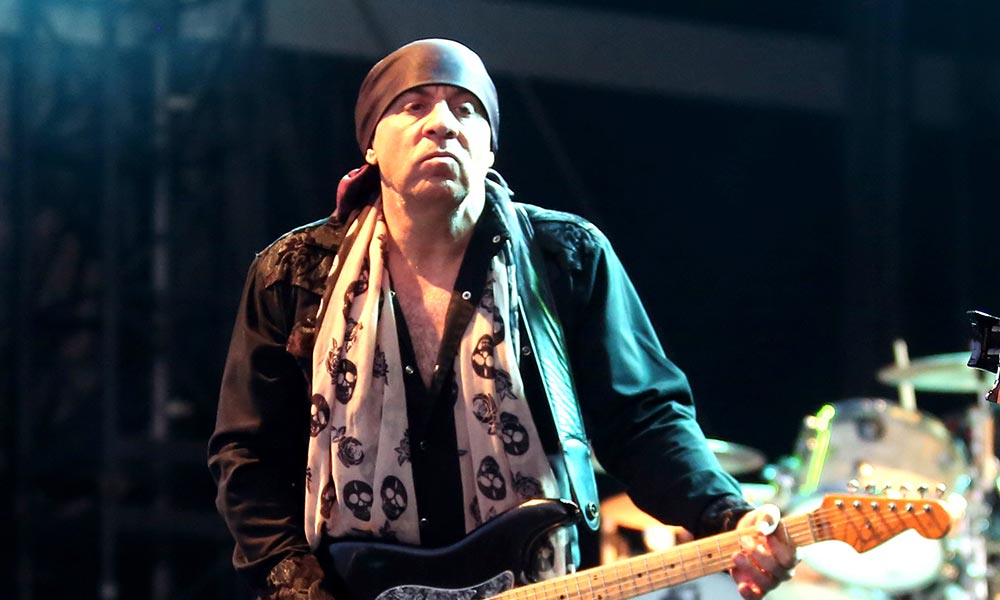 Steven Van Zandt, or Little Steven, as he's known, is a strikingly energising person, so it's no surprise that he has succeeded in his quest to counter the bleakness of modern times with a joyous new album. Summer Of Sorcery, recorded with his band The Disciples Of Souls, and released on 3 May 2019, is bursting with colour and light.
Earl Grey tea, sipped on a sunny afternoon at a street café table in London's bustling Covent Garden, was the only grey thing about this 68-year-old musician, who was decked out in vibrant clothes, a snazzy bandana and shiny jewellery when he spoke to uDiscover Music. He offered up his own verbal gems about everything from the blues, jazz, acting, politics, teaching, inspirational youngsters and his memories of a remarkably bitter rock icon.
Listen to Summer Of Sorcery right now.
Little Steven was in London as part of a world tour for Summer Of Sorcery, a journey that covers Australia, Europe, Canada and America before returning to the UK in August. How did the successor to Soulfire (2017) and Soulfire Live! (2018) come about?
"We need some light and a bit of hope"
"I thought, What do we need now in the world now?" says Little Steven. "My God, what a dark time we are living in. We're in a dark, dark, dark part of our civilisation – the worst I have seen in my lifetime, and probably since the Second World War. And history is going to remember this as a new dark age. Vietnam was pretty dark, but this is an even darker time. I decided to write something uplifting. I thought, We need some light and a bit of hope."
He describes Soulfire as "basically a summary of my life" and says that working closely with his brilliant band for two years allowed him to expand and develop his music.
"I said that not only do I want to do a new record, I want to go in a new direction," he explains. "Every album I have ever done has been autobiographical or political and I wanted to leave both of those things behind. I wondered, Will I have an identity left? Who am I? I don't know. So I decided, let's find out. I was as curious as anyone about how I would evolve. It happened completely organically, I didn't plan anything. But with The Disciples Of Soul I came back to what is most uniquely me – which is rock meets soul. I will stick with that musical identity from now."
"I got the idea of fictionalising my life in 12 little movies"
Little Steven, who is enjoying a successful solo career away from his acclaimed work as guitarist with Bruce Springsteen's E Street Band, favours conceptual albums rather than collections of songs. His idea for the album was "music that recaptured the feeling of summer".
Once he had come up with the overarching theme, he fell back on his mantra of "craft, craft, craft". "I teach masterclasses on songwriting and it has been funny with this album, because I have been living my own classes in a way and taking my own advice," he says.
"I liked the whole summer idea, of the earth blooming and recapturing that idea of being young, out of school and falling in love with life, falling in love with love, with possibilities of unlimited adventures. That feeling was very easy to tap into because it is just below the surface in all of us. Summer has that liberating freedom. You are coming out with less clothes on, and those are defences, aren't they? Summer is symbolic and elusive, a fantasy, a yearning inside that has never been satisfied."
His next task was to work out how to bring the concept to fruition. "I got the idea of fictionalising my life in 12 little movies and I am a different character in each one," he says.
Superfly Terraplane – Little Steven & The Disciples of Soul
The tracks 'Love Again', 'World Of Our Own', 'Party Mambo', 'Soul Power Twist' and 'Superfly Terraplane' would light up any summer evening. The title track has echoes of Van Morrison's music. "I decided I wanted to visit Van Morrison for the first time, as I have always been a huge fan of Astral Weeks," says Little Steven. "I love everything about him, his origins and then turning into the Domino period and the later R&B and soul. I relate to that arc of his career."
Did he know that, as a young man, Morrison used to run errands, including fetching Chinese food, for the Chess Records legend Little Walter, in return for harmonica tips, showing him how to play the harp in several keys. "That's amazing," says Little Steven. "And you can bet I will ask Van about that next time we meet." He jokes about a recent reunion at BluesFest, when he paid his own tribute to Morrison. "Van's a funny guy, actually. Did you see the photograph of me vacuuming his dressing room in homage?" he adds with a laugh.
"I completely credit this band with this album"
Summer Of Sorcery shines with his appreciation of other musical greats. "Sam Cooke and Smokey Robinson are always go-to guys but, for once, I thought I am going to broaden my thing," he says. "My core of rock meets soul is there, but I am venturing more into James Brown, Tito Puente and Sly And The Family Stone to fill in some of the colours. Sly And The Family Stone are kinda missing from the zeitgeist at the moment. With Tito Puente, I've always had a Latin thing that, honestly, I am not sure where it comes from. It could come from 'La Bamba', 'Tequila', 'Twist And Shout' and the Smokey Robinson 'Going To A Go-Go' Latin theme I have loved. But I have never taken it quite as far as I have with 'Party Mambo!'"
Little Steven - Love Again (Audio) ft. The Disciples Of Soul
It is one thing to have a picture in your head of all these musical streams but bringing them together is another matter – you need high-calibre, flexible and knowledgeable musicians. "That's the absolute key," says Little Steven. "You want the authenticity from those subgenres and then you can mould it into your own identity. I won't worry about impersonating anybody. I am not that good. But when I shout to drummer Richie Mercurio, 'Give me Hal Blaine,' he knows what I want."
On the track 'Gravity', there is superb brass backing, courtesy of top-class musicians. Trumpeter Ron Tooley played with James Brown and Mel Tormé; trumpeter Ravi Best played with Blue Note Records legend Sam Rivers; tenor saxophonist Stan Harrison recorded with David Bowie and Talking Heads; baritone sax player Eddie Manion played with Diana Ross and Robert Cray. "I completely credit this band with this album," says Little Steven.
"I was not leaving this incredible Miles Davis on the f__ing floor"
He worked with one of the greatest brass players of all time in 1985, when he organised Artists United Against Apartheid and persuaded the "scary" Miles Davis to take part. "Miles was transformative. He was brilliant and a model, really, for any artist," says Little Steven. "To be able to have enough faith in yourself and your own identity, to take the adventures he did, was something special. I didn't have the lengthiest conversation with him when he turned up to record the song 'Sun City'. It was a miracle he showed up and I wasn't going to blow it by doing an interview, but that made my day and the whole album."
What it was like to direct the prickly jazz star? "I pictured the Miles stuff being in the moody intro, which would return in the middle," says Little Steven. "You are talking about a single and needing a 20-second intro for a three-and-a-half-minute single. He played for about five minutes and then I had him play again with the mute. I had all this incredible Miles Davis, six or eight minutes of him playing against a long drum riff, and I was not going to leave it on the f__king floor. I was gonna use every f__king second of it. So I brought in Herbie Hancock (piano), Ron Carter (bass) and Tony Williams (drums) to play along with what Miles did. That's how it became an album."
Miles Davis - Artists United Against Apartheid (from The Miles Davis Story)
Little Steven deserves credit for organising such a seminal protest album. "It was a wonderful album that evolved organically," he says. "We told people to just express what they wanted to express about South Africa. The two guys I really wanted on the album were Miles and Gil Scott-Heron. Gil was on the lam at the time. I had to call a phone booth somewhere in the Washington, DC, area at four in the afternoon and try to get him to come up and record. He thought he would be arrested, so that was a bit of a challenge, but once I had Miles and Gil Scott-Heron, I thought, OK, I got my song. Gil was the first one to talk about South Africa, with his song 'Johannesburg'. I was also inspired by hearing Peter Gabriel's 'Biko', which was important for me in connecting with the whole South Africa thing. Peter came in singing this weird chant, harmonising with himself."
"White guys trying to imitate black guys – isn't that the story of rock'n'roll?
Little Steven's passion for music was there from childhood. His parents' taste in jazz was more big-band than bebop, and he recalls hearing them play the music of blues shouters such as Big Joe Williams. They also had a fondness for Frank Sinatra.
Did he record Sinatra's 'My Kind of Town' as a tribute to his mother and stepfather, with whom he moved from the Boston suburbs to New Jersey when he was seven. "I got into Sinatra in my 20s," says Little Steven. "At first, when you are trying to form your own identity, your parents' music is irrelevant, but then you broaden your horizons a bit and realise it's great stuff there. I was always into Sinatra as an actor. I liked him and related to him even as a kid. Robin And The 7 Hoods remains one of my favourite movies to this day. Sinatra's movie attitude was brilliant, that Tony Rome, 'wise guy' kind of attitude."
One indelible memory is watching (along with 73 million other Americans) The Beatles appear on The Ed Sullivan Show on 9 February 1963. Little Steven was 12. "It was the most important moment of my life and left a mark on my generation," he says. "It was the equivalent of a flying saucer landing in your local park, only it was more impactful than that because you had seen flying saucers land in the park in the movies. We had never seen anything like The Beatles."
Little Steven went to concerts to see the legends of the time, including The Beatles, Sinatra, Elvis Presley, The Who with Keith Moon, Jeff Beck with Rod Stewart, and the young Rolling Stones. "The real stage guys when I was growing up were James Brown, Jackie Wilson and Joe Tex. Mick Jagger stood out as the only white guy apart from Elvis I can think of who actually starred on stage. The black singers were performers and it was just not a white guy thing. Jagger was imitating the black guys as much as he could, and it worked. White guys trying to imitate black guys and failing gloriously, I mean isn't that the story of rock'n'roll? The Stones were the greatest example of it. The freedom of Mick Jagger's crazy movements was a wonderful synthesis of black and white."
Musically, Little Steven was also drawn to the American blues. "Muddy Waters was very important to me, as was Little Walter, Sonny Boy Williamson, Howlin' Wolf, Elmore James – the south side of Chicago guys. I liked Buddy Guy and Junior Wells. Albert King more than BB King – but not Freddie King. I had an unfortunate meeting with Freddie King when I was young, and he was obnoxious, so I never include him in my lists."
"I'm very uncompromising about 'no drama'"
On their current tour, Little Steven and his band have occasionally covered songs by Etta James ('Blues Is My Business') and James Brown ('Down And Out In New York City'), and they were even joined by Bruce Springsteen in April in New Jersey for versions of 'Tenth Avenue Freeze-Out', 'Sun City' and 'I Don't Want To Go Home' at a concert at the Asbury Park Music And Film Festival at the Paramount Theatre. Little Steven is a model of affability to the numerous passing strangers – and even cab drivers bringing their taxis to a shuddering halt in a busy road to leap out and say hello – who ask him about the next E Street Band project with The Boss. There is one mooted for 2020, according to Springsteen.
Little Steven says he still enjoys touring and says the atmosphere among his Disciples is enjoyable. "I'm very uncompromising about 'no drama'… too old for it," he says. "You are supposed to get more patient when you get older. I'm not finding that to be true. I think I have less patience than ever."
Does a particularly bad gig stick in his mind? One that still leaves a sour taste? Steven, who talks eloquently and at speed, pauses for some time before recalling a gig he and Springsteen played with Chuck Berry at the Concert For The Rock And Roll Hall of Fame in September 1995, more than a decade after he had left The Boss to pursue his own projects.
"Chuck was grumpy. Always grumpy"
"It has been very rare, but I found it extremely awkward after The E Street Band had been disbanded. I had been gone for quite a while. We were brought back together for the opening of the Hall Of Fame, when we were accompanying Chuck Berry and Jerry Lee Lewis. I remember that gig being weird, really weird. Bruce had really changed. I think it was the longest time we had been apart. It was awkward. We didn't feel like friends at that moment – close enough friends to be on stage together. And I am used to being on stage with friends."
It seems Chuck Berry added to the problems. "Chuck was the most important rock'n'roller of all time, without a doubt, but it is such a tragedy that he went through his entire life being the most bitter human being you have ever met in your life, just pissed off at the world for being ripped off," says Little Steven. "He didn't have any friends, really, who could sit down with him and say, 'Let's analyse your life. Everybody got ripped off when they were young and it shouldn't have happened, but the Chess brothers made you f__king famous, and you took home 10,000 dollars in cash in your guitar case for five days a week for 60 f__king years. Add that up!' Chuck was grumpy. Always grumpy. So that didn't help. It was just a weird gig."
"One of the greatest achievements of my life"
Though his work with Springsteen is admirable, Little Steven is a fantastic achiever in his own right, not least for his acting role in the classic HBO show The Sopranos, when he played Silvio Dante, the consigliere, chief advisor and best friend to James Gandolfini's Tony Soprano. He's taken by surprise with a Sopranos question, asking specifically about Silvio's impression of Al Pacino in The Godfather Part III ("Just when I thought I was out, they pull me back in"). Was his Michael Corleone speech something he'd already mastered and then offered to the show's writer and creator, David Chase?
Silvio Dante's Al Pacino impression
"Nooooooo! I wasn't in the impersonation business. I learned it," he says, laughing. "I studied the film closely, because I wanted to get it exactly right, so I could then exaggerate my version and make it a bad impression. When I did it first, it was a little bit funny but not funny enough. 'That's how Al did it,' I told David Chase. 'Now let me really overdo it and it will be funnier,' I said. He liked my exaggerated version and I did it a few times. But it was David's idea, because he always thought that the younger version of me resembled Pacino somehow… I don't know."
Little Steven is especially proud of his work on Lilyhammer, a Norwegian-American TV show in which he plays Frank "The Fixer" Tagliano. "That was one of the great achievements of my life," he says. "I took everything I learned from The Sopranos and applied it to Lilyhammer. I did most of the music and the supervision for all the songs, co-wrote the show, co-produced it and directed the final episode."
Little Steven's music from Lilyhammer, which ended in 2014, has been collected together and will be released as two separate albums (Lilyhammer The Score: Volume 1: Jazz and Volume 2: Folk, Rock, Rio, Bits And Pieces) in July via Wicked Cool/UMe.
Little Steven - My Kind Of Town (From "Lilyhammer") ft. The Interstellar Jazz Renegades
"It was a once-in-a-lifetime experience," he adds. "We only did 24 shows but people discover it every day. I am really proud of it. It was brilliantly conceived by the husband-and-wife team Eilif Skodvin and Anne Bjørnstad. When they said they'd written something for me, I said, 'Jeez, I really shouldn't play a gangster again, should I?' I had been in The Sopranos for nearly 10 years, over seven seasons. But Frank was such a different character, it was an opportunity I couldn't resist. It was very difficult but a blast."
"I see billions being wasted on symbolic s__t that doesn't work"
Challenges are nothing new to Little Steven, whose important work with his TeachRock programme has earned him an honorary Doctorate Of Fine Arts from Rutgers University. Though he wasn't a diligent student himself ("I was the worst… The real reason I am doing this is to make up for all the s__t I put teachers through in high school"), his venture tackles two problems: the axing of music classes, and an epidemic of students dropping out of high school. The programme features free, engaging interdisciplinary lesson plans. The scheme has registered 25,000 teachers and draws in more than two million children.
"When I started visiting schools, I found out that they were teaching kids the same way they taught me, with the message, 'Learn this now and some day you will use it.' I thought that was not going to work anymore, not for today's children," Little Steven explains.
"We needed to create a methodology for the modern world. Kids are naturally into music and instead of dragging them to us, let's go to them. 'Who is your favourite artist? Beyoncé. Well Beyoncé comes from Aretha Franklin and, by the way, she comes from Detroit; here's a bit about that. And, by the way, Aretha comes from the gospel church and there is a bit about that. And, by the way, she was part of the civil-rights movement and here is a bit about that.' It's a journey and kids are completely engaged. We are on their turf, they relate."
Little Steven - Solidarity (For Teachers!) ft. The Disciples Of Soul
Little Steven talks about the frustrations of fundraising for TeachRock, adding, "I see billions being wasted on symbolic s__t that doesn't work. This ain't symbolic, it's real, and people should be standing in line to give us money for this. We'll see."
"I have hope for this millennial generation"
Politics are never far from Little Steven's mind. We meet on 24 May, the day of British Prime Minister Theresa May's show of tears at being forced to announce she will leave No.10. He has been very vocal about the ills of Brexit and believes there is a distinct lack of "tough good guys". Beware Boris Johnson, he says.
What does give him optimism for the future? "I think the Green Party should tap into what the kids are into. This thing is gaining strength and I have hope for this millennial generation," he says.
"I think the young generation are smarter, faster and green naturally. They are anti-gun, which is good for us in America, and they are not prejudiced. They don't understand being labelled gay, straight, black, white… they don't give a s__t. They don't even get it, it's like, 'What are you people talking about?' I love that, right? They are not nationalist. Half of them are vegan already. They are like a higher evolved species, and this is the only thing that gives me hope for the future. Maybe five or 10 years from now things will turn around. Until then, I think we are in for the f__king dark ages again."
It's a grim prediction but you can always find some solace in listening to Summer Of Sorcery.
Summer Of Sorcery is out now and can be bought here.
Format:
UK English