A Thin Red Line Between Love & Hate: Celebrating YG's 'My Krazy Life'
The rapper's stunning album connects his vices and his triumphs. It's one of the best hip-hop debuts of the 2010s.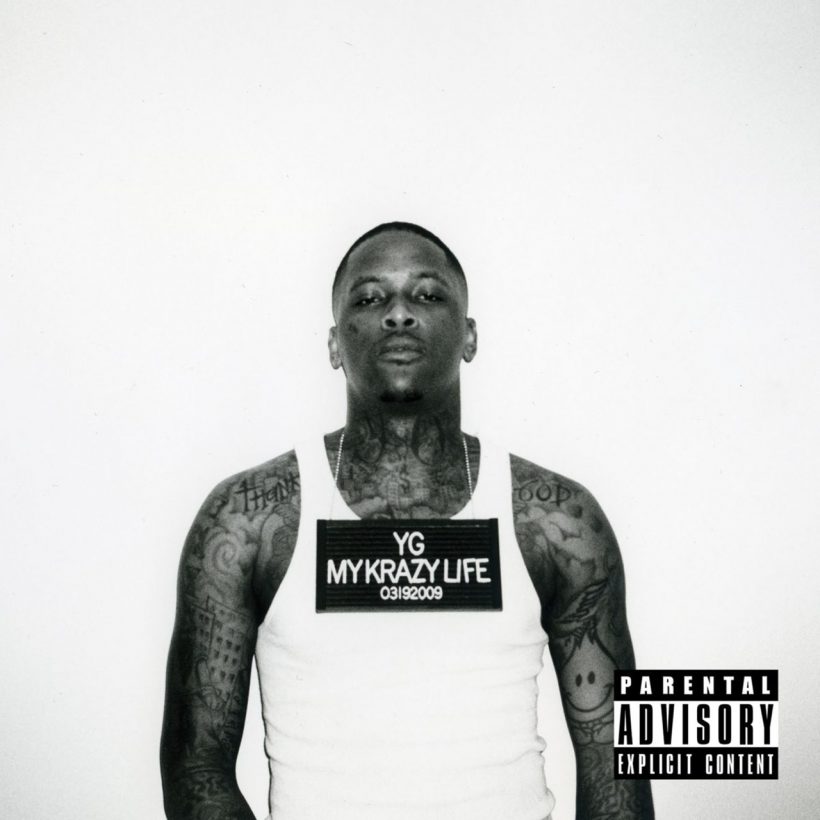 In 2014, YG's debut album, My Krazy Life, opened to rave reviews and the No. 2 spot on the Billboard 200. (The only thing that could top him was Disney: "If it wasn't for thatt fukin frozen album I woulda had the #1 album on billboard top 200 too lol. It's Bool doe," he tweeted at the time.) And while hip-hop has moved on sound-wise, My Krazy Life hasn't become dated, and doesn't feel overly tied to its era. It's a remarkable record – lean in scope and in sound, conversational but dripping in style. It's one of the best, and one of the most enduring rap debuts of the 2010s.
YG - Left, Right ft. DJ Mustard (Official Music Video)
The decade prior, which is often seen as a fallow period for album-oriented rap (especially after, say, 2003) was largely defined by regional stylistic movements best distilled in singles and looked on skeptically by established critics and fans of rap that skewed toward the lyrically denser and more autobiographical records that were canonized in the 90s. There was crunk and there was snap; laconic Houston sounds had their moment in the mainstream and hyphy finally popped up on MTV. But few of the artists who became the representative stars from those scenes were afforded the chance to move outside of them, to outlast the natural life cycle of a single sound.
Buy YG's My Krazy Life on vinyl now.
In 2009 – a full half-decade before My Krazy Life would hit stores – YG was a local sensation. This was the apex of the jerkin' movement, when everyone's jeans got very tight (for utility) and all the colors got very bright (just because). The music was light, aggressively minimal, and designed to be danced to – at parties or, just as often, on YouTube. YG rushed to the forefront of the movement, so much so that when he went to jail in 2009 after an arrest for domestic burglary, the ringtone on his cell mate's contraband phone was a song ripped from YG 's MySpace.
YG - "Bicken Back Being Bool" (Official Video)
When YG got out, he signed to Def Jam, and the wheels seemed to be set in motion for him to become a crossover success. But things stalled; despite a trio of excellent mixtapes (4Hunnid Degreez and both installments of the Just Re'd Up series) he struggled to secure a release date. Jerkin' disappeared, and while YG had become fluent in other, adjacent styles, none had the foothold in Los Angeles that his old scene had taken for granted. He was one of the bigger rappers in the city, but that, for the moment, seemed as if it might be the ceiling.
A full five years after he signed his deal, though, the album was finally scheduled for release – thanks in part to a push from Jeezy, who became a fan during a trip to L.A., and who hopped on board to executive produce. Jeezy and his fellow Atlantan Rich Homie Quan appear together on the single "My N—a," and Kendrick Lamar and Drake make cameos as well, evidence of the deep respect YG commanded in the genre even before his name was recognizable outside of California. But by and large, My Krazy Life's personnel is refreshingly insular, composed of his longtime friends and collaborators (Ty Dolla $ign, RJ, TeeCee4800). Nine of the album's 13 songs are produced by DJ Mustard and/or his protege, Mike Free. There are one-off assists from the likes of Ty, Terrace Martin, and an uncharacteristically subdued Metro Boomin.
YG - Who Do You Love? ft. Drake (Explicit) (Official Music Video)
The sound that YG and Mustard crafted has been described as "ratchet," and it owes plenty to the offshoot of Louisiana rap that shares the same name. It also borrows from the Bay and makes musical allusion to the storied history of L.A. rap, all in a minimal, elastic sound that's long on funk and never cluttered. My Krazy Life is a dynamic LP that traces a young man's life through heartbreak, anger, calm, and sorrow, but you can play it straight through at a house party or out of a too-expensive car.
As for YG's writing, the album is imagined, loosely as a day in his life: his mother yells at him to avoid "them gangbangers," but he parties, smokes, robs a house, gets caught and locked away. Near the album's end, RJ, playing YG's friends, leaves a voicemail for YG's mother explaining the situation; the other vocalist on that track is TC, Ty Dolla $ign's incarcerated brother. The other massive rap debut from L.A. in this era, Kendrick's good kid, m.A.A.d. city, imagines Compton as a life-or-death pressure cooker with spiritual stakes and Faustian bargains. The Compton of My Krazy Life is alive in a completely different way—one that feels small, material, and deeply ordinary, with a range of emotions and experiences that's just as stunning.
Editor's Note: This article was originally published in 2019.