Elton John Announces New Album At Rock And Roll Hall Of Fame Ceremony
During the speech, John said, 'We've just finished an album in Los Angeles, which is going to surprise the s__t out of you.'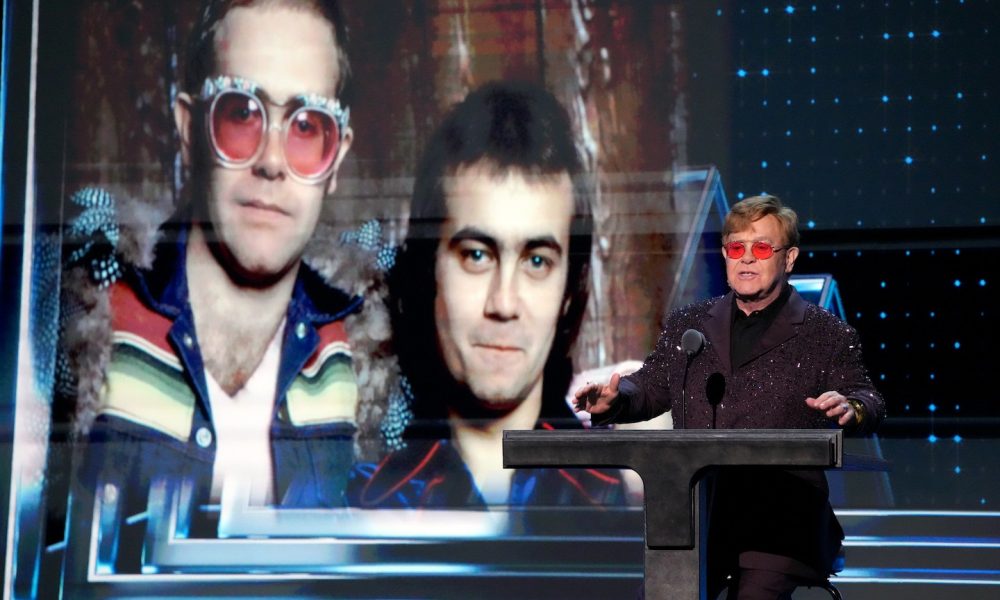 Elton John teased a new album while inducting his collaborator Bernie Taupin into the Rock And Roll Hall Of Fame on Friday, November 3.
During the speech, John said, "We've just finished an album in Los Angeles, which is going to surprise the s__t out of you. And it's absolutely wonderful, and it's full of youth, and it's full of vitality. It's a wonderful place to be after we've been together for 56 years."
Inductees for the event included Sheryl Crow, Missy Elliott, Chaka Khan, Willie Nelson, Kate Bush, the late George Michael, Rage Against the Machine, and The Spinners. Additionally, Taupin, DJ Kool Herc, Link Wray, Al Kooper, and Don Cornelius were inducted.
Of the new inductees, Sheryl Crow, Missy Elliott, Chaka Khan and Willie Nelson performed at the event. Additionally, special guests Brandi Carlile, Elton John, Dave Matthews, H.E.R., Chris Stapleton, St. Vincent, and New Edition also took the stage.
Other performers included Stevie Nicks, Adam Levine, Carrie Underwood, Common, Ice-T, LL Cool J, Miguel, Queen Latifah, and Sia.
In other Elton news, Stereogum also reported that the artist has released limited-edition jars of Marmite. They are available at Sainsbury's in the UK, and celebrate the 50th anniversary of Goodbye Yellow Brick Road. Proceeds will raises money for the Elton John AIDS Foundation.
Back in June, Elton hanked his UK fans for "52 years of amazing love and loyalty" as he said farewell in the closing show at this year's Glastonbury Festival, on the last British date of his Farewell Yellow Brick Road tour.
The much-vaunted, two-hour show was widely described as Elton's last-ever UK concert, but he has not ruled out the possibility of future live appearances. "Wow, I never thought I'd ever play Glastonbury." he told the crowd. "It might be my last show ever in England, so I had better play well and I had better entertain you." To those massed ranks, and millions more watching the live BBC coverage, it certainly felt like one of the longest reigns in performing history was reaching its noble conclusion.
Shop the best of Elton John's discography on vinyl and more.