Jordan Davis, Caylee Hammack, More Play Snakefarm's Pre-C2C Showcase
All of the artists are in the UK to perform at this weekend's Country to Country (C2C) Festival.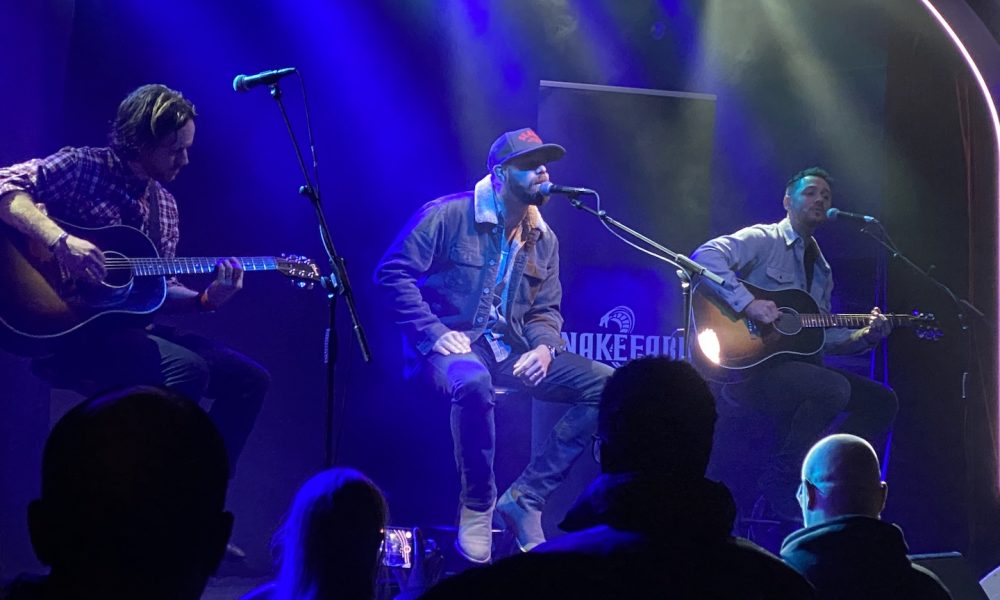 Jordan Davis and Caylee Hammack were among the five UMG country artists, both emerging and chart-topping and released in the UK by the company's Snakefarm label, who played a lunchtime showcase for media and fans in London today (9).
The event was introduced by the label's Dante Bonutto and hosted by Ben Shires of UK pop-country favorites the Shires. All of the artists are in the UK to perform at this weekend's Country to Country (C2C) Festival, which takes place in London, Glasgow, and Dublin from tomorrow until Sunday.
The first in a series of short, three-song sets was by Dalton Dover, making a strong-voiced British debut following the release of his first single "Giving Up On That," out now on Mercury Nashville in the US. He was followed by Texan singer-writer and MCA Nashville signing Catie Offerman, who was recently named among the Class of 2023 in CMT's Next Women of Country program. She engaged the audience with both her songs and her patter, especially on her 2022 single "Get A Dog."
Caylee Hammack overcame the jetlag felt by all five artists performing soon after their transatlantic flights with a heartfelt set in the wake of the recent US release, on Capitol Nashville at home, of the Georgia native's single "All or Nothing." Sam Williams performed his own songs from the acclaimed Glasshouse Children album, out now in an expanded version with the subtitle Tilted Crown. He brought the crowd to a hush by finishing with a version of his grandfather Hank Williams' timeless "I'm So Lonesome I Could Cry."
Jordan Davis - Buy Dirt ft. Luke Bryan (Official Music Video)
Closing the event was Jordan Davis, whose sophomore album Bluebird Days is now on release. His selections centered around his country airplay No.1 with Luke Bryan, "Buy Dirt." Davis will perform on C2C's main stages this weekend, on a bill that will move from London to Glasgow and on to Dublin, also featuring Lainey Wilson and, in London, Breland, before headliner Thomas Rhett. That bill will also embrace the Introducing Nashville spot with Hammack, Tyler Braden, and Alana Springsteen.
Buy or stream Bluebird Days.