Nicki Minaj Returns With Her New Anthem 'Red Ruby Da Sleeze'
Minaj first began teasing the single on February 24.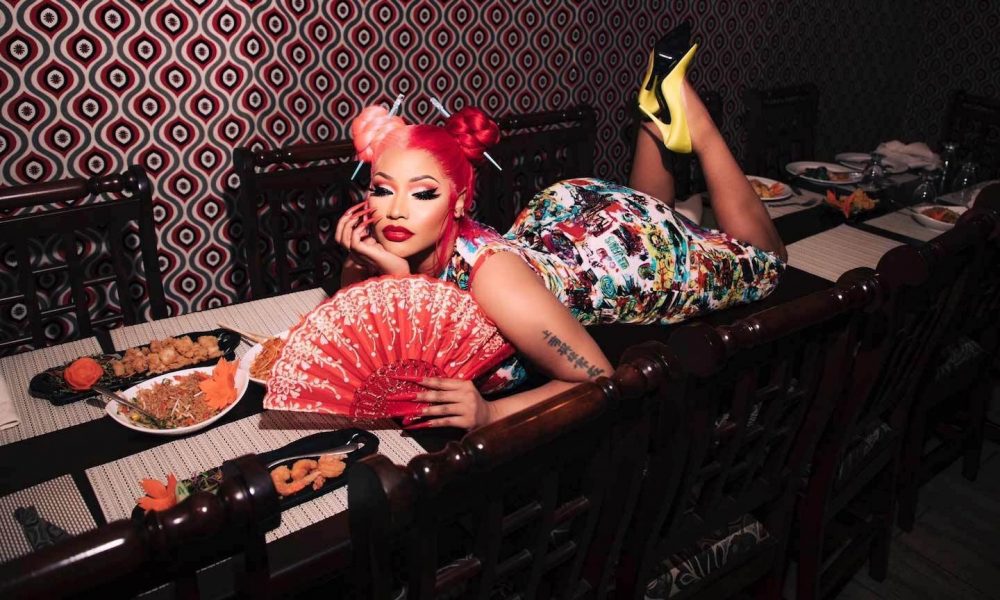 Nicki Minaj has returned with guns blazing on her new anthem, "Red Ruby Da Sleeze," which the superstar MC began teasing on February 24.
The track features a sample of Lumidee's 2003 dancehall-inspired hit "Never Leave You (Uh Oooh, Uh Oooh)."
The bass-heavy anthem features Nicki tapping into her singular style as an all-time rapper. She spits, "When the Queen leave b_____s wanna come out like a cockroach/ Until I'm cooking in the kitchen like a pot roast/ That new Spectre, we don't feel pot holes/ Dorito b_____s mad that they nachos."
Nicki Minaj - Red Ruby Da Sleeze
In the initial teaser, Minaj shared a video that found her in a club with half-pink hair and thick shades while people around her danced and twerked.
Nicki has been quiet since November, when she lent her talents to FIFA's global smash hit "Tukoh Taka" with Maluma and Myriam Fares. "Tukoh Taka" was the official single of the FIFA World Cup Qatar 2022 Official Soundtrack and the first-ever official FIFA Fan Festival Anthem.
Of the collaboration, Maluma said, "I am so happy to be part of this FIFA World Cup anthem! I always dreamt of an opportunity like this. Representing Latin music on this global track alongside amazing artists that sing in English and Arabic, takes our culture to another level."
The new single provided another big moment for Minaj to celebrate in 2022, following her victories at the 2022 MTV Europe Music Awards. The rap queen took home the awards for Best Song for "Super Freaky Girl" and Best Hip-Hop at the ceremony in Düsseldorf, Germany, on Sunday (November 13).
Meanwhile during that same time, the star also shared a Barbie-inspired video for "Super Freaky Girl," which interpolates Rick James' 1981 hit "Super Freak," in September. In the technicolor clip, Minaj plays house with Hunger Games heartthrob Alexander Ludwig as the Ken to her Barbie. Minaj even has a pink home and robot kitty.
Along with conquering TikTok and rising to No.1 on the Top US Tracks, "Super Freaky Girl" earned the veteran rapper a number of distinctions, including when she became the first female lead artist to debut at No.1 in 2022, the first female rapper with multiple No.1 debuts, and the first female rapper to reach No.1 without a video in over two years.