Greta Van Fleet Are "Evolving Rock'n'Roll" Says Guitarist Jake Kiszka
With Elton John calling 'Anthem Of The Peaceful Army' "the best rock'n'roll I've heard in 20 f__g years!", Greta Van Fleet are taking the world by storm.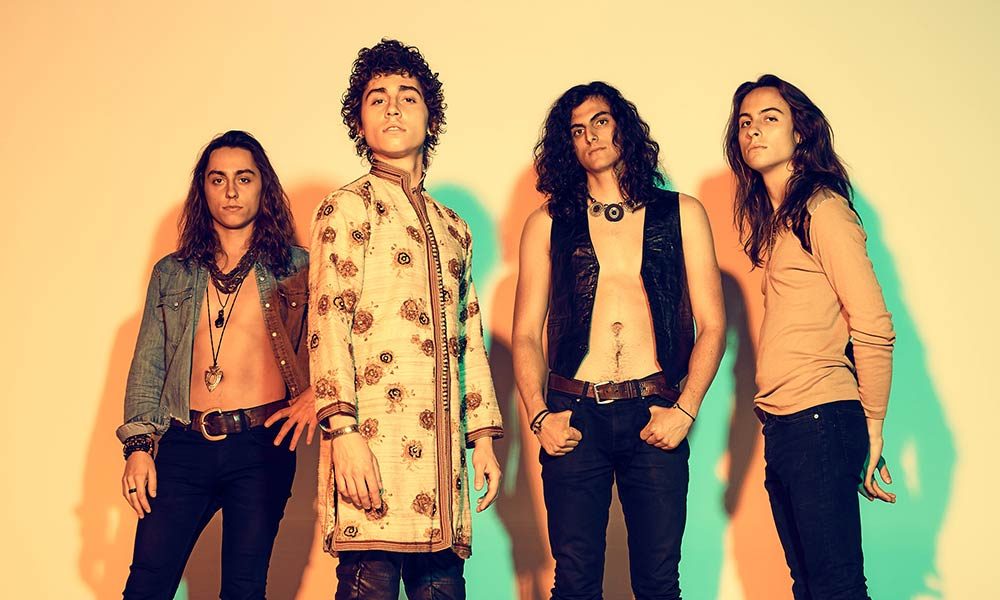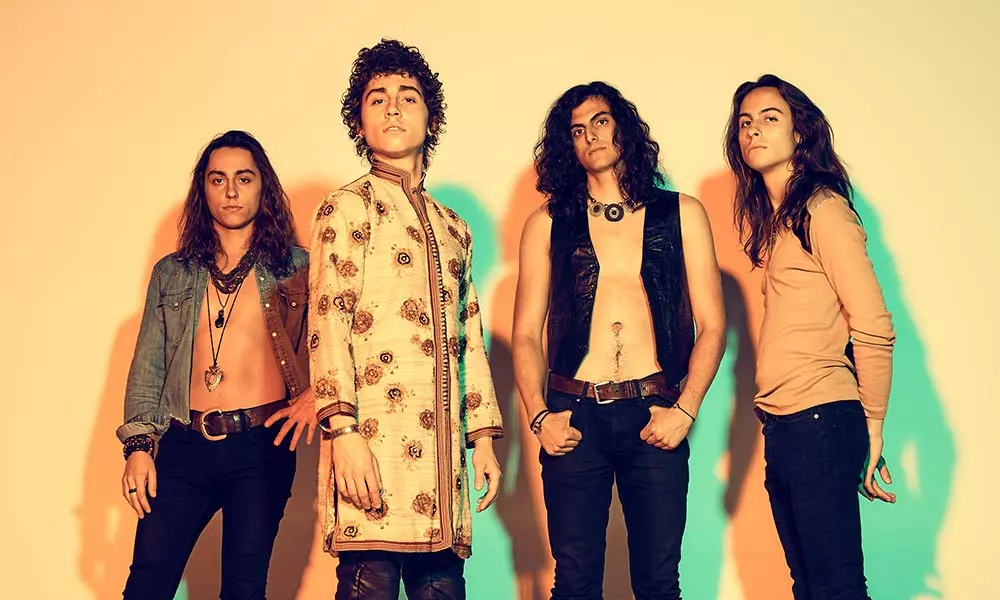 A few weeks before heading to Europe on the latest leg of their tour, Greta Van Fleet got some good news. In what's already been a huge year for the buzzed-about rock outfit from Frankenmuth, Michigan, they were optimistic about their third trip to the continent and were in the middle of putting the finishing touches on their live show ahead of the release of their debut album, Anthem Of The Peaceful Army, which dropped on 19 October 2018. Everything was going smoothly, then they got an unexpected call from their manager, who had just spoken with their booking agent.
"The rooms were upgraded from 3,000 to 6,000 capacity," guitarist Jake Kiszka recalls of the moment when venues got switched to accommodate demand. "It's totally unexpected to get that attention immediately. And it's sold out."
Listen to Anthem Of The Peaceful Army right now.
For a band that's been the focus for many rock fans in recent years, this news shouldn't be too surprising. While traditional rock has taken the back seat on the charts in recent years, Greta Van Fleet is a hard-rocking throwback to when the titans of rock reached near-mythic status, with larger-than-life singers, heavy-riffing guitarists and pummelling drums.
Despite their classic rock-inspired sound, many of the members weren't even old enough to drink when the band first started, in 2012. Comprised of three brothers, Jake, Josh and Same Kiszka, plus Daniel Wagner on drums, the group started their musical journey when most kids were still learning their ABCs.
"Doing what's organic to us"
Having first picked up a guitar at the ripe old age of three, Jake Kiszka was nine when he first started playing music as a duo with his brother Josh. In the early days, the brothers would trade vocals, with Jake playing guitar and Josh banging away on the drums.
"My very first guitar I inherited from my grandma," Jake recalls. "She had one sitting in her basement and we'd go downstairs and play it. Other than playing my dad's instruments (a guitar and a bass) I learned enough on [the guitar] that I convinced my dad to get me a Yamaha."
As the sons of a chemist father and science-teacher mother, the Kiszka brothers spent hundreds of hours playing music in their parents' basement, which was surrounded by instruments. They grew up listening to traditional roots, folk, R&B, soul and blues albums that arrived courtesy of an older aunt ("I'm not sure if the records were put out there on purpose or not," Jake jokes), beginning with Willie Dixon, Elmore James, Howlin' Wolf, Muddy Waters and John Lee Hooker before moving on to rockers such as Cream, Bob Dylan and The Beatles. Kiszka would listen to those records and try to replicate what he heard. Even as pre-teens, the duo kept rock-star hours, often playing until the wee hours of the evening.
"Music wasn't something that was forced on us," Jake says of his parents' child-rearing style. "It was given as an option. They were really instrumental in supporting and giving us the utilities to play. Having a guitar and having things to listen to."
Greta Van Fleet - When The Curtain Falls (Official Video)
Jake is thankful that he and his brother got to jam out late at such a young age, even if it was considered odd by their small-town neighbours. This practice gave them what he says was an unfair reputation and "was frowned upon in a standard community". However, it was this creative freedom that prepared the brothers for the fast-track of a life in rock'n'roll, and they were ready before they even realised it.
By 2012, the brothers were ready to rock. When it came to naming the band, the group were inspired after hearing of a local resident, 87-year-old Gretna Van Fleet, and got her blessing to use a variation of her name. After recruiting their younger brother, Sam, to play bass, and adding Kyle Hauck on drums, Greta Van Fleet band was in full form, just around the time they started shaving.
"The best rock'n'roll I've heard in 20 f__g years!"
The band first cut their teeth playing biker bars as teens, impressing locals with their classic rock chops and drawing comparisons to Led Zeppelin. Though they released their debut EP in 2014, Greta Van Fleet got their first taste of fame when their blues-riddled 'Highway Tune' appeared on the US TV series Shameless in 2016, and caught the attention of rock fans looking for a purebred throwback. That same year, drummer Daniel Wagner replaced Hauck and has been with the band ever since.
Quickly, they went from anonymous teenagers to a band on the brink of huge success. 'Highway Tune' hit No.1 on Billboard's Mainstream Rock chart and amassed over 30 million views on YouTube (perhaps a better a barometer of a band's popularity in today's music landscape).
Greta Van Fleet - Highway Tune (Official Video)
Then, in 2017, the band signed with Lava Records and released their first major-label EP, Black Smoke Rising. From there, the Zeppelin comparisons went from murmurs to a full-blown holler.
Being labelled as a band that harkens back to rock's halcyon days has caused a number of bands to wilt under that unsustainable pressure, but unlike other acts, Jake says, Greta Van Fleet has unapologetically embraced their classic influences without abandoning the foundation that made them want to start playing in the first place.
"We've never gone out of our way to do something that is consciously or subconsciously influenced by those who inspire us," he says. "It's doing what's organic to us, not hyper-analysing anything and going out of our way to avoid an element of our sound. It's important to us to generate music that comes from the influences that we grew up with. We don't go out of our way to avoid reference or affiliation with groups like Led Zeppelin. As we go on, it's important to encapsulate the time now where we are artistically and musically."
And with good reason. Greta Van Fleet has won fans all over the rock world, including Elton John, who invited the band to play his Oscars party and said that their first two EPs were "the best rock'n'roll I've heard in 20 f__g years!"
"Evolving rock'n'roll from where it came from"
Knowing how rock has become somewhat of a niche genre, praise from a legend of John's stature is something that sticks with them. "It was one of the most special moments of our lives," Jake says. "It's very humbling."
With their debut album, Anthem Of The Peaceful Army, out now, Greta Van Fleet is excited to finally hit the road and play the songs that were first cultivated in a Nashville studio within a four-week period. There were nerve-racking periods during the recording process: would they have enough material, and would it meet the expectations they set with their earlier releases?
Greta Van Fleet - When The Curtain Falls (Live On The Tonight Show Starring Jimmy Fallon)
"A few times we looked at each other and thought, This is moving at a pace and really going somewhere beyond our expectations," Jake says. "It's becoming something that's bigger beyond ourselves. You get that feeling on stage almost every night, seeing all these people responding to the music you've written, and suddenly you're being taken seriously as a musician… that was a big moment."
For now, Greta Van Fleet have their eyes on the immediate future. Sure, playing to monster crowds at festivals like Lollapalooza is great, but staying focused is what's going to help propel them to their goals.
"The most exciting to thing to us is to really step up our performances," he says. "And to be better musicians and put on a better show. To start evolving rock'n'roll from where it came from and where we want to take it for ourselves."
Anthem Of The Peaceful Army can be bought here.
Format:
UK English