Bassist Miles Mosley On Jazz's "Nutrient-Dense" Past, Present And Future
At the cutting-edge of modern jazz, Miles Mosley looks at the jazz tradition – his icons and influences, and where jazz may go tomorrow.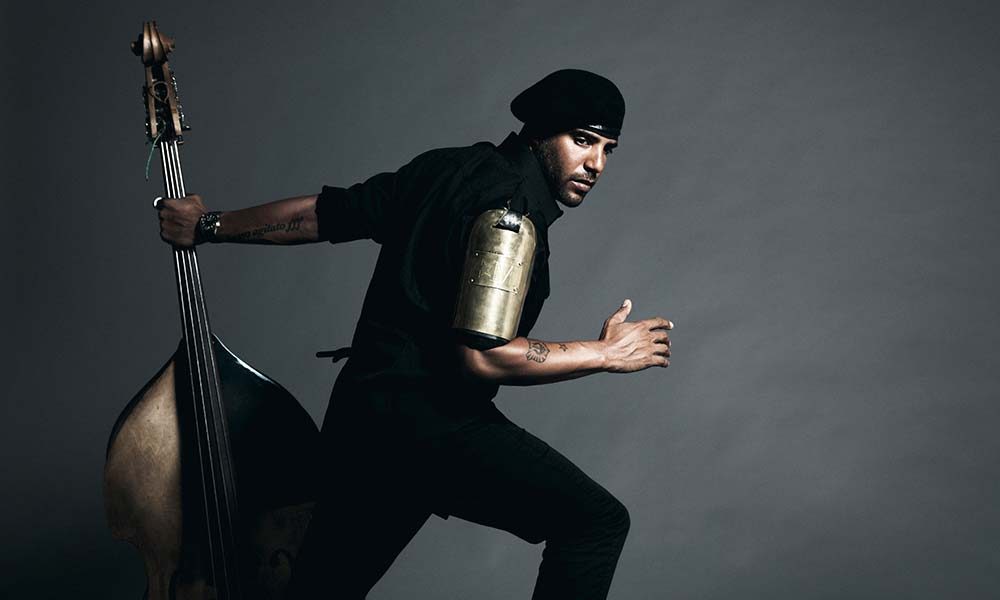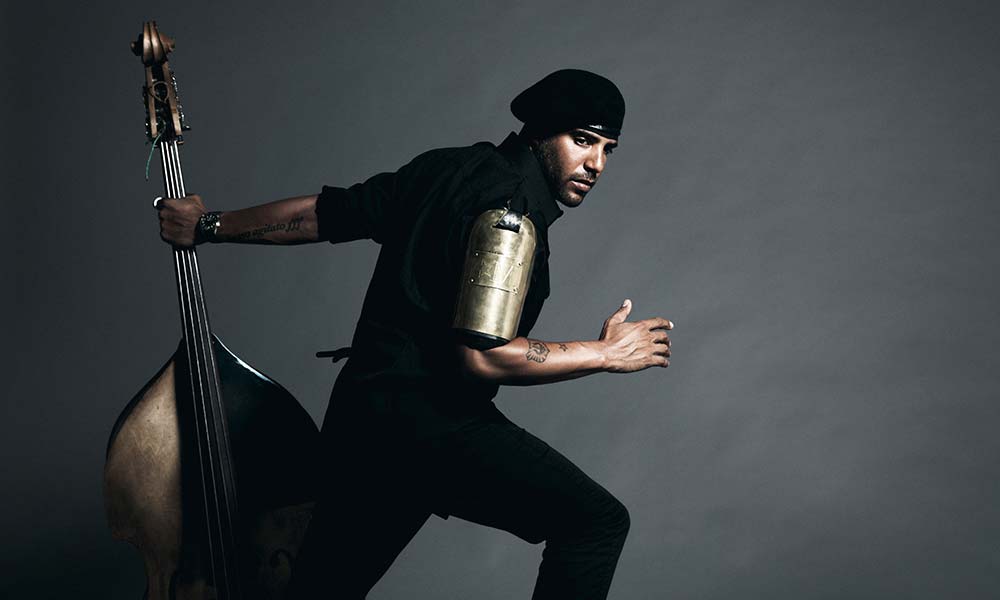 Wearing a beret is cool again, thanks to Miles Mosley. But there's more to him than sartorial elegance. That's because the Los Angeles-born bassist and singer-songwriter is in the vanguard of an exciting new jazz revolution. Alongside his friend, kindred spirit and musical comrade, saxophonist Kamasi Washington – whose groundbreaking 2015 album, The Epic, Mosley contributed to – he's a member of a loose LA collective dubbed The West Coast Get Down, who, along with groups such as Snarky Puppy and BadBadNotGood, are helping to change the younger generation's perception of jazz.
But as Mosley knows from experience, it's not only jazz musicians that are helping to put their music back in the spotlight. In 2015, the bassist appeared alongside Washington on Kendrick Lamar's Grammy-winning To Pimp A Butterfly, a landmark hip-hop album which was deeply infused with jazz inflections. More recently, in 2017, Mosley's solo took off with the release of Uprising on Verve, which marinates jazz with R&B and funk flavours.
Listen to Uprising right now.
Given that Mosley is a key figure in the wider public's re-engagement with jazz, uDiscover Music asked him about his relationship with the music – what it is, where it's been, and where it's heading.
"Jazz is always updating itself"
"Jazz is always about interpretation and improvisation," Miles Mosley says. "That's the core of it that makes it fundamentally different, I think, from other musical art forms." He says that what also makes jazz unique is that it's always updating itself and absorbing elements from the different forms of music that it spawned, like R&B and funk.
"From a broad perspective, it's always aware of what's around it." Mosley explains. "It's always aware of the other music that has effectively come from it. It's birthed many children and grandchildren, and so because of that, it's always looking at the family and is interested in what the kids are doing and then reinterpreting and re-engulfing those new findings into the kernel of its own expression."
An only child whose parents named him after trumpet icon Miles Davis, Mosley heard a lot of jazz when he was growing up, especially at weekends. "Jazz was rampant in the household. Every time I think of Kind Of Blue or Sketches Of Spain, it smells like breakfast to me," he laughs. "It smells like my parents making coffee and the family gathering around together."
Mosley was drawn to the bass as a teenager: "I started playing it because my parents' speakers were against my wall," he explains. "When it came to the weekend, they put on Oscar Peterson's 'Very Tall' and I would wake to my picture frames buzzing and rattling in time with Ray Brown's bass. So I grew up with the idea that bass can shake the foundations of a home."
"The tradition of the music is impossible to look past"
Miles Mosley actually got to study with Brown, a legendary bass pioneer who died in 2002, and believes it's essential that the "young cats" learn from the old masters and take notice of jazz's past. "I think it's crucial," Miles says. "I don't think you can point to any artist in any field that is not aware of the roots and the traditions of the field of study that they're in."
In order to illustrate his point, Mosley puts his own, very contemporary, approach to the bass under the microscope. "I've taken an upright bass, put a bunch of effects on it, changed the groove so it's hitting a little bit harder and feels a bit more modern, but I can't do any of that without understanding the bass players that came before me, like Ray Brown, Oscar Pettiford or Charles Mingus," he argues. "I have to understand why they did what they did and how it functioned in their music in order to do something that is additive or even subtractive. So to me, the tradition of the music is impossible to look past. You have to know it. I would dare somebody to show me an example of someone who paid no attention to the past and successfully moved any genre of anything forward. I don't see how it's possible."
Though Miles Mosley is on the cutting edge of contemporary jazz, he's acutely aware of some of jazz's most innovative and significant figures from its formative years, such as Louis Armstrong and Duke Ellington. "For me, those names are the Mount Rushmore of jazz," he says, professing to be an admirer of both musicians. "What I love most about Louis Armstrong is that he was an ambassador for jazz and was a representative of the abilities of African-Americans. He travelled all around the world presenting this improvised music that people thought was impossible to play. His records always sound like he was on the edge of his ability and that he couldn't play any higher, faster, more passionately or melodically. You can hear that he's on the brink and playing in the red. I love that about him."
Duke Ellington, too, had a profound impact on Mosley. "My favourite way of thinking about Duke is that I remember reading an interview in which he was frustrated by the term 'jazz'," he explains. "He felt like there was no difference between what he was writing and what [classical music composers] Mahler or Shostakovich were writing. That really hit me hard because it was the first time that I had recognised the fact that the inventors of this music themselves didn't call it jazz, or put it in the box that we created later defining it as jazz."
As well as being a bass player, Miles Mosley demonstrated on Uprising that he's also a vocalist of note. In terms of jazz singers that had a profound impact on him, he cites Nat "King" Cole as a favourite. "That's not how I sing, but I sure wish I could," he laughs. "His phrasing was so elegant, natural and effortless."
Ray Charles is also a source of admiration – "He had this ability to wail and cry and just exude pain and suffering but at the same time kind of laughed in the middle of a phrase" – and so, too, is Billie Holiday. "It doesn't matter what she sings, it could be 'Twinkle, Twinkle, Little Star', but she has an irrevocable darkness," says Mosley. "And she can't kick that feeling, no matter how happy she gets. That is why we are enchanted by her, because she is suffering in the light."
"Everybody is beginning to celebrate each other's differences"
Returning to the present day, Miles Mosley believes that musicians like himself, Kamasi Washington and Robert Glasper are benefitting from a fresh perception of jazz that's taking hold around the world. "There's a new attitude among young people," he says, his opinion based on the reactions that's he's encountered by playing on the thriving festival circuit in different corners of the world. "It feels like everybody is beginning to celebrate each other's differences. There's so much chaos and vitriol in the world, but when you put a bunch of people together, and art at the centre of it, they want to celebrate each other's differences instead of trying to make each other the same."
In a world where there are so many different types of music, and people's tastes seem to be becoming more eclectic, Miles Mosley believes that jazz has a valid role. "Jazz feels like the organic aisle of the grocery store," he laughs. "It feels like it's got more nutritional value to it, but that doesn't mean that it's better; it just means that you've got your spinach but sometimes you want to have your chips, pizza or chocolate as well. But jazz is nutrient-dense music and I think people are beginning to appreciate that and want to have that along with everything else."
"Kendrick opened a gateway"
Miles Mosley also feels that in a technology-driven, sound-bite-oriented world, where music is ubiquitous and single-track streams outstrip album sales, jazz is catering for people who desire something more substantial. "We live at a time where pop music is always on – on every YouTube ad, every commercial. It's always going to be a part of the human intake in music, and it serves a great purpose, but because people have so much of that readily available, they are excited to build a relationship with a record and put something on that takes a bit longer to develop."
The bassist acknowledges that rap music has also aided jazz's resurgence. He recorded with Kendrick Lamar, a hip-hop auteur whose To Pimp A Butterfly album built a tangible bridge between jazz and rap. Mosley agrees that the album helped to expose jazz to a new, different and much younger audience. "I think that To Pimp A Butterfly was certainly the first time in a while that the expression of jazz was so clearly pointed to in hip-hop, which now has more power than it ever has," he says.
Kendrick Lamar - For Free?
"For Kendrick to point back to jazz again kicked open a really big gateway for us to walk through. Time will tell whether he'll continue to go down that path, but we will certainly look back and be able to recognise that that record allowed a new audience an opportunity to become exposed to a group of musicians and a style of jazz that has been existing under the surface for a long time. For that, I think he's owed a large service of credit. That was a pretty brave record."
Though some might say that jazz has struggled with fashion, Mosley disagrees. "I don't think that jazz ever goes away," he says. "It's the marketing and finance of jazz that dies, is reborn, and dies again – not the art form. It can't go away or be removed. At the moment, jazz is in a healthy state and we've got great festivals that are supporting it. There's a new appreciation for instrumental music."
"There are no limits to the kinds of records you can make"
Daring to peer into his crystal ball for a second, Miles Mosley speculates on the short-term future of jazz: "I'll give it another five or so years," he offers, "and then there will be a changing of the guard as far as who is making the decisions and who are the gatekeepers. I think we can feel a transition happening. I'm 37, so a lot of the people that I grew up with are not interns at record labels anymore: they're starting to take over as heads of divisions, and I think, as that happens, that will have an impact. Everything has to do with timing. I really think it's half the battle and we're fortunate to come along at a time in which people are now ready to hear the kind of music that we make."
And Miles' own future? At the time of writing, he's working assiduously on his follow-up to last year's Uprising. "I'd like it to feel it's more like an upgrade," he reveals – and he confesses that he's excited about where he and jazz are right now. "It's a great time to have a facility to play an instrument," he enthuses. "There are no limits to the kinds of records you can make and what you can say. There's no gold standard right now, so there's no one sound that is dominating everything. It's a really nice, broad span of expression. I think that's always healthy for an art form."
Uprising can be bought here.
Format:
UK English