Eyebrow-Raising: Roger Moore's Links With The Beatles, Led Zeppelin, And More
The musical connections of the late, great British actor.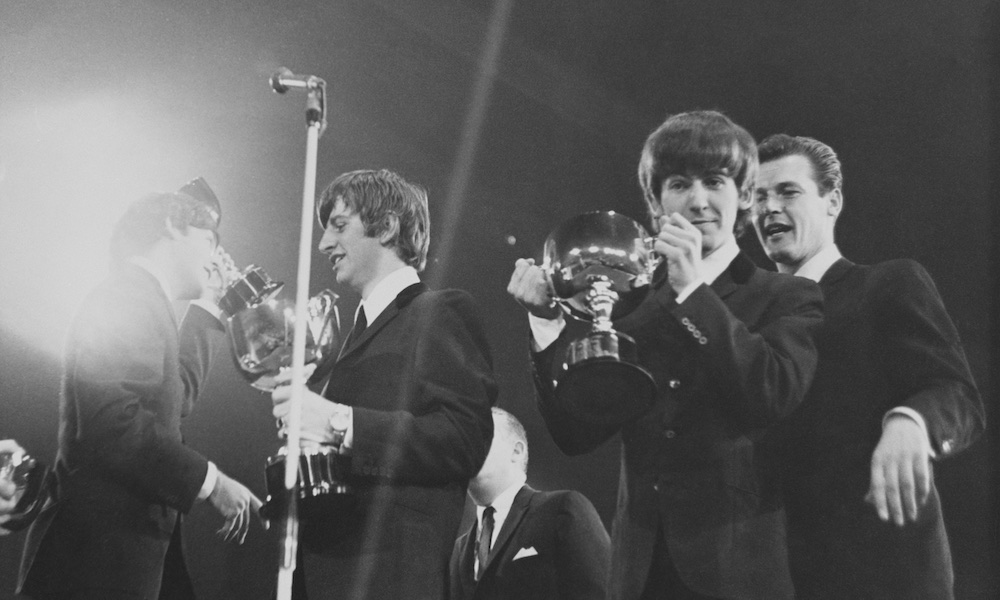 The death on May 23, 2017 of the great British actor Roger Moore may seem to have fallen outside uDiscover Music's musical remit. But the man who could say more than most of his fellow thespians with just a raised eyebrow, and who remains the longest-serving screen incarnation of James Bond, had some fascinating musical connections.
Moore was, of course, a hero of British television long before he was a star of the big screen. One of his most celebrated roles was as Simon Templar in ITC's long-running version of The Saint. The series ran from 1962 to 1969, and it's not widely known that one of the bit-part players who appeared in several episodes, before he turned to a more entrepreneurial career, was Peter Grant, later to become the imposing manager of Led Zeppelin. In one episode, he played a barman, with precisely two words of dialogue.
Early into his notoriety as The Saint, Moore was an important part of the NME's annual Poll Winners Concert at the Empire Pool (now the OVO Arena Wembley) in April 1963. As Alan Smith wrote in the magazine's report, Billy Fury had been due to perform, but had a throat infection.
"The disappointment of the fans was eased to some extent by the announcement that the awards would be presented by no less than TV star Roger Moore…of The Saint and Maverick fame! Clapping, cheering and foot-stamping gave him a hearty and overwhelming reception." The Beatles were on hand to perform and collect several awards from Moore, as were Cliff Richard, Gerry and the Pacemakers, Joe Brown, and others.
British TV viewers of a certain age also retain a soft spot for Moore's role as Lord Brett Sinclair, opposite Tony Curtis' Danny Wilde, in The Persuaders! The appealingly tongue-in-cheek series of 1971 had a memorable theme tune by the late, great John Barry, which became a UK Top 20 hit.
Theme (From "The Persuaders")
Moore's best-known musical connection was perhaps via the title song for his first appearance as James Bond in 1973's Live and Let Die. Written by Paul McCartney and performed with Wings, it was produced by George Martin and remains a staple in Paul's live set to this day.
Live And Let Die (2018 Remaster)
Among his later turns as 007, 1981's For Your Eyes Only brought a theme tune sung by Scottish vocalist Sheena Easton. She recalled Moore's sheer sense of fun when they were on promotion duties together. "We had a blast," she told Q magazine that year. "We'd sit at these big tables and he'd mutter to me, 'Have you told them your Hungarian princess story yet?' He would blatantly make things up with a wink. He has an incredible self-deprecating sense of humour."
Moore was also a great admirer of Frank Sinatra, whose 1989 Royal Albert Hall concert in London he attended. He was an unexpected star, too, of a movie vehicle for perhaps the biggest pop pin-ups of the 1990s, the Spice Girls. In 1998, he shared the screen with Sporty, Scary, Baby, Posh, and Ginger in Spice World: The Movie. It was one more engagement in the unique life of an English original.