Angélique Kidjo, Chris Blackwell To Receive The 2023 Polar Music Prize
Estonian Arvo Pärt, the world's most performed living composer, will also receive the prize on May 23 in Stockholm.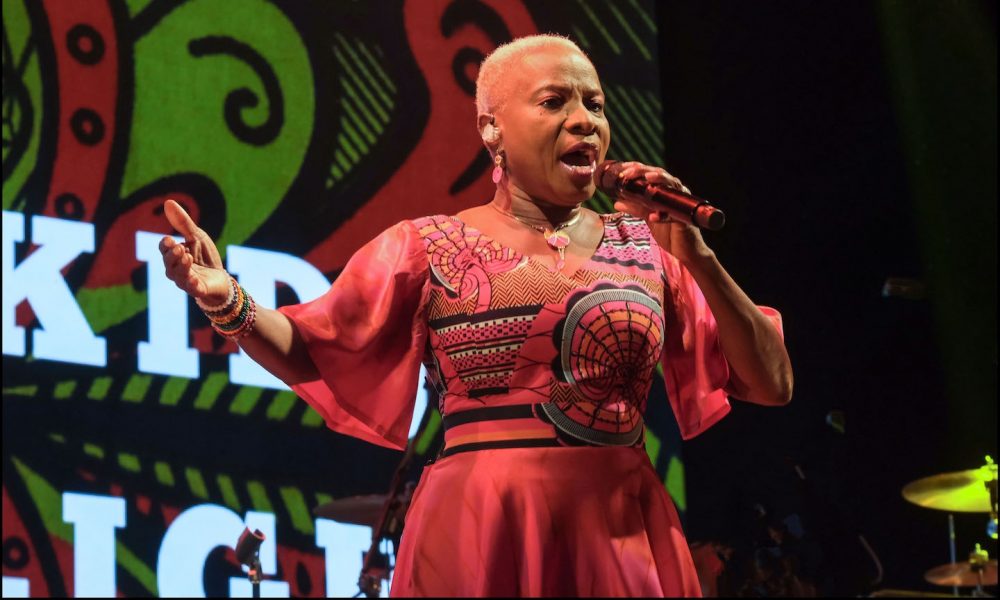 Angélique Kidjo, five-time Grammy Award winning Beninese artist and songwriter; Chris Blackwell, founder of Island Records, one of the UK's greatest independent record labels, and Estonian Arvo Pärt, the world's most performed living composer, are announced today as the recipients of the 2023 Polar Music Prize. The Polar Music Prize ceremony will take place on Tuesday, May 23 in Stockholm at the Grand Hôtel. Watch the live broadcast in Sweden on TV4, or globally via YouTube, from 6pm (CET).
Since the inaugural ceremony in 1992, the Polar Music Prize has been renowned as music's most prestigious honor. It has been celebrating the achievements of some of the world's most important and inspiring musical figures for over three decades. The prize is presented in Stockholm in the presence of the Swedish Royal Family. Each Laureate will receive prize money of 600,000 Swedish Kroner (approx. £47,681/US $57,384).
Marie Ledin, managing director of the Polar Music Prize, said: "We are delighted to honor these three Laureates who have all made such a global impact with their music. Angélique Kidjo is an inspirational artist, she constantly explores and challenges and is one of the greatest singer-songwriters in international music. We are thrilled to be recognizing her talent and shining a light on her important work with the Batonga Foundation.
"Chris Blackwell founded and built Island Records into one of the most successful labels in music history. He has had a huge influence on the world of music and we are delighted to be able to celebrate this.
"Arvo Pärt is one of the most incredible composers the world has ever seen, and his beautiful music has touched audiences around the globe. We are so happy to honour him as part of the 2023 Polar Music Prize."
On being awarded the Polar Music Prize, Angélique Kidjo said: "My passion for music has always been unwavering. Being on stage for me is like being in paradise – it's my sanctuary. It's my place to link and to connect with my fellow human beings. That is something that I'm grateful for every day.
"To be awarded the Polar Music Prize is humbling. I have no words to say how important this is for me. It comes with a sense of responsibility that is bestowed upon me as an artist to continue to do great work. I will do my best to be a proud recipient of the Prize through my work as a UNICEF Goodwill Ambassador, on behalf of the children, and as an ambassador of music, to help create a world in which we can all live in peace. Thank you so much for making me part of this prestigious Prize, in such prestigious company."
Angélique Kidjo is a five-time Grammy Award winner, a creative force with 16 albums to her name, and was named "Africa's premier diva" by Time Magazine. Furthermore, the BBC included Kidjo in its list of 'The Continent's 50 Most Iconic Figures'. She was included in The Guardian's 'Top 100 Most Inspiring Women in the World', and was the first woman on Forbes' list of 'The Most Powerful Celebrities in Africa'.
As a performer, Angélique's striking voice, stage presence and fluency in multiple cultures and languages has won respect from her peers, expanding her following across national borders. She has cross-pollinated the West African traditions of her childhood in Benin with elements of American R&B, funk and jazz, as well as influences from Europe and Latin America.
Angélique travels the world advocating on behalf of children in her capacity as a UNICEF and OXFAM goodwill Ambassador. She has created her own charitable foundation, Batonga, dedicated to supporting the education of young girls in Africa.
Previous recipients of the Polar Music Prize include Paul McCartney, Bruce Springsteen, Peter Gabriel, Chuck Berry, Ennio Morricone, Led Zeppelin, Patti Smith, Stevie Wonder, Paul Simon, Kronos Quartet, Joni Mitchell, Elton John, Metallica, Iggy Pop, Ravi Shankar, Renée Fleming, Miriam Makeba, Wayne Shorter, Sofia Gubaidulina and many more.
The Polar Music Prize awards committee which selects the Laureates is an independent 11-member board. It receives nominations from the public as well as from the International Music Council, the UNESCO founded NGO which promotes geographical and musical diversity.