Modern-Day Humble Pie Announce 'Legacy – 50 Years Of Smokin'' US Tour
The current band were all handpicked by founding drummer Jerry Shirley, and have the endorsement of former bandmate Peter Frampton.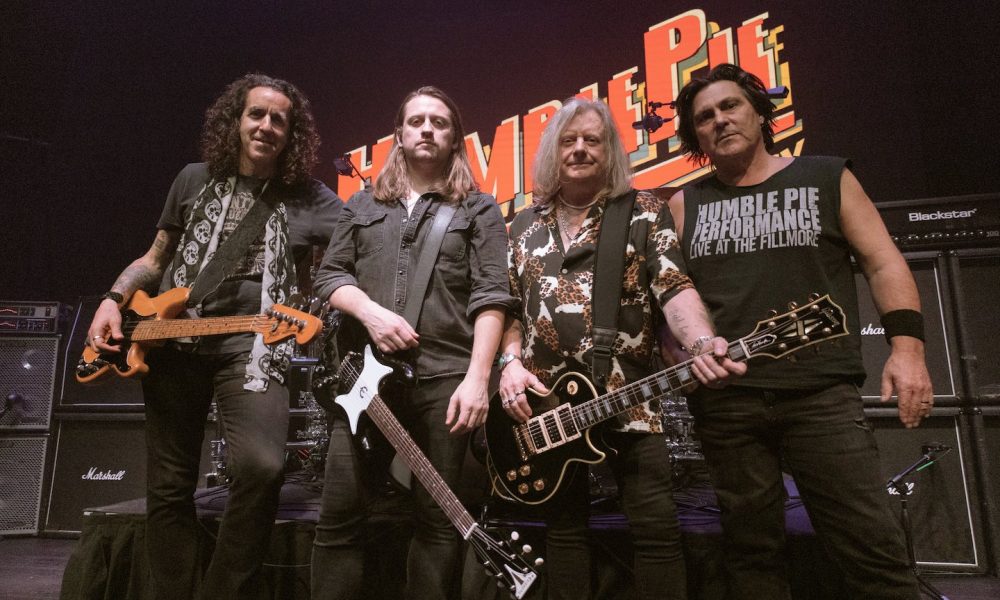 The current line-up of Humble Pie have announced a short US tour this September, under the banner Jerry Shirley Presents: Humble Pie Legacy – 50 Years Of Smokin'. Tickets for all shows go on sale on Friday (31).
Shop the best of Humble Pie's discography.
The modern-day band is led by guitarist Dave "Bucket" Colwell, with bassist Ivan Bodley, drummer Bobby Marks and vocalist/guitarist Jim Stapley, all handpicked by founding drummer Jerry Shirley to carry on the Humble Pie legacy.
Says Shirley: "Having spent a long time carefully putting together such a wonderful band of top-class players with the help of Dave 'Bucket' Colwell, my musical director and band leader using his recruiting skills, I am thrilled with the outcome and can't wait to see and hear them light up the live stage later this year." His former bandmate Peter Frampton adds: "I wholeheartedly support this venture."
Notes Stapley: "Having spent a number of years playing with guys like Bucket, Kenney Jones, and Rick Wills, and having written, performed with, and been a close friend to Mollie – one of Steve's daughters – it's clearly obvious to me that the legacy of Humble Pie is an important and influential one.
I Don't Need No Doctor (Live At Fillmore East/1971)
"It's not lost on me that the center spot on stage has a huge hole in it, where Steve Marriott once stood. I can't even attempt to fill those boots, no one can. But I'll tear my lungs out giving it a shot…the songs deserve it, the band deserves it, and everyone one who has come to love the music of Humble Pie, but never got to see them live, deserve it too…so, no pressure…(gulp)."
The tour will celebrate Humble Pie's place in the vanguard of organic, hard-hitting blues-rock of the early 1970s. Their much-vaunted 1971 live album Performance: Rockin' the Fillmore and 1972's commercial breakthrough Smokin' are cornerstones of classic rock to this day, and a defining influence on bands from Aerosmith to Van Halen, from Quiet Riot to the Black Crowes and on to Rival Sons, Dirty Honey, and more.
"We all have a great sense of love and pride for Humble Pie," says Shirley, now 71, "and that includes the original members, their families, and what we were able to achieve. It goes without saying that no one will ever replace Steve, Peter, or any member of the band. My goal is to keep the legacy of Humble Pie intact as one of the greatest live acts in rock, while satiating the need for generations of our beloved fans to again enjoy our music performed live by world-class musicians."
Says Colwell of his early memories of the band: "I had read about this supergroup in Melody Maker and went to see them in Hyde Park London on July 3, 1971. That concert changed my life as far as influencing what I wanted to do. Most of the songs played that day are on the Rockin' the Fillmore album and represent the most powerful, soulful, rock'n'roll Pie tracks. Having joined Humble Pie with Jerry, Greg Ridley, and Bobby Tench in 2000, I knew first-hand the effect the band's music has on an audience.
"A lot of fans never got to see the original band so, as a new incarnation, we are carrying on the legacy, seeing the joy it brings, which is an honor. Jim Stapley is a hugely talented singer and guitarist. I've worked with him for several years, notably with Kenney Jones who compared him to singers he has been in bands with, Steve Marriott, Rod Stewart, and Paul Rodgers.
"Ivan Bodley interprets Greg's bass lines, charisma and panache with the ease of an accomplished musician in all genres. Bobby Marks has huge boots to fill covering the powerhouse drumming of founding member Jerry Shirley. The fact that he now occupies that seat, endorsed by Jerry, speaks volumes and, yes, he is loud!"
Stapley recollects: "At 16 years old, I was given a bootleg compilation of Humble Pie, by my first band. They were bringing me up to speed on the types of singers and music were influencing their original music. I had been learning to sing from the records of killer soul and Motown singers like Otis Redding, James Brown, Marvin Gaye, Al Green, Aretha Franklin, the Temptations, Etta James etc, but I felt I could never get close to their sound.
"They were untouchable. When I first heard Steve Marriott sing he blew me away just as completely. I started to try and mimic the notes, tremolo, attitude that made him so great. Again, I never felt I could get close, but his voice sat among those aforementioned untouchables as a guiding light for what a true singer should be. Powerful, true, individual, and connecting."
Bodley, who has performed with 52 Rock & Roll Hall of Fame inductees and is a Blues Hall of Fame inductee himself, recalls: "I grew up with, and love, soul and rhythm and blues music. To me, Humble Pie is just an extremely loud soul band covering Ray Charles, Ashford & Simpson, Dr. John, Ann Peebles, etc. It's clear from the choice of covers that the founders of Humble Pie and I share that same obsession, which makes their music very dear to me.
"When I first got the call to join Humble Pie, I was a little bit worried that Jerry might think I was too diverse musically or not enough of a dedicated rocker," continues Bodley, who had spent 13 years on the road as bassist and music director with Rock & Roll Hall of Famer Sam Moore. "It's not that I'm not a rocker. It's just that I've had to do a lot of very different gigs in my life to keep the rent paid. In one of our early emails, Jerry said to me, 'Anyone good enough for Sam & Dave is good enough for Humble Pie!' It brought a tear to my eye. That's when I realized just what soul music fans they were and how much Jerry appreciated how my skill set could contribute to the band."
Marks notes: "What I love about this repertoire is its rock in its purest form – the songs, and parts, are heavy, bluesy and most importantly sexy. The music slithers. I love it! Being able to carry on this legacy is very important. Humble Pie is such a significant part of rock'n'roll history, and we've seen and heard first-hand how important this band and these songs are to people. To be able to speak the universal language of music, we make people happy. Understand that is some powerful stuff. Respect it, and most importantly deliver the goods every night."
Humble Pie's confirmed shows are as follows, with more to be announced shortly. Buy tickets here from Friday (31). 
9/13 Virginia Beach, VA Elevation 27
9/14 Vineland, NJ Landis Theater
9/15 Red Bank, NJ The Vogel
9/16 Newtown, PA Newtown Theatre
9/17 Derry, NH Tupelo Music Hall
9/21 Oakmont, PA Oaks Theater
9/22 Westland, MI Token Lounge
9/23 Cincinnati, OH The Ludlow Garage
9/24 Kent, OH Kent Stage