Taylor Swift, Drake, And Imagine Dragons Lead Winners At 2023 iHeartRadio Music Awards
BTS, Sam Smith, and Kim Petras were also among the victors at the ceremony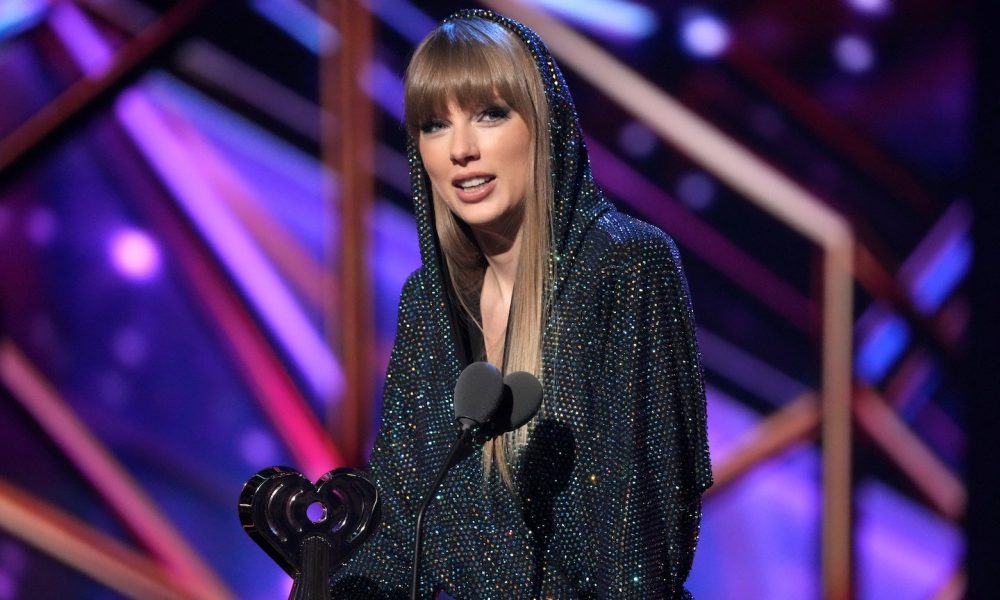 Taylor Swift, Drake, and Imagine Dragons led the winners at the 2023 iHeartRadio Music Awards, which took place in Los Angeles last night (March 27).
The ceremony was held at the Dolby Theatre in Hollywood and celebrated the best in music from the last 12 months.
Swift was awarded the Innovator Award at the event, which is given to artists who have "impacted global pop culture throughout their career." She was presented with the trophy by Phoebe Bridgers, while before the pop icon gave an acceptance speech, a video with tributes from the likes of Dolly Parton, Selena Gomez, and Ed Sheeran was shown.
"I never a single time woke up in the morning and thought, 'You know what I'm going to do today? I'm gonna go innovate some stuff. Things need to be innovated, and I'm going to be the one that does it,'" Swift said afterward. "What I did do was try to make the right decision for me at the time, whether or not it had ever been successfully done before.
"And I think maybe that might be the key because oftentimes in any industry, people are looking for a precedent or, you know, data that shows this idea is a good one, or a feasible one. People want an example of something working before. I think the coolest ideas or moves or choices are the new ones – the ones that set a new precedent."
Swift continued her speech by talking about her fans and how they have "backed me up" in her choices, "like switching genres or re-recording all of my old music." She also noted that while awards shows highlight the choices she's made that have worked out, it is "the hundreds or thousands of dumb ideas that I've had [that] are what led me to my good ideas."
"You have to give yourself permission to fail," she said. "I try as hard as I can not to fail cos it's embarrassing, but I do give myself permission to, and you should too, so go easy on yourselves and just make the right choices that feel right for you, and someday someone might think that you've been innovative."
Throughout the rest of the night, Swift took home four other awards, including Song Of The Year and Best Lyrics for "Anti-Hero," TikTok Bop Of The Year for "Bejeweled," and Favorite Use Of A Sample for "Question…?"
Elsewhere, Drake collected Hip-Hop Artist Of The Year and was part of Future's win for Hip-Hop Song Of The Year for "Wait For U," which also features Tems. Imagine Dragons won Best Duo/Group Of The Year and Alternative Song Of The Year for "Enemy," while BTS picked up Best Music Video for "Yet To Come" and Best Fan Army.
Sam Smith and Kim Petras added to their burgeoning joint trophy cabinet with the Best Collaboration Award for their global smash hit "Unholy," and Selena Gomez was crowned the winner of Favorite Documentary for My Mind & Me.
Swift made history yesterday on the Billboard charts, becoming the first living artist to have seven albums in the Top 40 of the Billboard 200 at the same time. The only other artist to have achieved the feat is Whitney Houston, who posthumously charted seven albums in the Top 40 in 2012.
View the full list of winners from the 2023 iHeartRadio Music Awards here.