Best Herbie Hancock Albums: 20 Essentials From The Legendary Jazz Pianist
The best Herbie Hancock albums reveal the jazz pianist to be a musical pathfinder that broke down barriers at every opportunity.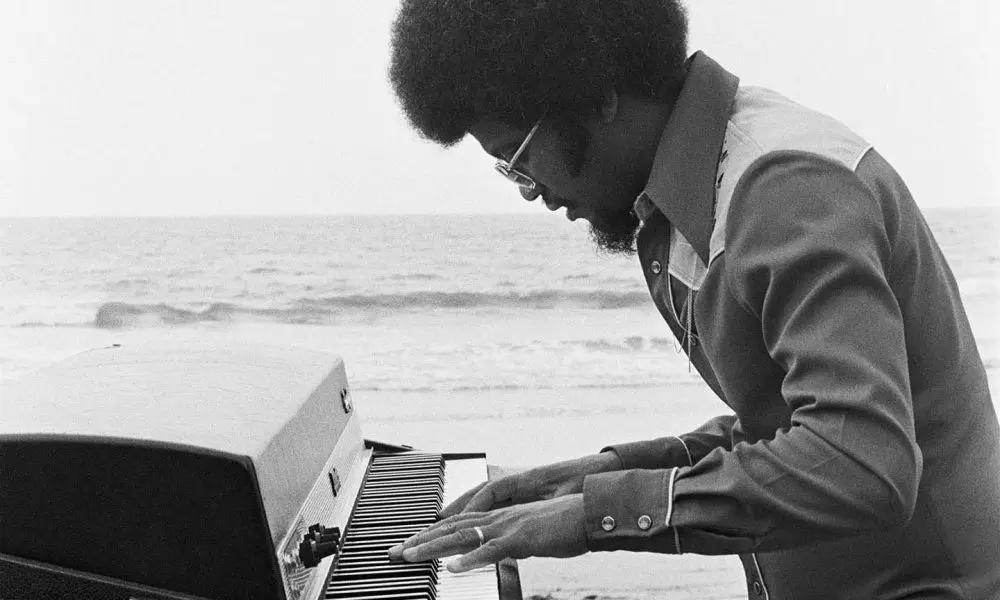 Born on April 12, 1940, Herbie Hancock is a musical pioneer who has been making records for almost 60 years. His long and winding – but never less than fascinating – career, which began in 1962 when he made his debut recording as a sideman for trumpeter Donald Byrd, has seen him explore a variety of musical landscapes. From bebop to hip-hop, Hancock has done it all, and the best Herbie Hancock albums chart the pianist's path through an array of seemingly incompatible styles that range from cutting-edge avant-garde jazz to floor-filling disco-funk and atmospheric film scores. To underline his versatility, he's also appeared on pop records by Joni Mitchell and Simple Minds, and recorded alongside Santana, Paul Simon, Norah Jones, and Sting.
Though he started as a jazz pianist, Hancock's musical curiosity has led him to transcend genres. Here we pay tribute to Herbie Hancock as both a leader and sideman by ranking his 20 best albums. Think we've missed any? Let us know in the comments section, below.
20: Blow-Up (MGM, 1966)
Italian director Michelangelo Antonioni hired Hancock, then a member of the Miles Davis Quintet, to score Blow-Up, a murder mystery film set in London during the Swinging 60s. The pianist recruited Freddie Hubbard, Joe Henderson, Jimmy Smith, Jim Hall, Ron Carter, and Jack DeJohnette to help bring the music to life. Stylistically, it ranged from earthy, 12-bar blues ("Veronica") to freer modal jazz-style pieces ("The Naked Camera"). The funkified "Bring Down The Birds" had its unison bass and guitar intro sampled by Deee-Lite on their 1990 dance hit, "Groove Is In The Heart."
Essential track: "The Naked Camera"
19: 1+1 (with Wayne Shorter; Verve, 1997)
A duo album with Hancock's longtime friend and musical partner in crime, saxophonist Wayne Shorter (who plays soprano throughout), 1+1 is an intimate recital on which the two legends perform three new songs they wrote, together with a selection of other material. They also revisit "Joanna's Theme," which initially appeared on Hancock's Death Wish soundtrack in 1974, and "Diana," a Shorter tune from his 1975 album, Native Dancer.
Essential track: "Manhattan Lorelei"
18: The Prisoner (Blue Note, 1969)
The Prisoner was Hancock's seventh and final album for Blue Note, but, significantly, also his first to address socio-political concerns affecting black Americans. Broadening his palette of tone colors, Hancock expanded the three-horn lineup of the earlier Speak Like A Child to a combination of six horns and woodwind instruments; in terms of his musical vocabulary, Hancock was pushing the jazz envelope with a freer conception behind his music. The album's cornerstone, "I Had A Dream," was inspired by the civil-rights leader, Martin Luther King, Jr, who had been assassinated the previous year. On The Prisoner, Hancock found an empowering sense of musical liberation that would spur him on to further boundary-breaking music.
Essential track: "He Who Lives In Fear"
He Who Lives In Fear (Remastered)
17: Directions In Music: Live At Massey Hall (Verve, 2002)
At the age of 62, Herbie Hancock demonstrated on this barnstormer of a live album, recorded in Toronto, that he was still working at the cutting edge of jazz. He shared the stage with a twin-horn frontline consisting of saxophonist Michael Brecker and trumpeter Roy Hargrove, with John Patitucci on bass and Brian Blade on drums. Playing a mixture of originals, jazz classics, and standards, the quintet is in molten form. They cover three John Coltrane tunes, including "Impressions," which is tagged onto a rendition of Miles Davis' "So What." Hancock won a Grammy in the category of Best Improvised Jazz Solo for his performance on the song "My Ship."
Essential track: "My Ship"
My Ship (Live At Massey Hall / 2001)
16: Inventions & Dimensions (Blue Note, 1964)
This, Hancock's third album, found him taking a stylistic detour from the hard bop and soul-jazz stylings of his first two Blue Note albums. Teaming up with noted Latin percussion maestros Willie Bobo and Osvaldo "Chihuahua" Martinez, the pianist created spontaneous compositions over their Afro-Cuban rhythmic figures, while the elasticated bass lines of ex-Miles Davis band member Paul Chambers anchors the set's five songs. "Succotash" is a discursive exploration of rhythm, while the gently-swinging "Triangle" is more melodic with modal jazz qualities. "Mimosa," the closing cut, has a sultry rhumba feel. Inventions & Dimensions revealed that the 24-year-old Herbie Hancock was a musical risk-taker who wasn't content to stick to the tried-and-tested formulas.
Essential track: "Mimosa"
15: Speak No Evil (with Wayne Shorter; Blue Note, 1965)
When Wayne Shorter joined the Miles Davis Quintet in 1964, Herbie Hancock had already been with the trumpeter's band for over a year. The pair became fast friends, and the pianist made several appearances on the saxophonist's solo albums for Blue Note, beginning with the influential masterpiece Speak No Evil. Though Shorter is the star of the show, Hancock's contribution is noteworthy for the high quality of his seemingly telepathic accompaniment and sparkling piano solos.
Essential track: "Speak No Evil"
Speak No Evil (Remastered 1998 / Rudy Van Gelder Edition)
14: Nefertiti (with Miles Davis; Columbia, 1968)
Though Wayne Shorter was the leading composer for the Miles Davis Quintet between 1964-1968, Herbie Hancock contributed two songs to Nefertiti, which is notable for being the final all-acoustic recording by the trumpeter. "Madness" is a swirling uptempo track defined by nebulous harmonies and an extended, discursive piano solo, while "Riot" – which, later the same year, appeared on Hancock's Speak Like A Child album – is more focused but still exhibits a pronounced edge. Both cuts reflect Hancock's evolution as a pianist and his rise as a post-bop composer of note.
Essential track: "Madness"
13: River: The Joni Letters (Verve, 2007)
This star-studded venture, a tribute to Hancock's friend Joni Mitchell, featured a galaxy of A-listers, from old stagers like Leonard Cohen, Joni Mitchell, and Tina Turner to relative newcomers Norah Jones and Corinne Bailey Rae. Even Prince, as an uncredited guitarist, provided a rare cameo. Even so, Hancock remains the star of the show, offering inspired interpretations of some of Mitchell's most memorable songs.
Essential track: "Both Sides Now"
12: Mwandishi (Warner Bros, 1971)
After leaving Blue Note in 1969, Hancock put together a new band, Mwandishi – including reed player Benny Maupin and trumpeter Eddie Henderson – that recorded two albums for Warner Bros and one for Columbia. The Afro-centric Mwandishi finds Hancock on the electric piano and creating a spacey, loose mode of fusion. The album consisted of three extended pieces, the longest being the 21-minute "Wandering Spirit Song." There are subtle hints of funk – as in "Ostinato," played in 15/8 time and driven by Buster Williams' bass – but the best cut is the deeply atmospheric "You'll Know When You Get There."
Essential track: "You'll Know When You Get There"
You'll Know When You Get There
11: My Point Of View (Blue Note, 1963)
For his second Blue Note album, Hancock assembled a larger group of musicians, which included his mentor, trumpeter Donald Byrd, along with saxophonist Hank Mobley and trombonist Grachan Moncur III. Guitarist Grant Green also featured on two of the set's five cuts. Hancock revisited the funky R&B vibe of "Watermelon Man" with the soul jazz-tinged "Blind Man, Blind Man," but on the more episodic, modal-flavored "King Cobra" he took a bolder, less orthodox approach to structure, melody, and harmony. Meanwhile, "A Tribute To Someone" is a delightful ballad driven by Chuck Israel's walking bass and which highlights Byrd's lyricism.
Essential track: "King Cobra"
10: Sunlight (Columbia, 1978)
In 1978, Herbie Hancock moved from the hardcore jazz-funk of his early-to-mid-70s records to the lighter, more accessible disco-funk style premiered on Sunlight. The album's pièce de résistance is the catchy "I Thought It Was You," a UK hit single which found him singing using a vocoder, an effects process that gave the human voice a robotic sound. Though the album mostly consisted of similar-sounding material, the closing "Good Question" was altogether more adventurous: a hybrid of jazz and Latin music featuring Weather Report bassist Jaco Pastorius.
Essential track: "I Thought It Was You"
9: The New Standard (Verve, 1996)
Like his onetime bandleader Miles Davis, Hancock never stood still musically and was always looking for new avenues of self-expression. On this brilliant album that highlights the pianist's penchant for risk-taking, he reconfigures both contemporary and classic pop and rock songs into jazz masterpieces. With the help of saxophonist Michael Brecker and guitarist John Scofield, Hancock repurposes material by The Beatles, Steely Dan, and Nirvana along with R&B numbers from Stevie Wonder, Prince, Babyface, and Sade. It's a brave selection but yields spectacular results.
Essential track: "Love Is Stronger Than Pride"
8: Fat Albert Rotunda (Warner Bros, 1969)
Hancock switched from Blue Note to Warner Bros in 1969, and his first project for his new label was the soundtrack for a Bill Cosby-produced animated movie called Hey, Hey, Hey, It's Fat Albert. Featuring a huge cast of supporting musicians – including saxophonist Joe Henderson, guitarist Eric Gale, and drummer Bernard Purdie – the seven-track Fat Albert Rotunda was packed with brassy funk grooves. There were also two great ballads: the delicate "Jessica," which Hancock revisited in 1977, and the dreamily lyrical "Tell Me A Bedtime Story," one of the pianist's most elegant compositions.
Essential track: "Tell Me A Bedtime Story"
7: Gershwin's World (Verve, 1998)
A tribute to composer George Gershwin on the occasion of his centenary, Gershwin's World is a scintillating showcase of Hancock's ability to stretch beyond jazz and reach wider audiences without sacrificing his musical integrity. Guests on the album include Joni Mitchell – who sings on two songs, including a beautiful "Summertime" with Stevie Wonder on harmonica – Chick Corea and Wayne Shorter. Hancock also engages the services of The Orpheus Chamber Orchestra to accompany him on the second movement from Ravel's "Piano Concerto In G."
Essential track: "Summertime"
6: Speak Like A Child (Blue Note, 1968)
Often overlooked in Hancock's Blue Note oeuvre, Speak Like A Child is one of the pianist's most beautiful albums. Inspired by childhood memories, it features a sextet whose instrumentation includes a novel blend of alto flute, flugelhorn, and trombone: a combination that imbues the record with unusual but beguiling sonorities. Hancock is the only soloist on six compelling cuts that range from the driving "Riot" and "Sorcerer" (two songs also recorded by Hancock with the Miles Davis Quintet) to the pastoral ballad "Goodbye To Childhood" and the lyrical title track.
Essential track: "Speak Like A Child"
5: Future Shock (Columbia, 1983)
A decade after Head Hunters introduced him to a broader audience, Hancock, who had been exploring disco-funk throughout the late 70s and early 80s, took another unexpected turn. That was when he teamed up with producer Bill Laswell to create the robotic sci-fi funk of 1983's Future Shock. Using drum machines, sequencers, and samplers, and incorporating DJ scratching techniques into his music, Hancock created a brave new world of sound that found instant favor with the record-buying public. The album, which spawned the memorable hit single "Rockit," achieved platinum sales and was hugely influential, especially in hip-hop circles.
Essential track: "Rockit"
Herbie Hancock - Rockit (Official Video)
4: Takin' Off (Blue Note, 1962)
Recorded on May 28, 1962, Takin' Off marked Hancock's debut as a bandleader. He was just 22 but showed a remarkable musical maturity as a composer and jazz conceptualist. All five of the album's tracks were original compositions, ranging from the funky rhythm'n'blues feel of the infectious "Watermelon Man" to "The Maze," a more exploratory type of hard bop tune. Hancock also had stellar support on the album from saxophonist Dexter Gordon and trumpeter Freddie Hubbard. "Watermelon Man," now recognized as a jazz standard, became a US pop hit for Cuban percussionist Mongo Santamaria in 1964, and has been covered numerous times.
Essential track: "Watermelon Man"
Watermelon Man (Remastered)
3: Empyrean Isles (Blue Note, 1964)
In June 1964, Hancock, then 25, went into Van Gelder Studio with Freddie Hubbard, Ron Carter, and Tony Williams to record a concept album based on a mythical place that marked him as a jazz pathfinder. It blended advanced hard bop with elements from modal, soul-jazz, and free jazz, especially during solo and collective improvisations. Though the funky "Cantaloupe Island," a close cousin of the earlier "Watermelon Man," showed that Hancock hadn't forgotten how to craft infectious tunes, the remainder of the album, including the radical, avant-garde-style "The Egg" showed the pianist in a more adventurous mood. For jazz fans back in 1964, Empyrean Isles confirmed that Herbie Hancock was a master in the making.
Essential track: "Cantaloupe Island"
Cantaloupe Island (Remastered 1999/Rudy Van Gelder Edition)
2: Head Hunters (Columbia, 1973)
Concerned that his Mwandishi band's esoteric and abstract-sounding music wasn't connecting with many listeners, Hancock's second album for Columbia found him radically changing direction. With its fusion of jazz improv with earthy Sly Stone- and James Brown-inspired electric funk grooves, Head Hunters became a best-seller and proved a game-changer for Hancock, transforming him into a bona fide jazz superstar.
Essential track: "Chameleon"
1: Maiden Voyage (Blue Note, 1965)
Topping our list of the 20 best Herbie Hancock albums is this, his fifth record, recorded in 1965. By this time, 24-year-old Hancock was playing in the Miles Davis Quintet and taking an active interest in expanding jazz's parameters with a more explorative approach to melody, rhythm, and harmony. On the nautical-themed Maiden Voyage, he embraced modal jazz in the company of saxophonist George Coleman and trumpeter Freddie Hubbard, alongside bassist Ron Carter and drummer Tony Williams. The gorgeous title song is one of Hancock's most notable and much-covered compositions. The album also yielded the classic tracks "Dolphin Dance" and "The Eye Of The Hurricane." It remains a musical touchstone in the Chicago pianist's canon.
Essential track: "Maiden Voyage"
Maiden Voyage (Remastered)
Looking for more? Discover the best jazz pianists of all time.