The Best Songs From The 'Euphoria' Soundtrack
The hit HBO series has drawn acclaim for its eclectic, emotion-heightening soundtrack.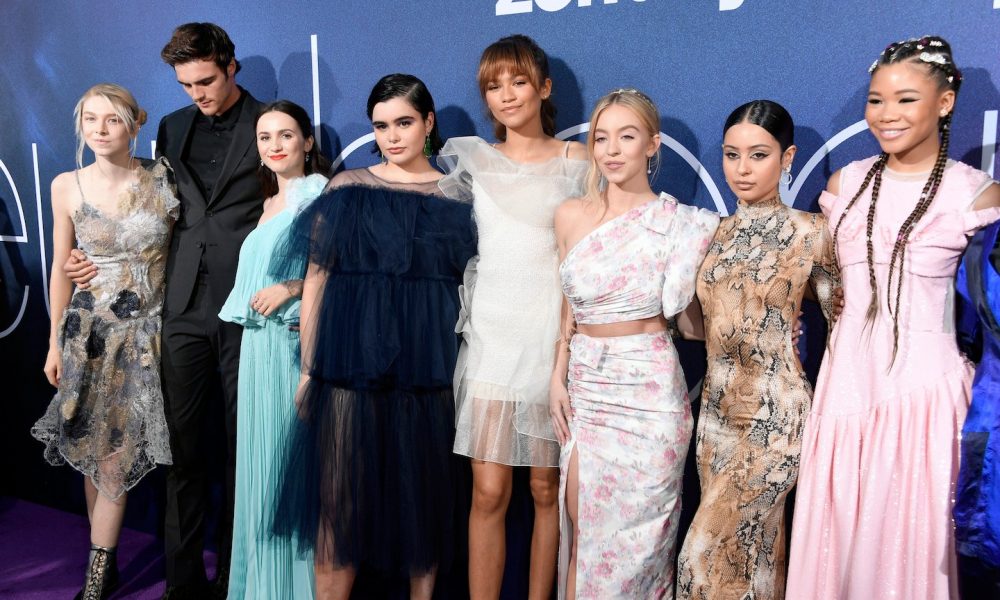 The first season of HBO's Euphoria was one of the most talked-about shows on TV in 2019, thanks to its extreme storylines of teen hedonism and the darkness of addiction and mental health issues. Just as integral to its success as its narrative arcs, though, was the Euphoria soundtrack, which featured everyone from Billie Eilish & Rosalía, Drake, and DMX, to J.I.D., J Balvin, and a special collaboration from Labrinth and the show's leading light, Zendaya.
Listen to the best of the Euphoria soundtrack.
Soundtracks are always integral to TV shows, teasing out the drama and emotion in scenes in new ways, yet Euphoria's soundtrack almost feels like a character in the episodes itself; always there in the background to change our perspective on a plot point or make them hit that bit harder. After a massive season one soundtrack, the music for season two is kicking things up yet another gear – packing in an incredible amount of syncs that keep the episodes moving at a compelling pace, and reflecting the importance of music in our everyday lives.
Season 2, Episode 8
The season two finale brought pain to some of the residents of East Highland but gave others the closure they needed. Lexi's play Our Life devolved into chaos as her sister Cassie took offense to the portrayals of her and her boyfriend Nate, storming on stage to confront her younger sibling mid-production. The drama kept growing as Maddy followed her onto the stage and then chased her through the school corridors over her betrayal, with the pair seemingly beginning to make up by the end of their battle. At Fezco's house, meanwhile, the dealer's plans for a wholesome night at the theater were scuppered by the arrival of Custer and his desire to try and pin Mouse's death on Fez. Ashtray's desire to protect his adopted older brother took things into blood-soaked territory, though, as he fatally stabbed Custer and refused to let Fez take the fall with the cops.
Rue began to mend her friendship with Lexi and kept on her path of sobriety, maturely walking away from Jules with the realization that she had put her ex-girlfriend through enough. The season ended with her quoting her sponsor Ali, saying: "The thought of maybe being a good person is what keeps me trying to be a good person." 
The eighth episode's soundtrack focused less on pulling from the pop and hip-hop oeuvres it's associated with, taking a more cinematic approach. Philipe Sarde's "Les Choses De La Vie (Final)" scored one scene where the narrative tumbled from reality and back into Lexi's play, while other tracks by Ennio Morricone and John Williams also featured. 
Les Choses De La Vie (Final)
Season 2, Episode 7
Lexi's hard work on her play Our Life came to fruition this week and looked like it had the power to heal some of the rifts that had been growing in East Highland. Based on her observations of the lives of the students around her, the piece highlighted the tender bond between the feuding Cassie and Maddy, and the loss of the connection between Lexi and Rue. But it also took aim at some of the town's more macho characters, including her sister's new boyfriend Nate, in a particularly memorable scene reenacting a men's gym session. Nate took great offense to this portrayal and stormed out of the school, leaving Cassie behind feeling abandoned and humiliated. From the look on her face as she glared through the theater door at the episode's end, Our Life could have started Euphoria's most intense war yet.
Captain And Tennille's "Love Will Keep Us Together" played as the characters of the play – each based on people in Lexi's circle – were introduced while having their school photos taken. Later, Bobby Darin's "More" appeared on the soundtrack, as Lexi reminisced on happier times with her father.
Love Will Keep Us Together
Season 2, Episode 6
Rue was on the path to accepting help for her addiction this week, seeking forgiveness from her sponsor Ali and cooperating with her mom's plans to get her into rehab. But while Rue was putting her life back together, in other parts of East Highland, some of the Euphoria teens' lives were falling apart. Distraught about her love triangle with Nate and Maddy imploding, Cassie was on the verge of a breakdown, while Nate destroyed any chance of getting back with Maddy by threatening her with a gun so she would give him back the disc of incriminating evidence of his dad.
Featured on the soundtrack this week was "Stairway To The Stars," the 1963 track from jazz saxophonist Dexter Gordon, which played as Ali had a heart-to-heart with Rue's sister Gia. Method Man's "I'll Be There For You," meanwhile, pumped up the tension as Nate left Maddy's house, mission completed.
I'll Be There For You/You're All I Need To Get By (Puff Daddy Mix)
Season 2, Episode 5
Things got intense in episode five, with Rue's spiraling addiction revealed to her mother and the troubled teen beside herself when she discovered her $10,000 suitcase of drugs had been flushed down the toilet. On a trip to the hospital, Rue changed her mind about trying to get better and jumped out of the car, later going and robbing a wealthy couple's house in an attempt to pay off her debt. Roaming the streets, she caught the attention of the cops and sparked a police chase that ended with her hiding in a trash can. Once she'd shaken them off her tail, Rue went to admit the truth to dealer Laurie, before surrendering to the fact she needed help and heading home. Featured tracks include classics from Albert Hammond and The Doobie Brothers.
Season 2, Episode 4
Episode four was all about the love triangles – whether that was Rue, Jules, and Elliot, or Maddy, Nate, and Cassie. The former came to a head when Elliot revealed to Jules that her girlfriend was back on drugs, while Nate and Cassie's affair teetered ever closer to the brink of implosion thanks to his appearance at Maddy's birthday party provoking jealousy in Cassie. Cal, meanwhile, finally told his family the truth about his sexuality and walked out of their home for good – but not before blaming his wife and sons for his issues.
INXS - Need You Tonight (Official Music Video)
Maddy's birthday party brought the bangers to the soundtrack this week, including multiple INXS songs, Tove Lo's new track "How Long," ericdoa's "Sad4whatt," Pussycat Dolls' "Don't Cha," and the classic Montell Jordan track "This Is How We Do It."
Tove Lo – How Long, from "Euphoria" an HBO Original Series (Lyric Video)
Season 2, Episode 3
It was time to dip into Cal's own history this week, with Euphoria's creators showing us the teenage years of Nate's dad – including important scenes of him exploring his sexuality. Back in the present, Rue thought she'd figured out a way to keep her addiction under wraps, telling her sister and friends she was "just smoking a bit of weed" instead of the much darker truth. She also hatched a plan to get her fix for free, going to dealer Laurie and offering to start a drug-running system at school. Impressed by the scheme, Laurie gave Rue a case of substances worth $10,000, which immediately felt like an important, ominous event for the episodes ahead.
Bobby Darin's "Call Me Irresponsible" scored one of this episode's most memorable scenes – Rue creating a breathless choreography to the classic track using items in her bedroom, before taking her performance into the kitchen, unaware that her sister was watching on. Later, Westside Connection's 2003 hit "Gangsta Nation" played out as Rue dragged her case of illegal substances on her bike, while Lenny Kravitz's "It Ain't Over 'Til It's Over" and Dan Hartman's "I Can Dream About You" soundtracked flashbacks of Cal's youth.
Call Me Irresponsible (2001 Remaster)
Season 2, Episode 2
In the aftermath of the brutal end of the party, the teens of East Highland were in disarray. Nate's dad Cal was on the hunt for his son's attacker and set his sights on Cassie as the weak link he could crack and get the truth from. With Fezco's involvement revealed, Cal drove out to his store, patrolling around it as if he was about to take justice into his own hands only to leave quietly. Rue, meanwhile, introduced her new friend Elliot to her girlfriend Jules and slipped deeper into her relapse.
On the soundtrack this week, Judy Garland's "Come Rain Or Shine" played out while Maddy – still blissfully unaware of her best friend and ex's newfound secret relationship – tried on luxury outfits during a babysitting job. Lana Del Rey also contributed a brand new song called "Watercolor Eyes" to the end credits for episode two.
Lana Del Rey - Watercolor Eyes, from "Euphoria" an HBO Original Series (Lyric Video)
Season 2, Episode 1
The season two premiere brought us back into the world of Euphoria with a bang. Before reuniting with the students of East Highland at a New Year's Eve party, we first learned more about dealer-with-a-heart-of-gold Fezco's back story and how he ended up taking over the illicit family business from his grandma. In the present – and as the minutes ticked down to midnight – storylines of betrayal and its consequences were set in motion, with Cassie going behind her best friend Maddy's back with her ex-boyfriend Nate. The latter received some retribution for calling the police on Fez in season one when the dealer rang in the New Year by smashing a bottle over his head and putting him in hospital.
The soundtrack also got off to a big start, with tracks from the likes of Steely Dan, 2Pac, Poison, Bo Diddley, and DMX all on the line-up. 2Pac's 1996 diss track "Hit 'Em Up" provided an early highlight, with Rue rapping along to the lyrics on a car ride that nearly ended in tragedy with Fezco and his adopted brother Ashtray. Bo Diddley's "Look At Grandma" fittingly accompanied our journey into Fez's past, specifically in a scene where his grandma taught him how to deal drugs, while DMX's "Party Up" was one of the highlights of the NYE party playlist.