10 Things We Learned From 'Bitchin': The Sound And Fury Of Rick James'
A new documentary lifts the lid on the life of the American funk pioneer Rick James.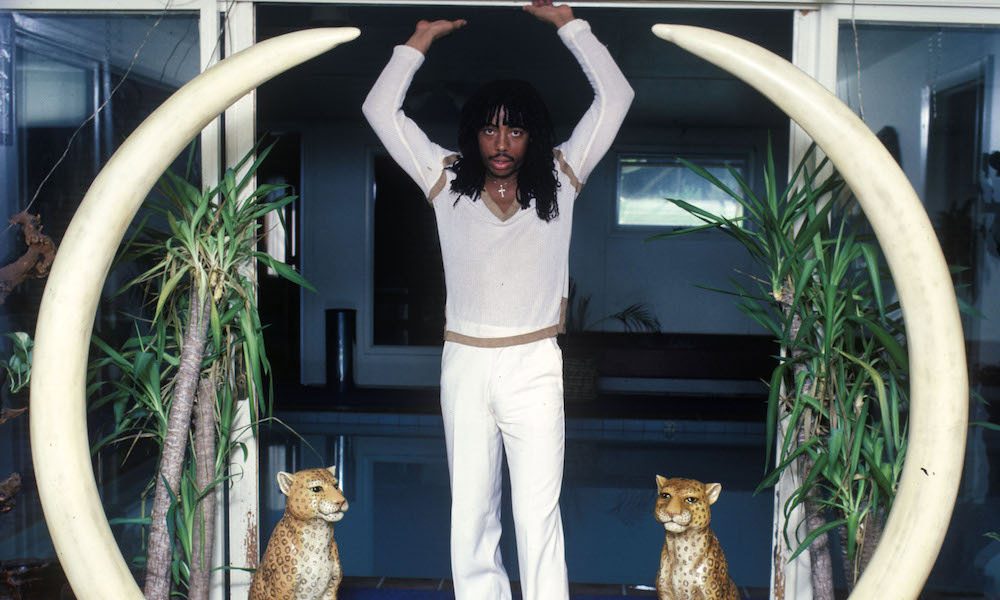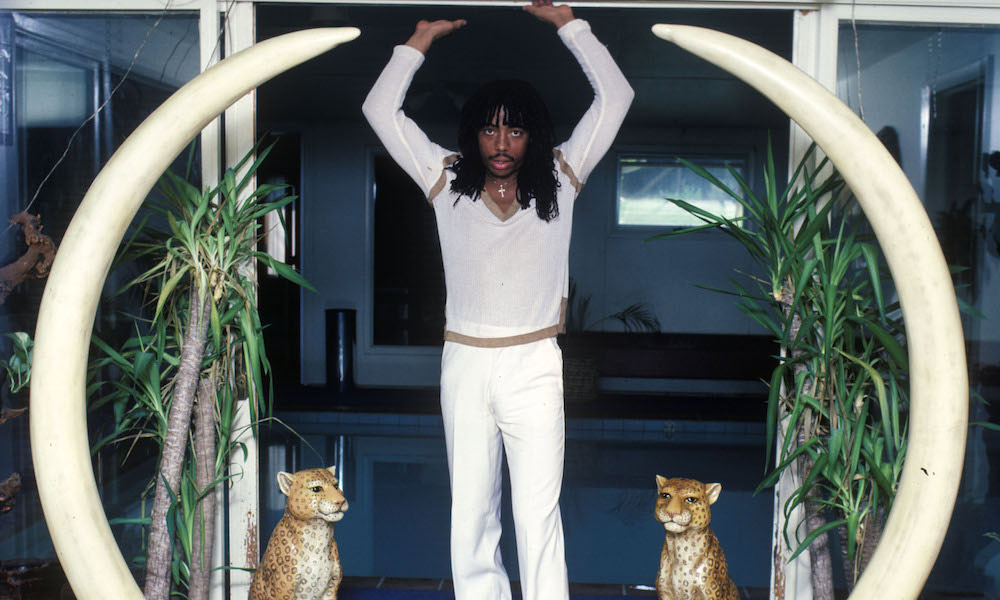 Both on and off the stage, Rick James was a flamboyant and larger-than-life character who lived fast, partied hard, and made some amazing music during a fertile ten-year period between 1978 and 1988. His life and times are chronicled in Sacha Jenkins' riveting, no-holds-barred documentary Bitchin': The Sound & Fury of Rick James, which has just premiered at the Tribeca Film Festival. It's an unflinchingly frank portrait of the undisputed bad boy of R&B.
Thanks to a copious amount of archive footage and vintage interview material, James is a magnetic central presence throughout the film but Jenkins also relies on a big cast of contributors to help bring the Buffalo-born singer's extraordinary tale to life. They range from family, friends, and members of James' Stone City Band to music executives, rappers, and cultural commentators, who all offer plenty of anecdotes and insights that enable the viewer to get a better understanding of a musical genius.
Want the lowdown on Rick James? Here are 10 things we learned from the documentary.
Rick James wasn't his real name
Rick James was born James Ambrose Johnson Jr. but adopted the name Ricky James Matthews when he was 16 to evade detection by the US military after he went AWOL from the army. (He absconded because he was due to be sent to fight on the frontline in Vietnam). A fugitive on the run, he fled to Toronto, Canada, in 1964 where he began his music career using his new moniker. But two years later, when he and his band went to record at Motown Records in Detroit, he met Stevie Wonder who told him that he should shorten his name to Ricky James. He deferred – his writer credits in those early years still read 'Ricky Matthews' – but he eventually followed Wonder's advice and in 1972, leading the rock band White Cane, he simplified it further, becoming Rick James.
Levon Helm and Neil Young played in a band with him
After crossing the Canadian border where he reinvented himself as Ricky James Mathews, James was made to feel at home by local Toronto musicians. He was befriended by Levon Helm and Garth Hudson who were in a group called Levon & The Hawks and rescued him from being beaten up one night. Discovering he was a musician, they invited James to join their band onstage; he impressed them to the extent that they formed a new group with him called Sailorboys. (Helm and Hudson went on to form the legendary rock group The Band). Sailorboys eventually morphed into a new band, The Mynah Birds, which blended rock with folk and soul. Singer/guitarist Neil Young joined James in the band in 1966 and cut four sides with them at Motown before finding fame with Buffalo Springfield (and later Crosby, Nash, Still & Young).
How his signature hairstyle came about
As well as having a distinctive, immediately recognizable funk-meets-punk sound, James also cultivated a unique look to go with it. His hairstyle became an important part of his image and according to the film, his desire to convert his short Afro into long, flowing braids came about after he met an African woman from the Masai tribe on an airplane flight. She showed him pictures of fellow Africans with long braids and agreed to re-style his hair. After he'd seen her handiwork, James knew he had the right look to go with his music. "I said there it is, bam! That's the vision, that's what I want," he recalled in the film. In fact, he was so taken with his new look that he commanded members of his Stone City Band to adopt the same hairstyle, as their drummer Lanise Hughes remembered: "He said, if you want to be a part of this band, you have to get your braids." James' high profile helped to popularize the braided hairstyle among African Americans in the early 80s.
His crazy rock and roll lifestyle
Rick James liked to party. Tales of his outrageous, drug-fuelled exploits and sexual debauchery are vividly exposed in the film. "In those days we were wild and crazy," James is heard saying in the documentary, adding: "We were standing on the edge of insanity." But the deeper he got into drugs – especially crack cocaine in the late 80s – and the greater his fame, the more outrageous his lifestyle became. Ultimately, though, his wild excesses led to ill-health and an early death, at age 56 in 2004.
His beef with Prince
"I saw some videos of him and he was cool," James recalls in doc, discussing his initial impression of the Minneapolis funk master as a 21-year-old whom he felt "resembled us a lot." But when Prince joined the older musician's Fire It Up tour in 1980 as the opening act, things turned ugly. James felt undermined, accusing Prince of copying his stage moves and stealing the unique call and response formula he had developed for geeing up an audience. "Prince was giving me hell on the road," James recalled in the film.
"I got really pissed off and went and told his managers. I said, look, how can I go up and do what I've got to do if this dude's gonna be taking my shit." Things got so bad that they tried to sabotage each other's shows, as Bootsy Collins revealed in the movie: "I remember being on shows with Rick and Prince and they were pulling plugs on each other and were getting ready to go to blows." After that infamous 1980 tour, they never appeared together on the same bill again as their careers went in different directions; James went on to create his magnum opus, 1981's Street Songs.
He went to war with MTV
James felt a sense of injustice that MTV, the influential American cable TV channel devoted to screening music videos that had begun in 1981, didn't play his "Super Freak" video; he also contended that the organization was blatantly ignoring Black artists as a whole and only catering for a white demographic. "I think there are a lot of Black videos out there and they should be seen," he said, but his demands initially fell on deaf ears. Eventually, his continuing outspoken criticism stung the company into action, though they responded by airing videos of James' main rivals, Michael Jackson and Prince, whom they helped to propel into the pop mainstream. James was embittered by his feud with MTV and also felt that Motown hadn't done enough to back him up and put more pressure on the cable network.
He was an influential record producer and talent spotter
Rick James was highly ambitious and when Motown offered him opportunities to branch out into writing and producing for other acts at the label, he didn't turn them down. His first project was a small white girl with a big voice: Teena Marie, a singer-songwriter from California who had been with the label several years but hadn't released any records because Motown wasn't sure which musical direction to take her in. James instantly formed a bond with her and put her on the charts with her debut single, a duet called "I'm A Sucker For Your Love." As the 70s rolled into the 80s, Marie went on to become a big R&B star; James also worked his magic with Mary Jane Girls, The Temptations, and actor/comedian, Eddie Murphy.
I'm A Sucker For Your Love
He fell out of favor at Motown
For a time, James was Berry Gordy's golden boy. He had reinvigorated Motown in the late 70s and brought a new artist-led sensibility to the label that was the opposite of the Detroit company's assembly line, pop factory ethos of the 60s. But while his phenomenal success filled the company's coffers, his expanding, coke-inflated ego and growing sense of entitlement put a strain on the singer's relationship with the label.
His demands became increasingly unrealistic; like the time he once complained to Nancy Leiviska, Motown's VP of Video, that the company didn't have a budget for cocaine. Things came to a head with Motown in 1982 when James, angered by his diminishing record sales, confronted the label's then-president Jay Lasker; the meeting took a turn for the worse when the singer snorted cocaine on Lasker's desk. As a consequence of James' actions, Motown focused all its efforts on promoting Lionel Richie.
He hated MC Hammer's repurposing of 'Super Freak' until the royalties poured in
A watershed moment in James' career came in 1990 when MC Hammer sampled his 1981 hit "Super Freak," looping its distinctive intro music to create a new track called "U Can't Touch This," which became a huge international hit. James wasn't a fan of hip-hop and had instructed his legal team to stop rap acts sampling his music. One day, though, he was driving with the radio on and heard a DJ play what he thought was "Super Freak" only to be shocked when he heard a rap over it.
"I really got inflamed and called up my counselors," remembered James in the film, "and said I thought I told you guys not to let the rappers use my stuff." But when they told him how much money he was making from the track, he no longer objected to MC Hammer sampling his music. By then, James' career was on a downward slope so the money was eagerly accepted; according to Hammer, it allowed the "Pied Piper of Punk Funk" to buy a new Rolls Royce as well as a mansion.
He scored his greatest commercial success with 'Street Songs'
After his first three albums in the late 70s had transformed him into an R&B star with huge crossover appeal, James' fourth album, 1980's Garden Of Love, which was more sensitive and toned down his outrageous stage persona, saw a dramatic wane in his commercial fortunes. According to the film, James' response was to "go back to the roots" and, taking inspiration from his tough upbringing in the city of Buffalo, he created Street Songs, the autobiographical 1981 album which many regard as his masterpiece.
It included James' most famous song, "Super Freak," a marriage of funk, pop, and electro, which the documentary reveals was the last track recorded for the album and added almost as an afterthought. Street Songs proved to be the punk-funk singer's most successful long-player; it spent 20 weeks at the summit of the US R&B albums chart and peaked at No 3 in The Billboard 200.
Buy or stream the official soundtrack to Bitchin': The Sound & Fury of Rick James, out now.