'Home Invasion' "Aspires To Be Very Cinematic" Says Steven Wilson
With his ambitious 'Home Invasion' live show, Steven Wilson introduces "new ideas to keep people captivated", as he tells uDiscover Music.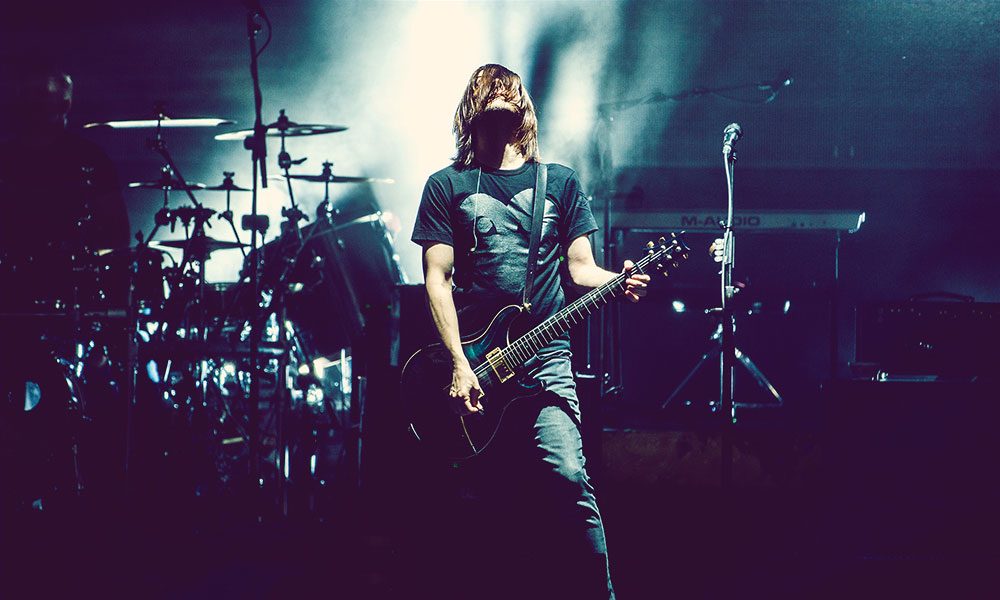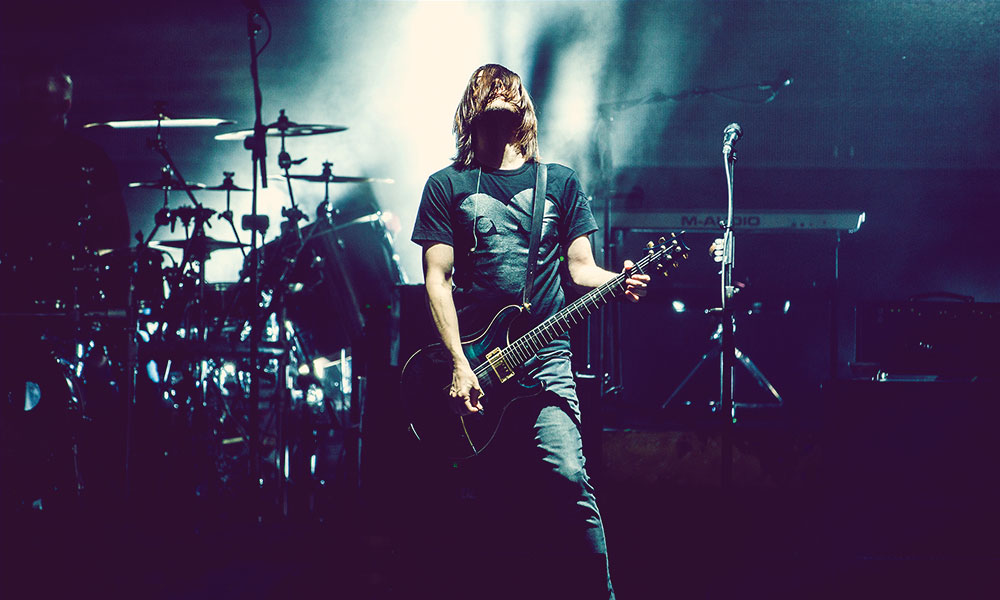 Steven Wilson has already released several high-quality full-length concert videos, including Porcupine Tree's lavish Anesthetize and 2012's Get All You Deserve. However, his electrifying 2018 live film, Home Invasion: In Concert At The Royal Albert Hall, elevates the genre to a whole new level.
Released through Eagle Rock Entertainment, Home Invasion captures the third and final night of the chameleonic singer-songwriter's sell-out residency at the iconic London venue. Coming at the tail end of a lengthy European tour, this landmark three-hour show, staged on 29 March 2018, represents the culmination of an intensive six-month bout of touring during which Wilson's fifth solo album, To The Bone, peaked at No.3 in the UK and rapidly became the best-selling album of his 30-year career.
Steven Wilson - Home Invasion (Launch Trailer)
Both the album and tour attracted widespread acclaim, with The Sun describing Wilson's Albert Hall residency as "one of the best shows of the year – and it's only March". For their part, Steven Wilson and his current band – Nick Beggs (bass), Alex Hutchings (guitar), Adam Holzman (keyboards) and Craig Blundell (drums), plus Wilson's talented vocal collaborator Ninet Tayeb – knew they needed to give it their all when they landed on home turf.
"Trying to create a sense of journey"
"I feel very at home [at the Albert Hall], I love it there," Wilson says, looking back on the Home Invasion shows in an interview with uDiscover Music. "Naturally, it has that sense of history, and both onstage and off you can feel the ghosts of all the artists who were there before, so there's a very tangible sense of occasion.
"Of course, that in itself puts more pressure on, and then also my family and friends were in the audience and the fact the cameras were rolling adds to it further," he continues. "However, because it was the third of the three nights that we filmed, maybe we'd relaxed a little and felt a little less self-conscious of the cameras – and obviously that's a good thing."
If Wilson and company were nervous, it certainly doesn't show during the engrossing Home Invasion, wherein the former Porcupine Tree frontman and his virtuoso band present the songs from To The Bone during a superbly-paced set which also reclaims treasures from his wider solo canon ('Home Invasion'/'Regret #9', 'Vermilioncore') and Porcupine Tree staples such as 'Lazarus' and 'Arriving Somewhere But Not Here'. As the artist reveals, plotting his current setlist is integral to the Steven Wilson live experience.
Steven Wilson - Vermillioncore (from Home Invasion: In Concert at the Royal Albert Hall)
"I approach sequencing a show in a similar way to sequencing an album, in that it's trying to create a sense of journey," he reflects.
"You need to keep introducing new ideas to keep people captivated for the duration, so you need to keep a few things in reserve, whether they're visual or audio. For example, people loved it when I came back out alone for the encore with the little practice amp to play the Billy Bragg-style solo version of [Porcupine Tree's] 'Sleep Together' – that's just another gag to keep people interested."
"The Home Invasion show aspires to be a cinematic experience"
Wilson readily admits that he approached the filming of Home Invasion in "as cinematic a fashion as possible." He gave director James Russell (Morrissey, Manic Street Preachers) carte blanche to go into creative overdrive and the resulting visuals are as sumptuous as the music itself.
"I love cinema, so the Home Invasion show aspires to be a very cinematic experience with all the films, screens, holographs and quadrophonic sound," Wilson enthuses. "So I encouraged James to do things like split screens, using deliberate blurring, overlaying projections, using slow motion… all very cinematic techniques. They're not techniques you'd see so much in concert films – at least not the ones I've seen – but they make Home Invasion stand out and they ensure it's an immersive home viewing experience."
As has become customary with releases bearing his stamp, Wilson is also personally responsible for the film's 5.1 surround sound and stereo mixes. His interest in what he refers to "the sonics" has established him as one of rock's premier go-to mixdown specialists, sought out by artists ranging from XTC, Roxy Music and Tears For Fears to Yes and Jethro Tull. That he's afforded Home Invasion the same meticulous attention to detail is readily apparent.
"You have to be careful not to make it too clean and clinical," he says. "Home Invasion sounds real, it's an accurate representation of what happened on stage – there's no over-dubbing and nothing's been re-sung, but there is a widescreen sweep to the sound.
"Part of my interest in all this goes back to the records I loved when I was young," Wilson continues. "As a teenager in the 80s I grew up with great pop music like ABBA, Prince and Michael Jackson. You think of all those great ABBA records and those incredible Trevor Horn productions like the early Frankie Goes To Hollywood records and Propaganda. There's something all those records have in common – they all sound amazing! So I grew up loving this idea that it's possible to make music with this very high standard of sonic excellence and I think that's become one of my hallmarks."
"I will always resist the idea of boundaries"
Though he's largely associated with the prog rock genre, Steven Wilson further explored his love of great pop music on To The Bone, a versatile record which amounts to what he refers to as "the most accessible record I've made under my own name".
Several of its most immediate tracks – including the soaring, anthemic 'Nowhere Now', the hard-hitting, terrorism-related 'People Who Eat Darkness' and the unashamedly poppy 'Permanating' also rank among Home Invasion's highlights. Indeed, the Bollywood dancers who invade the Albert Hall's stage for the latter song douse the film with memorable splashes of colour.
Steven Wilson - People Who Eat Darkness
"I tend to make very melancholic music which often deals with emotions like regret, loss and nostalgia – I accept that and it's pretty much been my musical vocabulary since the beginning," Wilson admits.
"However, when 'Permanating' popped out, I just had to embrace its sense of joy," Wilson says of the track, which he accurately refers to as his "awesome pop song" when he introduces it in Home Invasion.
"As soon as I heard it, I thought we had to have dancing in both the video and the live show, and I immediately thought Bollywood," he elaborates. "It's just the most life-affirming form of dance. The positivity, the colours, the charisma, just the sheer joy that emanates from it.
"Plus, I also quite liked the idea of it being the last thing my fans would expect," he adds.
"Don't get me wrong, I'm flattered by any accolade, but I've never personally used the expression 'prog-rock' to describe my own music," Wilson continues. "So in the same way that you'll hear everything from electronica to singer-songwriter stuff and ambient music on To The Bone, playing great pop music and having Bollywood girls in Home Invasion is as good a way as any to show that I will always resist the idea of having to work within the boundaries of any specific musical genre."
Home Invasion: In Concert At The Royal Albert Hall is out now and can be bought here.
Format:
UK English