'I Felt Close To Freddie': Artist Jack Coulter On Painting 'Mr Bad Guy'
Painting Freddie Mercury's 'Mr Bad Guy' was 'an absolute honor' for visual artist Jack Coulter, whose synesthesia helps shape his art.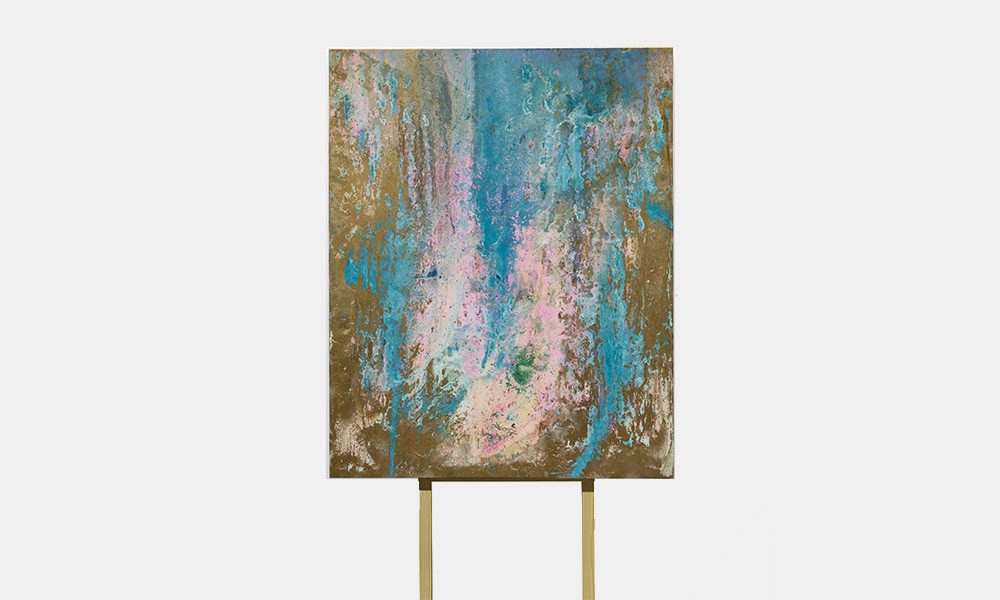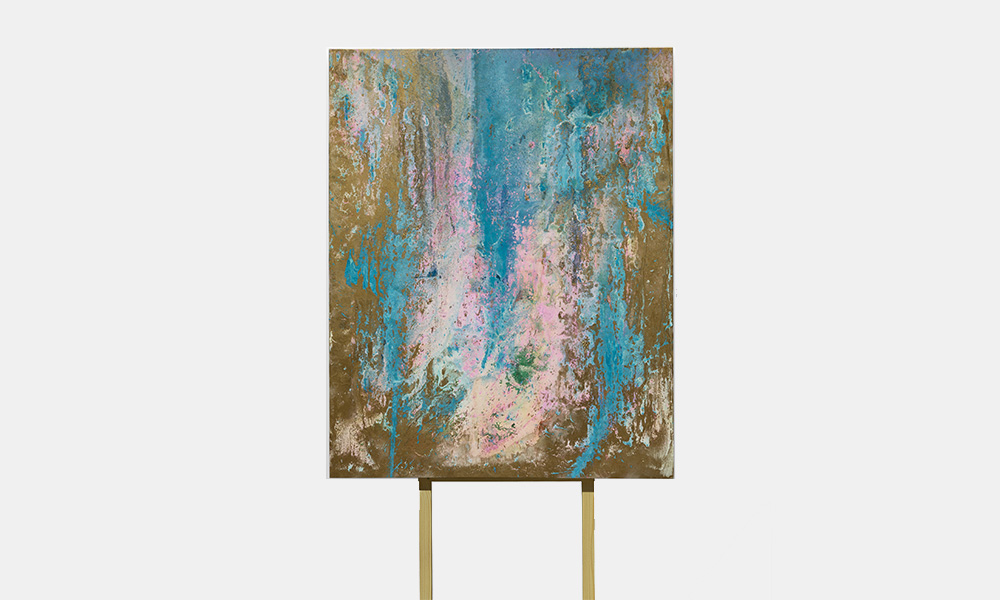 Freddie Mercury had a lifelong passion for art. The singer and songwriter went to Ealing Art School as a teenager before working briefly as a freelance artist. After finding fame and fortune with Queen, he would still spend a lot of his spare time visiting art galleries and collecting paintings. It is fitting, then, that one of the brightest stars of the 21st-century art world, 25-year-old expressionist painter and photographer Jack Coulter, was asked by the Freddie Mercury Estate to work on some projects with them, including a commission for a painting based on the late singer's solo single 'Mr Bad Guy'.
Freddie Mercury - Mr Bad Guy (Official Lyric Video)
Coulter, who was born in Belfast in 1994, says he was a fan of Queen's music before taking on the commission for a painting that has since gone on display at Bohemian Rhapsody: The Queen Exhibition at the Ara Art Centre in Seoul, South Korea. "My friend Oisin, who adored them, actually introduced me to Queen as a kid," Coulter told uDiscover Music. "Their sound fascinated me, in the manner each track was layered, structured and composed. It wasn't like anything I'd ever heard before. Being asked to represent Freddie and Queen through my work is an absolute honour."
Listen to the best Freddie Mercury songs on Apple Music and Spotify.
"I see colours with sounds that I've never seen before"
The artist has the neurological phenomenon synaesthesia, and he describes this sensory overload in highly descriptive terms. "Minus sound, everything I experience is comparable to turning the saturation up full on your TV," explains Coulter. "Things actively shift in hues; they glisten like colourised diamonds."
Among the most celebrated musicians to have had synaesthesia was Duke Ellington. "I hear a note by one of the fellows in the band and it's one colour. I hear the same note played by someone else and it's a different colour," said the jazz bandleader and pianist. "If Johnny Hodges is playing, G becomes light-blue satin." How does Ellington's description chime with Coulter's own experiences of sound, colour and art?
"I was speechless when I read that, as I couldn't have said it better," says Coulter. "I see colours with various sounds that I've never seen before. I have to mix bizarre paint pairings myself, which brings what I see to life. Sonically, even a slight change in pitch or tone changes everything."
"I wanted to capture Freddie's essence"
So, when he painted 'Mr Bad Guy', the title song from Mercury's 1985 solo album, did Coulter hear the flamboyant singer in any particular colour? "That piece is one I'm intensely proud of visually – it's the exact hues I heard," replied Coulter. "I got everything out. Not only did I have the duty of depicting its sound, I wanted to honour Freddie. Everyone I worked with at the Estate said he would've adored it, which made me cry."
There is a striking video of Coulter painting 'Mr Bad Guy', which shows the Irishman working in a flowing, extravagant style. "The way I work is madness, I erratically move, jump over the canvas, somewhat dance around it," he says. "I wasn't trying to capture Freddie's spirit in that manner, he would've wanted me to just be myself. Which I always am.
"I was focused on the track's intricacies," he continues. "I needed to be intensely absorbed. My ears pick up everything, I can't stop it. I wanted to capture Freddie's essence simultaneously. Freddie's all-encompassing musicality was my intention to portray. I inhaled the track in its entirety."
"After school, I would paint my favourite scores"
Music is an essential part of Coulter's life and professional process. The artist, who has also painted pieces inspired by Nirvana's 'Smells Like Teen Spirit' and The Rolling Stones' 'Start Me Up', composes his own music and says he always has a recorder with him or his phone to capture voices or audio that affect him.
Creativity is in his blood. His aunt was a painter and he was taken in his pram by his mother to the Tate Modern when he was just a few weeks old. Coulter says his "earliest visual memory" was his mum taking him to a Yoko Ono exhibition in Belfast when he was four. "I was also fortunate to be exposed to a lot of varying music as a kid," says Coulter. "From my grandad it was Frank Sinatra, my mum was into Janis Joplin, my dad introduced me to Prince. My auntie Min liked The Blue Nile, The Runaways, Bob Dylan, Scritti Politti, Madonna, Blondie. My own personal love for ambient, jazz, classical and orchestral music, such as Eno, Liszt or Tchaikovsky, came from picking up vinyl records with my mum in charity shops after school. I would go home and paint my favourite scores."
Coulter's passion for working on his art while listening to music was such that he actually destroyed his record player when it was covered with paint. It is no surprise that he now takes the safer option of listening to music on his headphones while he works. As he paints, he listens to a lot of jazz and R&B. "Miles [Davis] is always my go-to when working," adds Coulter. "The albums Kind Of Blue and Doo-Bop are flawless. They are two of my favourite painting records, they ease my mind. I've always loved The Genius After Hours by Ray Charles. The entire record is a masterpiece, yet the opening track under that title pierces my skin. I can never sleep, so I always related. My favourite time was working to that record all night in my formative years. Ray singing 'Crazy Love' with Van Morrison is a classic as well."
"It feels more like a performance than a painting"
In all his work, including 'Mr Bad Guy', Coulter opts not to use paint brushes, choosing instead unconventional art tools, including sticks. Has he ever used a musical instrument to paint with?
"I often use a violin bow, ironically. I play it, so the shift into painting my movements always felt innate. That's why I've felt more at ease using unconventional tools: it feels more like a performance than simply doing a painting. Over the years I've made musical sculptures from broken instruments as well. One of the most memorable is one of my oldest musical pieces to date. It's now 11 years old. I was 14 when I did that and it's still up in my room. I glued together the cases of CDs I painted listening to, then worked over it portraying the prescribed sound in its entirety."
Though synaesthesia can provide people who have it with constant visual stimuli, it takes a toll living with it on a day-to-day basis. "It is over-romanticised, especially in our generation," admits Coulter. "It's frustrating. For me personally, I hate the fact my painterly ability can be overlooked. Take away music, my paintings remain aesthetically intact. It's down to mastering my craft first and foremost – a neurological condition doesn't grant you that. I've painted in my garage since I was 11, I've just turned 25. You can imagine the levels I've gone through psychologically.
"I find it hard to articulate, as I live 24/7 with audio-visual migraines that make me ill. I'm often physically sick after painting. I've been given medication for it, yet nothing will heal or dull the migraines. I've been referred to a neurologist."
"I only paint music I feel or love"
When he does paint, therefore, it is important that he finds something that holds a deep meaning. "I only paint music I feel or love," says Coulter. "It can go from Julie London or Franz Liszt to Brockhampton or Sky Ferreira. I don't care about genres, they're dead. If you're even slightly sensitive or intuitive, a song or composition that makes you feel something will have an essence of truth or sentiment underneath."
Coulter would certainly have had some interesting conversations with the late Mercury, whose lyrics for 'Mr Bad Guy' proved inspiring to him, more than three decades after they were written. "The lyrics are intense, extremely to the point, honest, raw," says Coulter. "Which no popular track has in today's world. I still stand by that. I'll delve into each more as time progresses. Freddie's been in my dreams a few times, where we spoke. The way his mind worked in an auditory sense was astounding. That was perhaps overlooked due to his colossal fame. I would have loved to ask him about his favourite painters; enough people bombarded him with music questions."
Having already been displayed in Seoul, Coulter's 'Mr Bad Guy' painting is now an integral part of the artwork for the Never Boring box set, which spans the entirety of Freddie Mercury's solo career. Detailed close ups of the painting feature on the sleeves for each disc in the collection, while a double-sided poster features a reproduction of the entire artwork, allowing those who haven't seen the original painting to fully appreciate the intricacy and vibrancy of Coulter's work. Paired with an image of Freddie Mercury on the other side, makes for a fitting union between this dynamic young artist and the man who helped shape 20th-century music.
"Everyone I worked with still called him Freddie," recalls Coulter of his discussions with the singer's Estate. "I felt really close to him in a weird way, from working with people who were his family and friends."
The career-spanning Freddie Mercury box set, Never Boring, is out now. Order it here.
Format:
UK English