Sketches Of Spaine: Les Spaine's Motown Memories Of Stevie, Diana & More
The former Motown executive recalls dining with Marvin Gaye, hanging with Stevie Wonder, and promoting the Commodores, Rick James, and many others.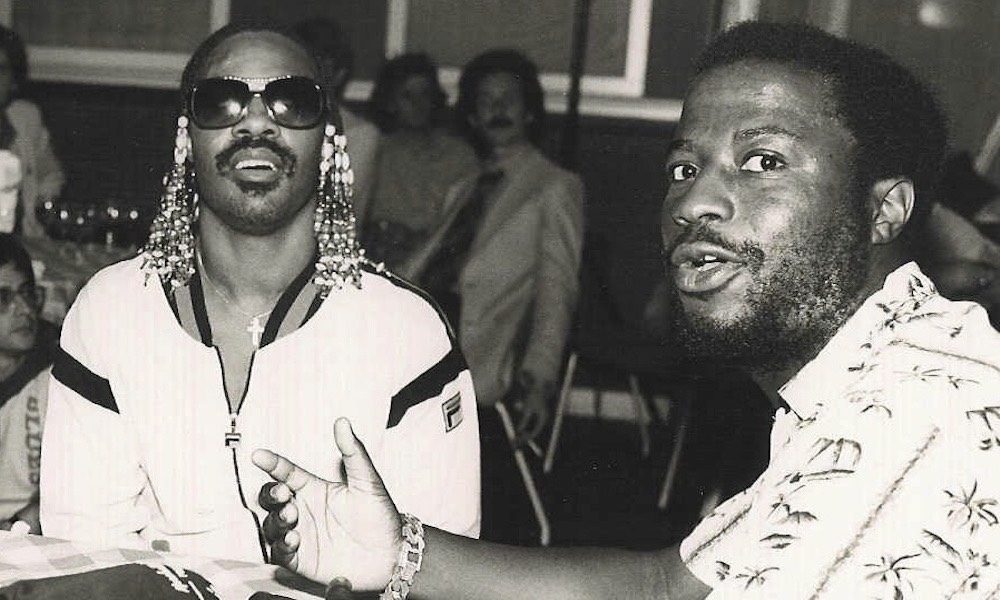 There were more than a few pinch-me moments for Les Spaine when he joined Motown Records. He was the kid from Liverpool who literally spun his early love of music into a name for himself as a club DJ. Suddenly, here he was working for the UK division of one of the most famous record labels in the world, confided in by Marvin Gaye, breaking hit after hit for the Commodores, and hanging backstage with Stevie Wonder.
These days, he's the CEO of the Spaine Music Company, a management and live booking agency for such durable British marques as Soul II Soul, Heatwave, Aswad, and Incognito. Not one to wallow in nostalgia for its own sake, he spends most of his time looking forward, which makes it even more of a privilege to share some sketches of Spaine from a golden era at Motown.
This is the tale of how a young man (born in Freetown, Sierra Leone, but brought to England by his mother after a matter of weeks) emerged from the original disco era with such a reputation on the north of England club circuit that London called him. His destination was the famous Manchester Square offices of EMI Records, the then licensees of Motown in the UK, his prize a key role in the already legendary label's international hierarchy as head of radio and television.
Over the coming years, Spaine would dine with Marvin, mourn with Jermaine Jackson, help introduce the British public to the Commodores, Teena Marie, Rick James, and more. There was even the time he took Diana Ross to meet the Muppets. These are Les Spaine's Motown years.
How did you first make your way onto the club scene as a DJ?
There was this B.S. that went around that "up north" was all whippets [a breed of racing dog] and "Northern Soul, lad," and that the dance scene didn't start until Cream. All of a sudden, this bunch of 90s kids in Liverpool, and some other places up north realized, "Hang on, something was happening before Cream." And I have great respect for Cream and what they achieved.
I grew up in Liverpool in the 50s and 60s, which was amazing. We had this club called the Timepiece, and a friend of mine called Greg Wilson, came into it when he was 16. I did something with him at the Tate Liverpool some years ago, and right now we're doing a book called From Freetown To Motown.
Back in the day, I started this thing called the National Association of DJs, which was DJs in Liverpool, Manchester, Leeds, Newcastle, and each one of those places had clubs that played current stuff. You had Ian Levine and places like the Wigan Casino, Colin Curtis and all those guys, they were doing amazing stuff, but they were doing Northern Soul, and that didn't resonate with us. I was more into George Clinton, James Brown, and funk.
You had, I think, 12 American [services] bases, Upper Heyford and all of those, and they'd come to our club. The beauty of the Timepiece, it was the first club that was interracial. It was a nice club, it held about 2,000 people. Writers and magazines like [Record Mirror's] James Hamilton and Blues & Soul started focusing on it, and it just grew and grew.
I would get imports off the American bases and shops like Spin Inn in Manchester, and my vibe was to recreate Soul Train six nights a week. I put up two big screens either side of the DJ box. They were only 16mm films in those days, but I'd play stuff, and then you'd suddenly see Chaka Khan and Rufus doing "Dance Wit Me."
I started this monthly all-nighter, and you'd have rows of American cars outside. These guys all came to Liverpool. It was in the town center, and it was a multi-cultural club where Black people felt they could go, and white people felt safe.
How did that road lead to Motown?
I knew I could only go so far in Liverpool. I knew I wanted to be in the music business, and I knew I couldn't stay in Liverpool. I started going into London to get videos I could run, so I made great contacts with disco promotion people. I was offered disco promotion jobs, but I got on extremely well, and still do, with Keith Harris [Motown's UK general manager], who was the only person who offered me the opportunity to do more, in radio and TV. I didn't want to spend my life going from club to club handing out tunes.
Motown offered me that opportunity, and it was great. I stopped DJing at the Timepiece on the Saturday night and started work at Motown on the Monday. Two or three months after I took it, Keith left to go and work for Stevie Wonder.
[Editor's Note: Today, Spaine and Harris are among some 80 Black executives on industry body the PRS' Steering Committee for Power Up, a movement set up to counter racism and injustice in the music workplace. In May 2021, Spaine also joined the Liverpool City Region Music Board, which promotes the city region's position as one of the world's music capitals.]
What sort of adventures stick in your mind from those days?
Being head of TV and radio, I was involved in planning and marketing, so for the next few years, I set the tone for what we did [in the UK]. Diana Ross to me was always a megastar, and the diana album we broke wide open. For me, that was her comeback album. Donna Summer was doing amazingly well, and Motown needed to reestablish who was the queen.
I produced the video for "My Old Piano," directed by Nick Abson, who later directed some Fraggle Rock episodes, when Diana came in to do The Muppet Show. I was really impressed with her, and she was a good actress. There she was conversing with Fozzie Bear. I got to know Ms. Ross really well. [She] was one of the first people to do Wembley in the round. Marvin Gaye came with his little boy. He was in the middle of his divorce, and he'd just delivered the Here My Dear album. I had him in England for about 18 months.
Marvin was lovely, but [laughs] you had to keep an eye on him. I've got this wonderful picture backstage of Diana, Marvin and Stevie, and that would be the only time out of America that those three were on stage together, at Stevie's Hotter Than July concert.
You promoted Stevie's The Secret Life of Plants album, didn't you?
People had been waiting so long for the follow-up to Songs In The Key Of Life. What Motown should have done is say "This is the soundtrack to a documentary," because that's what it was. But it was like "Here's the new Stevie Wonder album." It had "Black Orchid" and "Send One Your Love," [so] it did have some songs on it, but it was too long and if you'd seen it in the context of what it was…if you'd followed up Songs In The Key with Hotter Than July, which did brilliantly, that probably would have been Stevie's biggest album.
So I had to plug [Secret Life], and I remember we made these round black orchid balls. I've still got one somewhere. Oh, man, that was hard work. When I joined, Songs… had already come out. I've got pictures of us in the Motown office where we've got all sorts of foliage around us and the green T-shirts. But we broke the Commodores [in the UK], I was very proud of that, and we broke Jermaine Jackson.
How was Jermaine to work with?
One of my favorite stories: Jermaine came over to promote "Let's Get Serious," and we were going all around. Because I came from up north, I knew the importance of regional, and "Let's Get Serious" was a big hit.
The thing that sticks in my mind about Jermaine is, I was in Scotland with him the night John Lennon was killed. We were staying at The Albany, we'd done the TV and everything, we went back to our rooms, and I said, "I'll see you in the morning." He was a very shy man, and he was always my favorite Jackson, simply because when you've got a talent, but your brother is Michael…it's like Erma Franklin. He did some great songs, "You Like Me Don't You" and all that, and I worked all of them.
So we went in our rooms, turned the telly on as you do when you're in a hotel, and we both came out and we looked, and spoke. But the next day, we were going to Liverpool. The whole city was in mourning, and Jermaine bought nearly every copy of the Liverpool Echo we could find.
And other memories of Marvin?
I used to see Marvin every day. People forget that he used to be a drummer. We had, I think, Battery Studios hired, and the manager called me up and said "The drumkit's missing." I said, "What are you calling me for?" He said, "Someone said Marvin said he needed the drumkit in his apartment." "And you let him have it?" Not that he was going to steal it or anything.
When I got up there, he was playing and playing. I went to all the TV stations and said, "Can we do a special on Marvin Gaye?" "No, no, no," was their answer. I flew up [to Scotland] to ask STV, and he said yes [he would do it]. So we had him in the Britannia Hotel and we get to Terminal 1 [at Heathrow], and you know it goes up on a ramp [to departures]. You get all these books that talk about Marvin jumping out the toilet at Terminal 1. It's not true. It's become legendary, and I keep getting asked about it. Things like that are bugbears to me, because if you're going to say something, tell the truth. No, he just changed his mind, got back in a cab and went back to the hotel.
What do you recall about other Motown acts of the time?
I remember when we first brought Teena Marie over. She was managed by Winnie Martin, who was married to [Berry's brother] Fuller Gordy. We all became very close. They came and stayed at my house, and we all hung out. I took them sightseeing round London. Could that girl sing.
Rick James was my one thing [where] I always felt he needed to become just a little more rocky, [whereas] Prince really just sat in that groove. Prince was actually supporting Rick on a tour when I worked him. I did Smokey Robinson and we had this run where we did "Being With You," "Cruisin'" and others. Smokey was just cool. The band Switch, I really wanted to break. They were a great band.
With Michael Jackson, because I was a DJ, I knew the underground swell for "One Day In Your Life" was ridiculous. So we put it out [in 1981, six years after it appeared on his Forever, Michael album]. I think it made something like No.57 in America, but it became his first No.1 here. It was "Being With You" that knocked it off. So we were rolling.
Then there were acts like High Inergy and Tata Vega.
Tata was brilliant, she did "Give It Up For Love." She's so nice. A couple of years ago Elton [John] was doing some shows and she was one of his backing singers, and when she was here, she wanted to go and visit some churches, so we went.
You were often the one introducing American artists to British culture and cuisine.
I always remember my good friend Richard Street of the Temptations. We were in a restaurant, and he said "Les, what the **** is spotted dick?" I said, "It's suet with raisins in it." He goes "Why don't they call it suet with raisins? I'm gonna try that." So he took a picture of the menu, he said "I'm going to show it to my friends. Spotted dick."
Can you pick out another successful campaign from that time?
There was a basketball soundtrack called Fast Break and it had the original "With You I'm Born Again." Someone put words to it and Billy Preston and Syreeta did it and we got it to No.2. Billy was a bag of talent. So there's lots of hits that we had. People always roll out the obvious ones.
After Motown, you made the move to Capitol Records.
One of the reasons I went there was I only had to go downstairs. I was comfortable at the EMI building. I got a call and asked if I wanted to go to RCA with Motown [when the licensing deal changed]. But you're young and you want to try something else. The thing about Capitol was, it went from Kenny Rogers to Kraftwerk. We had the guitarist Earl Klugh, we got him on at Hammersmith Odeon and these two young lads at the front got up and started blowing their whistles. He looked at them and said "This ain't Kool and the Gang." And they sat down.
Who were some of the artists you worked with in that era?
At Capitol and EMI-America, I did Bowie's Let's Dance album, Frankie Beverly & Maze, and Ashford & Simpson's "Solid." We broke Melba Moore wide open again, and there was Steve Van Zandt, who I bumped into again in Liverpool, before lockdown.
When I left Capitol, I started a promotion company [LSP Promotions], and a management company [Best Sounds Management] after that. We've got shows with Billy Ocean in Germany, Nile Rodgers and Chic on festivals, and UB40 doing stuff.
When I set up on my own company, we broke [UK pop-soul act] 5 Star who, for a little period, were the biggest stars. I broke Atlantic Starr for A&M, did all the Sugarhill stuff, and records like Phyllis Nelson's [UK No.1] "Move Closer" and Denise La Salle's "My Toot Toot."
I worked with Mary Wilson for quite some time. Her passing was quite a shock. At Motown, I worked her [recently-reissued, self-titled] album [known to fans as Red Hot]. She was over for about a week with her son, and we went everywhere together. She was fabulous to work with. I would bring Mary over with my agency quite a lot. I had Mary, Melba Moore, Sheila Ferguson from the Three Degrees, Thelma Houston, and Gwen Dickey of Rose Royce on our Legends of Soul shows at Butlins [seaside resorts], who I've worked with for 30 years. Mary was a class act.
You've got that book in the works about your life, and another about The Timepiece, but you're still very much immersed in the modern business.
I was telling somebody: we were spoilt. Every couple of months, an album came out that later was going to be a classic. It wasn't just soul. But I'm not one of these "In my day…" people. I spend most of my time with people that I'm old enough to be their granddad. I always want to learn, see, and listen to young people because they're going to put a twist on something and you think "I never looked at it that way," and I find it exciting.
Listen to the best Motown songs on Apple Music and Spotify.