Rihanna's 2023 Super Bowl Halftime Show Is Now The Most-Watched Of All Time
The star's first live performance in over 5 years attracted 121.017 million viewers during the broadcast, surpassing Katy Perry's previous record.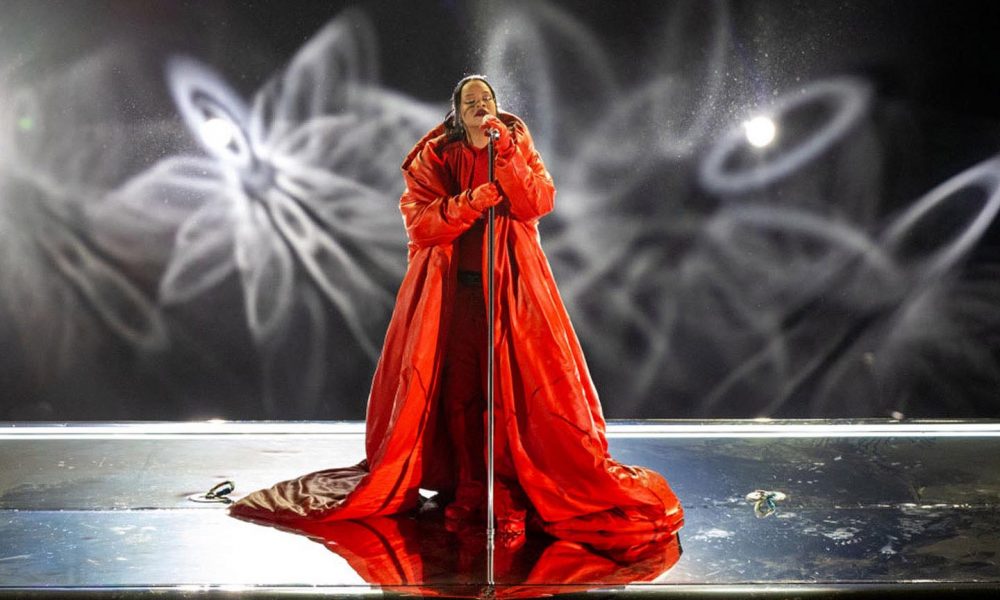 Rihanna's Super Bowl LVII Halftime Show is officially the most-watched halftime show performance of all time, according to an adjusted report by Neilsen published on May 2.
The live performance — Rihanna's first in more than five years — attracted 121.017 million viewers during the Feb. 12-dated broadcast. The original ratings had put her halftime show at 118.7 million viewers. With the jump of nearly 3 million, Rihanna's show surpassed Katy Perry's 2015 performance, which previously held the record with 121 million viewers.
Shop the best of Rihanna's discography on vinyl and more.
Nielsen's revised report regarding Super Bowl LVII between the Kansas City Chiefs and the Philadelphia Eagles also makes this year's big game the most-watched Super Bowl in history. According to reports in the Associated Press, Nielsen revised this year's original game ratings figure of 113.1 million by 2 million "after a review that revealed encoding irregularities as well as issues with out-of-home measurement."
"There were two separate issues, each of them accounting for an additional one million viewers," Mike Mulvihill, Fox Sports executive vice president and head of strategy and analytics, explained in an interview with Variety.
The new 115.1 million figure breaks the record that was previously set by the 2015 Super Bowl between the New England Patriots and Seattle Seahawks, which had 114.442 million viewers – not including streaming.
During the singer's now history-making performance at Glendale, Arizona's State Farm Stadium, she performed her Billboard Hot 100 No. 1 hits including "Only Girl (in the World)," "We Found Love," "Rude Boy," and "Work." Ahead of her performance, Rihanna's Savage x Fenty lingerie and clothing brand sold "Rihanna concert interrupted by a football game, weird but whatever" T-shirts as part of its exclusive game day collection.
Away from the Super Bowl, Rihanna has collected a string of major accolades in recent months. "We Found Love" was certified Diamond by the RIAA, moving her up to third on the list of artists with the most certified units in digital singles. She now stands behind Drake (184) and Eminem (166).
Listen to the best of Rihanna on Apple Music and Spotify.