U2, Billie Eilish, Kacey Musgraves Appear In 'Stand Up For Ukraine' Livestream
The star-studded Global Citizen event aired on April 9.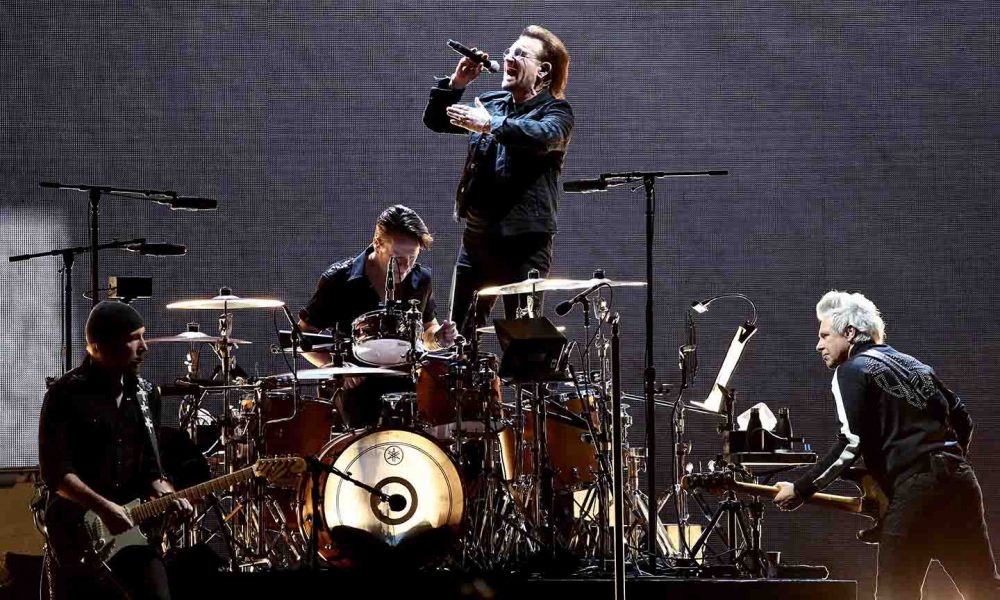 U2's Bono and The Edge, Billie Eilish, Madonna, Kacey Musgraves, and Bruce Springsteen were among the stars who appeared on Global Citizen's Stand Up For Ukraine livestream on April 9, an event which urged world leaders to pledge funds and aid to refugees, amid the Russian invasion. According to Global Citizen's impact report, the live-stream netted over $10.1 billion in pledged grants and loans.
The artists above were joined by a range of musicians and political leaders, including The Weeknd, Tame Impala, Demi Lovato, FINNEAS, Elton John, Jon Batiste, Katy Perry, Celine Dion, Garth Brooks, members of Weezer, Fall Out Boy and Jonas Brothers, Vice President Kamala Harris, Luis Fonsi, Arlo Parks, Leon Bridges, and Sharon and Ozzy Osbourne.
In one of the livestream's most poignant moments, Bono and The Edge performed an acoustic version of "Walk On," updating the lyrics of the 2000 song to reflect the current events.
U2 - Walk On Ukraine - #StandUpForUkraine
"The brave people of Ukraine are fighting for their freedom — and for ours — in the face of unspeakable violence and an unjust invasion," the band members shared in a statement. "More than four million people, mostly women and children, have had to flee for their lives — a population nearly the size of Ireland. World leaders must stand up and stand by Ukrainians now."
Eilish, meanwhile, delivered a slowed rendition of her single, "Your Power," off her recent sophomore album, Happier Than Ever. "To world leaders, there are millions of people displaced from Ukraine. We need you to answer the call, and for you to take immediate action to support displaced people around the world," she pleaded.
Others in the livestream, like Musgraves and Springsteen, also offered messages of support. "The crisis in Ukraine is happening at a time when aid organizations are severely underfunded and struggling," Musgraves said. "Refugees deserve to be treated with dignity."
For more information on Global Citizen's Stand Up For Ukraine, visit the official website.