Best George Harrison Songs: Essential Tracks
From his prolific solo career to his time with the Fab Four, George Harrison was one of the most gifted songwriters in the world.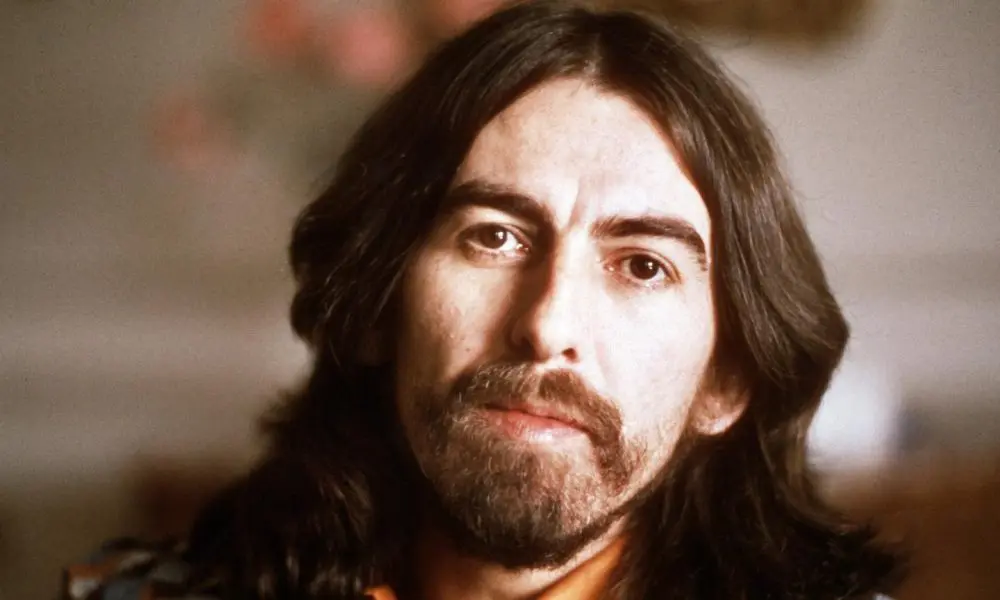 We're attempting the impossible, to sum up George Harrison's career in songs. This is like a musical autobiography, one in which we pick songs that cover the arc of George's solo career, up until his death, on November 29, 2001. It is not just his hits, but obviously some of them are here, it's also hidden gems and deep cuts. For much of his time with The Beatles, George was dubbed, "The Quiet One." Given the prolific songwriting of Paul McCartney and John Lennon, he had limited opportunities to have his songs included on the Fab Four's albums… of course, when they were, they were invariably musical pearls. From his solo efforts to his influential time with The Beatles, here are the best George Harrison songs throughout his career.
Listen to the best George Harrison songs on Apple Music and Spotify.
If I Needed Someone (Rubber Soul)
After falling in love with the jangly sound of the Byrds, George Harrison snapped up an electric 12-string guitar and turned the opening riff of that band's "Bells of Rhymney" into this gem from Rubber Soul. The lyrics were an ode to Pattie Boyd who Harrison married one month after the release of the album.
Taxman (Revolver)
The opening track to 1966's Revolver was a funky screed aimed at the British government's egregious taxation of the band's wealth. Though it was Harrison's song, the furious guitar solo was played by Paul McCartney. Mod punks The Jam would later borrow elements of this song for their 1980 single "Start!"
Within You Without You (Sgt. Pepper's Lonely Hearts Club Band)
Harrison supposedly spent eight hours a day studying the sitar during a 1966 visit to India. And he used that instrument to psychedelic effect on this classic from Sgt. Pepper's Lonely Hearts Club Band. He's joined by members of London's Asian Music Circle on percussion.
While My Guitar Gently Weeps (The White Album)
Legend has it that Harrison, frustrated with his Beatles bandmates' indifference to recording this song, forced their hand by bringing his buddy Eric Clapton in to play the track's stunning guitar solo. "It's interesting to see how nicely people behave when you bring a guest in," Harrison remembered.
While My Guitar Gently Weeps (Remastered 2009)
Here Comes The Sun (Abbey Road)
Harrison knocked out one of his most indelible songs in one burst of creativity while walking through his friend Eric Clapton's garden. This and "Something," both from Abbey Road, led Ringo Starr to note of his bandmate's songwriting talent, "It's interesting that George was coming to the fore and we were just breaking up."
Something (Abbey Road)
"Something" was one of Harrison's best moments as a songwriter in The Beatles, but he was so iffy on the song he gave it to Joe Cocker to record first. Released as the lead single from Abbey Road in 1969, the song earned praise from bandmate John Lennon (he called it "the best track on the album") and Frank Sinatra who deemed it "the greatest love song of the past 50 years."
I Me Mine (Let It Be)
The last song recorded by the Beatles before their 1970 breakup. And the song that most directly addressed the growing friction within the band. Originally only a minute-and-a-half long, the finished song was doubled in post-production under the direction of Phil Spector.
My Sweet Lord (All Things Must Pass)
The first single by an ex-Beatle to reach #1 on the charts in the US and the UK. Originally recorded by Billy Preston, this was also the first release from Harrison's first solo album All Things Must Pass. The recorded featured an all-star cast of players including Ringo Starr, Eric Clapton, Peter Frampton, and members of Badfinger.
I'd Have You Anytime (All Things Must Pass)
The opening track on Harrison's first solo album All Things Must Pass. Co-written with Bob Dylan during a stay at his house in Woodstock, NY. The folk artist supplied the song's bridge and title, while another famous guitarist, Eric Clapton, played lead on the recording.
Beware of Darkness (All Things Must Pass)
One of the last songs Harrison wrote for All Things Must Pass. A shimmering ballad that has been interpreted as reflecting his spiritual struggles and his discomfort with dealing with the business side of the Beatles. Performed by Harrison and Leon Russell at the 1971 Concert For Bangladesh.
What Is Life (All Things Must Pass)
Harrison's second Top 10 hit in the US. Originally written for his buddy Billy Preston to record, it soon became an indelible classic and has since been used to great effect in films like Goodfellas and This Is 40. Olivia Newton-John scored her own hit with the song in 1972.
Bangla Desh
A charity single recorded by Harrison at the behest of friend Ravi Shankar, in hopes of raising awareness for the thousands of refugees in Bangladesh. Its release preceded the 1971 Concert for Bangladesh, which raised nearly $250,000 for UNICEF's relief efforts.
Give Me Love (Give Me Peace On Earth) (Living In The Material World)
Harrison's second #1 single in the US, which notoriously knocked his former bandmate Paul McCartney's "My Love" out of the top spot. The song also kicked off Harrison's second solo album, 1973's Living In The Material World. Eric Clapton has said this is his favorite Harrison composition.
Dark Horse (Dark Horse)
The title track from Harrison's 1974 album and a rejoinder to various people in his life who questioned his spiritual beliefs or doubted his musical abilities. Notable for Harrison's rough vocals, caused by laryngitis and strain. Harrison would use the song title as the name for his record label and his only tour of North America.
The Answer's At The End (Extra Texture)
The lyrics for this lush track from 1975's Extra Texture were inspired by an inscription on a wall at Harrison's estate Friar Park. The ballad is uplifted by a string arrangement written by future pop hitmaker David Foster, who also lent his piano skills to the recording.
This Guitar (Can't Keep From Crying) (Extra Texture)
This sequel to "While My Guitar Gently Weeps" finds Harrison thumbing his nose at the critics that wrote unfavorably about his 1974 tour with Ravi Shankar. While most remain unnamed, he calls out Rolling Stone for their scathing review of his performance in Vancouver.
Pure Smokey (Thirty Three & 1/3)
Harrison's tribute to one of his favorite singers, Smokey Robinson, takes its title from the Motown great's 1974 album. The vocalist was moved by the ex-Beatles' tribute, stating, "That was a wonderful, flattering thing for him to feel like that, and to write about it."
This Song (Thirty Three & 1/3)
The first single from the 1976 album Thirty Three & 1/3 that landed at #25 in the Billboard pop charts. Features a vocal contribution from Harrison's buddy and Monty Python alum Eric Idle. The playful video, which included appearances by friends like Jim Keltner and Ron Wood, debuted on an SNL episode that featured Harrison as musical guest.
Love Comes to Everyone (George Harrison)
Harrison's ode to connubial bliss came following his marriage to his second wife, Olivia Trinidad Harrison, and the birth of his son Dhani. His pals Eric Clapton and Steve Winwood add to the tune's blissful feel. Clapton would later cover this song as a tribute to Harrison, following the former Beatle's passing in 2001.
Dark Sweet Lady (George Harrison)
Another lovely tribute to Harrison's wife Olivia. A lush mixture of folk and pop elements with the plink of a harp, played by Gayle Levant, cutting through the mix and a fluttering acoustic guitar solo lifting it even higher.
Blow Away (George Harrison)
An unapologetically optimistic song from Harrison that was apparently inspired by his frustration over a leaking roof in his Friar Park home. He turned that annoyance into one of the most beloved songs from his 1979 self-titled album.
All Those Years Ago (Somewhere in England)
Harrison's tribute to John Lennon following his Beatle bandmate's 1980 death. The track also serves as a small reunion of the surviving members of the group as the drums are played by Ringo Starr and Paul McCartney (along with his wife, Linda) joins in on backing vocals.
Writing's on the Wall (Somewhere in England)
An elegy to life's ephemerality from Harrison's 1981 album Somewhere In England. Its poignant lyrics speak to the death of John Lennon and watching many of his friends struggle with alcoholism.
Unknown Delight (Gone Troppo)
Encouraged by his wife, Olivia, to write a song about their then-four-year-old son Dhani, Harrison crafted this lovely ballad, found on his 1982 album Gone Troppo.
Got My Mind Set On You (Cloud Nine)
Harrison's final #1 single came with this cover of one of his favorite early rock tunes. The cover became an MTV favorite in 1988 thanks to a pair of quirky videos for the tune directed by SNL album Gary Weis.
When We Was Fab (Cloud Nine)
An ode to Harrison's days in the Beatles found on his 1987 album Cloud Nine. Like his previous Fab Four tribute ("All Those Years Ago"), his former bandmate Ringo Starr played drums on the studio version. Rumor has it that Paul McCartney makes a sneaky appearance in the video for the song.
Handle With Care (Traveling Wilburys Vol. 1)
One of the first songs Harrison brought to the table when he and Jeff Lynne put together the supergroup Traveling Wilburys with Bob Dylan, Tom Petty, and Roy Orbison. It has since been covered by everyone from Jenny Lewis to Stephen Stills and Judy Collins.
Marwa Blues (Brainwashed)
An instrumental taken from Harrison's final studio album Brainwashed, which, like the rest of the LP, was completed for release by his son Dhani and his Traveling Wilburys bandmate Jeff Lynne.
The 16LP The George Harrison Vinyl Collection can be bought here.