The 50 Sexiest Records… Ever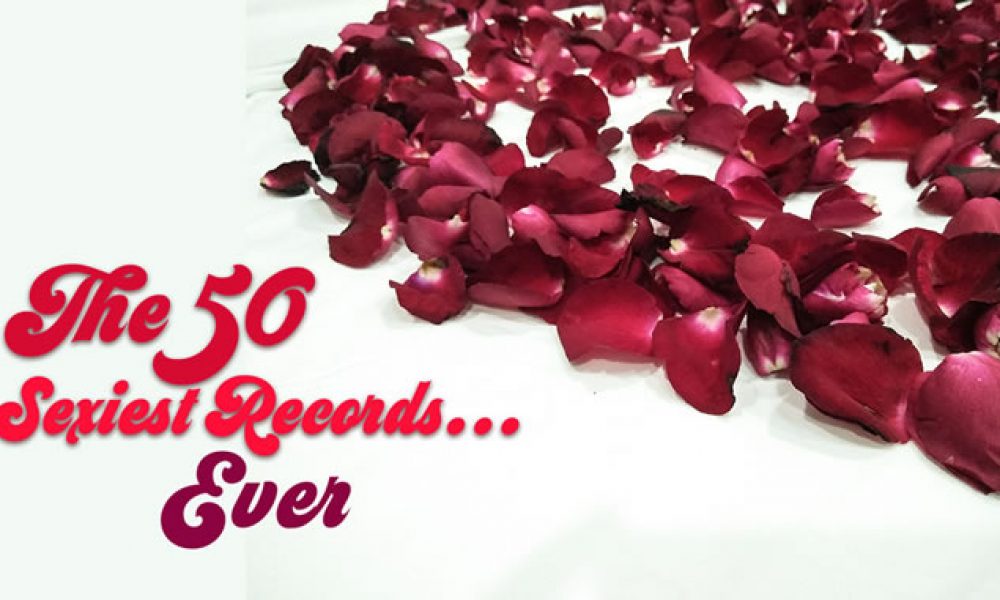 It was in the winter of 1967 that French singer, Serge Gainsbourg wrote a song for his lover, Brigitte Bardot. They recorded the song with an arrangement by Michel Colombier in Paris, but when Bardot's husband, Gunter Sachs, heard about it he demanded that the record should not be released… and it wasn't. At the time Gainsbourg reportedly said, "I complied" adding, " The music is very pure. For the first time in my life, I write a love song and it's taken badly."
In 1968, Gainsbourg and the English actress Jane Birkin met on the set of a film called, Slogan and soon began a relationship. The couple recorded 'Je t'aims…moi non plus' with an arrangement by Arthur Greenslade at Pye's studio near London's Marble Arch. According to Birkin "I got a bit carried away with the heavy breathing – so much so, in fact, that I was told to calm down, which meant that at one point I stopped breathing altogether. If you listen to the record now, you can still hear that little gap."
Released in February 1969 on the Fontana label the single had a plain cover, with the words "Interdit aux moins de 21 ans" (forbidden to those under 21). At the time there was much press speculation about whether this was the sound of live sex on a record, which angered Gainsbourg who suggested it would have been an LP rather than a 45 if they had been indulging in the real thing. After making No.2 on the UK charts it was withdrawn by Fontana. Gainsbourg did a deal with Major Minor Records and on re-release, it reached number one, the first banned number one single in the UK and the first single in a foreign language to top the charts.
Despite being banned by many radio stations it did well around the world, topping the UK charts in the week of 27 February 1969 and making No.58 on the Billboard chart. It went Top 3 in Germany, Austria, Holland, Ireland, Norway and Switzerland.
In the UK, where naturally the BBC banned it, a cover version called 'Love at First Sight', was released by a studio band lead by keyboard player Tim Mycroft who called themselves, "Sounds Nice". The group's name were the words spoken by Paul McCartney when he heard this instrumental cover.
It has inspired us to come up with a list of the 50 Sexiest Records of all time… what do you think we may have missed?

50. Sexual Healing – Marvin Gaye
49. Waves – Mr. Probz
48. All Night Long (All Night) – Lionel Richie
47. Crash – Usher
46. Wherever You Will Go – Charlene Soraia
45. Slow Love – MØ
44. Sexy Boy – Air
43. Closer – Nine Inch Nails
42. Need You Tonight – INXS
INXS - Need You Tonight (Official Video)
41. Breath –  Télépopmusik
40. Do Ya Think I'm Sexy – Rod Stewart
39. Earned It – The Weeknd
38. Wishing Well – Terrence Trent D'Arby
37. All Of Me – John Legend
John Legend - All of Me (Official Video)
36. Tasty Love – Freddie Jackson
35. Can't Get Enough Of Your Love – Barry White
34. The Rhythm Divine – Yellow
33. Stay With Me Till Dawn – Judie Tzuke
32. Nobody Does Me – Siedah Garrett
31. Love Won't Let Me Wait – Major Harris
30. In The Heat Of The Night – Ray Parker Jr., Raydio
29. Tonight's The Night (Gonna Be Alright) – Rod Stewart
28. I'll Make Love To You – Boyz II Men
27. Take Care – Drake, Rihanna
Drake - Take Care ft. Rihanna
26. Too Close – Next
25. Red Light Special – TLC
24. Do That To Me One More Time – Captain & Tennille
23. Slow Jams – Quincy Jones
22. Wicked Games – Chris Isaak
21. I Wanna Sex You Up – Color Me Badd
20. Promiscuous – Nelly Furtado, Timberland
19. Afternoon Delight – Starland Vocal Band
18. Love In This Club – Usher, Young Jeezy
Usher - Love in This Club (Official Music Video) ft. Young Jeezy
17. That's The Way Love Goes – Janet Jackson
16. Turn Out The Lamplight – George Benson
15. Moments In Love – Art Of Noise
14. Slow Hand – The Pointer Sisters
13. Lady Marmalade – LaBelle
12. Bump n' Grind – R.Kelly
11. I Want Your Sex – George Michael
George Michael - I Want Your Sex (Official Video)
10. Feel Like Makin' Love – Roberta Flack
9. The Sweetest Taboo – Sade
8. You Turn Me On – Isaac Hayes
7. Love To Love You Baby – Donna Summer
6. Lay, Lady, Lay – Bob Dylan
Bob Dylan - Lay, Lady, Lay (Official Audio)
5. The Erotic Garden – Quincy Jones, Barry White, AI. B Sure!, James Ingram, EI DeBarge
4. Untitled (How Does It Feel) – D'Angelo
3.  Let's Get It On – Marvin Gaye
2. Between The Sheets – The Isley Brothers
1. Je t'aime… moi non plus – Bridgette Bardot
Format:
UK English