The Best Music Videos of the 00s: A Decade Like No Other
From art house shorts to visionary stylings and tongue-in-cheek parodies, it was a decade like no other.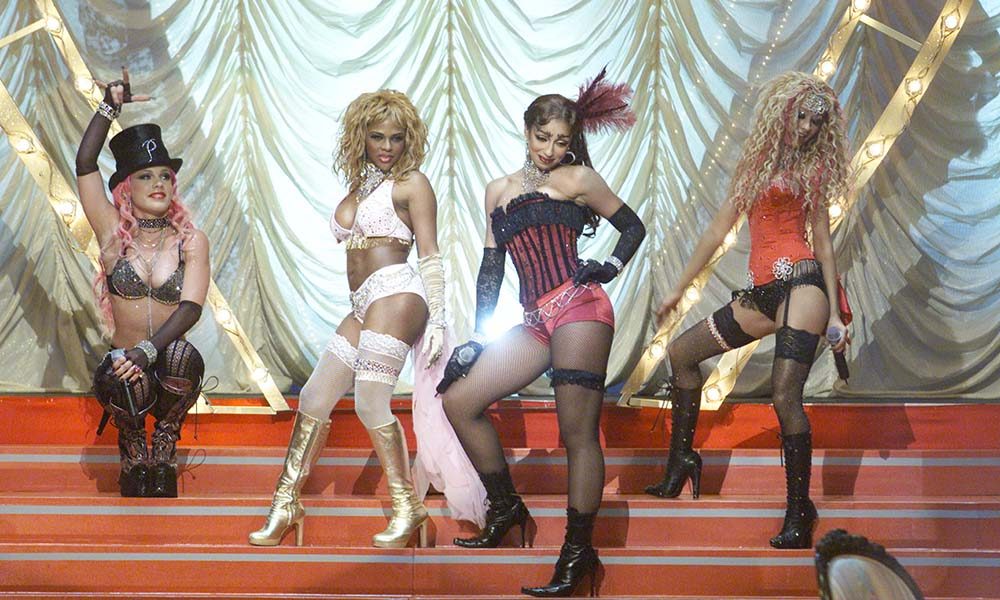 The best music videos of the 00s are a varied bunch. There's unique visual trickery by masters of the form. There's genre-defining moments in neo-soul and hip-hop, as well as genre-busting efforts by folks that subverted tropes built up since the arrival of MTV in August of 1981. What's perhaps most interesting about this list of the best music videos of the 00s was the widespread arrival of the internet later in the decade. You can see a marked shift in the ways that musicians and film directors began to play with the format. It was a new era, for better or worse.
50: Sum 41: Fat Lip (2001)
Directed by: Marc Klasfeld
These Canadian skate-punk rockers begin this anarchic video doing a short, impromptu four-part rap in a liquor store before the action cuts to a concert in a dry river bed, which is then interwoven with footage of the band acting up in front of the camera. Like the song it's representing, the video is taut and frenetic but is also an honest portrait of the band's raucous, youthful energy.
Sum 41 - Fatlip (Official Music Video)
49: Birdman & Lil Wayne: Leather So Soft (2006)
Directed by: Aaron Courseault
Despite the fact that we see a dreadlocked Lil' Wayne channeling his inner guitar-toting rock star on this video, it's replete with all the usual hip-hop iconography; designer jewelry, expensive cars, and gyrating, scantily clad women. Somewhat bizarrely, though, it includes scenes featuring child ballet dancers and a woman using sign language; images that seem at odds with the song's sexually explicit lyrics.
Birdman, Lil Wayne - Leather So Soft (Official Video)
48: Dr. Dre feat. Eminem: Forgot About Dre (2001)
Directed by: Philip G. Atwell
Eminem channeled his Slim Shady alter ego in Dre's angry riposte to other rappers who had disrespected him. In an unusual twist, the final minute of the video is devoted to Dre's protégé Hitman, who's seen performing his song "Last Dayz."
Eminem, Dr. Dre - Forgot About Dre (Explicit) (Official Music Video) ft. Hittman
47: Ludacris: Get Back (2004)
Directed by: Spike Jonze
Not all pop videos have glamorous settings; take the one to Ludacris' "Get Back," for example, which begins with the rapper being hustled by a wannabe (played by ex-Pharcyde member Fatlip) while relieving himself in a public urinal. The video is also noteworthy for depicting Ludacris with huge, Popeye-like forearms.
Ludacris - Get Back (Official Music Video)
46: Mariah Carey feat. Jay-Z: Heartbreaker (1999)
Directed by: Bret Ratner
Contractual reasons prevented Jay-Z taking part in this video, which resulted in an animated sequence appearing in the section of the song where he performs his rap. Costing an eye-watering $2.5 million, "Heartbreaker," which was mainly shot in the historic Los Angeles Theatre, remains one of the most expensive and best pop music videos of the 00s.
Mariah Carey, Jay-Z - Heartbreaker (Official HD Video)
45: Pulp: Bad Cover Version (2002)
Directed by: Jarvis Cocker and Martin Wallace
"Spot the lookalike" is the premise of this spoof documentary-style video which parodies Band Aid's "Do They Know It's Christmas." It features 29 celebrity doppelgangers; from David Bowie to Missy Elliott. Although Pulp's Jarvis Cocker is also represented by an impersonator, he appears in the video disguised as Queen's Brian May.
44: Soulja Boy Tell'em: Crank That (Soulja Boy) (2007)
Directed by: Dale Resteghini
Atlanta MC Soulja Boy (real name DeAndre Cortez Way) ignited a new dance craze that spread like wildfire across America with his video to an insanely catchy tune that spent seven weeks at the summit for the US pop charts. The rapper's label boss, music mogul "Mr. Collipark" appears as himself in the video.
Soulja Boy Tell'em - Crank That (Soulja Boy) (Official Music Video)
43: Drake, Kanye West, Lil Wayne, Eminem: Forever (2009)
Directed by: Hype Williams
Four hip-hop heavyweights assembled for this video promoting the first single from the soundtrack to basketball player LeBron James' documentary More Than a Game. It was shot in a Miami hotel though Eminem filmed his contribution in Detroit. James appears briefly, playing online poker at the beginning of the video.
42: Damian Marley: Welcome to Jamrock (2005)
Directed by: Ras Kassa
The Jamaican Tourist Board certainly wouldn't endorse Marley's view of his country in the reggae singer's hard-hitting video to his 2005 hit, which depicts what most visitors don't see when they go there on vacation: crime, violence, poverty, and corrupt law enforcement agencies. Paradise lost? Absolutely.
Damian "Jr. Gong" Marley - Welcome To Jamrock (Official Video)
41: Radiohead: Knives Out (2001)
Directed by: Michael Gondry
Anatomical and surgical imagery abound in this surreal early 2000s video, which finds singer Thom Yorke in a hospital while his partner undergoes a bizarre operation. Thankfully, the video for "Knives Out" made no reference to the song's cannibalistic theme, but it still had a nightmarish quality that seemed to capture the disquieting tone of Radiohead's music.
40: Fall Out Boy: Sugar We're Goin Down (2005)
Directed by: Matt Lenski
The video for this Top 10 US hit by the quartet focuses on an angst-ridden teenager's struggle between being himself and conforming to societal conventions. Filmed in Margaretville in the Catskill Mountains, it depicts a young man who's born with antlers and charts his journey from self-loathing to self-acceptance.
Fall Out Boy - Sugar, We're Goin Down (Official Music Video)
39: Björk: Triumph of a Heart (2005)
Directed by: Spike Jonze
One of the most mind-boggling videos of the 2000s was this one by the Icelandic avant-pop queen, which shows the singer going on a drinking binge to escape her husband, who is played by a cat wearing a vest. Halfway through, there's a raucous beat-boxing competition held in a bar before Björk reunites with her husband, now suited, who grows to human size and then dances with her. If social media had been more of a thing back then, we're sure this would have been the source of a thousand memes.
38: Green Day: American Idiot (2004)
Directed by: Samuel Bayer
A protest song railing at what Green Day perceived as the propagandist tendencies of the mainstream US media, "American Idiot" came with a subversive video showing the Cali neo-punk trio playing on a soundstage with a green-tinted version of the American flag as a backdrop. The video mirrored both Green Day's pent-up energy and the band's innate rebelliousness.
37: Elton John: I Want Love (2001)
Directed by: Sam Taylor-Wood
The Iron Man himself, Robert Downey Jr, stars in this video, lip-syncing to Elton John's plaintive ballad as he strolls pensively through the luxurious Greystone Mansion in Beverly Hills. It was filmed in one continuous take but took sixteen attempts to get it to the director's satisfaction.
36: Destiny's Child: Say My Name (2000)
Directed by: Joseph Kahn
Although they didn't sing on the record, Michelle Williams and Farrah Franklin were installed as new members of Destiny's Child in time for shooting "Say My Name's" video. Their hasty recruitment meant they didn't have much time to learn the video choreography but you wouldn't guess that witnessing their assured moves in this colorful promo that remains one of the best music videos of the 00s.
35: Fountains of Wayne: Stacy's Mom (2003)
Directed by: Chris Applebaum
The biggest US chart hit by these New York purveyors of punky power pop, "Stacy's Mom" came with a video featuring actor/model Rachel Hunter as the titular character who fuels the sexual fantasies of an adolescent boy. Packed with hilarious vignettes, it deservedly topped both MTV and VH1's video charts in 2003.
Fountains of Wayne - Stacy's Mom (Official Music Video)
34: Yeah Yeah Yeahs: Y Control (2004)
Directed by: Spike Jonze
With its shocking image of children disemboweling and mutilating each other as well as playing with a dead dog, this video sparked outrage and vociferous protests in some quarters. Even so, it got played on MTV, which blurred out some of the film's more gruesome scenes.
Yeah Yeah Yeahs - Y Control
33: Justice: D.A.N.C.E. (2007)
Directed by: Jonas & Francois
This French electronic duo blended a Chic-inspired disco groove with children's vocals for "D.A.N.C.E.," whose attention-grabbing video cleverly married pop art iconography with animation. Most of the screen time is devoted to a series of images that appear in a continuous flow on the two musicians' T-shirts. Easily one of the best music videos of the 00s.
32: Taylor Swift: You Belong With Me (2009)
Directed by: Roman White
"Be true to yourself" seems to be the leitmotif in this multi-award-winning video where Taylor Swift plays two opposing roles; a quiet, studious and sensitive person and a more brazen, shallow, and outgoing girl who's more popular with boys. Both are adversaries in a rom-com style love war where ultimately, authenticity triumphs over posturing.
Taylor Swift - You Belong With Me
31: Red Hot Chili Peppers: Californication (2000)
Directed by: Jonathan Dayton and Valerie Faris
A rumination on how Hollywood exerts a powerful, sometimes dark, influence on people around the world, "Californication" resulted in the Red Hot Chili Peppers' most popular video, which depicts the band as characters in a video game. To date, it has racked up over 800 million views on YouTube.
30: Daft Punk: Interstella 5555 (2003)
Directed by Leiji Matsumoto
The enigmatic French electronic duo's second album Discovery was accompanied by this epic 65-minute dialogue-less sci-fi themed anime movie. Subtitled The 5tory of the 5ecret 5tar 5ystem, it first appeared in four online installments before the full movie premiered on DVD.
29: Weezer: Pork and Beans (2008)
Directed by: Matthew Cullen
This was Weezer's response to their record company asking them to be more commercial: a defiant declaration of individuality, which produced a hilarious internet-inspired video featuring tons of cameos. It received a million views in its first week of release and in 2009 won a Grammy Award for Best Short Form Music Video.
Weezer - Pork And Beans (Closed Captioned)
28: Kylie Minogue: Come Into My World (2002)
Directed by: Michel Gondry
Filming the Australian pop princess walking in a circle doesn't sound like a viable idea for a music video but when you have French director Michel Gondry behind the camera, an unremarkable concept can blossom into an inspired visual symphony. One of the best music videos of the 00s, Minogue's walkabout took place in Paris, used 50 extras, and was filmed in one continuous take.
27: Beyonce: Single Ladies (Put A Ring On It) (2008)
Directed by: Jake Nava
Many pop videos of this era bombarded the viewer with a complex array of visual images but Beyoncé went for a relatively straightforward approach on this black and white promo film, which captured her dancing against an unchanging background. It's powerful because it gives the impression that we are witnessing a complete, uninterrupted performance by the singer, whose dancing exudes mesmerizing energy.
26: Bat for Lashes: What's a Girl to Do (2006)
Directed by: Dougal Wilson
British singer and auteur Bat For Lashes (real name Natasha Khan) funneled the spirit of her favorite sci-fi movie Donnie Darko in this video, where she's seen riding a bike on a road at night accompanied by several insidious animal figures. Its surreal, nightmare quality harmonizes with the song's unearthly ambience.
25: My Chemical Romance: Helena (2005)
Directed by: Marc Webb
This New Jersey band took the intense and brooding sound of emo into the mainstream with their single "Helena," whose macabre video depicted a funeral filmed in a Los Angeles Presbyterian church. The song was supposedly inspired by the passing of frontman Gerard Way's grandmother, though it's doubtful she had a send-off like the one in the video.
24: Gorillaz: Clint Eastwood (2001)
Directed by: Jamie Hewlett and Pete Candeland
Ex-Blur singer Damon Albarn's anime-inspired virtual band paid tribute to the titular Hollywood star by referencing the "Spaghetti Western" movie The Good, The Bad & The Ugly. The song's colorful and entertaining animated video alludes to zombie movies and includes a pastiche of Michael Jackson's 80s classic "Thriller" brought to life by undead, giant gorillas.
23: Kanye West: Stronger (2007)
Directed by: Hype Williams
Renowned as a perfectionist, Kanye West spent three months editing this video, which took twelve days to film and depicts a futuristic, robot-dominated world. Shot using guerrilla-filmmaking techniques in both Tokyo and Los Angeles, it won eight awards and stands as one of the best music videos of the 00s.
22: The Chemical Brothers: Star Guitar (2002)
Directed by: Michael Gondry
Some songs don't require expensive and flashy music videos to resonate with viewers, as this Chemical Brothers promo film proves, which offers a continuous shot from a train window as it speeds through rural and urban landscapes. The resulting travelogue is perfectly in sync with the Mancunian dance duo's evocative soundscape.
The Chemical Brothers - Star Guitar
21: Bon Jovi: It's My Life (2000)
Directed by: Wayne Isham
The New Jersey rock group's most viewed video – which has exceeded one billion views – stars actors Will Estes and Shiri Appleby as the song's main characters Tommy and Gina. Its scenes where Tommy dodges a succession of obstacles as he runs to meet Gina was inspired by the action sequences in the 1998 German movie Run Lola Run.
Bon Jovi - It's My Life (Official Music Video)
20: Nelly: Dilemma (2002)
Directed by: Benny Boom
Ex-Destiny's Child singer Kelly Rowland is the object of Nelly's furtive desire in this video set in a fictional suburb called "Nellyville." If you think the actor playing Rowland's mother looks familiar, it's because she's soul music legend Patti LaBelle.
Nelly - Dilemma (Official Music Video) ft. Kelly Rowland
19: Snoop Dogg feat. Pharrell Williams: Drop It Like It's Hot (2004)
Directed by: Paul Hunter
The inherent simplicity of this catchy hip-hop dance groove – just a bare beat behind some dope rhymes – is echoed in the starkness of its distinctive, award-winning black and white video. Although it features all the stereotypical accouterments associated with rap videos – weed smoking, scantily clad women, flash cars, and designer jewelry – the promo exudes a certain clean-cut elegance.
Snoop Dogg - Drop It Like It's Hot (Official Music Video) ft. Pharrell Williams
18: Feist: 1234 (2007)
Directed by: Patrick Daughters
Shooting a pop video in one continuous take is a challenging task, especially if, like this one, it involves complex choreography and directing 100 dancers. After many hours of rehearsal, "1234" took over 20 takes to get right, but as the beautifully realized end product reveals, the director's perfectionism was justified. One of the most complicated (and best) music videos of the 00s.
17: Christina Aguilera: Dirrty (2002)
Directed by: David Lachapelle
With its sweaty sequences depicting a women's boxing match, mud wrestling, and bump 'n' grind dance moves, this is one of those videos that will prompt many viewers to yearn for a cold, cleansing shower. Described by one reviewer as a "post-apocalyptic orgy," Aguilera's video was highly controversial but that didn't stop it topping MTV's video chart.
16: The Strokes: Last Nite (2001)
Directed by: Roman Coppola
The New York rock band used a simple concept for one of their first music videos: Play live on a large soundstage that looked more than reminiscent of a group like The Beatles playing the Ed Sullivan Show. For a back-to-basics rock group, it was the perfect fit for their debut album.
15: Lady Gaga: Bad Romance (2009)
Directed by: Francis Lawrence
This risqué video by the queen of art pop – where she's kidnapped, sold into slavery, and then exacts revenge – is what you'd expect from an artist who likes to take creative risks and break boundaries. Replete with outlandish costumes and stunning ensemble choreography, it confirmed GaGa as one of pop's most provocative video makers of the 00s.
Lady Gaga - Bad Romance (Official Music Video)
14: White Stripes: Fell In Love with a Girl (2002)
Directed by: Michel Gondry
Some music videos eschew glossy, high-tech gadgetry, unlike this one to The White Stripes' garage rock classic, which relied entirely on hand-assembled constructions of Legos. The promo film was painstakingly pieced together using single-frame shots which were then segued to create an unforgettable moving montage, the spirit of which seemed to mirror the band's DIY aesthetic.
13: 50 Cent: In Da Club (2003)
Directed by: Philip Atwell
Dr. Dre and Eminem pose as lab scientists in this futuristic video set at a top secret "Artist Development Center" where we first glimpse 50 Cent as a cyborg being repaired on an operating table. (A reference, perhaps, to the rapper being shot seven times in real life). The video won two MTV awards and in 2020, surpassed one billion YouTube views.
50 Cent - In Da Club (Official Music Video)
12: The Avalanches: Frontier Psychiatrist (2000)
Directed by: Tom Kuntz and Mike Maguire
For the uninitiated, seeing this video might be likened to experiencing a drug-induced hallucination, such is the surreal quality of its imagery. The video is presented as a continuous stage performance with a host of different characters voicing the song's many sampled fragments of dialogue.
The Avalanches - Frontier Psychiatrist (Official HD Video)
11: Rihanna feat. JAY-Z: Umbrella (2007)
Directed by: Chris Applebaum
Rihanna unsurprisingly grabbed the Video Of The Year gong at MTV's 2007 Music Video Awards for her visually stunning promo film for "Umbrella," which involved her body being smeared with silver paint during a sequence filmed in black and white. That USP combined with neon-style rain effects conspired to make an unforgettable pop music video.
Rihanna - Umbrella (Orange Version) (Official Music Video) ft. JAY-Z
10: Johnny Cash: Hurt (2003)
Directed by: Mark Romanek
Cash was in the twilight of his career and seven months from death when he shot the video for his haunting cover of Nine Inch Nails' funereal ballad. Contrasting archive footage of a younger Cash with his older, frailer, self transforms the video into a poignant, requiem-like, reflection of the country legend's life and career.
09: Erykah Badu: Honey (2007)
Directed by: Erykah Badu and Chris Robinson
Set in a record store, this ingenious video embodies Erykah Badu's musical eclecticism and pays tribute to her many musical influences. We follow a customer thumbing through racks of LPs from different genres – ranging from Funkadelic's Maggot Brain to The Beatles' Let It Be – and each one finds a moving image of Badu as part of the album artwork.
08: Britney Spears: Toxic (2004)
Directed by: Joseph Kahn
"Appearances can be deceptive" seems to be the message of this classic spy-themed video, where Spears morphs from a blonde flight attendant into a thrill-seeking redhead and finally into a raven-haired femme fatale. In between, Spears can be seen performing in a transparent, diamond-studded bodysuit, which caused controversy and prompted MTV to limit the video to nighttime viewing.
07: Missy Elliott: Work It (2002)
Directed by: Dave Meyers
Elliot's producer Timbaland and his protégé, singer Tweet, appear in this vibrant video with elaborate choreography. It also features Cheaper By The Dozen child actor Alyson Stoner executing some breakdance moves. The rapper also pays homage to the late R&B stars Aaliyah and Lisa "Left Eye" Lopes, whose images adorn a car hood with the words "In Loving Memory." Clearly one of the best music videos of the 00s.
06: Pink, Mya, Christina Aguilera, Lil' Kim: Lady Marmalade (2001)
Directed by: Paul Hunter
This spirited reboot of a classic 70s LaBelle number appeared in the soundtrack to Baz Luhrmann's hit movie, Moulin Rouge!, and produced an eye-catching video where its lingerie-clad stars fused contemporary hip-hop sass with vintage Parisian cabaret to stunning effect. Unsurprisingly, it scooped the Best Video Of The Year prize at the 2002 MTV Video Music Awards.
Christina Aguilera, Lil' Kim, Mya, P!nk - Lady Marmalade
05: Eminem: Stan (2000)
Directed by: Dr Dre and Philip Atwell
British singer Dido, whose song "Thank You" served as the sampled hook line in "Stan," starred in the song's cinematic video as the pregnant girlfriend of an obsessive, unstable Eminem fan whose life ends in tragedy. Aside from its standing as one of the best music videos of the 00s, the word stan has also come to become a major part of fan culture.
Eminem - Stan (Long Version) ft. Dido
04: OK Go: Here It Goes Again (2006)
Directed by: Trish Sie
One of the best-choreographed scenes in a 00s music video was provided by this Windy City indie rock quartet for "Here It Goes Again," where the band members dance both on and in between eight strategically placed treadmills. Filmed in a single continuous take, it took them seventeen attempts to perfect their routine but the final result, which won a Grammy, was undoubtedly worth the extra effort.
OK Go - Here It Goes Again (Official Music Video)
03: Fatboy Slim: Weapon of Choice (2001)
Directed by: Spike Jonze
The British DJ and producer didn't appear in the video for his second music promo clip with Spike Jonze; instead, he allowed pop culture icon Christopher Walken to dance his way through the track in an empty hotel. The pièce de résistance is when the Hollywood legend levitates across the room.
Fatboy Slim ft. Bootsy Collins - Weapon Of Choice [Official 4k Video]
02: Outkast: Hey Ya (2003)
Directed by: Brian Barber
Though it was set in London, the inspiration behind the Atlanta hip-hop duo's multi-award-winning video for their No. 1 US smash was The Beatles' debut appearance on the Ed Sullivan Show. It finds singer André 3000 playing all eight members of a faux eight-piece band called The Love Below in front of screaming fans.
Outkast - Hey Ya! (Official HD Video)
01: D'Angelo: Untitled (How Does It Feel?) (2000)
Directed by: Paul Hunter
The concept of this video was to make the viewer feel that they were having one-on-one time with a very ripped-looking D'Angelo, who appears to be naked (though we only see his upper torso) as he sings directly at the camera. The promo was successful in mirroring the intimate vibe of the neo-soul man's song, and is still regarded as one of the best music videos of the 00s.
D'Angelo - Untitled (How Does It Feel) (Official Music Video)