The Best Albums of 1988: 66 Full-Lengths Worth Your Time
The best albums of 1988 reveal hip-hop in full flower, in addition to classics from Metallica, Talk Talk, and many more.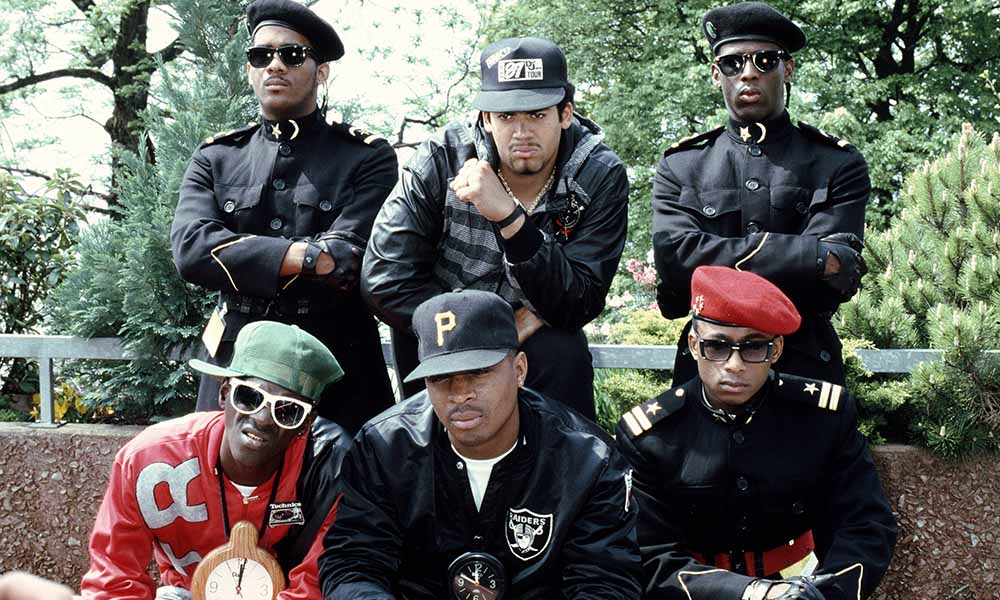 The best 1988 albums are a varied affair, but one thing is certain: Hip-hop had well and truly arrived. The year saw a host of genre-expanding releases by artists like Eric B. & Rakim, Public Enemy, N.W.A., Slick Rick, Salt-N-Pepa, and many others. In the indie rock world, Sonic Youth and R.E.M. turned in excellent offerings. In the UK, meanwhile, Talk Talk, 808 State, and My Bloody Valentine were busy inventing new sonic worlds. The same goes for metal: Metallica, Queensryche, and Slayer delivered some of their finest work as well. In short, there was something for just about everyone among the best albums of 1988. Jump right in and find a new favorite or rediscover an old standby.
Check out the full list of 1988's best albums below, and listen to our 80s pop playlist on Spotify.
66: David Lee Roth – Skyscraper
Roth's second solo release after leaving Van Halen is an ambitious and thrilling assortment of booming rock songs and skillful guitar work.
65: Bon Jovi – New Jersey
Chock full of crowd-pleasing anthems, the band's fourth studio album is an excellent example of their ability to make hard-rocking pop songs.
Bon Jovi - I'll Be There For You
64: Marley Marl – In Control Vol 1
The superproducer's debut album is the original hip-hop compilation album providing the blueprint for future producers like Swizz Beatz and DJ Khaled.
63: Big Daddy Kane – Long Live The Kane
Produced by Marley Marl, the hip-hop pioneer's debut album established him as a leading light of the genre with classics such as "Ain't No Half Steppin'" and "I'll Take You There."
62: Morrissey – Viva Hate
The English singer's first solo debut is a bold departure from his most popular work with The Smiths and set the stage for his enduring solo career.
61: Keith Richards – Talk Is Cheap
The Rolling Stones guitarist's debut album is full of groovy and sleek rock tunes that allowed him to break out from the group's shadow.
60: New Kids on the Block – Hangin' Tough
With its infectious pop songs, the boy band's sophomore record is their best-selling album to date and turned the Boston teens into superstars.
59: Robert Palmer – Heavy Nova
The English singer's first album for EMI includes the hit, "Simply Irresistible" and built off of the momentum of his previous work.
Robert Palmer - Simply Irresistible (Official Video)
58: The Pogues – If I Should Fall from Grace with God
The Irish band's third studio album ups the production value without sacrificing the band's edge, resulting in a tighter and more expansive record.
57: They Might Be Giants – Lincoln
The band's sophomore effort is a quirky yet undeniably catchy pop record that includes fan favorites, "Ana Ng," and "Purple Toupee."
56: Van Morrison & The Chieftains – Irish Heartbeat
Irish traditional music meets blues and soul on this collaboration between the Celtic group and the singer-songwriter, the result is a beautiful and energetic record.
55: Voice Of The Beehive – Let It Bee
The pop-rock band's debut studio album is a free-spirited adventure that is both joyous and wonderfully eclectic.
54: Ziggy Marley & The Melody Makers – Conscious Party
With hits like "Tumblin' Down" and "Tomorrow People," the second generation Marley's Grammy Award-winning reggae album carved out a niche for him in the genre separate from his famous father.
Ziggy Marley And The Melody Makers - Tomorrow People (Official Video)
53: Billy Bragg – Workers Playtime
Bragg expertly balanced big political questions with ruminations on personal relationships on this album, showing that pop music could be multifaceted.
52: Brian Wilson – Brian Wilson
The Beach Boy's first solo album was a long time coming and was well worth the wait. Incorporating the best of 80s music technology, it affirms why Wilson is a master at songwriting.
51: Iron Maiden – Seventh Son Of A Seventh Son
The metal band's concept album is a cinematic prog-rock adventure that topped the charts in the UK and proved that the band was still in top form.
50: Lita Ford – Lita
Including the hits, "Kiss Me Deadly" and the Ozzy Osbourne assisted "Close My Eyes Forever," the singer's third studio album is a pop metal triumph.
49: MC Lyte – Lyte as a Rock
The trailblazing rapper's debut album changed the game by carving out a space for women rappers to be taken as seriously as their male counterparts.
48: Melissa Etheridge – Melissa Etheridge
Filled with powerful acoustic songs, Etheridge's self-titled debut uncovers the complexities and turmoil of romantic love in a refreshing and breathtaking manner.
47: Ministry – The Land of Rape and Honey
With its provocative title (which is actually a reference to rapeseed oil) and intense sound, the band's 1988 album officially marked their transition from synthpop to industrial metal.
46: Rob Base & DJ E-Z Rock – It Takes Two
Anchored by the title track, the hip-hop duo's debut album is full of soulful party-starting tunes that bring together the best of hip-hop and R&B.
45: Robert Plant – Now And Zen
On Plant's fourth solo album, the English singer-songwriter lets loose and embraces the stunning guitar work and expansive sound that marked his time with Led Zeppelin.
44: Roxette – Look Sharp!
The Swedish duo's second studio album includes major hits like "The Look" and "Dressed for Success," and is filled with the kind of catchy and melodic pop that defined the decade.
43: Salt-N-Pepa – A Salt with a Deadly Pepa
The pioneering hip-hop duo's second studio album is a bold, sexy, and super fun record that builds off the success of their breakthrough single, "Push It."
42: Siouxsie & The Banshees – Peepshow
The band's first album as a quintet takes much of its inspiration from film and is as vivid and emotive in its production and lyrical content as the visual medium.
Siouxsie And The Banshees - Peek-A-Boo
41: Van Halen – OU812
The rock band's second album with Sammy Hagar is heavier than their previous work yet still manages to churn out incredible party tunes like "Finish What Ya Started" and "Source of Infection."
40: Eazy E – Eazy Duz It
The NWA rapper's 1988 album was the first solo debut from any of the group members and with its hardcore subject matter and humorous turns became an instant classic.
39: Pet Shop Boys – Introspective
Featuring production by Trevor Horn and Frankie Knuckles, the synth-pop group's third studio album is full of long extended mixes that are as contemplative as they are fun.
38: Leonard Cohen – I'm Your Man
Released while in his early 50s, the Canadian singer's eighth studio album introduced a brand new Cohen and became one of his most successful albums to date.
37: Poison – Open Up and Say Ahh!
The glam metal band's second studio album features the chart-topping single, "Every Rose Has Its Thorn" and rightfully launched the band to superstardom.
Poison - Every Rose Has Its Thorn (Official Music Video)
36: Living Colour – Vivid
The New York rock band's debut album was wildly successful and reached platinum status due to its magnetic blend of hard rock, hip-hop, funk, and jazz.
35: DJ Jazzy Jeff & The Fresh Prince – He's The DJ I'm The Rapper
The iconic duo's historic second studio album was the first hip-hop album to win a Grammy and is filled with comedic and bouncy earworms.
34: Cowboy Junkies: The Trinity Session
The rock band's second studio album is a delicious slow-burn, full of inventive covers of Hank Williams and Patsy Cline among others.
33: 808 State – Newbuild
The influential electronic group's debut album was their only one to be recorded with A Guy Called Gerald and from top to bottom is full of acid house bangers.
32: Guy – Guy
The Teddy Riley-led group introduced New Jack Swing to the world and perfectly captures the genre-blending sound of the late '80s.
31: Soundgarden – Ultramega OK
The iconic grunge band's debut studio album is a founding document of the genre in its expert blending of hardcore music and punk rock.
30: Steve Winwood – Roll With It
Winwood's chart-topping album includes hits like the title track and "Don't You Know What the Night Can Do?", and with its old school R&B feel established Winwood as one of the decade's biggest pop stars.
29: Bobby Brown – Don't Be Cruel
The R&B superstar's second solo effort boasts some of his biggest and most lasting hits including "My Prerogative," "Every Little Step," and the title track.
28: Ultramagnetic MCs – Critical Beatdown
The New York hip-hop group's debut album is among the most innovative works to come out of the genre's golden age, due to its innovative rhyming schemes and unique production.
27: Slick Rick – The Great Adventures of Slick Rick
The silver-tongued rapper's debut album is hip-hop storytelling at its finest; from young love turned sour ("Mona Lisa") to an epic heist ("Children's Story"), few rappers have mastered Rick's ability to craft compelling narratives in song.
26: Anita Baker – Giving You The Best That I Got
The soul singer's chart-topping album, which includes hits like "Good Love" and the title track, is a perfect mix of R&B and pop with jazz flourishes.
25: Lucinda Williams – Lucinda Williams
The singer-songwriter's third studio album came at a high point in her career and further affirmed her status as one of the best songwriters of the decade.
24: Happy Mondays – Bummed
The English rock band's second studio album revels in excess and menace, the result is a thrilling and unforgettable record.
23: The Go-Betweens – 16 Lovers Lane
The Australian rock band's sixth studio album revels in duality – light and dark, romance and heartbreak, sweet and sour – to create a layered and complex album that deserves repeated listens to be fully appreciated.
22: Queensryche – Operation: Mindcrime
The heavy metal band's 1988 concept album is operatic and heady rock that expanded the boundaries of metal music.
Queensrÿche - I Don't Believe In Love (Official Music Video)
21: Jungle Brothers – Straight Out The Jungle
The influential hip-hop group's debut album is Afrocentric and playful, representing the best of New York's hip-hop golden age.
20: Geinoh Yamashirogumi – Akira
The group's soundtrack to the anime film pulls from South and East Asian traditional music to create a captivating soundscape that has been a sample source for countless hip-hop and electronic producers.
19: Jane's Addiction – Nothing's Shocking
The band's major label debut album is intense, creative, and unpredictable rock that established them as one of alt rock's most important bands.
18: Mr. Fingers – Amnesia
The debut album of Larry Heard's iconic alter ego includes the deep house classic, "Can't You Feel It," which became the blueprint for a slew of house music hits that followed.
17: Slayer – South of Heaven
Produced by Rick Rubin, the band's fourth studio album intentionally leaned into darkness and as a result produced one of the scariest metal albums ever.
16: The Traveling Wilburys – Traveling Wilburys Vol. 1
Comprised of George Harrison, Jeff Lynne, Bob Dylan, Roy Orbison, and Tom Petty, the supergroup's debut album plays to each artists' strengths and is full of warm and highly memorable pop tunes.
15: Boogie Down Productions – By All Means Necessary
Released following the death of Scott La Rock, the legendary hip-hop group's second album is reflective and sharp; it also established KRS-One as a hip-hop prophet and one of the greatest MC's alive.
14: Paula Abdul – Forever Your Girl
The multifaceted artist's debut album includes some of the best dance-pop to come out of the '80s including "Opposites Attract" and "Straight Up."
13: EPMD – Strictly Business
The Long Island hip-hop duo's debut album is a super funky and self-assured record that was a runaway success and influenced generations of rappers that came after it.
12: Sade – Stronger Than Pride
The English band's third studio album boasts classics like the title track and "Paradise" and cemented the group as smooth R&B legends.
11: R.E.M. – Green
The band's sixth studio album is colored by themes that touch on politics and the environment, making for a powerful and resonant album.
R.E.M. - Orange Crush (Official Music Video)
10: Talk Talk – Spirit of Eden
The band's 1988 album was a dramatic break from their previous work in its focus on ambient textures and experimental sounds, the result is an ethereal delight and one of their most unique records.
09: Eric B. and Rakim – Follow the Leader
The celebrated duo's sophomore album, which includes classics like the title track and "Microphone Fiend," continues Rakim's streak of supreme lyricism over Eric B.'s stellar production.
08: The Pixies: Surfer Rosa
The celebrated band's second album is full of lyrically raw and intense punk music that is as clear-eyed as it is irreverent.
07: Metallica – …And Justice For All
The heavy metal band's first album after the passing of bassist Cliff Burton is biting in its political commentary and brusque in its sonics, making for a metal masterpiece.
06: U2 – Rattle and Hum
Following the monumental success of The Joshua Tree, U2 had the wonky yet innovative idea to make this combined live and studio album that would also serve as an accompaniment to a concert film of the same name. Sounds like a lot, but in the end it worked, proving that band is untouchable for a reason.
U2 - Desire (Official Music Video)
05: Tracy Chapman – Tracy Chapman
Chapman's remarkable debut album not only introduced her unique voice to the world, it also topped the charts and includes the radio staple "Fast Car."
04: Sonic Youth – Daydream Nation
The inimitable band's fifth studio album is widely considered to be an indie rock classic and expertly captures the diverse elements that make up the underground rock scene.
03: My Bloody Valentine – Isn't Anything
The famed rock band's debut album is a game-changing and innovative record that laid the groundwork for shoegaze.
02: NWA – Straight Outta Compton
It's hard to overstate the impact of this album which essentially made gangsta rap a genre and launched the careers of Ice Cube and Dr. Dre.
01: Public Enemy – It Takes a Nation of Millions to Hold Us Back
Filled with sharp and relentless social commentary and head-spinning production, the revolutionary hip-hop group's second studio album knocks as hard today as it did decades ago.
Public Enemy - Don't Believe The Hype (Official Music Video)
Think we missed one of the best albums from 1988? Let us know in the comments below and check out our 80s pop playlist on Spotify.