15 Of The Best Guitar Riffs Of All Time
The best guitar riffs in rock have become part of the cultural fabric, shaping the face of music and influencing wannabe axe legends down the generations.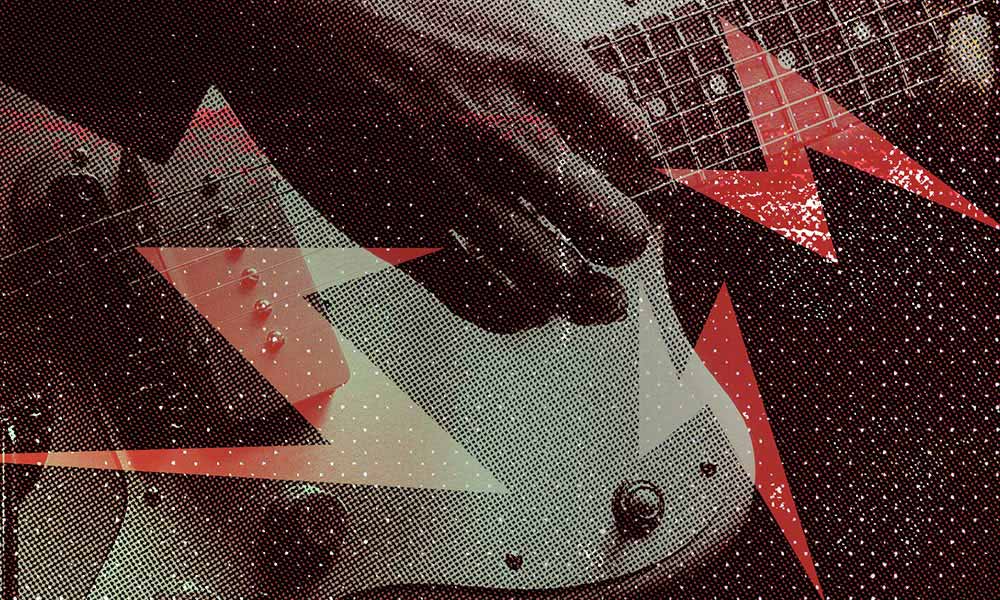 Some of the great songs of modern times – such as '(I Can't Get No) Satisfaction)' or 'Smoke On The Water' – strike you as much for their distinctive guitar licks as their powerful lyrics. The guitar riff, which often opens a song and forms the main repetitive melodic anchor, has been a core part of blues, rock'n'roll and even punk songs for decades, and the best guitar riffs have changed the shape of music. Some of the early jazz guitarists (such as Charlie Christian, in Benny Goodman's pre-war sextet) were pioneers of the riff, paving the way for greats who followed – everybody from Chet Atkins, T Bone Walker and Jimi Hendrix to Van Halen, U2's The Edge, Black Sabbath's Tony Iommi and Rush's Alex Lifeson.
Hundreds of other superb guitarists have laid down classics that deserve to be placed among the best guitar riffs of all time, and the 15 we have chosen, in chronological order, include masterpieces by Chuck Berry and Eric Clapton.
This list of the best guitar riffs in music has missed out dozens of our own favourites – including 'Who's That Lady?' (The Isley Brothers), 'All Right Now' (Free), 'Seven Nation Army' (The White Stripes), 'Day Tripper' (The Beatles), 'Pretty Vacant' (Sex Pistols), 'Should I Stay or Should I Go?' (The Clash), 'There She Goes' (The La's), 'Mr Tambourine Man' (The Byrds), 'September' (Earth, Wind & Fire), 'Sweet Home Alabama' (Lynyrd Skynyrd) and 'Le Freak' (Chic) – but let us know your favourites in the comment section.
While you're reading, listen to our Best Bass Guitar Riffs playlist here.
And now, here are 15 of the best guitar riffs of all time.
John Lee Hooker: 'Boogie Chillen'' (1948)
John Lee Hooker, the blues master whose introduction and hook on 1962's 'Boom Boom' is so mesmerising, had 13 years earlier come up with the ringing amplified guitar riff for 'Boogie Chillen''. He later said: "I wrote that song in Detroit when I was sitting around strumming my guitar. When I was a little kid I heard my stepfather Will Moore do it years and years before. It had that beat, and I just kept that beat up and I called it 'Boogie Chillen'." The song had a powerful influence on BB King as he was starting out in his career as a radio DJ.
Muddy Waters: 'Mannish Boy' (1955)
Muddy Waters embodied a sound that was all his own, and his classic blues song 'Mannish Boy', recorded on a Telecaster in 1955, inspired a generation of musicians, including The Rolling Stones. The repetitive guitar line on 'Mannish Boy' is stirring electric blues at its best, and has been replicated by countless musicians since, ensuring it will live on as one of the best guitar riffs in history. Waters gave a memorable performance of the song with The Band in 1976 for the concert movie The Last Waltz.
Chuck Berry: 'Johnny B Goode' (1958)
Chuck Berry's popular song about a country boy who can play the guitar "just like ringing a bell" sizzles from the opening note, and it is no surprise that it has been played on Spotify almost 100 million times. Credit where it's due, though, because Berry acknowledged he was imitating the opening guitar riff on Louis Jordan's 'Ain't That Just Like A Woman (They'll Do It Every Time)', which was played by Carl Hogan in 1946. However, Berry's inventive genius, as a singer, songwriter and performer, was transforming the rolling rhythms of Jordan and T-Bone Walker into the rhythmic foundation of rock'n'roll.
The Kinks: 'You Really Got Me' (1964)
After a couple of unsuccessful singles, young London rock band The Kinks were under pressure to deliver a hit, and they did so in spectacular style in August 1964 with 'You Really Got Me'. The arrangement was written by Ray Davies when he was messing around on the piano at home; guitarist Dave Davis came up with the distinctive riff by tearing the speaker cone of his amp to create this distorted guitar sound.
The Rolling Stones: '(I Can't Get No) Satisfaction)' (1965)
On 12 June 1965, The Rolling Stones hit the charts with the all-time classic that became their first US No.1. With a riff famously composed by Keith Richards in a hotel room just before he fell asleep, the first version of the song, featuring harmonica by Brian Jones, was recorded at their spiritual home of Chess Studios in Chicago. Two days later, at RCA in Hollywood, they cut the version we all know, and rock history was made. "I'm the riff master," wrote Richards in his autobiography, Life. Indeed, there are no shortage of Stones songs vying for their place among the best guitar riffs in history. Though the power of 'Satisfaction' is undeniable, Richards believes he laid down a better riff with the acoustic one that opens 'Jumpin' Jack Flash'. "When you get a riff like 'Jumpin' Jack Flash' you get a great feeling of elation, a wicked glee," said Richards. "Flash is basically 'Satisfaction' in reverse. Nearly all of these riffs are closely related. But if someone said, 'You can play only one of your riffs ever again,' I'd say 'OK, give me 'Flash'."
Led Zeppelin: 'Whole Lotta Love' (1969)
Jimmy Page said he came up with the 'Whole Lotta Love' guitar riff – partly inspired by Chess Records legend Willie Dixon – while strumming a guitar on his houseboat on the River Thames in England during the summer of 1968. The single was a massive hit in the US and the riff was voted the greatest of all time by BBC Radio 2 listeners in 2014. "I wanted a riff that really moved, that people would really get, and would bring a smile to their faces, but when I played it with the band, it really went into overdrive," Page said. "There was this intent to have this riff and the movement of it, so it was menacing as well as quite sort of caressing." Many of Page's fellow-musicians have hailed it as one of the best guitar riffs of all time. Dave Grohl and Prince once jammed together playing the song, the former recalling, "It was, I swear to God, the most amazing experience of my entire life, and there was nobody there."
Derek And The Dominoes: 'Layla' (1970)
'Layla' was one of the high-water marks for 70s rock. Eric Clapton was inspired to write the first part of the song after being given a copy of the Persian classical poet Nizami Ganjavi's book The Story Of Layla And Majnun. As we now know, it is Clapton's love song to Pattie Boyd, who at that time was married to George Harrison. (She later married Clapton.) Clapton's multi-layered guitars create a riff that is timeless and distinctive; the guitarist was, of course, also behind the riff for Cream's 'Sunshine Of Your Love', during a period in which acolytes called him "God".
Deep Purple: 'Smoke On The Water' (1972)
Deep Purple guitarist Richie Blackmore insists that to play 'Smoke On The Water' properly, a guitarist must always pluck and never use a pick. One of rock's most recognisable guitar riffs was written during a jam session in Switzerland when Deep Purple were recording the album Machine Head. Blackmore, who worked out the riff with drummer Ian Paice, later recalled that they were just trying to create "something straightforward" to play. He said, "We were in this big ballroom in Montreux and the police arrived to tell us to stop, because we were playing so loud that there were complaints. We kept the door locked so that we could keep recording that particular take. The police were hammering on the door during the final take in the last three minutes of the recording session. Had the Montreux police had their way, we never would've recorded 'Smoke On The Water'."
Queen: 'Killer Queen' (1974)
Lots of Queen songs have beautiful chord progressions and potent solos by guitarist Brian May, and a number of their hits have great riffs, including 'Stone Cold Crazy'. Perhaps their finest riff, though, can be heard on 'Killer Queen'. "I was in hospital and almost dying when I heard that. They brought me in the harmonies and waited for me to finish the song," said May. He used his trademark Red Special guitar for a solo that was multitracked to get the distinctive cascading effect.
Aerosmith: 'Walk This Way' (1975)
Joe Perry's riff for 'Walk This Way' is still frequently imitated by young guitarists hoping to master the instrument. Perry came up with it during a soundcheck in Honolulu when he decided to do something more adventurous than a "normal boring chord progression". One of the best guitar riffs in rock (later sampled by Run-DMC for their rock/hip-hop crossover classic) had to wait a while for lyrics, however, but when Aerosmith band members watched the Mel Brooks movie Young Frankenstein, which includes a line where a limping Marty Feldman tells Gene Wilder to "walk this way", singer Steven Tyler began composing the words to one of the guitar world's most iconic tunes.
AC/DC: 'Back In Black' (1980)
AC/DC's tribute to former singer Bon Scott, who had died in February 1980, aged 33, is the stirring 'Back In Black', with Angus Young's guitar riff a masterclass in using the E minor pentatonic scale. The sizzling riff has helped make the song a fixture in modern culture, appearing in dozens of blockbuster movies, including Iron Man, Black Hawk Down and School Of Rock.
The Smiths: 'This Charming Man' (1983)
Fans of The Smiths would probably differ on which song constitutes guitarist Johnny Marr's best riff. While many might favour his playing on 'How Soon Is Now?' or 'What Difference Does It Make?', our vote goes to 'This Charming Man'. Marr originally wrote one of modern pop music's most instantly recognisable opening riffs for a BBC radio session with John Peel. The guitarist's fluid and infectious playing perfectly complements Morrissey's morose lyrics and mournful singing.
Dire Straits: 'Money For Nothing' (1985)
This classic from Dire Straits' Brothers In Arms album contains one of the most instantly recognisable opening riffs in rock history. Mark Knopfler talked to ZZ Top guitarist Billy Gibbons to get some ideas before recording the track. He changed his usual guitar model to use a 1958 Gibson Les Paul so he could get just the right percussive fingerstyle-infused riff. The video was an MTV classic, too.
Guns N' Roses: 'Sweet Child O' Mine' (1988)
London-born Slash delivered an amazing solo and one of his most epic guitar intros on 1988's 'Sweet Child O' Mine' for Guns N' Roses. During a rehearsal session, Slash said he was fooling around with a riff and singer Axl Rose cried out: "Hold the f__king phones! That's amazing!" A hit was born. "Within an hour, my guitar exercise had become something else," Slash explained in his autobiography.
Nirvana: 'Smells Like Teen Spirit' (1991)
Nearly three decades after it was recorded, Nirvana's signature single, 'Smells Like Teen Spirit', still sounds raw and exciting. Kurt Cobain was attempting to write the "ultimate pop song" when he came up with the guitar riff. He also wanted to pen something in the style of Pixies, telling Rolling Stone magazine in 1994, "I was basically trying to rip off the Pixies. I have to admit it." The four-chord pattern of the riff is unoriginal but the quiet-loud dynamic contrasts of the song, and Cobain's visceral delivery, add to the potency of one of the best guitar riffs of the 90s.
Looking for more? Discover the best guitarists of all time.

Format:
UK English