'Ten Summoner's Tales': How Sting Brought It All Back Home
Tapping into a newfound joy, 'Ten Summoner's Tales' found Sting "writing songs just for fun", resulting in one of his most essential albums.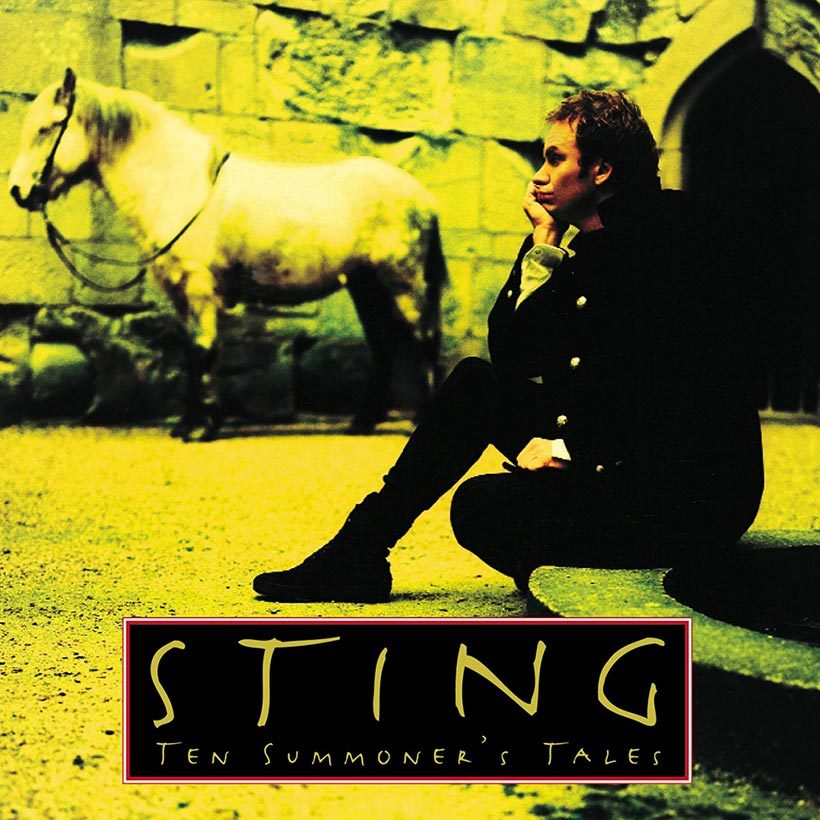 The release of Sting's sublime fourth album, Ten Summoner's Tales, marked one of those occasions where the creative and commercial align to perfection. A sizeable transatlantic hit, the album yielded multi-platinum returns but, equally, it was a creative tour de force which, as Entertainment Weekly observed, contained "11 vividly imagined gems."
Its title deriving from a combined pun on Sting's family name, Sumner, and a character ("the summoner") in Geoffrey Chaucer's The Canterbury Tales, Ten Summoner's Tales was notably more upbeat than its predecessor, The Soul Cages. Then again, that album's more introspective material was, effectively, Sting's private eulogy for his late parents.
Listen to the digital Expanded Edition of Sting's Ten Summoner's Tales now.
"It makes me smile when I listen to it"
"I just felt that [The Soul Cages] had served its purpose," Sting reflected at the time of Ten Summoner's Tales' release. "I had exorcised a few ghosts, and I didn't really feel the need to do it again. I wanted to make a record that let me get back to writing songs just for fun, and that's exactly what happened. I was in a very good mood. I was with my band and writing songs to amuse them, myself, and my family. It makes me smile when I listen to the record."
An important factor in maintaining Ten Summoner's Tales' positive vibe was Sting's decision to eschew the use of a regular recording facility. Though the album was later mixed at London's Townhouse Studio, the musicians decamped to Sting's 400-year-old Wiltshire home, Lake House, for the sessions, where producer Hugh Padgham and assistant engineer Pete Lewis captured the songs on Sting's new Steerpike SSL Portable Studio.
"I really don't like studios much," Sting explained. "I find them prison-like environments where you don't breathe the air or see the sunlight for months on end. So I moved everything out of the dining room and moved the equipment in – the band and the instruments, my producer and engineers."
Home-cooked meals in the adjoining kitchen and the option to take walks in the garden further bolstered group creativity, assisting Sting and his highly versatile team – Dominic Miller (guitar), David Sancious (keyboards), and drummer Vinnie Colaiuta – in the creation of some of their most resonant music to date.
"Choruses that lodge in the mass consciousness"
The songs that emerged were rich, diverse, and immensely satisfying, ranging from the strutting, bluesy "Heavy Cloud, No Rain" to the affecting "Shape Of My Heart" and the slightly quixotic "She's Too Good For Me," in which a neo-classical middle section gatecrashed the song's jazzy, The Dream Of The Blue Turtles-esque groove to startling effect.
Ten Summoner's Tales also contained several of Sting's most timeless statements. As Rolling Stone later suggested, the lilting "If I Ever Lose My Faith In You" was "a first-rate pop song with genuinely felt metaphysical questioning," while the vivid courtship drama "Seven Days" (featuring a lyric that coyly quoted from The Police's "Every Little Thing She Does Is Magic") was executed with an admirable lightness of touch. However, the record's high point was surely "Fields Of Gold": an achingly beautiful ballad that ranks highly among the greatest songs Sting has ever penned.
First released by A&M on March 9, 1993, Ten Summoner's Tales met with nigh-on unanimous critical praise. Describing the album as "significant and moving," Rolling Stone homed in on Sting's vocal prowess, rightly suggesting that he "remains a consistently moving singer, easily one of the best on the contemporary scene." Entertainment Weekly, meanwhile, cogently noted, "Sting still understands the rare alchemy of the radio hit, he still crafts choruses designed to lodge in the mass consciousness."
The latter review absolutely hit the spot: "If I Ever Lose My Faith In You" and "Fields Of Gold" both turned into significant Top 30 hits on both sides of the Atlantic, while "Seven Days" and the album's laidback finale, "Nothing 'Bout Me," also cracked the UK Top 40. Making good on this promise, Ten Summoner's Tales peaked at No.2 in both the UK and the US, and went on to scoop numerous awards, including Grammys for Best Male Pop Vocal Performance ("If I Ever Lose My Faith In You") and Best Long Form Music Video for Doug Nichol's engaging film of the band performing the entire album at Lake House.
Sting - If I Ever Lose My Faith In You (Official Music Video)
"I felt inspired to write with happiness"
An essential entry among Sting's discography, Ten Summoner's Tales continues to penetrate popular culture. "Fields Of Gold" and "It's Probably Me" have been covered by artists as diverse as Eva Cassidy and Gregory Porter, while "Shape Of My Heart" has been sampled extensively in R&B and hip-hop songs ever since Nas interpolated the backing track for his much-acclaimed 1996 cut "The Message."
Reflecting on Ten Summoner's Tales' achievements in 2007, Sting attributed the record's enduring success to the fact he had recorded the album at home, with all the positives that decision offered him.
"I felt inspired to write, and, for the first time in years, with a genuine spirit of happiness," he wrote in Lyrics. "There were no grand concepts, no plan, except to have fun telling stories in as many diverse styles and moods as I could think of. It is this carefree spirit that pervades the album and helped it to become one of my most popular records."
Listen to the digital Expanded Edition of Sting's Ten Summoner's Tales now.