Joy To The World: The Best Three Dog Night Songs
The band's covers publicized countless emerging writers such as Harry Nilsson, Randy Newman, Laura Nyro, and even a young Elton John.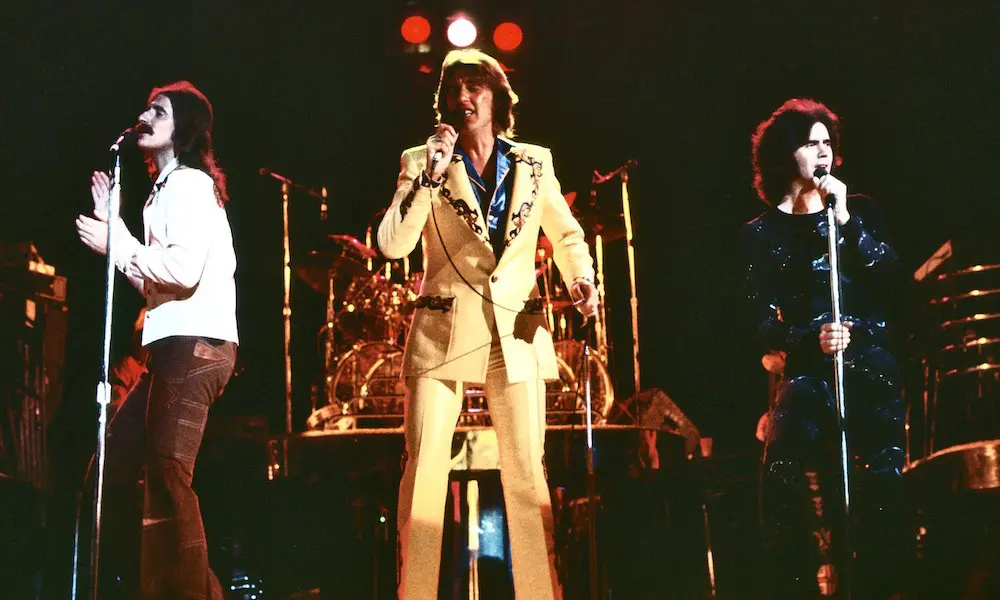 Three Dog Night had a big role in the sound of American pop-rock of the first half of the 1970s. The Los Angeles trio (as they originally were) became the talk of the industry soon after their 1967 formation, initially under the name Redwood. After signing to ABC/Dunhill and releasing their self-titled debut LP in late 1968, there was no stopping them.
Named, famously, after the phrase describing the coldest night of the year in the Australian outback, Three Dog Night were among the most important song interpreters of the rock era. Their covers were the oxygen of publicity for countless emerging writers from across the musical map, such as Harry Nilsson, Randy Newman, Hoyt Axton, Paul Williams, Russ Ballard, Laura Nyro, and even a young Elton John.
Featuring founders Danny Hutton, Cory Wells, and Chuck Negron, Three Dog Night's scorecard during their first years together was, and remains, spectacular: two platinum and 12 gold albums, seven gold singles, three No.1s and 21 chart 45s in a little over six years, until 1975. The three bandmates were all present again when the group reformed in 1981; Negron stayed until 1985 and Wells until his death in 2015, with Hutton the constant north star in every one of the group's incarnations.
Listen to the best songs by Three on Dog Night on Spotify or Apple Music.
Bud Scoppa's words in Rolling Stone in late 1971 described the gulf between the media's general attitude to the band and their incredible popularity. "For three years now," he wrote, "the critics have been laying into Three Dog Night for a variety of mostly hard-to-fathom reasons.
"But nobody, evidently, has been paying much attention to the tastemakers in this case, because Three Dog Night's records have been selling in greater quantities altogether than anybody else's. Biggest doesn't necessarily mean best, but the spectacular success of this group seems entirely justified; Three Dog Night is a terrifically good band." Our selection of their most significant and enduring recordings dips chronologically into their halcyon first generation.
One (1969)
After a Top 30 US pop chart entry with a version of the time-honored song "Try A Little Tenderness," Three Dog Night hit paydirt in mid-1969 with this tune by the up-and-coming Harry Nilsson. His version had come out the year before on his third LP, Aerial Ballet, and the trio's rendition hit No.5 in the US to become the first of a dozen Top 10 singles there. It also featured on a self-titled first album that underscored the group's versatility with songs written by Traffic, The Beatles, Johnny "Guitar" Watson, Randy Newman, Tim Hardin, and Neil Young, as well as Whitten's own "Let Me Go."
Lady Samantha (1969)
This cover of Elton John's second UK single appeared on Three Dog Night's sophomore album Suitable For Framing in June 1969, well over a year before the young Englishman's American breakthrough. He's always remained grateful for the early recognition, as he was of Three Dog Night's cover of "Your Song" from their next studio set It Ain't Easy, by then with Richard Podolor as producer, in 1970.
Dreaming Isn't Good For You (1969)
Dreaming Isn't Good For You
Again from Suitable For Framing, and included as an example of Three Dog Night's own writing. This song showcased frontman Hutton's compositional skills on an uptempo piece of late-period rock psychedelia, also featuring Jimmy Greenspoon's nimble keyboards and Mike Allsup's guitar. Production, as on their previous LP, was by Gabriel Mekler, who also oversaw Steppenwolf and other Dunhill signings.
Eli's Coming (1969)
Three Dog Night's banner year of 1969 continued with another Top 5 hit from the rock musical Hair, "Easy To Be Hard," and then with their next Top 10 single. Plucked with great imagination, as was becoming their norm, from the songbook of another emerging writer-artist, this originated on Laura Nyro's second album, 1968's Eli and the Thirteenth Confession.
Mama Told Me Not To Come (1970)
Mama Told Me (Not To Come)
The one Three Dog Night song to make a significant Atlantic crossing, when it made No.3 in the UK in 1970. In the States, it went all the way to the top, bringing a new pop audience to the superior songcraft of Randy Newman. Again, they weren't the first to it: Newman had written "Mama Told Me…," when he was just 22 years old in 1966, for the first solo album by Eric Burdon of the Animals.
Joy To The World (1971)
This was the singalong tune with the opening line "Jeremiah was a bullfrog," a typical piece of whimsy by country songwriter Hoyt Axton. Three Dog Night's version, from the Naturally album, topped the Hot 100 for no fewer than six weeks in the spring of 1971, in between the Temptations' "Just My Imagination" and the Rolling Stones' "Brown Sugar."
Liar (1971)
The group were soon back in the Top 10, yet again, with this number written by the British songwriter-performer Russ Ballard, who was emerging as a member of progressive rock band Argent. Their original was a non-charting single from their first, eponymous LP in 1970. In Three Dog Night's hands, "Liar" cruised to No.7 in the US and No.4 in Canada, where the band were just as huge.
An Old Fashioned Love Song (1971)
An Old Fashioned Love Song
The first single from Three Dog Night's sixth album Harmony, late in 1971, was written by Paul Williams, then rising as one of the most notable new pop composers of the time, especially with Roger Nichols for the Carpenters ("We've Only Just Begun," "Rainy Days and Mondays," and others).
The LP saw the group exploring their soulful side and in particular mining lesser-known Motown copyrights for covers of Marvin Gaye's 1968 hit "You" and Stevie Wonder's then-new ballad "Never Dreamed You'd Leave in Summer." Other selections included Joni Mitchell's early "Night in the City" and another Williams co-write, the No.12 hit "The Family of Man," with Jack Conrad.
Never Been To Spain (1971)
The second Harmony single had Cory Wells taking the lead vocal as the band again opened the Hoyt Axton songbook. The artist from Comanche, Oklahoma released a 1971 album named for the Three Dog Night hit he penned, Joy To The World, which also included this memorable narrative. Their cover arrived just a few months later, after which "Never Been To Spain" became part of Elvis Presley's live set, featured on the 1972 album As Recorded At Madison Square Garden. That year, it was also cut by Cher and Waylon Jennings.
Black & White (1972)
Three Dog Night's eighth studio album Seven Separate Fools (1972) was later listed by Brian Wilson among his all-time favorite LPs. Its lead single was this song recorded in the 1950s by both Pete Seeger and, with different lyrics, by Sammy Davis Jr. It was almost reggae in feel, as was played up on a UK hit rendition by British reggae band Greyhound. In September 1972, Three Dog Night's version became their third and final US No.1 smash.
Shambala (1973)
This song by American musician Daniel Moore painted a picture of a mystical kingdom inspired by a real-life temple in Peru. The airy, feel-good tune, again with lead vocals by Wells, became the first single from Three Dog Night's 1973 album Cyan, and climbed to No.3 in the US.
The Show Must Go On (1974)
Three Dog Night's aptitude for finding songs with untapped potential surfaced yet again on their final Top 10 single. "The Show Must Go On" was the breakthrough UK hit by singer-songwriter Leo Sayer, who co-wrote it with David Courtney and saw it climb to No.2 there. The song was also a big success in Australia, but didn't make the grade in the States, prompting the cover that appeared on Three Dog Night's Hard Labor.
The album also shone a light on songs by Allen Toussaint, a young John Hiatt, and two further Daniel Moore compositions. The show did go on a little while longer, until Three Dog called it a night in 1976, before a reunion from 1981 onwards that only emphasized the strength of their hit catalog.
Think we missed one of Three Dog Night's best songs? Let us know in the comments below.