Burt Bacharach, Masterful Creator Of Timeless Songs, Dies At 94
The six-time Grammy-winner's musical life spread across a remarkable nine decades, during which time he created some of the most enduring melodies of all time.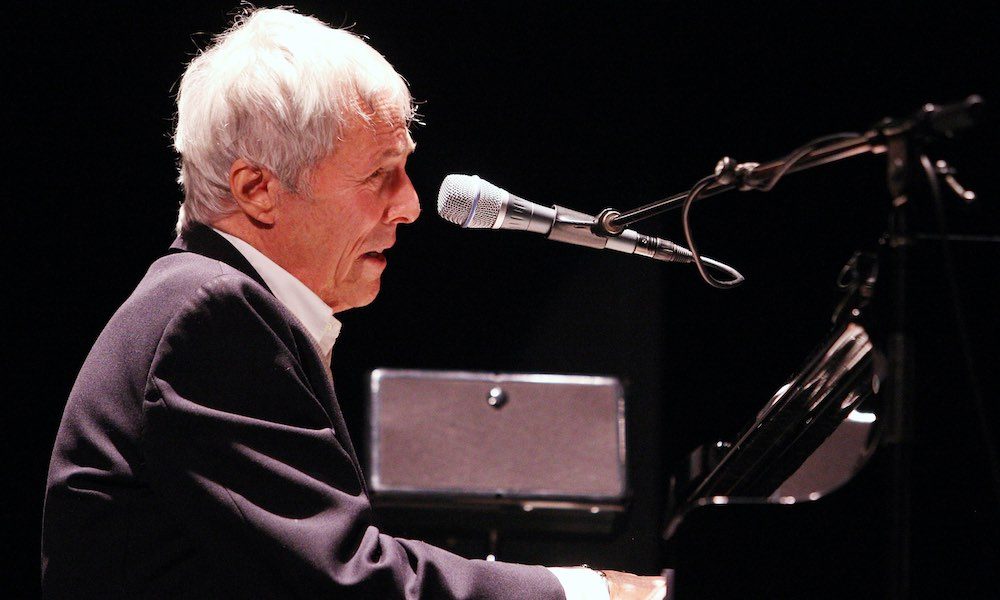 Burt Bacharach, one of the most important songwriters and arrangers in pop history, has died at the age of 94. A representative has confirmed to the Washington Post that he died at home in Los Angeles of natural causes.
Fellow songwriter Stephen Bishop wrote on social media: "I just heard the news that
@BurtBacharach passed away. It's hard to process. One of the greatest songwriters of our generation is gone. I'll always think of Burt Bacharach as the King of Melody. His songs are timeless. I am so honored to have known you + written a song with you."
Dave Davies of the Kinks reflected: "Very sad day, probably one of the most influential songwriters of our time. He was a great inspiration." The Los Angeles Times noted that Bacharach was "considered by some as his generation's greatest songwriter."
The six-time Grammy-winner's musical life spread across a remarkable nine decades, during which time he created some of the most enduring melodies ever recorded or performed. He wrote with various co-composers, but his most celebrated partnership was that with lyricist Hal David. They originated an incredible sequence of pop standards that enriched the careers of artists including Dionne Warwick, Aretha Franklin, the Walker Brothers, Herb Alpert, the Carpenters and such British singers as Dusty Springfield, Sandie Shaw, and Cilla Black.
Bacharach and David's endlessly and repeatedly-covered copyrights include "Walk On By," "(There's) Always Something There To Remind Me," "I Say A Little Prayer," "Twenty Four Hours From Tulsa," "You'll Never Get To Heaven," "Trains and Boats and Planes," "Alfie," "Anyone Who Had A Heart," "What's New, Pussycat?", "The Look of Love," and so many more.
'I veer toward ballads and melody'
"I've never been a consistent writer of uptempo songs," Bacharach told Melody Maker in 1995. "I kind of veer toward ballads and melody. I'm seldom totally positive. Maybe that's because 'She loves you' or 'I'm so happy' don't make for such good songs."
Burt Freeman Bacharach was born on May 12, 1928 in Kansas City and raised in New York. He was encouraged by his mother, against his wishes, to learn piano, and although his father was a journalist, the young man's aptitude was always for music, not lyrics. His first penchant was for jazz, and he was playing in various groups by the second half of the 1940s. He studied music theory and composition at a number of schools, before serving his two-year tour of duty in the US Army from 1950.
On his return, Bacharach, still barely in his mid-20s, became pianist and conductor for the popular vocal stylist Vic Damone, also working with the Ames Brothers, Steve Lawrence and Polly Bergen. In 1956, he was hired by the world-famous actress and singer Marlene Dietrich as musical director of her nightclub shows, even as he developed his writing skills. With Mack David, he co-wrote the US Top 40 hit "The Blob," recorded for a B-movie (starring a young Steve McQueen) by Bernie Nee under the name the Five Blobs.
Two UK No.1s in a row
But in 1957, Bacharach had almost literally run into Mack's younger brother, Hal David, at New York's famed songwriting hub, the Brill Building. They were to form one of the greatest creative partnerships pop music has ever known. Their first hit together was with Marty Robbins' "The Story of My Life," a US country No.1 that was taken to the top of the UK pop chart by Michael Holliday. Even greater UK success followed immediately, when Perry Como's recording of Burt and Hal's "Magic Moments" ruled the roost for eight weeks, and went Top 5 in the US. It was the first time in history that writers had had consecutive No.1 singles in the UK.
In the early 1960s, Bacharach also wrote with Bob Hilliard, and was credited as both co-writer, arranger and producer for the first time on their "Three Wheels on My Wagon," created for Dick Van Dyke. They also penned "Any Day Now," first recorded by soul star Chuck Jackson and later revived by Elvis Presley. Jackson also cut the first version of Bacharach and David's "I Just Don't Know What To Do With Myself," later widely popularized by Springfield.
Twenty Four Hours from Tulsa (Remastered)
But by 1962, Bacharach and David were forming an exclusive partnership, scoring again with "Tower of Strength," in a UK No.1 version by Frankie Vaughan and the US recording by Gene McDaniels. Connecticut-born singer Gene Pitney, who had by now emerged as a notable composer himself, had hits with Burt and Hal's "The Man Who Shot Liberty Valance" and "Twenty Four Hours From Tulsa."
1962 was also the year in which Bacharach directed a recording session for the first time, when another R&B notable, Jerry Butler, bestowed on him that honor to cut the original of the writing duo's "Make It Easy On Yourself." As more and more of their material began to cut across both genres and age ranges in numerous versions, that would become yet another UK No.1 in 1965 for the Walker Brothers.
Their songs also ignited the career of Dionne Warwick, whom Bacharach had noticed as a backing singer, and who would become the duo's favorite interpreter of their work. Starting with 1962's "Don't Make Me Over," the three-way dream team endured for years to come, creating "Anyone Who Had A Heart," "Walk On By," "Message To Michael," "Do You Know The Way To San José?" and numerous others.
'I'm in the business because I like to make music'
By 1964, the workaholic Bacharach was telling Record Mirror: "If there were twice as many hours in the day I guess it still wouldn't be enough for me." A few months later, he told the same British music weekly: "Money means nothing to me. It's just something to spend and since I've got enough to spend I never have to worry about it. I'm in the business because I like to make music."
He also recorded sporadically in his own name from 1965 onwards, when his Hit Maker! Burt Bacharach Plays His Hits became a big UK success. Live appearances in such prestigious locations as Los Angeles' Greek Theater, and TV specials based on his songs with his lower-profile creative partner, further upped his personal standing.
Bacharach and David's film work together included such significant soundtracks or lead songs as those for What's New Pussycat, Alfie, Casino Royale, and Butch Cassidy and the Sundance Kid. The latter featured "Raindrops Keep Falling On My Head," an American pop No.1 for B.J. Thomas.
"I'm a perfectionist to an almost obsessive-compulsive degree," Burt confessed to Event magazine in 2015. "Anyone who has worked with me will confirm that. Cilla Black recorded 'Alfie' at Abbey Road. I did the orchestration, George Martin was producing. I kept insisting that Cilla did another take, then another. I was looking for that certain magic. After dozens of takes, George turned to me and said, 'Burt, I think you got it in take four.' He was right."
He and David also collaborated with Broadway producer David Merrick on the 1968 musical Promises, Promises. Based on the 1960 hit movie The Apartment, it featured "I'll Never Fall In Love Again," another US success for Warwick that topped the UK chart in a version by Bobbie Gentry. In 1970, the pair's "(They Long to Be) Close to You," first recorded by Richard Chamberlain and then by Warwick and others, became a staging post hit for A&M's young sibling act the Carpenters.
But a fallow period was to come, as Bacharach and David experienced an acrimonious split, not speaking for the next 15 years. It also brought an end to their relationship with Warwick, who in turn brought legal action against them. Burt's marriage to actress Angie Dickinson came to an end, and none of his new compositions enjoyed the chart success that had been second nature.
In 1981, the year before he married fellow writer and singer Carole Bayer Sager, they teamed with Peter Allen and Christopher Cross to write "Arthur's Theme (Best That You Can Do)" for the smash hit movie Arthur. Recorded by Cross, it topped the Hot 100 and won the Oscar for Best Original Song. Bacharach and Bayer Sager went on to further honors with Neil Diamond's "Heartlight," featured in E.T. The Extra-Terrestrial; Roberta Flack's title song from the film Making Love; and Patti LaBelle and Michael McDonald's "On My Own."
Another massive hit for the couple arrived in 1985 when "That's What Friends Are For," first recorded by Rod Stewart, was revived in a quartet format that reunited Bacharach with Warwick, who sang it with Elton John, Gladys Knight and Stevie Wonder. Raising money for AIDS research, it won two Grammys, for Best Pop Performance by a Duo or Group with Vocals and Song of the Year.
Bacharach and David themselves reconvened to write new material for Warwick in the early 1990s, when Burt would sometimes join the vocal performer for live productions. David died in 2012, at the age of 91. During the 90s, Bacharach also expanded his publishing empire and took part in several new creative collaborations. Prominent among these was Painted From Memory, his much-admired 1998 teaming with Elvis Costello, on which the English artist, an avowed Bacharach fan, proved to be his perfect foil.
That record grew spontaneously out of their co-write "God Give Me Strength," which was commissioned for Alison Anders' 1996 music-based drama Grace of My Heart. From the album, "I Still Have That Other Girl" won a Grammy in 1998 for Best Pop Collaboration with Vocals. "Burt Bacharach is again in vogue," wrote Greg Kot in Rolling Stone. "His opulent brand of Sixties-pop songwriting has found a new audience among swizzle-stick hipsters."
The American composer was no less productive in the 21st century. He worked with Isley Brothers vocalist Ronald Isley for the 2003 album Here I Am: Isley Meets Bacharach, which was based around new treatments of some of Burt and Hal's most famous work. "Big Burt oversaw this project personally," wrote Entertainment Weekly's Tom Sinclair, "tweaking familiar arrangements in unexpected, delightful ways (cock an ear to the totally reinvented 'Raindrops Keep Falling on My Head')."
Costello and Rufus Wainwright were among the guests on Bacharach's 2005 album At This Time; Adele, Beth Rowley and Jamie Cullum were his guest vocalists when he headlined the BBC's Electric Proms in 2008. His autobiography, Anyone Who Had a Heart: My Life and Music, was published in 2013. Still later, he played at 2015's Glastonbury Festival, at the age of 87.
Ever-active and inquisitive, the multi-talented musician, with composer Joseph Bauer, wrote and arranged the original score for the 2016 film A Boy Called Po. The 30-minute score, cut in two days at Capitol Studios, featured the theme song "Dancing With Your Shadow," performed by Sheryl Crow with music by Bacharach and lyrics by Billy Mann.
Burt Bacharach and Daniel Tashian - "Bells of St. Augustine" (Official Audio)
In 2018, his co-write with Rudy Pérez, "Live To See Another Day," featured the Miami Symphony Orchestra and was dedicated to survivors of school gun violence, with proceeds to the Sandy Hook Promise charity. In July 2020, artist-producer Daniel Tashian's five-track release with Bacharach, Blue Umbrella, was released, a year after they worked on it together in Nashville.
Tashian described the great man's distinctive approach to songwriting when he told Nashville Weekly: "Bacharach's music was one of the fundamental elements in the universe of music. Mainly, the use of half-step major sevens and nines is something I find very pleasing to my ear. I asked Burt, 'Is this part too dissonant right here? Should I try to straighten that part out? Is it too sophisticated?' He said, 'Nope.'"
Bacharach was obsessive about his music, but realistic about his place in the world. With his trademark candour, he told the Daily Telegraph in 2013: "The very nature of the work and the creating of it is a very selfish act. 'Dinner's ready…' 'Well, I'm not ready for dinner. I'm on to something…' How many writers do you know who are really selfless people? Very few. It's nothing to be proud of; it's just a fact."
Listen to the best of Burt Bacharach on Apple Music and Spotify.