Peter Frampton's Free Nashville Show To Be Filmed For TV Special
The show is schedules for January 22 at Tucker Theatre on the campus of Middle Tennessee State University.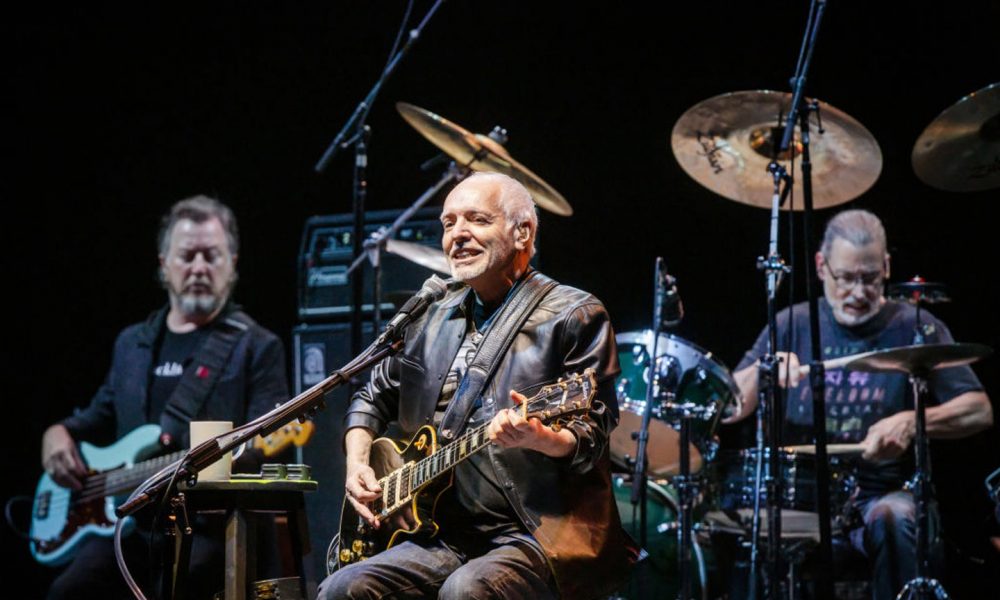 Prior to Christmas, Peter Frampton confirmed he would be playing a special one-off show in Nashville. However, the legendary rocker has now confirmed on social media that the "one night only special" free concert will also be filmed.
The show — which will be filmed for a special broadcast presentation — is slated to take place on January 22 at 7:30pm local time at Tucker Theatre on the campus of Middle Tennessee State University in Nashville.
Shop the best of Peter Frampton's discography on vinyl and more.
Last November, Frampton's farewell world tour came to its final stop at the Mitsubishi Electric Halle in Düsseldorf, Germany, ending a massive run that saw the musician playing over 50 shows across the US and more dates worldwide following his announcement that he would be retiring from touring due to a degenerative muscle disease. Much of the tour also saw Frampton performing seated as a result of his condition, which made it "dangerous" for him to stand with a guitar for long periods of time.
Turning to the crowd at the end of his set, Frampton said, "Thank you very much. I want to let you know I'm going to keep fighting this, so let's never say never."
Throughout his career, Frampton has collaborated with legendary artists such as George Harrison, B.B. King, Buddy Guy, Carly Simon, Harry Nilsson, Donovan, Jerry Lee Lewis, Ringo Starr, Diana Ross, Herb Alpert, Dionne Warwick, Steve Miller, Mike McCready and Matt Cameron (Pearl Jam),among many others.
His boyhood friend David Bowie, whom he accompanied on 1987's 'Glass Spider' tour, lauded Frampton's guitar-playing, describing it as an "English approach to the blues, American music played in an English style."
In 2007, Frampton won the Grammy Award for "Best Pop Instrumental Album" for Fingerprints and in 2014 was inducted into the Musicians Hall Of Fame. In 2019, he was the recipient of the prestigious Les Paul Innovation Award from NAMM's TEC Awards and in 2020 was inducted into the Grammy Hall Of Fame.
His 2019 album, All Blues, was No. 1 for 15 weeks on Billboard's Blues chart, his 2020 autobiography Do You Feel Like I Do?: A Memoir debuted on The New York Times bestsellers list, and most recently, his new album Frampton Forgets The Words was released to widespread critical acclaim.
Listen to the best of Peter Frampton on Apple Music and Spotify.