Buddy Holly Raves On With Endlessly Influential Self-Titled Album
The 12-track LP included 'Peggy Sue,' 'Everyday,' and other classics such as 'Words Of Love' and 'Listen To Me.'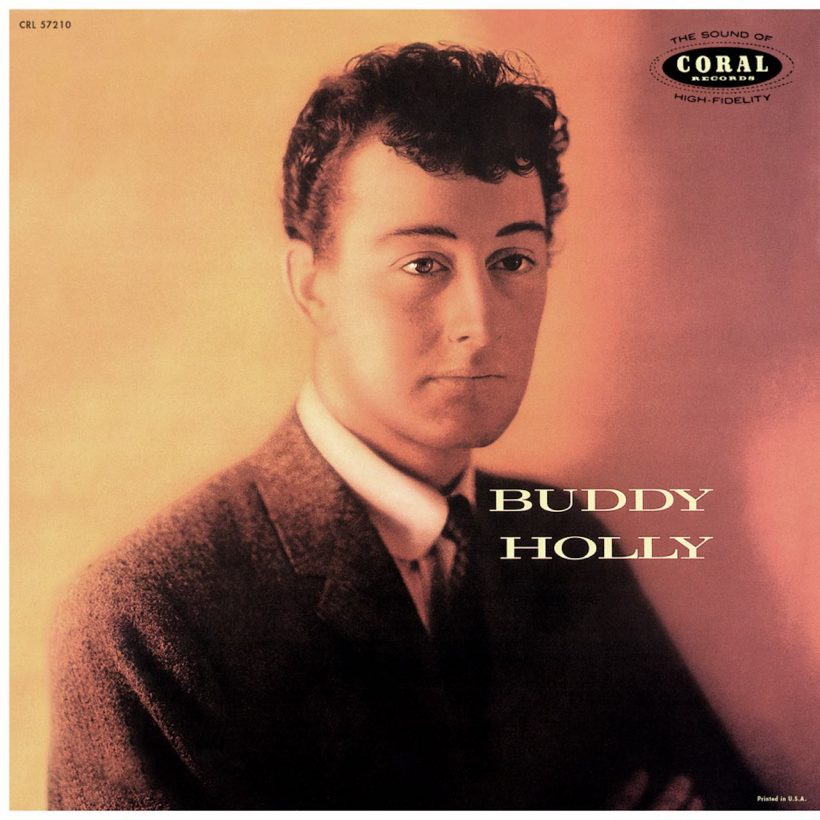 Buddy Holly scored his first hit with the Crickets, "That'll Be The Day," in the summer of 1957. There were two more timeless, simultaneous singles (his "Peggy Sue" and "Oh, Boy!", the latter with the group) that November. The year of 1958 brought more undisputed rock'n'roll and pop classics, Holly's self-titled debut LP, and more. By February 1959, he was gone.
The impact made on music history by Charles Hardin Holley in a period of approximately 18 months is more than most artists manage in a full career. There was an unseen apprenticeship, of course, in demo recordings dating back to 1954, when Buddy was just 18. But once he and the Crickets hit their stride, there was no stopping them, and by the time of his first LP in his own name, the self-titled album released in March 1958, he was a major national and international star. "Buddy Holly has been on the charts every single week of the past six months," reported Cash Box just ahead of the album's release.
Holly and the Crickets coalesced early in 1957 and were immediately recording "That'll Be The Day," which made the Billboard bestsellers in August and topped them by September. The song later joined the Grammy Hall of Fame, as did his next release, "Peggy Sue," this time credited to Holly himself, and backed by the equally indelible "Everyday." The single scaled the charts in tandem with another dynamite double bill by the Crickets, "Oh, Boy!" and "Not Fade Away," accompanied by the seminal LP The 'Chirping' Crickets.
An album by Holly in his own name was the next step, and was released after he and the group had performed "Oh, Boy!" on The Ed Sullivan Show and toured in Australia and the UK. "We've been going a year," Holly told Melody Maker during that British stay, "and one always wonders how long it's going to last. But so far the public seems to like us, and we hope that as long as we don't make any mistakes we shall be all right."
The 12-track set, produced by Norman Petty and Bob Thiele, included "Peggy Sue," "Everyday," and another 1957 single, "Words of Love," famously covered by four of his most famous transatlantic disciples on late 1964's Beatles For Sale. In less than 25 minutes' playing time, Buddy Holly became one of the most important long players of this, and possibly any, era.
It opened with another joyful celebration of youth in "I'm Gonna Love You Too," most famously covered a generation later by Blondie on Parallel Lines. The LP also boasted the simple, charming Holly/Petty composition "Listen To Me" alongside rockers such as Petty, Sonny West, and Bill Tilghman's "Rave On."
In the fashion of the day, Holly and the Crickets also essayed songs that had only recently been released by other rock'n'roll figureheads. Fats Domino's "Valley of Tears" had reached No.8 in the US for the "Fat Man" in July 1957, while Leiber & Stoller's characteristically nimble "(You're So Square) Baby I Don't Care)" was in Elvis Presley's Jailhouse Rock film, and EP, that year.
The Cash Box trade review of Holly's long player noted admiringly that it "has a collection of tunes that are ideal for his voice and delivery…descriptive of the set is the swinging treatment given to 'Words of Love,' a bright tune penned by Holly. Chart stock.'"
Despite that prediction, the LP inexplicably failed to make the bestsellers in the US, or anywhere else. But the mark it made on current and future guitar players and frontmen was, and remains, profound. Throughout the rest of 1958, Holly and the Crickets burnished their reputations with such songs as "Think It Over," "Fool's Paradise," and "Heartbeat," before splitting by November. Tragically, after the infamous plane crash of February 3, 1959, Holly's next single, combining "It Doesn't Matter Anymore" and "Raining In My Heart," was posthumous.
Listen to Buddy Holly on Apple Music and Spotify.