Why Guitar God Rory Gallagher Was Ireland's Hendrix And Clapton Rolled Into One
An influence on everyone from Brian May to Slash and Johnny Marr, Rory Gallagher was Ireland's first rock god – the country's Hendrix and Clapton in one.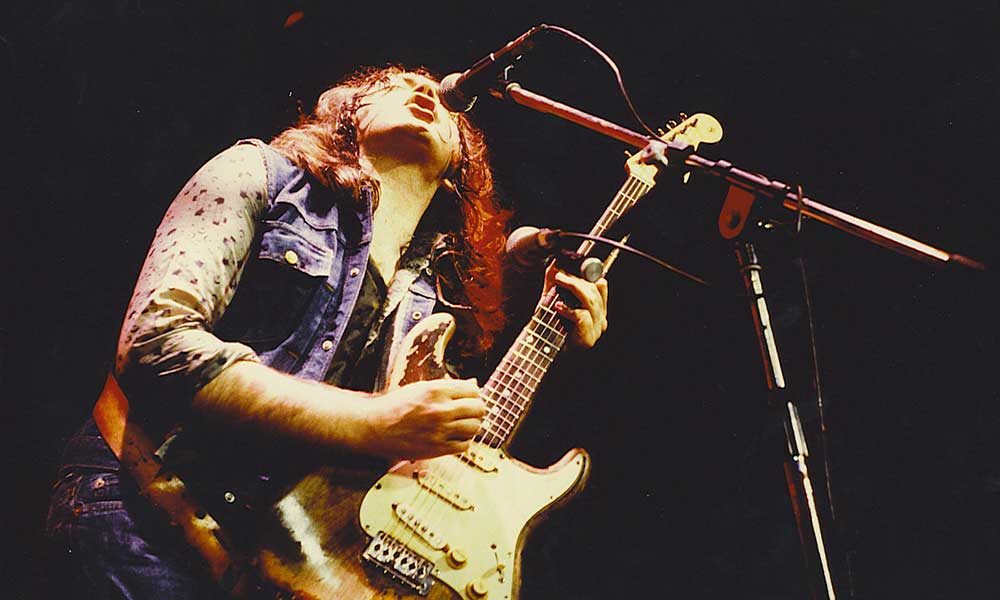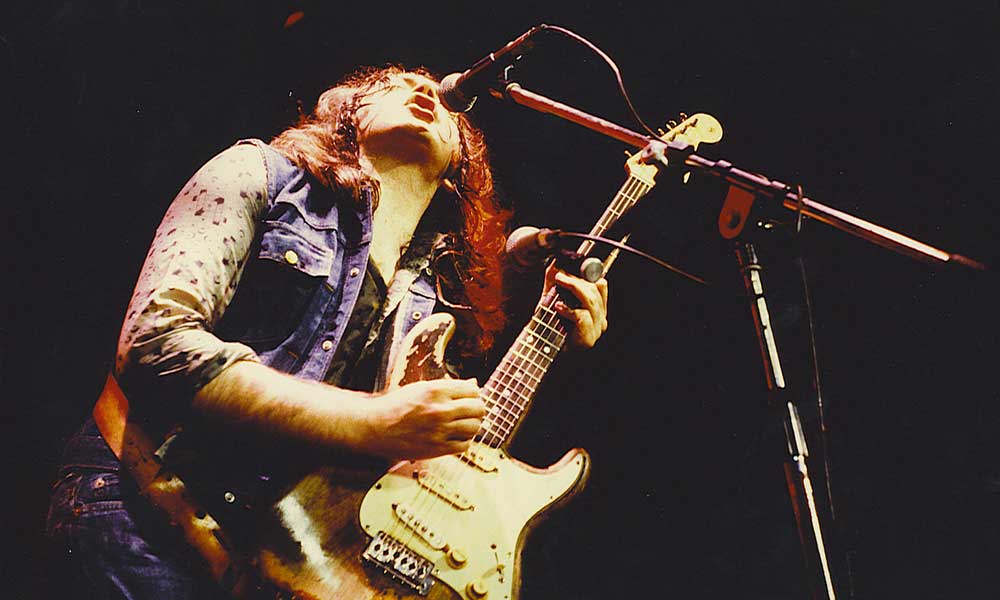 Any time fans or critics are asked to pick the most influential and innovative guitarists in rock history, iconic names such as Eric Clapton and Queen's Brian May invariably crop up. But if you asked those legends which guitar god they themselves respect the most, chances are they'll cite Rory Gallagher.
Clapton once told the BBC that Gallagher should be credited with "getting me back into the blues," while in the film What's Going On: Taste At The Isle Of Wight, Brian May says, "I bought this little AC30 amp and Rangemaster Treble Booster, just like Rory's set up, and plugged in my own home-made guitar with it. It gave me what I wanted, it made the guitar speak, so it was Rory that gave me my sound."
Listen to the best of Rory Gallagher on Apple Music and Spotify.
May and Clapton are just two of numerous luminaries who have keenly expressed their admiration for the trailblazing Irish guitarist, bandleader and singer-songwriter. He died aged just 47, in 1995, but Rory Gallagher's music continues to cast a long shadow over rock'n'roll, with fretboard wizards from successive generations, among them U2's The Edge and Guns N' Roses' Slash, singing his praises.
Lifelong Gallagher aficionado Johnny Marr, meanwhile, expressed his debt of gratitude with passion when he told Ultimate Classic Rock: "From 1975, when I was 13 and playing along to Deuce, to my time in The Smiths, and through to my solo work, Rory Gallagher has exerted a huge influence on me. He taught me chord changes and how to conduct myself on and off the stage. I owe him."
Johnny Marr Playing Rory Gallagher's Strat!
His entire solo catalogue was reissued on CD and vinyl in 2018, giving fans old and new an ideal opportunity to re-evaluate Rory Gallagher's illustrious body of work, yet the much-missed Cork man deserves respect on so many levels, for what he achieved was simply unprecedented.
For starters, while The Beatles may have impacted on the nation's youth, Ireland had no bona fide rock stars in the mid-60s. Indeed, when Gallagher formed his initial power trio, Taste, in 1966, the country's rural venues were still being rocked by the showbands – in effect the highly efficient covers outfits of their day.
Yet the young, idealistic, blues-loving Gallagher broke that mould, with his work ethic, self-penned material and incendiary live shows building his band's reputation from the Shandon Boat Club, in Cork, to London's famous Marquee, and eventually brokering a deal with Polydor. This dedication led to hit albums such as On The Boards and prestigious shows with Cream at London's Royal Albert Hall, and at the 1970 Isle Of Wight Festival alongside The Who, Jimi Hendrix, The Doors, and Free.
Taste - What's Going On (Live At The Isle Of Wight)
That Rory Gallagher was the first credible Irish rock musician to make such things possible was acknowledged by Hot Press journalist Dermot Stokes in Marcus Connaughton's biography, Rory Gallagher: His Life And Times.
"I think that the hugely important thing that Rory did early on in his career was to establish that an Irish band could form, play original material – could do it in Ireland first of all, then could take it to London, then Europe and around the world," he said. "Taste first of all, then Rory, were the first bands to do that from this country. That's the fundamental example that they set."
Other elements of Gallagher's DNA that set him apart from his contemporaries were his inherent professionalism, discipline and commitment to his craft: essential qualities he exuded throughout his entire career. Rarely happier than when he was on the road, Gallagher toured incessantly during the 70s and 80s, and his best work was often captured on timeless in-concert recordings such as Live In Europe and the live double-album and concert film Irish Tour '74.
Rory Gallagher - Tattoo'd Lady (From "Irish Tour" DVD & Blu-Ray)
"The great instrumental soloists such as Rory, they were people whose skill I was just in awe of, and that was coupled with considerable musicianship every night," Irish Tour '74 director Tony Palmer told Marcus Connaughton. "I think I was the first person ever to film Jimi Hendrix and I'm often asked why. It was because I'd never heard anybody play the guitar like that before! That was why I wanted to make Irish Tour '74, because Rory's talent was for a long time underestimated, I felt. He was a wonderful musician and I also liked the fact there was absolutely no bulls__t about him and absolute tunnel vision – very professional, minded very much that we reflected that in the film."
"He never got above himself," Rory's brother and manager Donal Gallagher said in an Irish Examiner article marking what would have been the guitarist's 70th birthday, on March 2, 2018. "He was very much the man in the street. He lived to be on stage. When he was off-stage, everything was about getting from A to B, getting to the stage or to write. That's what he was about."
Rory Gallagher - Going To My Home Town (From "Irish Tour" DVD & Blu-Ray)
Of course, with album sales numbering upward of 30 million copies, we should also remember Rory Gallagher's recordings also yielded considerable commercial success. Yet, chart positions and the trappings of fame were never the driving force for this unassuming figure, whose high-octane live shows contrasted with his shy off-stage demeanour. One of rock's master craftsmen, Gallagher really cared about his art. He was – and remains – a role model for aspiring young guitarists, and his body of work will inspire generations still to come.
"Live In Europe was the first album I ever owned," Def Leppard's Viv Campbell told MusicRadar. "My cousin gave it to me at Christmas as a present, which turned out to be one of the best presents I ever got. Rory became a huge guitar influence on me very quickly. He opened up my ears to the sound of the guitar as a lead instrument… he challenged me to really want to master the instrument."
"His solos are like little concertos and you never know which way they are going to go, he was totally unique," Johnny Marr enthused to Ultimate Classic Rock. "His solos are not as composed as George Harrison's or my own, they are not guitar breaks, but they are not regular blues-rock solos either. They are very daring, but not as out there or as cosmic or as indulgent as Hendrix's. They are just the right side of dexterity, of flash, of showing off. He wasn't musically blinkered, he saw merit in everything, it was liberating."
Discover how Rory Gallagher's seminal 70s albums built the legend.