The 30 Best Music Videos From The 80s
The best 80s music videos not only defined the decade, they influenced fashions and elevated the music video to the status of high art.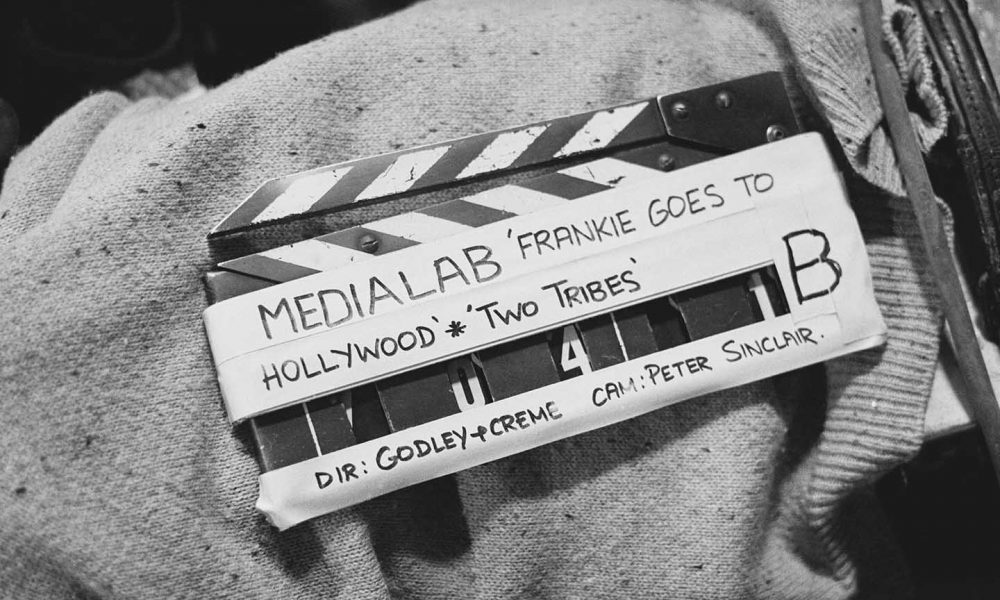 Not since the advent of radio had there been such a powerful tool to make or break artists' careers than music television. The 80s saw MTV and VH1 become the new jukebox for a whole generation of music fans, where music videos were no longer just an add-in, but integral to an artist's image. With the medium not yet refined, there were no conventions to break; it was the wild west, both musically and visually, and allowed for endless experimentation. Even if the technology was crude, it just led to even more creative innovation. Let's flashback to a more radical time when everyone was a little bit more tanned; a bit richer, broker, madder, and wilder, in the best of the decade-defining 80s music videos.
While you're reading, listen to our Best 80s Music Videos playlist here.
30: Madonna: Material Girl (1984)
Madonna channeled Marilyn Monroe in the iconic video to "Material Girl," the Nile Rodgers' produced song that crowned her the queen of pop in 1984. Taking its inspiration from the famous scene in the 1953 movie Gentlemen Prefer Blondes where Monroe sings "Diamonds Are A Girl's Best Friend," the video's storyline depicts Madonna being pursued by a film director who unsuccessfully tries to woo her by flaunting his wealth. The video's surprise denouement – where romance triumphs over materialism – reveals that "Material Girl" isn't as emblematic of 80s avarice as many would like to think.
29: Pat Benatar: Love Is A Battlefield (1983)
Brooklyn-born Pat Benatar's feisty rock anthem "Love Is A Battlefield" inspired a Bob Giraldi video whose theme was empowerment and seeking liberation from oppressive forces. It shows Benatar leaving home after an angry confrontation with her controlling father and journeying to a big city where she ends up as a taxi dancer in a seedy club where women are exploited by a bullying pimp. Unleashing her anger, Benatar initiates a rebellion that culminates in a tense dance battle with the club owner who is quickly sent packing.
Pat Benatar - Love Is A Battlefield (Official Music Video)
28: Whitney Houston: I Wanna Dance With Somebody (Who Loves Me) (1987)
The representation of reality and fantasy by the contrasting use of monochrome and color film is a cinematic trick that was popularized by the 1939 movie, The Wizard Of Oz. Director Brian Grant used the technique to good effect in his dazzling video for this Whitney Houston Grammy-winning hit, which contrasts the singer's lonely life as a performer with an imagined fantasy sequence where she dances with a succession of male partners. Choreographed by noted British dancer Arlene Phillips, this vibrant dance spectacle encapsulates the 80s in all its gaudy glory.
27: The Buggles: Video Killed the Radio Star (1979)
Before he became an influential record producer, Trevor Horn was one half of the British duo The Buggles, whose debut single "Video Killed The Radio Star" came out in late 1979 and was accompanied by a groundbreaking video which set the tone for how pop was visually represented in the next decade. It was shot by Australian director Russell Mulcahy, whose use of slow-motion sequences, razor-sharp editing and neon lighting became staples of 80s pop videos. "Video Killed The Radio Star" was the first ever video to air on MTV when the channel launched on August 1, 1981.
The Buggles - Video Killed The Radio Star (Official Music Video)
26: David Bowie & Mick Jagger: Dancing In The Street (1985)
Martha & The Vandellas' evergreen 60s Motown hit "Dancing In The Street" was revived as a duet by British rock titans Bowie and Jagger as a charity single to raise funds for Live Aid. They shot a no-frills video under the direction of David Mallet in London which sizzles with a manic energy, mainly thanks to a mullet-sporting Jagger, who jumps around the (relatively) cooler Bowie.
David Bowie & Mick Jagger - Dancing In The Street (Official Video)
25: Eurythmics: Sweet Dreams (Are Made Of This) (1983)
Annie Lennox and Dave Stewart's synth-pop classic about the complex nature of human desire put Eurythmics on the map as an international act; their fame was accelerated by the song's accompanying Chris Ashbrook-directed video, which was an MTV staple in the pioneering music channel's early days. The video was famous for Lennox's striking androgynous look – cropped, punky orange hair juxtaposed with a formal suit and tie – and also used surreal, mind-bending imagery to emphasize the contrast between technology and the natural world.
24: Ray Parker Jr.: Ghostbusters (1984)
One of the big blockbuster movies of the 80s, the supernatural comedy Ghostbusters boasted a title song from R&B musician, Ray Parker Jr., whose catchy number haunted pop charts and dance floors around the world. In the tune's spooky video, director Ivan Reitman depicted Parker as a spectral figure and used footage from the actual movie alongside CGI animation. The video also featured fleeting cameos from several celebrities, including actor Danny DeVito and comedian John Candy.
23: Frankie Goes To Hollywood: Two Tribes (1984)
Liverpool's Frankie Goes To Hollywood caused a furor in the UK with their debut single, "Relax," which was banned by the BBC for its purported sexual content. Their second single, a febrile hymn to nuclear Armageddon called "Two Tribes," stoked controversy with its Cold War-inspired video, which depicted the US President Ronald Reagan and his USSR counterpart Konstantin Chernenko settling their differences in a wrestling ring. The video was conceived by ex-10cc members Kevin Godley & Lol Creme, and stands as one of the strangest 80s music videos.
Frankie Goes To Hollywood - Two Tribes
22: Propaganda: Dr. Mabuse (1984)
This 80s music video feels more like a 1920s music video. A nefarious criminal mastermind with hypnotic powers, Dr. Mabuse was a fictional character who inspired German film director Fritz Lang to make three movies about him. He also influenced German synth pop group Propaganda's debut single, "Dr. Mabuse," whose dramatic video filmed at night by the Dutch rock photographer Anton Corbijn channeled Lang's visual flair with its evocative black and white imagery. Using light and shadow as powerful visual metaphors for good and evil, Corbijn crafted a mesmerizing video whose potency was aided by the presence of the noted Polish actor Vladek Sheybal as the titular villain.
21: Herbie Hancock: Rockit (1983)
As a musician, jazz pianist Herbie Hancock has always embraced technological innovation so it was no surprise when "Rockit," his groundbreaking hip-hop-meets-techno-funk single launched perhaps the most futuristic 80s music video. The main focus of the video isn't Hancock – whose head and hands are occasionally glimpsed on a TV set – but a manic array of crash test dummies, mutilated mannequins and weird technological entities whose body parts twitch and thrash in time to the music's stuttering beats. Directed by Godley & Creme, the "Rockit" video deservedly snatched five MTV video awards in 1984.
20: Paula Abdul: Opposites Attract (1988)
Before it became the societal norm to lust after cartoons in Cool World, Paula Abdul shared screen time with a cartoon cat named MC Skat Cat (who also has a solo album?!) in her music video for "Opposites Attract." The song is a delicious slice of late 80s pop and features Abdul's signature dance moves, but, though it's one of the best 80s music videos, would we send it into space as a document of mankind's contribution to culture? Probably not.
Paula Abdul - Opposites Attract (Official Music Video)
19: Olivia Newton-John: Physical (1981)
Before the days of athleisure, Olivia Newton-John encouraged us all to don our finest sweats and "get physical". Seizing upon the 80s fitness craze, John took her sexually suggestive single and turned it into a workout mantra. She whips all the boys into the shape and transforms them into beefcakes. The only calories you'll find here are in the cheese.
Olivia Newton-John - Physical (Official Music Video)
18: The Police: Every Breath You Take (1983)
Famously misinterpreted as a romantic ballad, Sting details all the red flags of a stalker relationship set to a hypnotic guitar riff while he stares intently into the camera. As the rest of The Police and a string quartet plays behind him, he takes out his unresolved emotions on his poor upright bass with a smouldering look in his eye.
The Police - Every Breath You Take (Official Video)
17: Billy Idol: White Wedding (1982)
Like Madonna, Billy Idol can't resist a good church motif, and his gothic-wedding fantasy for "White Wedding" is equally button-pushing. Helmed by legendary director David Mallet, who would go on to direct several of Idol's 80s music videos, the "White Wedding" clip put Idol's pretty-boy snarl on full display and featured more latex than a Trojan ad. Once slotted into MTV's regular rotation, Billy Idol became a fixture on the network and canonised into 80s culture.
Billy Idol - White Wedding (Part 1)
16: Tom Petty And The Heartbreakers: Don't Come Around Here No More (1985)
To the casual observer, Tom Petty was not considered edgy. Petty and The Heartbreakers didn't court trends or cutting-edge haircuts, but they did turn out some truly subversive music videos. Case in point, the delightfully psychedelic video to "Don't Come Around Here No More," which casts Petty as the Mad Hatter from Alice In Wonderland who eats Alice after she suffers the unfortunate fate of becoming a sheet cake.
Tom Petty And The Heartbreakers - Don't Come Around Here No More (Official Music Video)
15: Dire Straits: Money For Nothing (1985)
When MTV launched on August 1, 1981, they probably didn't imagine this. Despite notoriously hating music videos, Dire Straits made one of the great meta-music videos. The promo for their crossover single depicts two CGI-animated blue-collar men (the likes of which also inspired the song's lyrics) resenting the band's rock'n'roll lifestyle. The result is another live-action/animated hybrid, courtesy of director Steve Barron, the man behind a-ha's "Take On Me" and Michael Jackson's "Billie Jean." Naturally, the video took off and made Dire Straits international stars.
Dire Straits - Money For Nothing music video (Good quality, all countries)
14: Run-DMC And Aerosmith: Walk This Way (1986)
This pioneering collaboration between Aerosmith and Run-DMC showed the walls of hip-hop and rock tumbling down in the most literal sense, with Steven Tyler busting through a studio wall like the Kool-Aid man. The unlikely joint effort was masterminded by Rick Rubin and both brought Aerosmith back into the fray and introduced hip-hop to every kid out in the suburbs. As the first rap-rock hybrid hit, collaboration paved the way for others like it, including Anthrax and Public Enemy's "Bring The Noise."
RUN DMC - Walk This Way (Official HD Video) ft. Aerosmith
13: NWA: Straight Outta Compton (1988)
While the majority of 80s music videos were a phosphorescent fantasy, in hip-hop videos the tide was turning, thanks to NWA's groundbreaking "Straight Outta Compton." The gangster-rap pioneers used their video to rep their hometown, shooting throughout various parts of Compton and introducing the rest of the country (and world) to LA street life.
N.W.A. - Straight Outta Compton (Official Music Video)
12: Cyndi Lauper: Girls Just Want To Have Fun (1983)
With her rallying call for joie de vivre, Cyndi Lauper essentially created the original girl gang and became one of MTV's first breakout stars – and a national sensation. In the video, Lauper rebels against her parents (played by her real-life mother and professional wrestler Captain Lou Albano). The visuals are just a buoyant as the music: it makes you want to skip down the streets of the Lower East Side just like Lauper herself.
Cyndi Lauper - Girls Just Want To Have Fun (Official Video)
11: Duran Duran: Hungry Like The Wolf (1983)
A hard choice between this and "Rio," but "Hungry Like the Wolf" is something extra special. In an effort to break into the US market, Duran Duran convinced their label to ship them off to Sri Lanka and film an extravagant music video that would launch that careers – and soon be a staple for many 80s music videos. We're not going to get into the exoticism pitfalls at play here, but this video did shift the needle from performance videos to a more cinematic direction. Come for the Indiana Jones cosplay and stay for the literal "page-turning" transitions.
Duran Duran - Hungry like the Wolf (Official Music Video)
10: Genesis: Land Of Confusion (1986)
80s music videos had their own set of tropes: over-acted skits, animation, live performance and puppets? Genesis' five-minute long opus is like being inside one of Ronald Regan's fever dreams, with plenty of cameos along the way. While the political message was loud and clear, the puppets, taken from the UK TV series Spitting Image, were more terrifying than satirical to the kids watching back home. That said, it was enormously popular on MTV and there are countless Easter Eggs to look out for.
Genesis - Land of Confusion (Official Music Video)
9: Prince: Raspberry Beret (1985)
It's almost impossible to pick just one Prince video. Between "Purple Rain" and "When Doves Cry," the Purple One was a master of the form. But we chose "Raspberry Beret," not least for the puffy-shirt psychedelia in this animated video mash-up. Clad in a cloud suit and sporting a freshly-shorn haircut (and letting out a goofy cough just before singing: ("I did it just to be sick, to do something no one else would do"), Prince And The Revolution perform to a merry band of dancers. As the story goes, Prince directed a whole video for the single, but also commissioned Japanese animator Drew Takahashi to create a whole separate promo, resulting in this surrealistic mash-up. Look closely and you can see a dreadlocked Pat Smear from Nirvana, standing in as an extra.
httpv://youtu.be//l7vRSu_wsNc?rel=0
8: Madonna: Like A Prayer (1989)
Life is a mystery, but the success of Madonna's controversial take on Catholicism is not. It's got it all: burning crosses, stigmata and seduction of a saint. Naturally, everybody was outraged: from Pepsi executives (who sponsored her tour) to the Pope himself. But Madonna is the master of the music video and knows exactly how to harness it as a medium to promote her latest incarnation, using MTV has a springboard for her own career throughout the decades.
Madonna - Like A Prayer (Official Video)
7: Talking Heads: Once In A Lifetime (1980)
Talking Heads' postmodernist promo proved that you could still make innovative videos on a limited budget. Co-directed by famed choreographer Toni Basil (of "Mickey" fame), the video features a bespectacled David Byrne taking on the avatar of proselytising preacher to African tribe members as he moves about like a digital marionette. Talking Heads also represented the wild-eyed creativity that flourished during the era.
Talking Heads - Once in a Lifetime (Official Video)
6: Grace Jones: Slave To The Rhythm (1985)
For a complex, layered track such as Grace Jones' "Slave To The Rhythm" you need something visually challenging to accompany it. Enter Jean-Paul Goude's carnival funhouse of high art, photographic trickery and fashion. As Jones' former partner and frequent collaborator, the two worked together to create a visually stunning and socially conscious entry among 80s music videos.
Grace Jones - Slave To The Rhythm (MA's Extended Version)
5: Guns N' Roses: Welcome To The Jungle (1987)
Despite their made-for-TV-swagger, Guns N' Roses were not always MTV darlings. After Appetite For Destruction was released, it was crickets elsewhere around the world. It wasn't until the fateful airing of their video for "Welcome To The Jungle" that the band blew up overnight, the clip becoming one of the most iconic 80s music videos in the process. The video itself offered a triptych of scenes: there's fresh-off-the-bus Axl, rock star Axl and nervous-breakdown Axl, who's subjected to an onslaught of broadcast news à la A Clockwork Orange – otherwise known as today's news cycle.
Guns N' Roses - Welcome To The Jungle
4: a-ha: Take On Me (1985)
The music video for a-ha's synth-pop classic is not only memorable for its impressive special effects but also the falsetto heights hit in the song. This video is the 1980s personified: Rick Astley hair, romantic capers and comic-book-inspired pop art. It was also a labour of love, with illustrator Mike Patterson reportedly coming up with more than 3,000 sketches for the clip. The video was a smash success and kicked off the animation trend in 80s music videos that would last a decade.
a-ha - Take On Me (Official Video) [Remastered in 4K]
3: Janet Jackson: Rhythm Nation (1989)
After Janet Jackson unleashed this video upon the unsuspecting masses, we all wanted to be recruits in her Rhythm Nation. Directed by Domenic Sena, who helmed the video to "Let's Wait Awhile" two years earlier, it depicted a dystopian dance vision – one in which Janet leads a sexy paramilitary troupe to their stylish future, oozing attitude and razor-sharp choreography that set the standard for all dance videos that followed.
Janet Jackson - Rhythm Nation
2: Peter Gabriel: Sledgehammer (1986)
Impressionable youths remember this video for its eye-boggling claymation and Peter Gabriel starring in his own Pee Wee's playhouse, but the adults recall the not-so-subtle animated innuendo that kicks off from the very beginning. Either way, "Sledgehammer" stands as a truly groundbreaking promo and MTV's most-played music video of all time.
Peter Gabriel - Sledgehammer (HD version)
1: Michael Jackson: Thriller (1983)
Having any other music video other than "Thriller' as No.1 in our list of the most iconic 80s music videos would be heresy. Tapping the director of An American Werewolf In London, Michael Jackson single-handedly turned promo films into short movies. The former cherub-faced kid from Motown wanted to explore his darker side – and had the budget to do so. Michael Jackson essentially keep the lights on at the network and "Thriller' became the first music video to be inducted into the Library Of Congress' National Film Registry.
Michael Jackson - Thriller (Official 4K Video)
With such a prolific number of promo videos coming out of the decade, it's hard to limit ourselves to just 30 80s music videos. Beastie Boys had already begun their creative takeover with music video parodies the likes of "No Sleep Till Brooklyn." Heavy metal entered the mainstream in the 80s, and the best metal videos continue to shock and surprise. Some music videos (no matter how influential or notorious) are, however, just NSFW, such as Soft Cell's bizarre "Sex Dwarf." And then there were the 80s music videos that not only influenced the decade, they dominated it. See "She Drives Me Crazy" by Fine Young Cannibals and "Karma Chameleon" by Culture Club. Good luck getting those out of your head.
Looking for more? Discover why 80s music is cooler than you think.