Small But Mighty: When the Flute Flew High in Rock
How 70s proggers, blues rockers, and psychedelic popsters put the humble flute out front.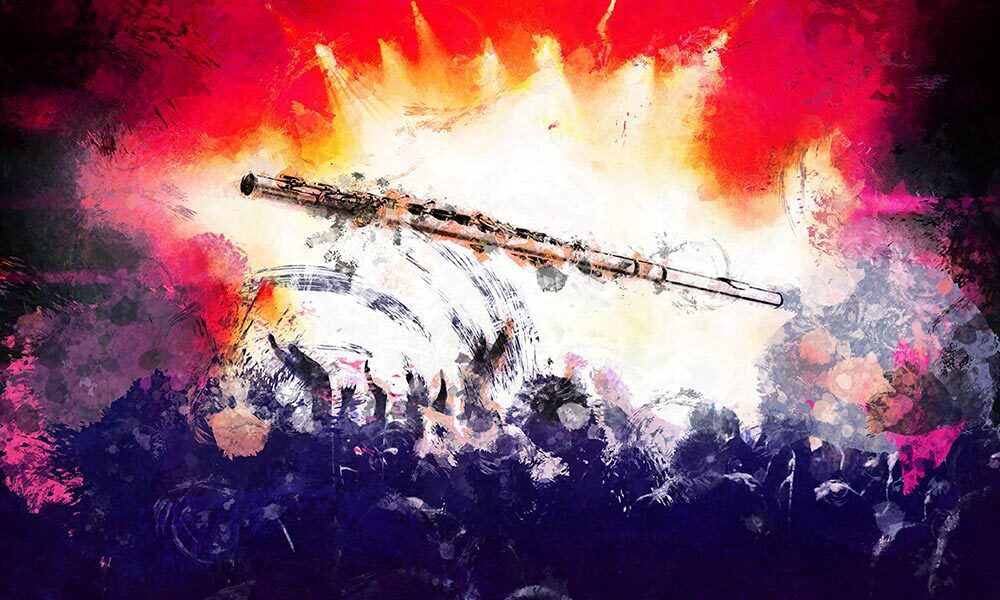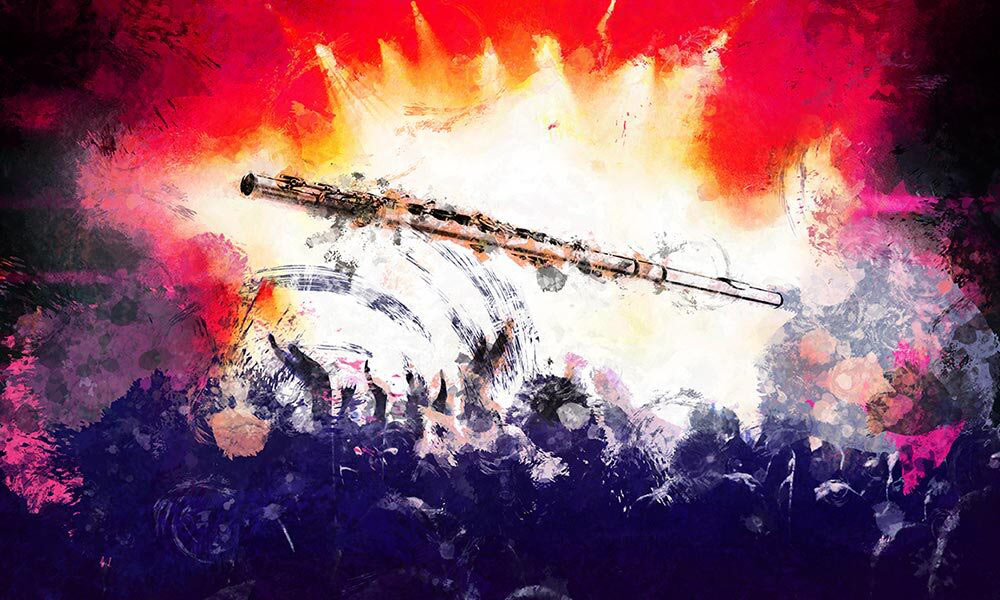 When rock'n'roll's first-generation spread its wings in the 50s, the flute was about as common a presence as a tuxedo at a square dance. But when rock grew up and outwards, from the late 60s through the mid-70s, one of the least imposing instruments found a remarkably deep niche in rock history. Amid all the screeching Stratocasters and wailing Hammond organs, the humble flute flew higher than anyone would have ever expected.
The psych-pop explosion
In the days of rockabilly and doo-wop, woodwind activity began and ended with the saxophone. But things began to open up a decade later, when the British Invasion eventually led ambitious beat groups on both sides of the Atlantic to go for baroque with classical-influenced chamber-pop arrangements laced with harpsichords, string quartets, and the like, leaving the door open for a slim, silvery interloper in the realm of rock.
In 1965, mournful flute lines colored The Beatles' melancholy "You've Got to Hide Your Love Away" blue, and where The Beatles led, legions were sure to follow. Over the next year and a half, the flute found its way into "Walk Away Renee" by New York baroque-pop trendsetters The Left Banke, The Rolling Stones' "Ruby Tuesday," The Association's "Along Comes Mary," and several songs on The Beach Boys' milestone Pet Sounds.
Still, the inroads the instrument was making at this point were always in the context of orchestrations supplied by outside musicians, even if they were sometimes at the behest of the band. But as chamber-pop gave way to full-fledged psychedelia by the second half of 1967, things began to change. And the influence didn't all come from the classically influenced end of the spectrum.
Sure, you had people like Jean-Pierre Rampal emerging as a superstar flautist from the classical world. (Though it's worth noting that by 1968, even Rampal would be opening up his mind and recording with Ravi Shankar). But by the 60s, jazz had long since become a haven for hip flute players. Herbie Mann, Yusef Lateef, and Rahsaan Roland Kirk had all proven a flute could cut it in front of a jazz band, and they, in turn, influenced the next crop of rock flautists.
On one end of the spectrum, players like Ray Thomas of The Moody Blues were clearly modeling their approach to the flute after the classical side of things. In their early incarnation, the Moodies were an R&B band, and on their 1965 debut album, multi-instrumentalist Thomas's flute appears on only one track. But when the band shifted to conceptual psych-pop suites in 1967 on their trailblazing Days of Future Passed, Thomas's flute playing was front and center, especially on the immortal "Nights in White Satin," which features one of the most famous flute solos in rock history.
Bringing flute to the forefront
On the other side of the tracks was Ian Anderson, who would become famous for elevating the flautist role to full-on rock-star status when Jethro Tull embraced prog rock in the 70s. He came from a jazz/blues background, and was heavily influenced by Roland Kirk's quirky style of over-blowing, where the player's voice becomes a part of the sound. In fact, Tull's '68 debut, This Was, includes a version of Kirk's "Serenade to a Cuckoo."
Chris Wood, who played both sax and flute for Traffic, previously played in jazz/blues band the Steve Hadley Quartet. On Traffic band's 1967 debut album, Mr. Fantasy, Wood's flute helped psychedelic vehicles like "Dealer," "Giving to You," and "No Face, No Name, No Number" achieve liftoff. His flute contributions became even more crucial when Traffic turned to folk-rock for 1970's John Barleycorn Must Die (check his solo on the title tune) and opened up the door to jazzy prog on their subsequent albums.
Stateside, New Yorkers The Blues Project were busy bringing the flute to the forefront in a jazzy/bluesy way too. Their first album, 1966's Live at The Café Au Go Go, was mostly blues-rock, with no woodwinds in sight. But on the eclectic follow-up, Projections, bassist Andy Kulberg started showing off his flute skills on tracks like the folk-flecked ballad "Steve's Song" and, most memorably, the simmering instrumental "Flute Thing." The latter was performed by the band at the epochal Monterey Pop Festival in 1967 and conspicuously sampled by the Beastie Boys for "Flute Loop" from their 1994 album, Ill Communication.
Similarly, on the opposite coast, Canned Heat had established themselves as hardcore blues blasters on their first couple of LPs. But when they decided to open things up a little on their third album, 1968's Living the Blues, they drafted Jim Horn to fill "Going Up the Country" with the sunny flute riffs that helped make it the band's biggest song ever. Its prominent placement in the Woodstock documentary made it a hippie anthem forevermore.
After British blues-rock pioneer John Mayall, broke with his legendary Bluesbreakers, he revamped his sound and moved in an unplugged direction for The Turning Point. It was recorded live at New York City's Fillmore East in 1969 with a new, acoustic-based band that featured John Almond on woodwinds. The single "Room to Move," edged along by Almond's flute, became an FM radio staple and the album was Mayall's most successful one ever in the US. By 1970, Almond and singer/guitarist Jon Mark splintered off from Mayall's band to concoct a heady mix of folk, jazz, rock, and R&B as Mark-Almond, with the flute remaining crucial to the mix.
The prog push
The ball that Traffic, Tull, and others started rolling at the end of the 60s achieved escape velocity in the first half of the 70s as prog rock soared through the stratosphere, combining psychedelia's taste for adventure with knuckle-busting chops and conservatory-grad sophistication. It was here, perhaps more than in any other scene under the rock umbrella, that the flute found a home.
Long before achieving iconic solo status, Peter Gabriel made his flute an integral element for Genesis, one of the earliest and most influential prog bands, weaving it into genre-defining epics like 1971's "The Musical Box" and the following year's sprawling suite "Supper's Ready." When Camel became prog rock royalty in England via 1973's delicately melodic, mostly instrumental The Snow Goose, guitarist Andrew Latimer's flute was there to help flesh out the album's nuanced textures on tracks like the prettily pastoral "Rhyader."
The blend of prog complexity, jazzy flow, and offbeat humor that came to be known as the Canterbury school found a slot for lots of flute work too. No two bands were more emblematic of the movement than Caravan and Soft Machine – Jimmy Hastings, brother of Caravan frontman Pye, laid some luminous flute lines into Caravan cuts like 1971's "Golf Girl" and 1973's "Memory Lain, Hugh/Headloss," and still found time to pitch in on a couple of early-70s Soft Machine classics.
Bringing things back to the bop influence, Frenchman Didier Malherbe's madly swinging flute lines were an essential element of Gong's giddy, fusion of Canterbury and space rock, coming to the fore on cuts like 1973's lovably loopy "Oily Way."
For all the aforementioned jazz influences on Ian Anderson's flute playing in the early years of Jethro Tull, his urgent blowing on evergreens like "Locomotive Breath" ultimately defined the instrument's role as a true rock axe. Just as his raised-leg stance during his onstage solos became part of the classic-rock firmament, so did his adrenalized licks, as Tull became globe-trotting arena-fillers on the strength of concept albums like Aqualung and Thick as a Brick.
Elsewhere on the continent, Focus became one of Holland's most in-demand musical exports, thanks in major part to the glorious wig-out that is "Hocus Pocus." Shifting at a breakneck rate between screaming guitar riffs, comic-operatic falsetto, and keyboardist Thijs Van Leer's manic, Roland Kirk-inflected flute jabs, the uncategorizable track became an international hit. But Van Leer wasn't just a court jester. He contributed lyrical flute lines to elegant instrumentals like Focus's first single, "House of the King," which would be employed as a theme for British TV shows for years to come, most recently the Steve Coogan comedy Saxondale.
Other instrumentalists who'd previously been shunted to the shadows got a chance to strut their stuff in the 70s as well. A hardy handful of electric violinists had their day. Newly emboldened keyboardists gleefully elbowed lead guitarists aside when keytars came on the scene. But in terms of underdog status, before the sea change of the 60s, nobody's odds of ever nabbing a slice of the rock spotlight looked lower than flautists. In the words of the immortal rock'n'roll bard, Chuck Berry, "It goes to show you never can tell."
Looking for more? Discover Orchestral Rock: 25 Classic Tracks To Hear Now.