Lana Del Rey, Kim Petras, TWICE, Execs Honored At 2023 Billboard Women In Music Awards
Other honorees included UMe's Jane Gowen, Doechii, and more.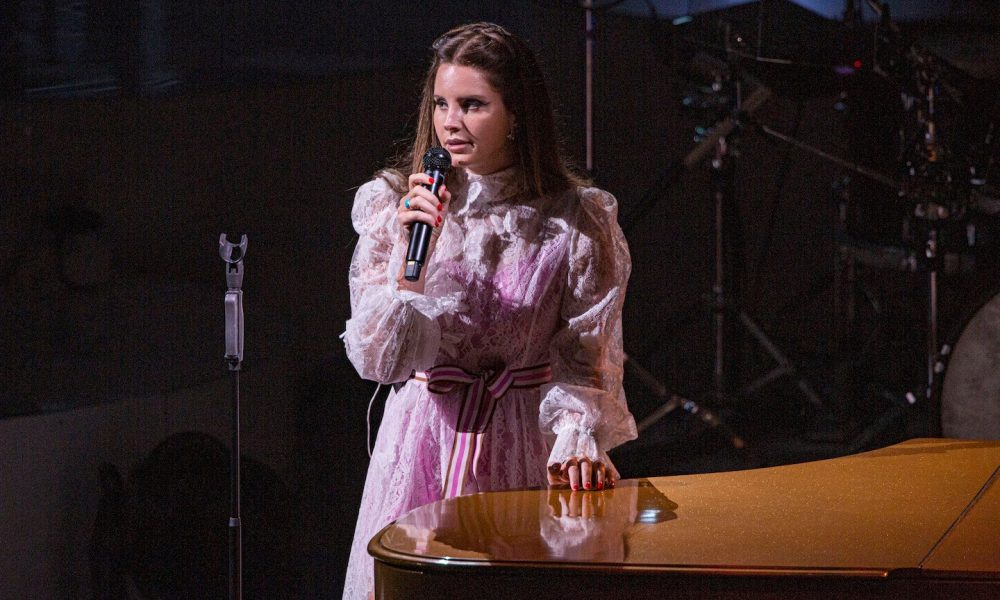 The Billboard Women in Music Awards 2023 were hosted by Quinta Brunson and held on Wednesday (March 1) in Inglewood, California. The event, which honored Lana Del Rey with the Visionary Award, featured appearances by Kim Petras, Rosalía, Olivia Rodrigo, and more.
Who better to honor this year's Visionary than Rodrigo, who was last year's Woman of the Year? "Lana has raised an entire generation of music lovers and songwriters like me," Rodrigo said, "and taught them that there's beauty in their vulnerability and power in their melancholy." She even spoke about Del Rey's "Video Games," adding, "I still consider that song to be probably the best love song of all time. She captures sadness, anger and sensuality in a way only the greatest of songwriters ever could."
Lana began her speech by saying, "We made it. Well, I'm not much of speech person either. Olivia Rodrigo – I really don't deserve her giving me this wonderful award. She's so endlessly glamorous and talented I cannot tell you how much it means that someone who wrote 'Drivers License' is standing next to me. Thank you, John Janick [CEO, Interscope] for giving me the friendship of Olivia and also Billie [Eilish] and all the wonderful artists on the label. Thank you Carole Kinzel for being here with me and my besties Jen Stith and Alex Kaye, who choreographs my show."
Kim Petras was also honored with the Chartbreaker Award and offered up a stirring performance of her single "Brrr." after being presented the Chartbreaker Award. Petras also seemed particularly enthused as she danced along to the show-ending performance of "Moonlight Sunrise" from K-pop superstars TWICE.
During Petras' speech, she said, "Growing up I would question what rooms I would be put into and what boxes I would be put into — and I'm grateful it's this one…People should be able to decide what to do with their bodies to reach true equality."
Outside of their celebrated performance, TWICE was also honored with the Billboard 2023 Women in Music Breakthrough Award, which Sabrina Carpenter presented to the K-pop group.
Doechii, TDE's first female rapper, was honored with The Rising Star Award and offered up a rousing mash-up of her show-stopping singles "Persuasive" and "Crazy." The performance was so intense that Doechii even lost a shoe. "Girl, I done danced my shoe off!," she said with a chuckle to kick off her speech.
Along with trailblazing artists, the awards also honored female executives in the industry, who have made significant strides in the music business such as Jane Gowen, Executive VP of Product Development and Marketing, Universal Music Enterprises (UMe), the global catalog company of Universal Music Group.
In 2022, two major UMe clients debuted on the Billboard 200, The Beatles and Norah Jones, with deluxe releases of Revolver and Come Away With Me (20th Anniversary), respectively. By year's end, UMe had seven of the top 20 catalog albums on the chart. Beyond the charts, Gowen shared with us the biggest lesson she learned to get to her position.
"Respect!," Gowen said. "I have learned the power of giving and receiving respect is so important, both on the way up and how I now manage a large team. It's enabled me to be myself and I love seeing that in others. I take great pride in seeing our team members grow into executives and flourish with the passion for the industry that I still have."
When it came to the career milestone she was most proud of, Gowen spoke about her early days at Virgin Records.
"In my early days of working for the Virgin label in the UK, I was privileged enough to work as part of the team that worked with The Spice Girls and witness their global domination and creation of Girl Power! This eventually led me to have the opportunity to move to Los Angeles and continue my career here. My next career milestone was transitioning into the catalog business for EMI which eventually led to my current role at UMe. It was a new challenge and one that has been the most challenging in so many ways. It's an honor to have the responsibility of my role in marketing our amazing catalog at UMe. Recently, I had a 'moment' when I attended the Elton John Farewell Show at Dodger Stadium and how lucky I am to be in the business doing what I love."
Visit Billboard's Women In Music website for the full list of winners.