The Greatest Prog Guitarists: An Essential Top 25 Countdown
Whether they're the mastermind of the band or keep the cosmic flights well-grounded, we pay tribute to the best prog guitarists of all time.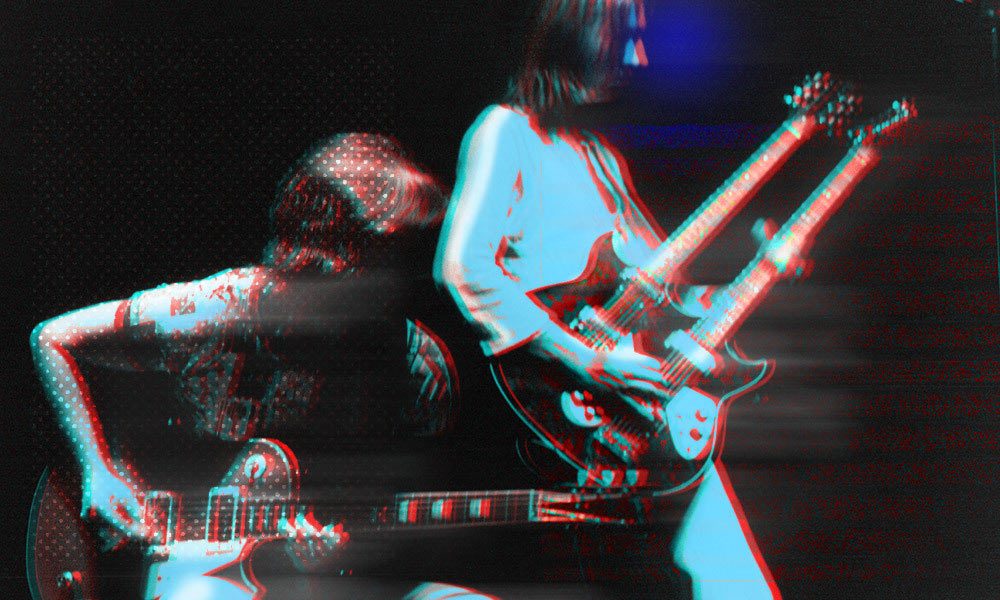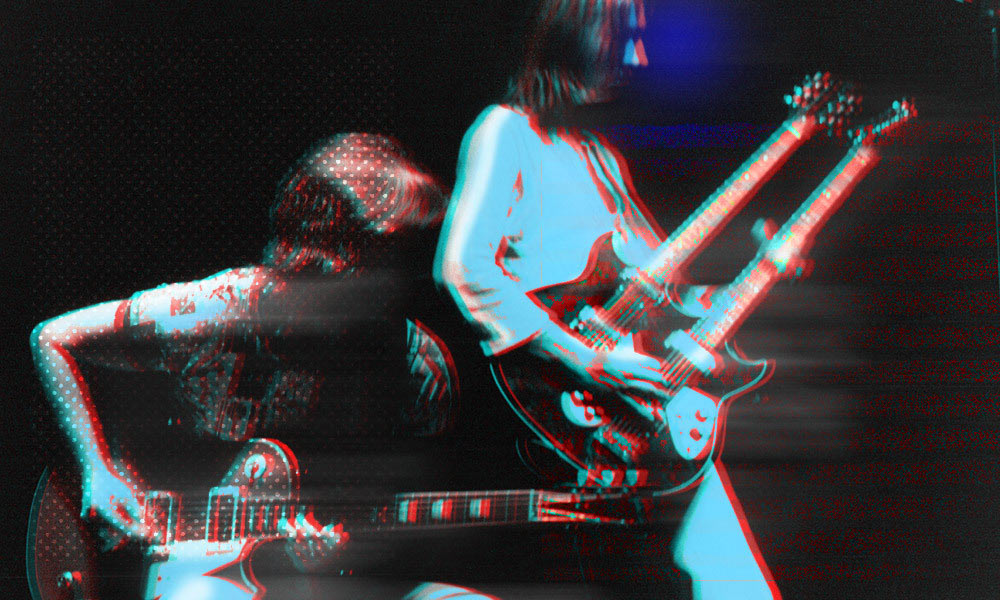 Think of progressive rock and what immediately comes to mind is caped keyboard players navigating a sea of wires connected to their Moog. Yet many of the pivotal players in prog rock have been guitarists, and there are easily as many earth-shaking guitar solos in prog as there are in hard rock or metal. Sometimes those prog guitarists are the leader and mastermind of their band, sometimes they're the player who keeps those cosmic flights well-grounded. This list pays tribute to some of prog's landmark ax-slingers.
25: Steve Rothery (Marillion)
In both the Fish and Steve Hogarth incarnations, Marillion was always an unconventional prog band. They avoided instrumental prowess for its own sake, preferring slow and stately pieces built largely around the vocal. Steve Rothery can be a model of restraint, playing mood-enhancing textural parts, but he can also deliver a solo as dramatic as the one on "Easter," Hogarth's lament for Northern Ireland.
24: Franco Mussida (PFM)
Italy's premier prog band, PFM absorbed some influence from their peers. Listening to Franco Mussida's leads you can detect traces of Steve Howe, Robert Fripp, and Al DiMeola – all with a strong European classical influence. The latter came out when Mussida played acoustic, which he did often: PFM's "Jet Lag" may be the only prog classic to open with three minutes of pure acoustic guitar. But he could also do a ripping electric solo; witness the live showpiece "Alta Loma Five Till Nine," with a solo that keeps ramping up the power.
23: John Petrucci (Dream Theater)
As one of the definitive prog guitarists in metal, Dream Theater's axman can shred with the flashiest of them, but he also keeps the dynamics of a piece in mind. "Behind the Veil" from 2013's self-titled album is one of his great moments. The solo unfolds with a lyrically restrained theme, then the shredding comes exactly when the rising tension calls for it.
22: John Goodsall (Brand X)
Brand X was one of England's greatest fusion bands, but your prog credentials are intact when you've got Phil Collins on drums and longtime Brian Eno collaborator Percy Jones on bass. Not to mention John Goodsall, a lead guitarist who's a showoff in the best sense. He's also played enough sessions to feel comfortable jumping genres (that's him incognito on Billy Idol's "Rebel Yell"). Listen to "Nuclear Burn" for a taste of everything: atmospheric 12-string and some tricky variations on the song's already complex riff.
21: Andy Latimer (Camel)
An emotive player with a fluid touch, Andy Latimer was the perfect fit for a band that specialized in otherworldly soundscapes. Thanks to him, Camel always had a recognizable sound even though he was the sole consistent member. His solo on the Snow Goose highlight "Rhayader Goes to Town" is funky and evocative at once, with some well-placed string-bends to further the drama of the piece.
20: Justin Hayward (The Moody Blues)
Though he was known as The Moody Blues' great balladeer, there are times when Justin Hayward preferred to be just a player in a rock'n'roll band. Having a rock-solid guitarist did the band a lot of good, and since the Moodies were never into long solos, Hayward was adept at concise melodic statements in his solos. "The Story in Your Eyes" has a memorably gritty one, and it's still one of their prettiest tunes.
19: Pye Hastings (Caravan)
Caravan's longtime leader is a modest guitarist, to the point of eventually bringing other players to do the heavy work. But the band made its best-loved albums as a one-guitar quartet, and Caravan's beloved early epics benefit from Pye Hastings' ability to swing and his knack for a heavy riff – "Nine Feet Underground" shows glory in both cases.
18: Richard Williams (Kansas)
Kansas' lead guitarist is an unassuming personality, and since Kansas is one of the more commercial prog bands, Richard Williams often gets overlooked. But there are two reasons why he belongs here: First, the double riff-slinging in "Carry On Wayward Son" can make a fist-waver out of anyone. Second, for its heyday, Kansas had two lead guitarists – Williams and Kerry Livgren – but during the later line-up, Williams spent 20 years holding down both parts.
17: Audrey Swinburne (Mother Superior)
Mother Superior was virtually the only all-female band in the history of UK prog, and one of the first female bands to get signed (though not till 1975, narrowly missing prog's heyday). Guitarist and main writer Audrey Swinburne was previously in a glam band, the Cosmetix, and knew her way around a complex idea. Mother Superior's one disc is highlighted by a Stephen Stills cover, in this case, "Love the One You're With," on which Swinburne's solo is just as impressive as anything Stills played on the original.
Mother Superior - Love The One You're With (1975)
16: Jan Akkerman (Focus)
Jan Akkerman had one foot in the jazz world and the other in classical and Renaissance music; he's also likely the only prog guitarist who made a solo album devoted to the lute (1974's Tabernakel). In a jazz context, his extended solo on "Anonymous III" is one thrilling flight, but we can't overlook his way with a classic metal riff on "Hocus Pocus."
15: Adrian Belew (King Crimson, solo)
Adrian Belew is a prog guitarist who appreciates out-there soundscapes as much as he loves a great pop song. Few others have covered as wide a range of expression, from his experimental solo albums to the smart pop of The Bears. But Belew is at his best writing memorable tunes with bursts of guitar brilliance; "Big Electric Cat" was the first of many showpieces.
14: Peter Banks: (Yes, Flash)
Yes' founding guitarist Peter Banks tends to get the least notice of the band's three axemen, but he helped invent the rock-orchestral sound that Howe and Trevor Rabin built on, and cut some tasty solos in the band's days. He really blossomed in his next band Flash – one of prog's first power trios – especially on tracks like the 10-minute "Lifetime," which lives up to the group's name.
13: Steve Hillage (Gong, solo, System 7)
Steve Hillage was always a hard one to pin down: He was a proud member of one of the spaciest prog rock outfits out here, and later crossed over into electronica, yet he could do heroic guitar moves with the best. After leaving Gong for a solo career (and getting cosmic with Todd Rundgren and Utopia on the L album), he was one of the first proggers to work with American funk players. The Gong showpiece "The Isle of Everywhere" shows off Hillage's crystalline tone and dazzling dexterity.
The Isle Of Everywhere (Remastered 2018)
12: Todd Rundgren (Utopia, solo)
Todd Rundgren does a lot of things well, but his formidable lead-guitar skills have always been his ace in the hole. The original Utopia showed he could hold his own in a band with three keyboardists, and on his solo albums from that era, he challenged himself by playing alongside jazz heavyweights. On Initiation's title track, he has to follow a David Sanborn sax workout, but his guitar solo is pure transcendence.
11: Robin Trower (Procol Harum)
Thanks to his four-decade solo career, there's little doubt that Robin Trower's heart is in the blues. But during his stint with Procol Harum, he was effectively playing the blues in a prog context. For Trower, it was all about being expressive, and his work amounted to a one-man crusade against overplaying. His masterstroke has to be the one-note lead on "Shine on Brightly," perfectly underscoring the song's theme of creative madness.
10: Trevor Rabin (Yes)
Long before he joined Yes, Trevor Rabin was known as a musician of prodigious chops; he'd already done solo albums playing all the instruments. While he did bring more of an arena-shredder sensibility than any other Yes guitarist, that doesn't mean he couldn't serve the song. One of 90125's highlights, "Changes," has a taste of everything he does well: Orchestral leads, Police-like rhythm parts, and those flashy cadenzas in the intro.
9: Gary Green (Gentle Giant)
Gentle Giant was throwing around so many musical ideas that it all might have fallen apart if they didn't have a rock-solid prog guitarist in the mix. On the later albums, when Giant shifted to a more direct and aggressive sound, Gary Green was audibly having the time of his life. But he was also great in Giant's more complex pieces, most notably "On Reflection," where he takes control of a mostly a cappella song and calls for a guitar/keys showdown with Kerry Minnear.
Gentle Giant - On Reflection 1978 BBC [HQ]
8: Frank Zappa
As an overall musician, Frank Zappa transcends easy categories. But as a lead guitarist, his work fits more comfortably into the prog realm. Whenever he soloed in concert, the band would slide into a realm somewhere between rock, jazz, and classical. The instrumental Hot Rats was enormously influential on prog, and some of his solos – especially Joe's Garage cut "Watermelon in Easter Hay," – showed the beauty and delicacy he was capable of.
7: Mike Oldfield
Mike Oldfield is above all a composer, and he uses the big guitar moments to advance the drama of a piece. Witness the climactic "storm" section of Hergest Ridge, which has a reported 90 guitar parts built into it. But he can be equally effective with a solo guitar. See the cascading solo that covers most of Incantations' third side; or the uncharacteristically aggressive solo that brings part one of Ommadawn to a thrilling peak.
6: Steve Hackett (Genesis)
Steve Hackett has a fair claim to have invented tapping; his solo on "Dancing With the Moonlit Knight" may be the first famous use of the technique. He also has a rare affinity for the nylon-stringed classical guitar, to which he's devoted full albums. But his real strength, with Genesis and to this day, is cinematic grandeur; the climactic solo on "Firth of Fifth" is Hackett at his most majestic.
Genesis - Firth Of Fifth (Official Audio)
5: Martin Barre (Jethro Tull)
Jethro Tull's lead guitarist was a blues player at heart, and the key to Tull's sound was Martin Barre adding grit to each of the band's proggy and folky excursions. Sometimes he'd take a hot solo within a more complex piece (see "Thick As a Brick," about 10 minutes in), other Tull classics were built around his riffage. Legend has it that the jaw-dropping solo on "Aqualung" was played in one take to impress an onlooking Jimmy Page.
4: David Gilmour (Pink Floyd)
David Gilmour came into Pink Floyd when they were still very much a psychedelic band, and slid easily into that mindset. "The Narrow Way," his featured piece on Ummagumma, explored the cosmic possibilities of slide, steel, and looped echoes. But he was above all an emotive player, whose work got more soulful as the years went on. It peaked with his long opening statement on "Shine On You Crazy Diamond," one of prog's most luminous moments.
3: Alex Lifeson (Rush)
Rush may be the only power trio where the lead guitarist sometimes got overshadowed by the rhythm section. Yet Alex Lifeson would have been the standout star in virtually any other band, and what he gave Rush was immeasurable: he could do heavy arena-ready leads, subtler textural parts, or wildly exploratory solos. His career showpiece, "La Villa Strangiato," has plenty of all three.
Rush - La Villa Strangiato
2: Steve Howe: (Yes)
As a guitarist, Steve Howe embodies everything that's great about prog rock. Endless melodic imagination, eclectic musical taste, and a flair for diverse tones and imagery. He could do furious electric solos with the best, but could also be as lyrical as "Mood for a Day" or as sprightly as "Clap."
1: Robert Fripp (King Crimson)
Go ahead and call Robert Fripp the Miles Davis of prog rock. He's a brilliant player who used his ever-changing band as his instrument. Every version of King Crimson offered a soundscape never heard before, and Fripp developed his guitar accordingly. The violent outbursts, the shimmering Frippertronics, and the gamelan structures of the Discipline era all became trademarks. As for his technical prowess, suffice to say that prog guitarists will be struggling with "Fracture" for decades to come.
King Crimson - Fracture (OFFICIAL)
Listen to the best of the pioneers of prog in our exclusive playlist.