Best 21st Birthday Songs: 25 Tracks To Raise Your Glass To
From celebratory anthems to coming-of-age tunes, here are the best 21st birthday songs to mark a new chapter of adulthood.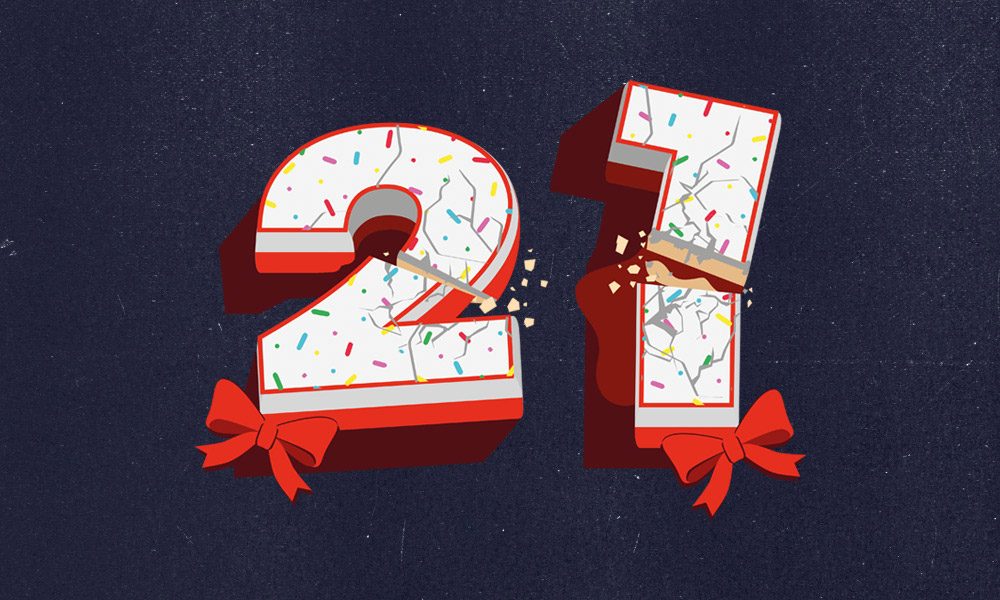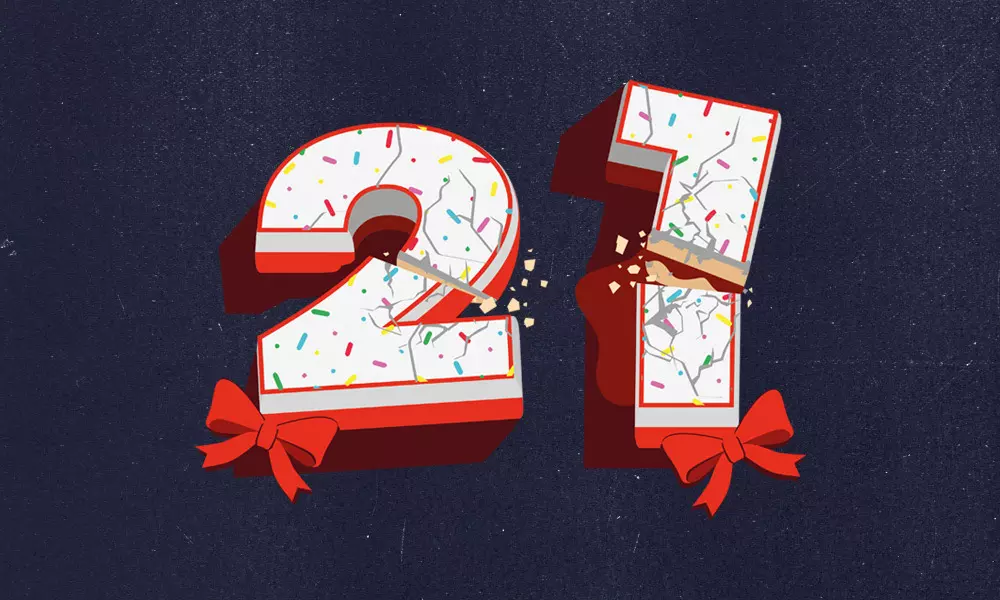 You can drive, vote, and get a job at 18, but turning 21 marks the true transition into adulthood. In the US, you can drink legally (and responsibly, of course) and enter the mysterious world of nightlife and sometimes questionable decision-making. Whether you're imbibing or not, however, here are the best 21st birthday songs to let loose to.
25: Madonna: B-Day Song (featuring MIA) (2012)
Madonna knows a thing or two about creating a mood with music, and this upbeat number with MIA is perfect for getting the party started. With its nursery-song melody and 60s girl group peppiness, it's one of the more PG-friendly 21st birthday songs.
24: No Doubt: Six Feet Under (2000)
No Doubt's Return Of Saturn album contained plenty of coming-of-age tracks, including this dancey hit about getting older. The lyrics are a little less optimistic than those found in typical birthday songs, but Gwen understands that sometimes, on birthdays, you just have to face the facts.
23: blink-182: What's My Age Again? (1999)
Time is a blur the older you get, and forgetting to act your age is just part of that journey. blink-182 frontman Mark Hoppus wrote this relatable track because people kept calling him immature, and it became one of the band's best-performing singles on the charts.
blink-182 - What's My Age Again? (Official Music Video)
22: Rihanna: Birthday Cake (2011)
On this Talk That Talk single, Rihanna says "and it's not even my birthday!" While the infectious anthem isn't really about cake per se, for Rihanna, we'll suspend reality. With its buzzsaw intro, catchy handclaps, and plenty of innuendo, it's one of the racier 21st birthday songs.
Rihanna - Birthday Cake (Audio)
21: Lady Gaga: Telephone (featuring Beyoncé) (2009)
"Telephone" sees two pop icons team up on this anthem about letting it all out on the dancefloor. Turning 21 is the ultimate occasion for partying, not looking at your phone in the club, so when Lady Gaga and Beyoncé tell you to dance, you listen!
Lady Gaga - Telephone ft. Beyoncé (Official Music Video)
20: Nicki Minaj: Gettin Cake (2010)
This Nicki Minaj deep cut from her Barbie World mixtape is an off-the-cuff track that helped cement her status in the hip-hop world. The Queen's lyrics are more about getting money than actual birthday cake, but no one says you can't do both!
Nicki Minaj - Gettin Cake [2010]
19: Lil Jon & The East Side Boyz: Get Low (featuring Yin Yang Twins) (2002)
From the original "Kings Of Crunk," "Get Low" is the quintessential 21st birthday song that has soundtracked many club nights and frat-party basements. The raunchy single brought crunk to the mainstream and inspired Dave Chapelle's beloved Lil Jon impressions.
18: Ariana Grande: 7 rings (2019)
Ariana Grande's smash single "7 rings" isn't technically about birthdays, but, for most of us, buying luxurious items is confined to specific occasions. What track better encapsulates the birthday vibe of treating yourself than this Rodgers & Hammerstein-inspired song?
Ariana Grande - 7 rings (Official Video)
17: Trey Songz: Say Aah (2009)
Trey Songz had a run of hits in 2009, including the double-platinum hit "Say Aah." The track is full of perfect hooks and ad-libs about popping champagne, necessary for any 21st birthday party.
Trey Songz - Say Aah [Official Video]
16: Destiny's Child: Birthday (1998)
Destiny's Child created the perfect R&B hit about being taken care of on your birthday, but don't expect Beyoncé to come over and cook you a candlelit dinner.
15: Twista: Birthday (2009)
Twista's "Birthday" is not only one of the best songs about birthdays, but the rapper manages to shout out every astrological sign in the lyrics. A great 21st birthday track for any time of year!
14: Busta Rhymes: Pass The Courvoisier, Part II (featuring Pharrell Williams and Puff Daddy) (2001)
Expensive cognac may have fallen out of favor, but this early 00s joint hasn't aged a day, thanks to the triple-threat of Busta Rhymes. P Diddy and a slick Neptunes beat that will have everyone singing "Pass the Courvoisier."
Busta Rhymes - Pass The Courvoisier Part II (Long Version) ft. P. Diddy, Pharrell
13: Katy Perry: Birthday (2013)
Katy Perry took this smash hit a step further and disguised herself in order to attend actual birthday parties in the music video. The hilarious visual accompanying an already stellar single makes this track a 21st birthday must-play.
Katy Perry - Birthday (Official)
12: Drake: Ratchet Happy Birthday (2018)
Drake loves recording songs that celebrate accomplishments, and turning a year older is something worth toasting. While 2 Chainz made the true ratchet birthday anthem, this mellow track with PARTYNEXTDOOR hits all the right notes and provides a throwback to Drake's softer side.
11: LCD Soundsystem: Drunk Girls (2010)
Master of the intelligent party anthem, LCD Soundsystem's James Murphy compares the drunken antics of boys and girls in this floor-filling, dance-rock track.
10: 2 Chainz: Birthday Song (2012)
"Birthday Song" is the second single from 2 Chainz's debut album, Based On A TRU Story, and this iconic collaboration with Kanye West has an equally entertaining video to match. 2 Chainz lays out his inspiring NSFW birthday wish in the chorus. Now, what's yours?
2 Chainz - Birthday Song ft. Kanye West (Official Music Video) (Explicit Version)
9: Kendrick Lamar: Swimming Pools (Drank) (2012)
Drinking songs and 21st birthday songs often overlap, but this standout cut from Kendrick Lamar's good kid, mAAd city is actually about the dangers of binge drinking couched in a club anthem.
Kendrick Lamar - Swimming Pools (Drank)
8: P!nk: Raise Your Glass (2010)
P!nk shares a toast to all the party kids and "underdogs" on this irresistible celebratory smash. Ten years into her career, "Raise Your Glass" was the introduction to her greatest hits collection and advises "don't be fancy, just get dancy."
P!nk - Raise Your Glass (Official Video)
7: J-Kwon: Tipsy (2004)
Released during the peak of St Louis-hip-hop in the mid-00s, this ode to underage drinking still slaps and sounds even better when you get can get "Tipsy" without a fake ID.
J-Kwon - Tipsy (Official Video)
6: Stevie Wonder: Happy Birthday (1980)
A classic for a reason, Stevie Wonder's "Happy Birthday" is sung at birthday parties around the world. His incredible rendition of a classic tune is a celebratory staple and contains a hidden message of unity. Written for the late Martin Luther King Jr, Stevie wanted to write a song that brings people together.
5: LMFAO: Shots (featuring Lil Jon) (2009)
Most 21st birthday celebrations are hedonistic affairs, and this ode to shots is the unofficial anthem. From Lil Jon's shouty demands to the thumping bassline, "Shots" is the essential mid-00s banger.
LMFAO - Shots ft. Lil Jon
4: Post Malone: rockstar (featuring 21 Savage)
Now considered a throwback jam, "rockstar" was a self-fulfilling prophecy that turned Post Malone and 21 Savage into two of the biggest stars of the 2010s. Despite its woozy, sedated production, the trap-pop single is technically a turn-up anthem. Either way, it will make any newly-minted 21-year-old feel like a rock star.
Post Malone ft. 21 Savage - rockstar (Official Music Video)
3: Rihanna: Cheers (Drink To That) (2011)
As the poster party girl of pop, Rihanna is bound to make any list of celebratory 21st birthday songs twice. Her toast is both a kiss-off to her haters and a reminder that life's too short to not live it up – something every 21-year-old can relate to.
Rihanna - Cheers (Drink To That)
2: DMX: Party Up (Up In Here) (1999)
Twenty-first birthday celebrations either go all night or fizzle out early, depending on your stamina. There's no better MC to get you fired up than DMX and the stereo-rattling beat of "Party Up," courtesy of Swizz Beat.
DMX - Party Up (Up In Here) (Enhanced Video, Edited)
1: 50 Cent: In Da Club (2003)
This Get Rich Or Die Tryin' single peaked at No.1 on multiple Billboard charts, making it 50 Cent's best-selling album to date. Undoubtedly, the infectious intro means some of those spins were birthday requests. Go, shorty!
50 Cent - In Da Club (Official Music Video)
Looking for more? Discover the best birthday songs for any milestone. Think we've missed one of the best 21st birthday songs? Let us know in the comments section below.