What Did 2010s Music Do For Us? Behind A Transformative Decade
Vastly different than it was a decade ago, the pop music that defined the 2010s has found new and unprecedented ways to engage the listener.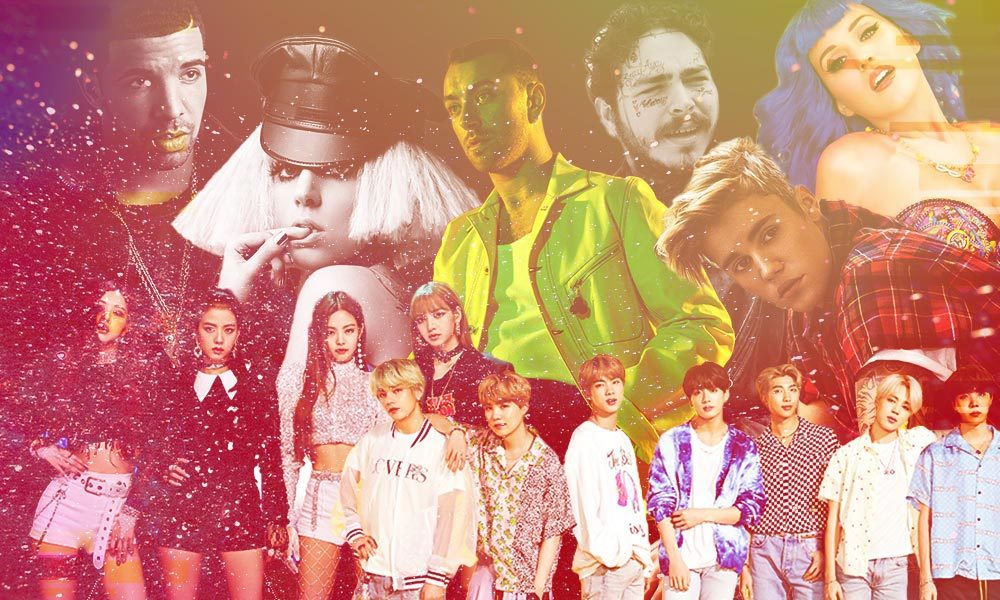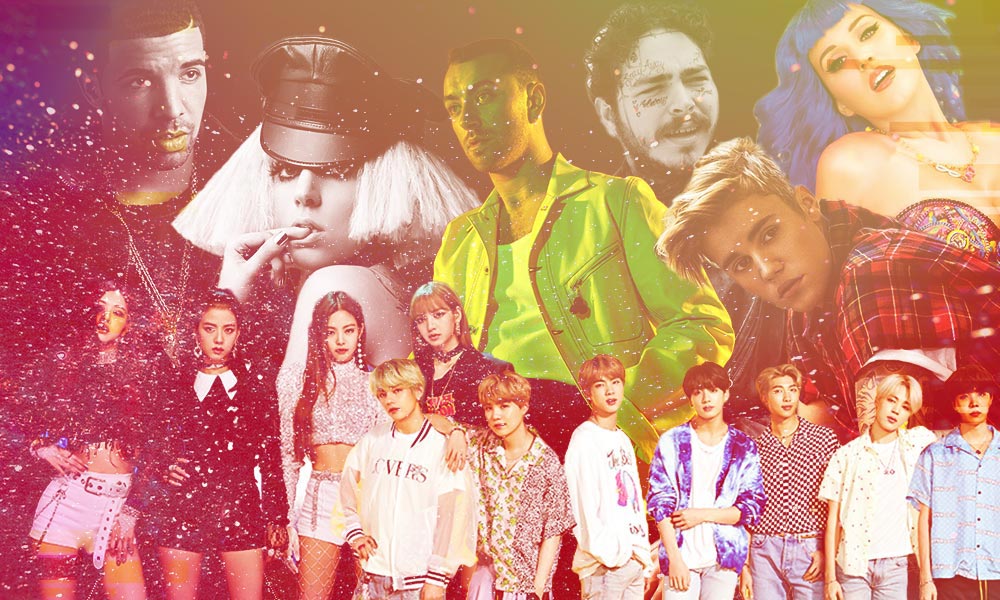 Don't let your jaded friends tell you that music isn't exciting anymore. If the music created throughout the 2010s tells us anything, it's actually been quite the transformative decade. Not only have the faces changed, the hierarchy of music genres has been rearranged, and the way most people acquire music has been revolutionised. You're looking at a vastly different pop landscape than you were in 2009, and 2010s music has come up with new and unprecedented ways to engage your ears.
Listen to the best 2010s music on Spotify.
Return of the pop deity
The past decade has seen the rise of a new pop aristocracy. If one artist towered above the rest it was arguably Lady Gaga, who rose from mere pop star to global multimedia superstar. But she wasn't the only one: a handful of megastars have ruled the pop landscape throughout the 2010s – Beyoncé, Taylor Swift, Katy Perry, Justin Bieber – and there's every reason to expect they'll still be selling out stadiums in 20 years, as Madonna and Cher are now. The global megastar seemed to be a dying breed ten years ago; now things are different. There hasn't been such an obvious class of pop deities since the 80s heyday of Michael, Madonna and Prince.
One big difference is that the MTV era is over, so most of these artists have operated through the more traditional avenues of recording blockbuster albums and staging splashy live shows. If you've caught any of the 2010s' megastars in concert, you've seen some creative, even eccentric, uses of the stadium – whether it's Beyoncé doing a multimedia spectacle with rotating stages and a wardrobe full of costumes, or Perry cavorting in a Croft Brothers-style fantasy land. Bieber's last tour was a fully-fledged psychodrama that hinged on his ambivalence about his own stardom. When he towered above the audience, locked in a cage, you couldn't help feeling you were seeing a modern riff on Pink Floyd's The Wall.
Lady Gaga - Born This Way (Live from The GRAMMYs on CBS)
As for Gaga, anyone who was paying attention at the end of the 00s could have predicted that she was going to rule 2010s music. The Fame Ball tour of 2009 was her coming-out party; by year's end, she had three international smashes: 'Just Dance', 'Poker Face' and 'Bad Romance'. Now that she had the world's attention with The Fame, Gaga was coming up with new ways to mess with the mainstream. Remember the meat dress? That happened at the MTV Video Awards in 2010. Gaga had arguably her greatest year in 2017 – the year she pulled off back-to-back spectacles at the Grammys with Metallica and at the Super Bowl with a jaw-dropping acrobatics display – then went off to make a better A Star Is Born than Barbra Streisand had.
For all that, Gaga's last tour included a long section where she took a rest from costumes and dancing, sat at the piano and played unadorned and largely unplugged, a major kiss-off to the era of lip-synching and backing tracks. Taking her live show to Vegas at the end of the 2010s, she alternated her nights between a modern pop show and one built on The Great American Songbook, while working on an album that will likely be one of the major musical events of the 2020s.
The rise of streaming
One thing that definitely changed music in the 2010s music is the way fans consumed it. In 2010 you were probably still debating whether to throw your CDs out after ripping the music to iTunes. Spotify was quietly introduced as a streaming platform in 2011, and streaming revenue eventually overtook physical sales in 2017. At the moment, paid streaming services (including Spotify, Apple Music and others) account for a whopping 80 per cent of the music industry's revenue.
The implications of this are vast. If you're an average listener, you're probably hearing a greater variety of new music than ever before, and you're not missing the days when your options were limited by radio playlists or your CD-buying budget.
Unlike the old digital realm, where iTunes was basically the only game in town, the streaming world has more than one major provider. Apple Music has joined Spotify as a global player, while the video-focused YouTube has also launched a subscription music service. The sheer variety of material on YouTube has made it one of the most populated internet sites: with radio and MTV long gone as promotional outlets, it has become a platform for discovering new talent, and the list of artists who've broken out via the site – The Weeknd, Justin Bieber, Carly Rae Jepsen – is growing all the time.
Justin Bieber - Baby ft. Ludacris
Democratised discovery
Still, it's hard to break out via YouTube without a budget, at least enough for a good video cam and some editing chops. It was SoundCloud that democratised the music-making process in the 2010s, making a potential worldwide audience available to anyone with a cheap recording device. In fact, the low-tech nature of SoundCloud played directly into one of its cultural contributions, the subgenre known as "SoundCloud rap". Unlike much hip-hop, the production on SoundCloud rap intentionally obscures the lyrics, through effects, Auto-Tune and just plain weirdness. This genre became so popular – thanks to the likes of Smokepurpp, Post Malone and the late Lil Peep and XXXTentacion – that established stars like Wiz Khalifa derisively dismissed it as "mumble rap". But it's the most successful musical mumbling to be heard since R.E.M.'s heyday.
Post Malone - White Iverson
Hip-hop's domination
Nearly 40 years since the dawn of hip-hop, the 2010s was finally the decade when rap outsold rock music. The real shocker, however, is that it took so long for this to happen. Hip-hop didn't overtake rock in sales at the end of the 80s – when everyone you knew had to own a copy of NWA's Straight Outta Compton and Public Enemy's Fear Of A Black Planet albums – nor in the early 00s, when Jay-Z, Nas and Eminem rose to become rap royalty. Instead, the Nielsen year-end report said that the great upheaval finally happened in 2017, when hip-hop accounted for eight of the year's Top 10 artists (alongside two pop artists, Taylor Swift and Ed Sheeran – both influenced by hip-hop – and zero rock artists). That same year, four of the five Grammy nominees for Album Of The Year, and all five for Record Of The Year, were hip-hop releases.
We'll include a caveat here: The line between R&B and hip-hop can be thin , and two of the artists on Nielsen's list were Bruno Mars and The Weeknd, who could easily land on either side. But nobody's denying the importance of the two artists heading Nielsen's list: Drake is one of the most charismatic performers around, and Kendrick Lamar has been on a roll since 2015's To Pimp A Butterfly made him a commercial smash and a critics' darling all at once. Also no doubting that hip-hop was in a strong place in late 2017 (along with the above), there were major hits by Cardi B, Future and Migos. At the close of the decade, Post Malone was in the middle of a hitmaking streak, while nothing's been more refreshing than the rise of Lizzo – the first body-positive, LBGT-friendly feminist (and first former Sleater-Kinney opening act) ever to top the charts.
Kendrick Lamar - Alright (Official Music Video)
The shift towards hip-hop also has a lot to do with changes in listening habits. 2017 was also the year when streaming became the preferred form of consuming music, and online platforms favoured hip-hop (or, hip-hop audiences favoured online platforms). According to USA Today, most physical album sales came from the rock market; it's just that fewer people were buying those albums. In fact, only two records that year, Ed Sheeran's Divide and Taylor Swift's Reputation, topped a million in sales, with the latter just edging two million. Big numbers, but not as big as the 1.3 billion streams that a smash single like Luis Fonsi and Daddy Yankee's 'Despacito' boasted.
The globalisation of pop
'Despacito' was one of the biggest hits of the 2010s, and it exemplified another trend: Latin music's move into the mainstream. Of course, the definition of Latin music hasn't necessarily involved pianos, trumpets and congas for decades. Reggaeton and trap are now the state of Spanish-language pop, and the freshest crossovers are coming from Latin producers who have harnessed those sounds into mainstream hits.
Justin Bieber - Despacito [Music Video] ft. Luis Fonsi & Daddy Yankee
The game-changer was a trio of hits that Bad Bunny scored as artist and producer in 2018: 'Krippy Kush', with Farruko and Rvssian; 'I Like It' with Cardi B and J Balvin, and the remixed version of Nio García, Darell and Casper Mágico's 'Te Bote' – the latter being the most-watched YouTube video of 2018. And, according to a Forbes article that year, it was the song that tipped the scale, making Latin music the fifth most popular genre in America (behind hip-hop, pop, rock and R&B; ahead of country, EDM and everything else). 2017 was also the year a record number of Spanish-language tracks made it onto the Billboard Hot 100 (17, to be exact), a trend that's continued since.
A sea change in Nashville
Country and hip-hop music have also become unlikely partners – just one of the ways in which country has transformed in the past decade. At the start of the 2010s, slick Nashville country was the only game in town, becoming so pervasive that a pair of veteran country stars, George Strait and Alan Jackson, made a landmark protest song about it with 'Murder On Music Row'. If they wanted country to go in a different direction, they sure got their wish.
Two of the most popular country songs of 2019 were both hip-hop influenced: Lil Nas X's 'Old Town Road' – the most ubiquitous song of summer 2019, bar none – and its near-sequel, Blanco Brown's 'The Git Up'. Also making big waves this year were Lady Antebellum with 'Ocean', a pop song with more Auto-Tune than twang, and Blake Shelton, whose most recent hits, 'God's Country' and 'Hell Right', could pass for vintage Lynyrd Skynyrd.
We're pretty sure that Hank never done it this way. Yet, neo-traditional country is also back on the rise: Some may think Sturgill Simpson is too idiosyncratic an artist to fit that tag, but that didn't bother Merle Haggard, who embraced Simpson as a kindred spirit during his last years. Meanwhile, the current queen of country has to be Kacey Musgraves, who's equally open to classic influences – her love for Dolly Parton and Lee Ann Womack is obvious – with modern production and a socially progressive stance. Put it all together and country music has turned into a free-for-all: Music Row may still be murder, but it sure isn't boring.
Kacey Musgraves - Butterflies (Official Music Video)
Another British Invasion
The 2010s was also the decade when the British Empire struck back. The British Invasion has never really let up, and there hasn't been a time since 1964 when UK artists haven't been at the international forefront, from Radiohead and Oasis in the 90s, to Amy Winehouse, Coldplay, Adele and Radiohead (again) in the 00s. The UK just sends fresh reinforcements every decade, and its contributions to 2010s music were no exception. Flashy English rock is by no means dead – not while The Struts are around. But if there's a trend among the current round of UK stars, it seems to be toward well-crafted pop with a sweet, emotional tone. You wouldn't think that anyone could make 'Your Song' sound even more sincere and innocent than Elton John, but that's what Elle Goulding managed – and, like Elton, she had an international breakthrough with it.
Two other rising UK stars, Sam Smith and Emeli Sandé, may be diverse musically – Smith is all sleek modern R&B/pop while Sande is steeped in jazz and gospel – but they've got one thing in common: both artists came in with broken hearts. Smith's debut album, In The Lonely Hour, and Sande's Our Version Of Events both laid their romantic angst on the line. Now that they're presumably feeling better, we can probably expect even bigger things from both: we're waiting for some savvy producer to bring Sandé to the US and make the modern-day Dusty In Memphis with her.
Sam Smith - Stay With Me (Official Music Video)
But it all pales behind the global rise of Ed Sheeran, who in some ways represents every trend of 2010s music. He's a pop artist with hip-hop influence, he's huge on streaming sites, and he's young enough and cute enough to fit the boy-band profile. His debut album, +, was released a few months after his 20th birthday, yet Sheeran never seems to belong to any particular era. His breakthrough single 'The A Team' was an acoustic ballad dressed-up with modern production, and it marked the reboot of David Geffen's Asylum label which had launched Eagles and Jackson Browne in the 70s. Indeed, if you tweaked the production on 'The A Team' just a bit, maybe taking down the bass and turning up the acoustic guitar, it could have been a hit back then.
Aside from his songwriting, the most impressive thing about Sheeran may be the way he's rewritten the rules of rock stardom: he doesn't want to be the coolest kid on the block, just the ultimate nice guy who gets along with everybody. So his latest album, No.6 Collaborations Project, finds him duetting with people who either have a much tougher image (50 Cent, Eminem), or would appear to be worlds apart musically (Chris Stapleton, Chance The Rapper).
Even in this company, Sheeran's self-effacing charm comes through: trading boasts about his success with Eminem and 50 Cent, on 'Remember The Name', Sheeran never drops his Yorkshire accent, at one point singing, "And if I had my 15 minutes came, I must've missed them" – not a claim that stars this big usually make. Meanwhile, his praises are getting sung by old-school types like Elton John (let's face it, Elton's still everywhere) and Peter Asher, who's joked that he gets mistaken for Sheeran's granddad.
The return of boy (and girl) groups
Another phenomenon in 2010s music that never quite went away is the rise of boy/girl bands. Many of the original crop (Hanson, New Kids On The Block, Backstreet Boys) are now passing themselves off as grizzled veterans, while classic-model boy bands continued to flourish in the 2010s. Jonas Brothers were still in their first run of success as the decade began, and now they, too, are going out as reunited veterans. For their part, the UK gave us One Direction at around the same time as Jonas Brothers launched. One of the most successful boy bands of all time, One Direction boast a chart history that sometimes outdoes The Beatles (they entered the UK charts at No.1 with their debut album, something The Fab Four didn't manage).
Jonas Brothers - Burnin' Up (Official Music Video)
But arguably the real defining element of 2010s music didn't come from the US or UK. With the rise of K-pop, boy bands have truly gone global, and the biggest names – which at the moment means BTS – have got the world dancing. BoA and Wonder Girls were the first to bring K-pop to US charts, in 2009, but the invasion began in earnest three years later with Psy's 'Gangnam Style' phenomenon, though its creator was over 30 and safely out of the demographic.
When K-pop conquered the world
But 'Gangnam Style' opened the door for younger K-pop acts to conquer the world, and, in BTS' case, that came out of a concerted effort to break America. They raised a buzz with a few isolated LA shows in 2014, then came back two years ago for some well-orchestrated TV shows and collaborations with American hip-hop and EDM artists like Chainsmokers and Nicki Minaj.
BTS (방탄소년단) 'IDOL (Feat. Nicki Minaj)' Official MV
Their closest female counterparts appear to be Red Velvet, who began scoring internationally at around the same time. Unique in the K-pop world, Red Velvet evinces a duo personality, being young and poppy in their "red" side and sophisticated in the "velvet" side. The latter included pushing boundaries for social awareness in K-pop: frontwoman Irene is lately making headlines for speaking out against the patriarchal aspects of South Korean society – a move that ran her into trouble at home, but has made her a strong role model for fans worldwide.
But the real crossover success this decade came from rookie group turned global powerhouses BLACKPINK. In a mere three years, the four-piece made inroads never thought possible, earning themselves a slot at 2019's Coachella, joining the one billion club on YouTube and notching the highest-charting Billboard Hot 100 hit for a K-pop girl group, with 'Kill This Love'. It's an impressive feat and their star is still on the rise.
BLACKPINK - 'Kill This Love' M/V
Put it together and 2010s music has been full of musical shake-ups and surprises. And we're certain that the landscape will be transformed even more when we do this again in 2029.
Format:
UK English