The 50 Greatest Bass Players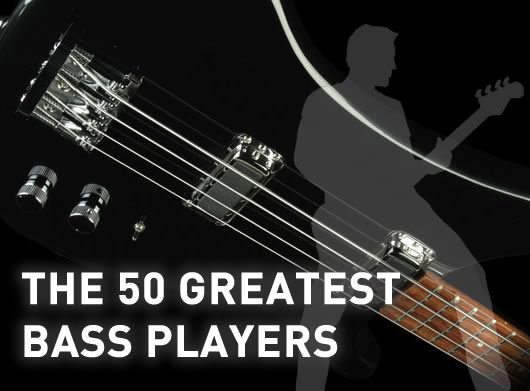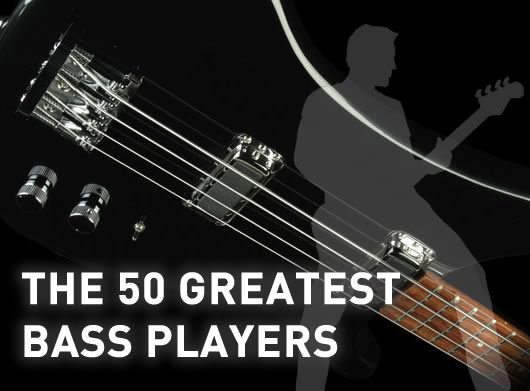 Well, here we are again with another 'greatest' list. This time we've gone for those (often) unsung heroes, the boys at the back — and, interestingly, in this poll of polls, they are almost all men — who underpin the band. Along with their trusty bandmate, the drummer, they are the rhythm section. Sometimes they step out into the spotlight, like Paul McCartney, Sting, Lemmy or Roger Waters. But as often as not, they are the guys in the shadows laying it down. Ask most any bass player what it is they do and it will be something along the lines of "I just play for the song." That, of course, is why we sometimes don't immediately notice what they do. As we heard one bass player say, "The best bass players make you notice the rest of the band's virtuosity."
As usual, we trawled the internet and checked dozens of surveys of the greatest bass players and what you have here is not our opinion but the collective voice of people and polls from around the world. What is really nice is to see bass players from different musical genres represented here. There are many from rock, the majority in fact; but jazz bassists get a good look in with Ray Brown, Jaco Pastorius and of course the great Charles Mingus. Funk and soul have Louis Johnson, Verdine White, Larry Graham and Bootsy Collins. It's also nice to see the brilliant James Jamerson, the master bassman from Motown's Funk Brothers, making a good showing.
Here's the list, counting down to No. 1, and our Spotify playlist running 1-50, featuring each bassist in one of their most notable recordings (either in their own name, with their band, or in one of their most famous sessions).
So, who do you think should be No.1? Who do you think has been grossly overlooked?
50. Kim Gordon
49. Leland Sklar
48. Mike Rutherford
47. Donald 'Duck' Dunn
46. JJ Burnel
45. Bill Wyman
44. Nathan East
43. Louis Johnson
42. Roger Glover
41. Berry Oakley
40. Ray Brown
39. Verdine White
38. Sting
37. Willie Dixon
36. Tina Weymouth
35. Carol Kaye
34. Bernard Edwards
33. John Deacon
32. Marcus Miller
31. Phil Lesh
30. Simon Gallup
29. Duff McKagan
28. Carl Radle
27. Pino Palladino
26. Larry Graham Jr
25. Mark King
24. Aston 'Family Man' Barrett
23. Tony Levin
22. Billy Sheehan
21. Chris Wolstenholme
20. Lemmy
19. James Jamerson
18. Bootsy Collins
17. Stanley Clarke
16. Chris Squire
15. Charles Mingus
14. Phil Lynott
13. Roger Waters
12. Jaco Pastorius
11. Geezer Butler
10. Victor Wooten
9. Cliff Burton
8. Jack Bruce
7. Steve Harris
6. Les Claypool
5. Paul McCartney
4. Geddy Lee
3. Flea
2. John Paul Jones
1. John Entwistle
Listen to uDiscover's The 50 Greatest Bass Players playlist on Spotify