20 Unforgettable Musical Events Of The 2010s
From the rise of streaming to the breakdown of genre barriers, these are the 20 most unforgettable musical events of the 2010s.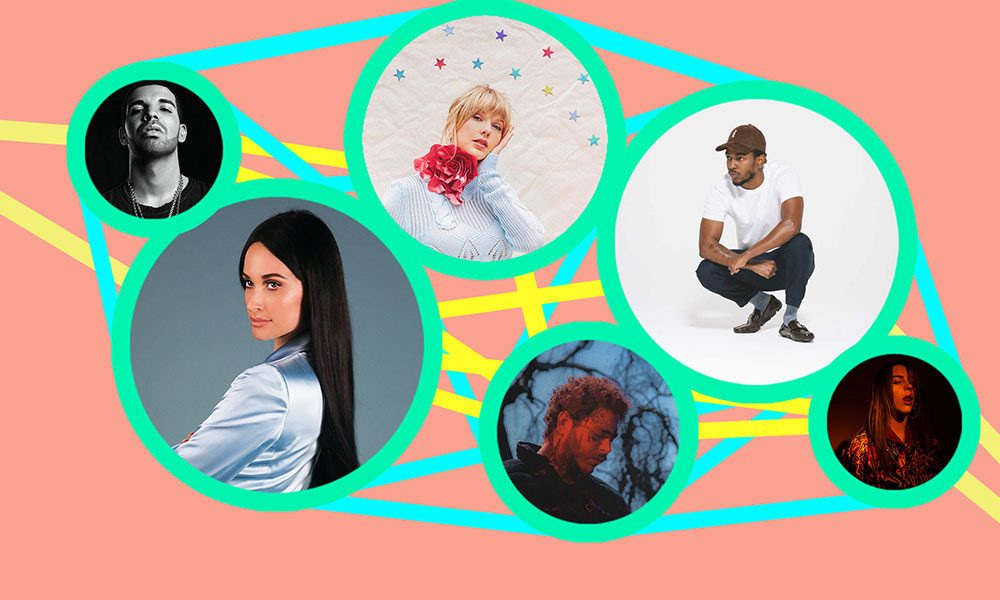 With the 2010s coming to a close, it's time to look back at the most memorable musical events of the decade. Profound technological developments, genres colliding into one another and towering icons taking their final bow have arguably done more than anything else to define the era, but the 2010s was also a decade of contradictions: quick-fire singles became the new musical currency on streaming platforms, even as artists, free to release more music – and at a faster rate – than ever before, demanded more attention from listeners already overwhelmed for choice in a fiercely competitive attention economy.
While modern music evolved at a staggering pace, its seemingly limitless availability also served to accelerate nostalgia for the past. And as our musical horizons broadened, the world itself seemed to shrink, as new digital distribution models transcended both borders and language barriers, enabling anyone, anywhere in the world, to access the sounds they wanted.
Amid such shifts, there remained one constant: music itself. If anything, the 2010s served as a reminder of its staying power, and its ability to effect change – as our 20 most memorable moments of the decade reveal.
Think we've missed one of your highlights? Let us know in the comments section, below.
Listen to the best 2010s music on Spotify, and scroll down for our 20 most memorable moments of the decade.
20 Unforgettable Musical Events Of The 2010s
20: Artists unite for Haiti
On 22 January 2010, just a month into the new decade, Haiti was ravaged by a monster earthquake, which left hundreds of thousands of people dead. In response, the leading pop stars of the era came together to record a modern take on the 80s charity single 'We Are The World', as part of the Hope For Haiti Now: A Global Benefit For Earthquake Relief telethon. The line-up featured Jay-Z, Rihanna, Beyoncé, Coldplay and Taylor Swift – artists who would go on to dominate the decade – and would helped raise $61 million for the relief efforts.
Various Artists - We Are The World 25 for Haiti
19: My Chemical Romance break up
Eyeliner ran down the faces of many a fan of the New Jersey-bred rock band when the quartet called it quits on 22 March 2013. My Chemical Romance's run included several platinum albums, magnetic live shows and, of course, their landmark 2006 record, The Black Parade. Ultimately, the break-up proved to be short-lived. The band announced that they were reuniting with a show at Los Angeles' Shrine Theatre in 2019, ensuring that the decade would end on a triumphant note.
My Chemical Romance - Welcome To The Black Parade [Official Music Video] [HD]
18: OutKast reunite
As one of the first major reunions of the decade, the Atlanta hip-hop duo shocked many when they got together, in 2014, in celebration of the 20th anniversary of their debut album, Southernplayalisticadillacmuzik. The group had lain dormant since 2006, and hadn't released any new music since 2003's Speakerboxx/The Love Below double-album. Even so, André 3000 and Big Boi put whatever perceived differences they may have aside and played nearly every festival under the sun before ending the tour and returning to their respective side projects.
17: Las Vegas residencies get hip
What used to be considered a sign of impending retirement, Las Vegas residencies have now become an essential part of any artist's career. Gone are the faded dinner jackets and dated stage shows; in their place, are a number of dazzling productions from the likes of Elton John, Aerosmith and Lionel Richie, alongside more contemporary artists like Gwen Stefani, Lady Gaga, blink-182 and Shania Twain. And that doesn't even include the wide assortment of DJs like Diplo, and hip-hop stars like 2 Chainz, Drake and Migos, who have also planted their flags in Sin City.
Elton John - Farewell to Las Vegas
16: U2 go viral
On 9 September 2014, U2's then latest album, Songs Of Innocence, became the download heard around the world. At an Apple event, CEO Tim Cook revealed that every single iPhone had been "gifted" the album, a canny bit of marketing that coincided with the release of the iPhone 6. With half a billion people receiving the record, it was a glimpse at how technology would shape pop culture as the decade progressed
U2 - Song For Someone (Directed by Matt Mahurin)
15: Guns N' Roses reunite
The signs were all there, but it wasn't until Slash and Duff McKagan officially announced that the band would headline Coachella in 2016 that fans received the news they'd been clamouring for: GNR were back. Granted, rhythm guitarist Izzy Stradlin wasn't involved (and original drummer Steven Adler only popped up at a few shows), but the Not In This Lifetime… Tour proved to be one of the most successful tours in music history, confirming the group's continued cultural dominance.
Guns N' Roses - Not In This Lifetime, Fall 2019 Tour
14: The riot grrrls return
The 2010s saw the rise of a number of new political movements, from #BlackLivesMatter to #MeToo, along with the resurgence of some old ones, like the punk-powered feminism of the riot grrrl movement. Bikini Kill reunited after a two-decade silence, Sleater-Kinney reformed in 2014 and released the widely acclaimed No Cities To Love, while L7 and The Breeders both put out new albums. While these bands saw their musical messages revived for the 2010s, they also inspired a whole new generation of female rock acts that have kept the genre alive.
Sleater-Kinney - LOVE (Official Video)
13: The surprise album drop goes mainstream
Though Radiohead pioneered the surprise album drop with the release of their 2007 album, In Rainbows, the practice went mainstream in the 2010s. Artists such as D'Angelo, Drake, Frank Ocean, U2 and, most famously, Beyoncé stunned fans by giving them a collection of new music with no advance notice. This kind of rollout often led to instant praise (some rightful, some not), but, either way, it allowed for artists to dictate releases on their own terms.
Beyoncé - Hold Up (Video)
12: EDM explodes
Beginning with Skrillex and the popularisation of dubstep, the 2010s saw DJs become the biggest stars on the planet. Avicii had a smash hit, Diplo became the superstar hitmaker, Swedish House Mafia ruled the festival circuit, DJ-producers like David Guetta became the new stars on the Vegas strip and Calvin Harris headlined Coachella. If that wasn't enough, EDM sounds dominated pop music, with many stars adopting the genre's sonic signatures in order to capitalise on the boom.
11: Female MCs get their due
Female rappers have always brought their A-game to hip-hop, but the 2010s saw the culture finally catch-up. With Nicki Minaj taking the lead with her debut album, Pink Friday, the 2010s saw the emergence of new superstars like Cardi B, Lizzo, Megan Thee Stallion, Noname, cupcakKe and Rico Nasty, who are just beginning their runs.
Megan Thee Stallion - Hot Girl Summer ft. Nicki Minaj & Ty Dolla $ign [Official Video]
10: "New Music Fridays" goes global
As technology continued to close the gap on global music consumption, the industry decided to scrap its practice of staggering global release dates, aligning them under the "New Music Fridays" initiative. It officially went into effect on 10 July 2015, with 45 major worldwide music markets participating, and spawned Spotify's most popular playlist.
9: Country gets woke
Arguably, country music has always had an element of social commentary in its lyrics, but it wasn't until Dixie Chicks ripped former President George W Bush that it caught people's collective attention. This rebellious streak only continued in the 2010s: between Kacey Musgraves, Brandi Carlile, Kelly Clarkson, Lil Nas X, Miley Cyrus, Keith Urban and even Taylor Swift, the genre took on issues from a left-leaning perspective. From LGBTQ concerns to women's-rights and gun-control issues, these artists tackled the big subjects head on.
Kacey Musgraves - Follow Your Arrow (Official Music Video)
8: SoundCloud rap goes mainstream
After MySpace imploded, SoundCloud become the default platform for aspiring DJs, producers and, most importantly, rappers, to disseminate their music. Like grunge, SoundCloud rap had its own aesthetic, DIY sensibility and impassioned community. The platform would help shape the sound itself when the glitchy remixes and experimental productions that proliferated became the backdrop for a new kind of "mumble rap". SoundCloud became the launchpad for artists like XXXTentacion Lil Peep, Lil Xan, Tekashi 6ix9ine and even Billie Eilish, who parlayed their viral fame into mainstream success.
Billie Eilish - Ocean Eyes (Official Music Video)
7: Coachella reinvents the music festival
The Coachella Valley Music And Arts Festival has been a trendsetting event since its inaugural show, in 1999, but it was in 2012 that Coachella really disrupted the industry. For the first time, the festival took place over two weekends and featured a line-up of up-and-comers like Gary Clark, Jr, M83, Frank Ocean and Childish Gambino, alongside heavy-hitters like The Black Keys, Radiohead, Dr Dre and Snoop Dogg. Coachella also became the site for some long-awaited reunions, with appearances from At The Drive-In, Mazzy Star and Pulp. Its lasting impact, however, may be the 2Pac hologram performance, which forever changed the ways in which an artist's legacy can be celebrated.
Tupac Hologram Snoop Dogg and Dr. Dre Perform Coachella Live 2012
6: Pop music goes global
Pop music has always been a globally-shared language, but thanks to the advent of streaming and social media, it's never been so diverse as it was in the 2010s. From the explosion of K-pop and the South Korean Hallyu Wave, to the Latin Pop renaissance of reggaeton stars like J Balvin and Bad Bunny, along with Rosalía's hip-hop-flavoured flamenco, the globalisation of pop has only just begun.
BLACKPINK - 'Kill This Love' M/V
5: Too many legends die
The second half of the 2010s seemed cursed. In what proved to be a harbinger of things to come, David Bowie died on 10 January 2016, two days after the release of his farewell album, ★. That same year, another towering musical figure was gone too soon, when Prince unexpectedly died on 21 April, stunning a world that's only just beginning to realise how truly prolific he was. Before the year was done, George Michael had his last Christmas, on 25 December 2016, prematurely robbing the world of yet another icon.
2017 year was equally traumatic, when former Soundgarden frontman Chris Cornell took his own life, on 18 May 2017. That tragedy was followed by the death of Tom Petty in October. The world is still reeling from the loss of so many icons in such a short space of time.
Chris Cornell - When Bad Does Good
4: Hip-hop takes over
Though Roger Daltrey screamed "Rock is dead" in the late 70s, his proclamation rang partly true in the 2010s. While rock didn't die, it certainly lost some of its dominance in mainstream culture. Hip-hop took over, earning long-overdue critical plaudits thanks to trailblazers like Kanye West and Kendrick Lamar, and establishing commercial dominance as artists like Drake and Nicki Minaj closed the gap between pop and hip-hop.
3: LGBTQ subjects go mainstream
The influence of LGBTQ artists and allies in music goes back to the birth of the entertainment industry, but this past decade saw queer artists dominate both the pop charts and the mainstream conversation. Whether it was Frank Ocean coming out in a Tumblr post, or Troye Sivan, Perfume Genius and Kim Petras winning fans with their experimental sounds, the decade's LGBTQ artists finally began to gain the the respect many of their forebears didn't.
Troye Sivan - Dance To This ft. Ariana Grande (Official Video)
2: Musical genres dissolve
While the 90s were a prime time for genre experimentation, the 2010s let go of boundaries completely, thanks in no small part to the advent of streaming. Billie Eilish and Post Malone were just a few of the bigger artists who led this charge, taking inspiration from all kinds of music and dominating the Top 40 as the result.
1: Streaming takes over
Spotify officially launched back in 2006, making inroads in Europe before hitting the US, in 2011, and completely shifting the way music was discovered and consumed. Competitors soon emerged, with Apple unveiling Apple Music in 2015 and Jay-Z relaunching Tidal the same year. Add YouTube, Google Play and countless other services, and streaming became the dominant influence on music in the 2010s. Now fans have more choice than ever – with advanced algorithms to help guide the way.
Looking for more? Discover the best albums of the 2010s.
Format:
UK English