Songs That Trended In 2023
Older songs are finding a resurgence in popularity, thanks to TikTok, social media, and film and TV syncs.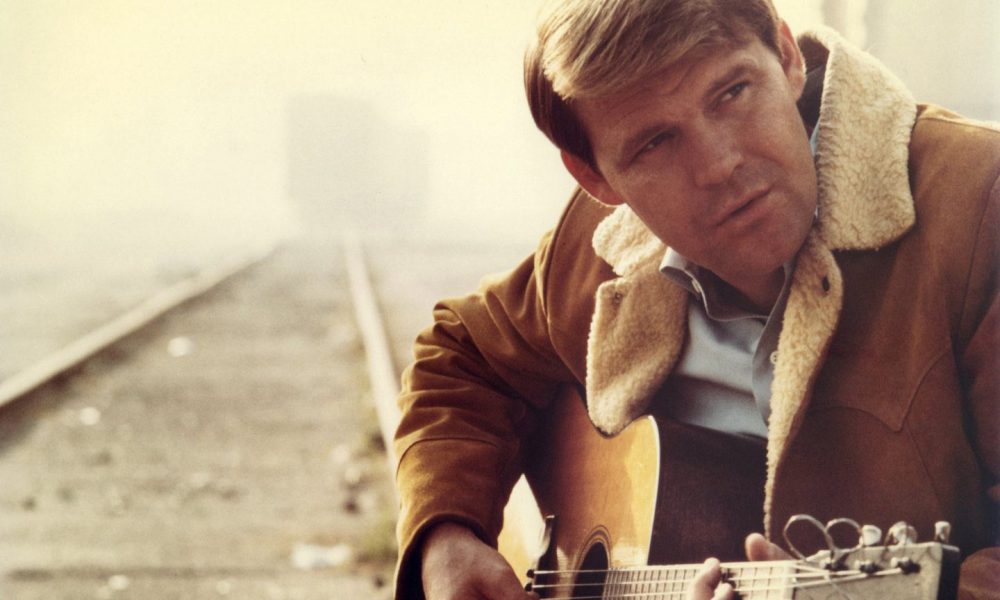 Over the last few years, TikTok has become a major player in breaking new artists and helping emerging acts gain massive fanbases. But the social media platform – and others like it – doesn't just benefit the up-and-coming. It's also spurred on the resurgence of many older songs, giving classic tracks new life, exposing cult favorites to a new generation, or simply reminding us of a previous chapter in an artist's story. Below, we're compiling the most popular trending songs of 2023 each week.
February 24
Glen Campbell – Southern Nights
Although originally written, performed, and released by Allen Toussaint, "Southern Nights" achieved its biggest success when Glen Campbell released it as the first single from his 1977 album of the same name. The track went on to reach No.1 on three different charts in the US, including the Billboard Hot 100, US Adult Contemporary, and US Hot Country Songs charts. Decades later, a new generation of music lovers is finding the song and using it as part of a new trend on TikTok. The song soundtracks a trend that finds users celebrating being born "in the right generation" and sharing their reasons for believing that to be true.  
Shaggy – Hey Sexy Lady
Taken from Shaggy's 2002 album Lucky Day, "Hey Sexy Lady" became a hit worldwide, soaring up the charts in the UK, Australia, Germany, France, and more. The reggae banger uses the Sexy Lady Explosion riddim to add to its infectious beat and is proving to have enduring appeal. TikTok users are now using the song as the foundation of their videos celebrating actor Pedro Pascal, in particular, his role in HBO's The Last Of Us. 
Shaggy - Hey Sexy Lady ft. Brian & Tony Gold
Lil Wayne – Gonorrhea/Love Me
"Gonorrhea" featured on Lil Wayne's eighth studio album, 2010's I Am Not A Human Being and boasted a cameo from Young Money cohort Drake. It only took two years for the track to be certified gold by the RIAA, moving more than 500,000 units. Three years after that song's release, Weezy and Drizzy teamed up again on "Love Me" from I Am Not A Human Being II, furthering their success. Last year, the latter song was certified seven times platinum. Both tracks are now trending on TikTok, with "Gonorrhea" soundtracking fans' attempts to get tickets to see Wayne live and a sped-up version of "Love Me" capturing fans' imaginations. 
The Weeknd – Reminder
In 2017, The Weeknd shared "Reminder," the fourth single from his third album, Starboy. Although the original version was a Weeknd solo, the video that accompanied it was star-studded, with appearances from the likes of Drake, A$AP Rocky, Travis Scott, Bryson Tiller, and more. Later, a remix featuring Rocky and Young Thug was also released. Nearly six years on from its release, fans are celebrating the song on TikTok, sharing videos highlighting its lyrics. 
The Weeknd - Reminder (Official Video)
February 17
Rihanna
Rihanna was this year's Super Bowl Halftime Show performer, and boy, did she deliver. Pouring select highlights from her incredible career into just 13 minutes, the singer reminded the world that she might have been absent from the stage lately, but she still has the star power, charisma, and sheer talent required of superstars. Since that performance, a number of her songs have been trending online, including "Diamonds," "B___h Better Have My Money," and "Umbrella." Even songs that weren't included in the setlist have seen an uptick in streams and chatter around them too, like "Stay," proving the infectious, everlasting appeal of her catalog. 
Florence + The Machine – Dog Days Are Over
Released in 2008 as the second single from Florence + The Machine's debut album Lungs, "Dog Days Are Over" was inspired by a piece of art by Ugo Rondinone. The artwork, which featured the titular phrase, was installed near London's Waterloo Bridge and was passed by frontwoman Florence Welch every day. The track details finding happiness but not being ready to believe it's real – a feeling that connected strongly at the time of release and helped bring the band to a wider audience. Users on TikTok are still connecting with the song today, most recently taking one of the lyrics from the track and using it in a trend where they empathize with others going through different phases of dating. 
Florence + The Machine - Dog Days Are Over (2010 Version)
Post Malone – I Fall Apart
Taken from Post Malone's debut studio album Stoney, "I Fall Apart" was never supposed to be a single. After a live performance of the track went viral, though, it received a wider push and eventually peaked at No.16 on the Billboard Hot 100 and No.19 on the Official UK Singles Chart. Its impact has also spread to TikTok, where users are recreating a moment on stage where the star performed the song on his knees. 
The Drums – Money
The first single from US band The Drums' second album Portamento, "Money," saw the group lamenting not having enough cash to treat a loved one. "I want to buy you something," frontman Jonny Pierce sang. "But I don't have any money." A sped-up version of the song is now trending on TikTok, with fans lip-syncing along to it. 
The Drums - Money (Official Video)
Jackie Shane – Any Other Way / Comin' Down
Jackie Shane emerged from Toronto's soul and R&B scene in the 60s and went on to be considered a pioneering trans woman in the performing arts. She is best known for her single "Any Other Way," which was released in 1962 and later scored her a modest hit in Canada in 1967 after it was reissued. In 1963, she shared "Comin' Down" as the b-side to "In My Tenement," later appearing on the album Any Other Way. Both tracks are now trending after they were featured in the new Peacock series Poker Face, which stars Natasha Lyonne as a woman on the run who happens to have the special ability to tell if people are lying. 
Jackie Shane "Any Other Way" (official audio)
February 10
Mariah Carey – It's A Wrap
A deep cut from Mariah Carey's 2009 album Memoirs Of An Imperfect Angel, "It's A Wrap" tells a cheating partner that a relationship is over and done for good. A remix of the song was also released five years after the original and featured Mary J. Blige. Nearly a decade later, another version of the song – this time a sped-up take – has now gone viral on TikTok, sparking a 1,000 percent rise in weekly on-demand streams of the track in the US alone. Users on the app are using the song to soundtrack videos about behavior they can't tolerate, from people raising their voices at them or not liking their aesthetic. Carey and her daughter Monroe have also taken part in the trend, with the pair joking about Mariah always taking over when Monroe tries to practice her vocals.  
Ne-Yo – She Knows
Taken from Ne-Yo's sixth studio album, Non-Fiction, "She Knows" was released in 2015 and featured a guest verse from Juicy J. Now certified platinum in the US, it hit the Top 20 of the Billboard Hot 100, Hot R&B/Hip-Hop Songs, Dance/Mix Show Airplay, Mainstream Top 40, and Rhythmic charts. Its success is still enduring, with it now trending on TikTok as creators set it as the soundtrack to videos of them checking their fits and showing off their posing. 
Ne-Yo - She Knows ft. Juicy J (Lyric Video)
Tame Impala – Borderline
Tame Impala's 2019 single "Borderline" is a song that reached its final form in public. When the band debuted it on Saturday Night Live, the lyrics had not yet been finished, causing frontman Kevin Parker to ad-lib them on the show. Even after the track was released, Parker continued to rework it, eventually re-releasing it on 2020's The Slow Rush. That final version is now the basis for many videos on TikTok, from edits of the 2022 hit movie Everything Everywhere All At Once to clips of users detailing bittersweet moments. 
Tame Impala - Borderline (Official Audio)
Men Without Hats – The Safety Dance
Released in 1982, Men Without Hats' second single, "The Safety Dance," was a protest against bouncers' deeming new wave dance moves "dangerous" and kicking those doing them out of clubs. Singer Ivan Doroschuk was one such clubber who got on the wrong side of security with his pogoing and wrote the new-wave classic in response. Users on TikTok are now using the song in videos of different kinds of dancing, while the song is set to feature in a Super Bowl commercial. 
Men Without Hats - The Safety Dance
Donna Summer – Last Dance
"Last Summer" appeared on the soundtrack for the musical disco comedy Thank God It's Friday in 1978 and was performed by Donna Summer, who also played an aspiring singer in the film. The track added invention into disco norms, morphing the upbeat hook with a ballad intro and bridge, making it one of the first disco songs to feature parts in a slow tempo. It went on to win an Oscar and a Golden Globe, plus multiple Grammys and AMAs. Almost 50 years later, the song is now being featured in another movie – this time scoring a scene in Magic Mike's Last Dance. 
Hank Williams – Alone And Forsaken
Hank Williams wasn't alive to see the release of "Alone And Forsaken," which he recorded between 1948 and 1949 and was released posthumously in 1955. The dark track features themes of loneliness and desolation in its lyrics, as well as imagery that steps more into folk territory than country. The song is experiencing a resurgence after appearing on the soundtrack for HBO's new hit series, The Last Of Us. 
Alone and Forsaken (Remastered)
Lady Gaga – Monster
Taken from Lady Gaga's 2009 EP The Fame Monster, Monster details the star's "fear of attachment and fear of loving someone bad for you." Despite knowing a certain type of partner is bad for her, she keeps going back to them. The song is now trending on TikTok, with fans soundtracking edits from the Netflix series Alice In Borderland with it. 
February 3
Linda Ronstadt – Long Long Time
Featured on Linda Ronstadt's 1970 album Silk Purse, "Long Long Time" marked an early hit for Linda Ronstadt. The track spent 12 weeks on the Billboard Hot 100 chart and peaked at No.25, while it also scored her a nomination for the Grammys' Best Contemporary Female Vocal Performance in 1971. "Long Long Time" is now experiencing a resurgence thanks to it being featured in an episode of HBO's The Last Of Us, with the episode in question also borrowing the song's title as its own. Fans have since begun sharing clips and edits from the show on TikTok, soundtracked by the song. 
Long Long Time (Remastered)
Mindless Behavior – Mrs. Right
Noughties boyband Mindless Behavior debuted in 2008 and, three years later, released one of its best-known singles, "Mrs. Right." The track came boosted by not one but two guest appearances – US rapper Diggy Simmons and, on a special remix, UK star Chipmunk. Bolstering their cool factor further, LL Cool J starred in the school-based music video, playing a  geography teacher taking his students on an imaginary world tour. Over a decade since its release, TikTok users are now sharing videos set to the song featuring new choreographies. 
Mindless Behavior - Mrs. Right ft. Diggy Simmons
Big Sean – I Know
Taken from Big Sean's 2015 album Dark Sky Paradise, "I Know" marked the rapper's third collaboration with Jhene Aiko. On the track, the pair offers support to the other who is going through a rough patch in their relationship. The track is now trending on TikTok, propelled by Sean's video featuring his now-partner Aiko and their baby, the pair lip-syncing their lines while staring deep into each other's eyes. 
Big Sean - I Know ft. Jhené Aiko (Official Music Video)
The Cranberries – Sunday
Although "Sunday," a song from The Cranberries' debut album Everybody Else Is Doing It, So Why Can't We? didn't chart, that hasn't stopped it from making an impact on all generations of the band's fans. The track is now finding a new audience on TikTok, thanks to a new trend that sees creators putting their own spin on a laidback dance routine that acts out the song's lyrics. 
Nelly Furtado – Promiscuous
In 2006, Nelly Furtado teamed up with Timbaland for the massive pop hit "Promiscuous," which helped the artist break records. In particular, she became the first Canadian female artist to score a No.1 on the Billboard Hot 100 since Celine Dion's "I'm Your Angel" topped the chart in 1988. TikTok users are celebrating the track 17 years later with a sped-up version of the track doing the rounds on the app, as well as users sharing their own remixes – one of which Madonna has even created a video to. 
Nelly Furtado - Promiscuous (Official Music Video) ft. Timbaland
Tyga – Rack City
Although it was originally released as part of Tyga's mixtape Well Done 2, "Rack City" got its shining moment when it was included on the rapper's second album, Careless World: Rise Of The Last King. It went on to reach No.7 on the Billboard Hot 100, while Rihanna would use the synth parts of the song during a live rendition of her hit "What's My Name?" on her 777 tour. A new trend has now surfaced on TikTok that sees users lip-syncing along to the opening lines of the song with as much attitude as they can muster. 
Tyga - Rack City (Explicit)
Mel McDaniel – Baby's Got Her Blue Jeans On
Released in 1984, "Baby's Got Her Blue Jeans On" served as the lead single from Mel McDaniel's album Let It Roll. It became a massive hit, topping the Billboard Hot Country Songs chart in 1985 – the only time that the artist would achieve such a feat. A new generation of fans is now sharing the song on TikTok, using it to soundtrack videos of them shaking their hips in a pair of blue jeans. 
Baby's Got Her Blue Jeans On
Chris Stapleton – Either Way
Although it was written by Chris Stapleton, Tim James, and Kendell Marvel, "Either Way" was first recorded and released by Lee Ann Womack in 2008. Nine years later, Stapleton reprised it for himself with a recording of it appearing on his 2017 album From A Room: Volume 1. Following the country star being announced to perform the National Anthem at this year's Super Bowl, Stapleton's version is witnessing a resurgence as fans get excited about the big event. 
Chris Stapleton - Either Way (Official Audio)
Shania Twain – Don't Be Stupid (You Know I Love You)
Canadian country legend Shania Twain shared "Don't Be Stupid (You Know I Love You)" in 1997 as part of her third album, Come On Over. Just as that record went on to be a huge success, so did the single – it gave Twain her sixth Top 10 hit on the Hot Country Singles & Tracks chart while also scoring her a No.5 finish in the UK. TikTok creators are using the opening "Cool!" to react sarcastically to different scenarios in their lives. 
Don't Be Stupid (You Know I Love You)
January 13
Dru Hill – In My Bed
In 1996, US R&B group Dru Hill – led by Sisqó – released its hit single "In My Bed," ascending to the top of the Hot R&B/Hip-Hop Songs Chart and to No.4 on the Billboard Hot 100. The track depicted a tale of infidelity, Sisqó becoming suspicious of his partner, explaining: "I got this feeling and I just can't turn it loose/That somebody's been getting next to you." The track is now trending on TikTok thanks to two different mash-ups – one with Ciara's "Body Party," which has users reacting to dating mishaps and more, and one with a freestyle from a session by Jen Carter, Tata 41, and Kyle Rich. 
Mark Ronson ft. Amy Winehouse – Valerie
Although originally released by The Zutons, Amy Winehouse's cover of "Valerie" has become one of her most iconic releases. It was released as part of Mark Ronson's second album Version in 2007 and became the ninth biggest-selling single of that year in the UK. Last year, while paying tribute to the late star, Ronson shared the original demo of Winehouse's version, kickstarting a renewed appreciation of her music. With over 75k video creations, "Valerie" is at the center of multiple trends on TikTok, including a hip-shaking dance trend, romanticizing favorite foods, and more. 
Mark Ronson ft. Amy Winehouse - Valerie (Official Video)
Nick Jonas – Jealous
Settled into his solo career and on his second album, Nick Jonas released the single "Jealous" – a track that would go on to be his highest-charting and highest-selling single. The hit was based on feelings of envy Jonas had felt seeing other men looking at his girlfriend, striking a relatable chord with many. Now back with The Jonas Brothers, "Jealous" has been a part of the group's setlist at its Las Vegas residency, with fans on TikTok sharing live clips, appreciating Nick's powerful vocals. 
Rupert Holmes – Escape (The Piña Colada Song)
A soft rock classic, "Escape (The Piña Colada Song)" appeared on Rupert Holmes' fifth album, Partners In Crime, released in 1979. Its lyrics tell the story of a man bored with his romantic lot who spots a personals ad looking for a man who likes piña coladas. TikTok creators have recently been highlighting the track as one of the best songs ever made, showing appreciation for its addictive chorus. 
Escape (The Pina Colada Song)
Lady Gaga – Applause
The lead single from Lady Gaga's third album Artpop, "Applause" paid tribute to the star's fans, inspired by their cheering – something which helped keep her spirits up during her Born This Way Ball tour as she battled a hip injury. "I realized it was the applause of the fans that really kept me going," she explained during an interview with Sirius XM Radio. "Because I would be ready to go on stage and just be crying hysterically, not understanding even how I was feeling." The song – both the original and a sped-up version – is now trending on TikTok, the former being adapted to Harry Potter scenarios, and the latter soundtracking videos where people share their attention-seeking activities. 
Lady Gaga - Applause (Official Music Video)
Listen to all the best viral tracks on TikTok on Apple Music and Spotify.