Bands that start with J
Why do artists choose the names they do? Sometimes it's hard to say. This list is a starting place for exploration.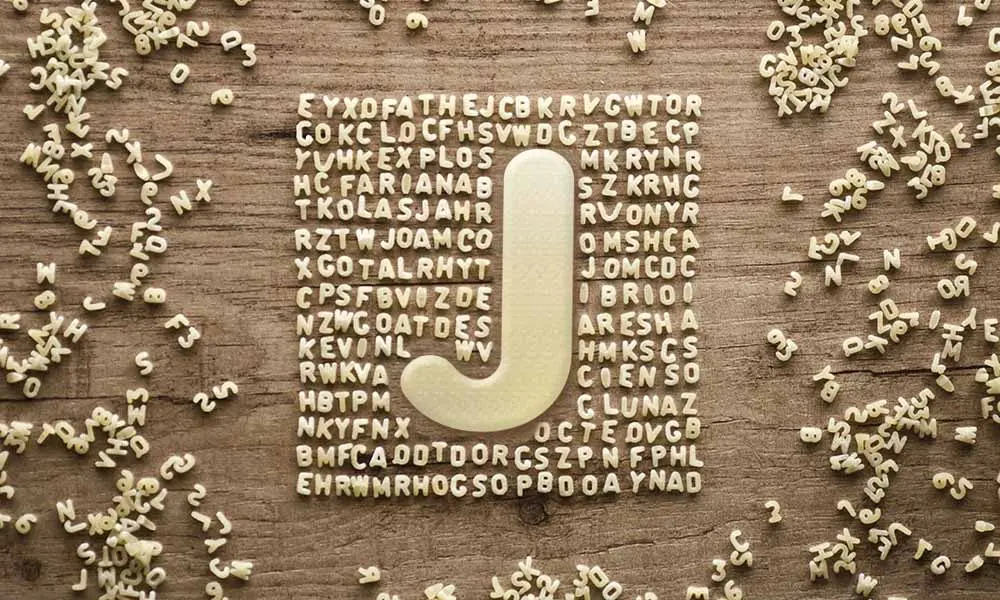 Need a list of bands that start with the letter J? You've come to the right place. Whether you're researching a project, trying to get inspired, or just unusually curious about the letter J – this is the list for you. Pop, rock, grunge, alternative, electronic, indie, and more are all in this list.
Just a quick note: Included here are bands that have the word "The" before a name with the letter J, artists whose first name begins with the letter J, and bands that have chosen a moniker that starts with the letter J just to be as complete as possible.
J Hus
J Roddy Walston & The Business
J-Hope
J. Balvin
J. Cole
J. Dash
J. Frank Wilson & The Cavaliers
J. Geils Band
J. Holiday
J.D. Souther
J.J. Cale
Ja Rule
Jack and Jack
Jack Bruce
Jack Buchanan
Jack Garratt
Jack Harlow
Jack Hylton
Jack Ingram
Jack Johnson
Jack Jones
Jack Off Jill
Jack Peñate
Jack Savoretti
Jack Say
Jack U
Jack Wagner
Jack White
Jack White and Alicia Keys
Jack's Mannequin
Jackie DeShannon
Jackie Evancho
Jackie Lee
Jackie Moore
Jackie Wilson
Jackson 5
Jackson Browne
Jackyl
Jacob Latimore
Jacob Miller
Jacob Seales
Jacquees
Jacques Brel
Jadakiss
Jade Bird
Jade Ewen
Jaden Smith
Jagged Edge
JAGMAC
Jagwar Ma
Jaheim
Jahméne
Jaida Dreyer
Jain
Jake Bugg
Jake Miller
Jake Owen
Jake Paul
Jakob Dylan
Jamala
Jamelia
James
James Arthur
James Bay
James Blake
James Bland
James Blunt
James Brown
James Carr
James Carter And The Prisoners
James Dean Bradfield
James Durbin
James Gang
James Hype
James Ingram
James Ingram and Michael McDonald
James Morrison
James Newman
James Otto
James Ramey
James Righton
James Taylor
James TW
James Vincent McMorrow
Jameson Rodgers
Jamey Johnson
Jamie Cullum
Jamie Foxx
Jamie Lawson
Jamie Lynn Spears
Jamie N Commons
Jamie O'Neal
Jamie T.
Jamie Walters
Jamie xx
Jamila Woods
Jamiroquai
Jan & Arnie
Jan & Dean
Jan Hammer
Jana Kramer
Jane Birkin and Serge Gainsbourg
Jane Child
Jane Wiedlin
Jane's Addiction
Jane's Addiction
Janelle Monáe
Janet Jackson
Janis Ian
Janis Joplin
Jann Klose
Japan & David Sylvian
Japandroids
JaR
Jared Evan
Jaron and the Long Road to Love
Jars of Clay
Jarvis Cocker
Jason Aldean
Jason Castro
Jason Crosby
Jason Derulo
Jason Donovan
Jason Dunn
Jason Gray
Jason Isbell
Jason Jones
Jason Michael Carroll
Jason Mraz
Jason Nelson
Jason Reeves
Jason Segel
Jason Taylor
Javier Colon
Jax Jones
Jay & the Americans
Jay Farrar and Ben Gibbard
Jay Ferguson
Jay Livingston
Jay Nash
Jay Rock
Jay Sean
Jay-Z
JAY1
Jayme Dee
Jazmine Sullivan
Jean Jacques Brunel
Jean Knight
Jean-Michel Jarre
Jeanette MacDonald
Jeannie C. Riley
Jedi Mind Tricks
Jedward
Jeezy
Jeff Ament
Jeff Bates
Jeff Beck
Jeff Bridges
Jeff Buckley
Jeff Carson
Jeff Tweedy
Jefferson Airplane
Jefferson Starship
Jeffrey & Jack Lewis
Jeffrey Gaines
Jeffrey Osborne
Jehnny Beth
Jellyfish
Jem
Jennette McCurdy
Jennifer Batten
Jennifer Hanson
Jennifer Holliday
Jennifer Hudson
Jennifer Knapp
Jennifer Lawrence
Jennifer Lopez
Jennifer Nettles
Jennifer Nettles Band
Jennifer Paige
Jennifer Rush
Jennifer Warnes
Jenny and Johnny
Jenny Lewis
Jenny Owen Youngs
Jeremiah Clarke
Jeremih
Jeremy Camp
Jeremy Enigk
Jeremy Irons
Jeremy Jordan
Jeremy Taylor
Jermaine Dupri
Jermaine Jackson
Jermaine Stewart
Jerrod Niemann
Jerry Butler
Jerry Cantrell
Jerry Douglas
Jerry Garcia
Jerry Jeff Walker
Jerry Keller
Jerry Lee Lewis
Jerry Murad's Harmonicats
Jerry Reed
JerryC
Jeru the Damaja
Jesca Hoop
Jess Glynne
Jesse Colin Young
Jesse Eisenberg
Jesse Goldberg
Jesse Malin
Jesse McCartney
Jesse Valenzuela
Jessica Andrews
Jessica Jarrell
Jessica Lea Mayfield
Jessica Mauboy
Jessica Pratt
Jessica Sanchez
Jessica Simpson
Jessie J
Jessie James Decker
Jessie Reyez
Jessie Ware
Jesus Jones
Jet
Jethro Tull
Jets to Brazil
Jewel
Jhay Cortez
Jhené Aiko
Jibbs
Jidenna
Jigsaw
Jill and Julia
Jill Scott
Jill Sobule
Jillette Johnson
Jilted John
Jim Brickman
Jim Croce
Jim Diamond
Jim Henson
Jim James
Jim Johnston
Jim Jones
Jim Lowe
Jim McCann
Jim McCarty
Jim Photoglo
Jim Radford
Jim Sonefeld
Jim Stafford
Jim Sullivan
Jimi Goodwin
Jimi Hendrix
Jimi Jamison
Jimmie Allen
Jimmie Rodgers
Jimmy Boyd
Jimmy Buffett
Jimmy Buffett and Martina McBride
Jimmy Clanton
Jimmy Cliff
Jimmy Cross
Jimmy Dean
Jimmy Dorsey
Jimmy Durante
Jimmy Eat World
Jimmy Fallon
Jimmy Page and Robert Plant
Jimmy Ruffin
Jimmy Smith
Jimmy Soul
Jimmy Spicer
Jimmy Wayne
Jimmy Webb
Jimmy Witherspoon
Jimmy Young
JJ Lawhorn
JLS
Jo Dee Messina
Jo Stafford
Joan Armatrading
Joan as Police Woman
Joan Baez 
Joan Jett
Joan Osborne
Joan Shelley
Joanie Sommers
Joanna Newsom
Joanna Smith
Joao Gilberto
Job for a Cowboy
Jodeci
Jodi Benson
Jodie Connor
Jodie Marie
Jody Quine
Jody Reynolds
Jody Watley
Joe
Joe and Jake
Joe Bonamassa
Joe Budden
Joe Cocker
Joe Diffie
Joe Dolce
Joe Dowell
Joe Ely
Joe Esposito
Joe Grushecky and the Houserockers
Joe Henry
Joe Howard
Joe Jackson
Joe Jonas
Joe Lynn Turner
Joe McElderry
Joe Nichols
Joe Perry
Joe Sample
Joe Satriani
Joe South
Joe Stampley
Joe Strummer
Joe Tex
Joe Walsh / The James Gang
Joel Adams
Joel Compass
Joel Corry
Joel Crouse
Joel Rafael
Joey + Rory
Joey Bada$$
Joey Boy
Joey DeGraw
Joey Hyde
Joey Landreth
Joey Scarbury
Johan Lindell
Johann Pachelbel
Johann Sebastian Bach
Johann Strauss II
Johannes Brahms
John Anderson
John Barry Orchestra
John Cage
John Cale
John Coltrane
John Conlee
John Denver
John Dowie
John Dowland
John Dunstable
John Edmunds
John Evans
John Farnham
John Fogerty
John Frusciante
John Garcia
John Grant
John Hall
John Henry Hopkins Jr.
John Hiatt
John Hobbs
John Holt
John Lee Hooker
John Lee Hooker and Bonnie Raitt
John Legend
John Lennon
John Leslie Wolfe
John Leyton
John Martin
John Martyn
John Mayall
John Mayer
John McCormack
John McCutcheon
John McDermott
John Mellencamp
John Michael Montgomery
John Miles
John Newman
John Oates
John Parr
John Philip Sousa
John Prine
John Rich
John Sebastian
John Terrell
John Travolta
John Travolta and Olivia Newton-John
John Waite
John Waller
John Williams
John Woodcock Graves
John Zacherle
Johnnie Ray
Johnnie Taylor
Johnny Guitar Watson
Johnny Ace
Johnny Cash
Johnny Cymbal
Johnny Flynn
Johnny Gill
Johnny Hates Jazz
Johnny Horton
Johnny Kemp
Johnny Lee
Johnny Lion
Johnny Mandel
Johnny Marr
Johnny Mathis
Johnny Nash
Johnny Patterson
Johnny Preston
Johnny Rebel
Johnny Rivers
Johnny Shines
Johnny Thunder
Johnny Tillotson
Johnny Van Zant
Johnny Winter
Joji
JoJo
Jon & Vangelis
Jon and Roy
Jon Anderson
Jon Bellion
Jon Bon Jovi
Jon Foreman
Jon Lord
Jon McLaughlin
Jon Pardi
Jon Patrick Walker
Jon Secada
Jona Lewie
Jonas Blue
Jonas Brothers
Jonathan Cain
Jonathan Chase
Jonathan Davis
Jonathan Edwards
Jonathan Groff
Jonathan Hodge
Jonathan Jackson + Enation
Jonathan King
Jonathan Wilson
Joni Mitchell
Jonny Greenwood
Jonny Lang
Jónsi
Jooliet
Jordan Davis
Jordan Knight
Jordan Rager
Jordin Sparks
Jorgen Ingmann
Jorja Smith
José Feliciano
José González
Josef K
Joseph Haydn
Joseph Kamaru
Josh Abbott Band
Josh Doyle
Josh Dubovie
Josh Gracin
Josh Groban
Josh Kelley
Josh Record
Josh Ritter
Josh Rouse
Josh Thompson
Josh Todd
Josh Turner
Josh Wilson
Joshua Bassett
Joshua Kadison
Joshua Radin
Joshua Scott Jones
Joss Stone
Journey
Joy Crookes
Joy Division
Joy Williams
Joyner Lucas
JP Cooper
JP Saxe
Jr. Walker & The All Stars
Judah & the Lion
Judas Priest
Jude Cole
Judee Sill
Judge Dread
Judie Tzuke
Judy Clay and William Bell
Judy Collins
Judy Garland
Judy Holliday
Juelz Santana
Juice Newton
Juice WRLD
Juicy J
Juicy J, Wiz Khalifa, Ty Dolla $ign
Julia Holter
Julia Jacklin
Julia Michaels
Julia Nunes
Julian Casablancas
Julian Lennon
Juliana Hatfield
Juliane Werding
Julianne Hough
Julie Andrews
Julie Brown
Julie Covington
Julie London
Julie Mangin
Juliette and the Licks
Julio Bashmore
Jump 'N the Saddle Band
Jumpin' Gene Simmons
Jungkook
Jungle
Junior Murvin
Junip
Jurassic 5
Jussie Smollett
Just Jack
Justice
Justice Crew
Justin Bieber
Justin Hawkins
Justin Moore
Justin Rutledge
Justin Timberlake
Justine Skye
Juvenile
Jxdn
The Jackson 5
The Jacksons
The Jaggerz
The Jam
the JaneDear girls
The Janoskians
The Jarmels
The Jayhawks
The Jaynetts
The Jeff Healey Band
The Jesus and Mary Chain
The Jesus Lizard
The Jets
The Jim Jones Revue
The Johnstones
The Joy Formidable
The Judds
The Juliana Theory
The Justice Collective
Think we're missing one of the great bands or acts that start with J? Let us know in the comments below.